Tomorrow is Halloween! For the occasion I made Candy Corn Cookies! They are really cool because they have big orange and yellow swirls on top and bottom. They were actually pretty hard to make, but I managed to finish the cookies and make them perfectly! The recipe comes from a new book that we just got: The Big Book of Cookies by Betty Crocker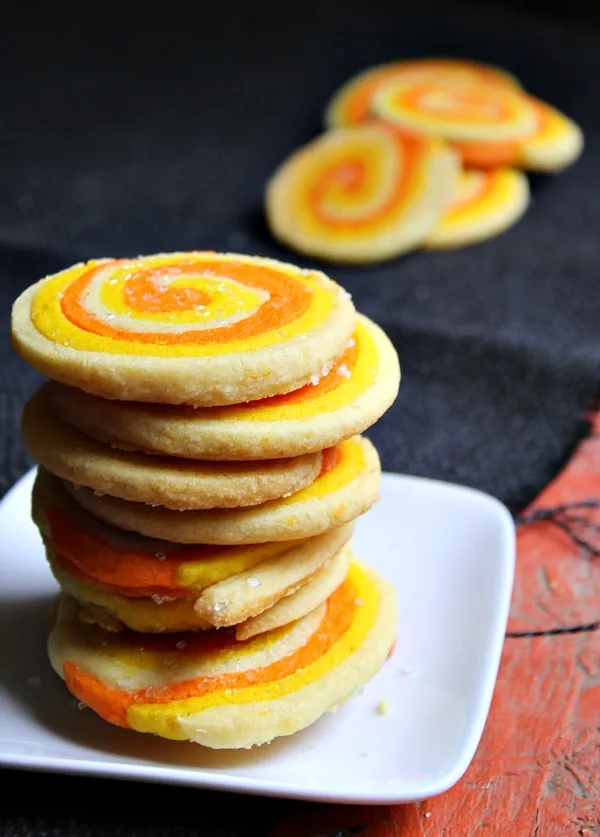 Now that's what I call a full stack! You get the little short stacks of pancakes at restaurants but this is the real deal!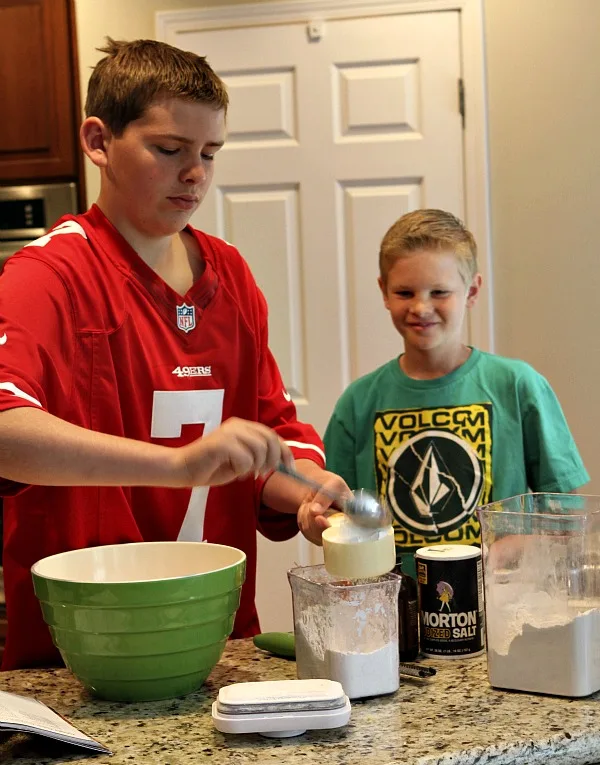 I made these with my friend. We had a ton of fun with this recipe! Another thing that made these cookies hard for us was that football was on… so we had to keep peeking at the scores once in a while. 🙂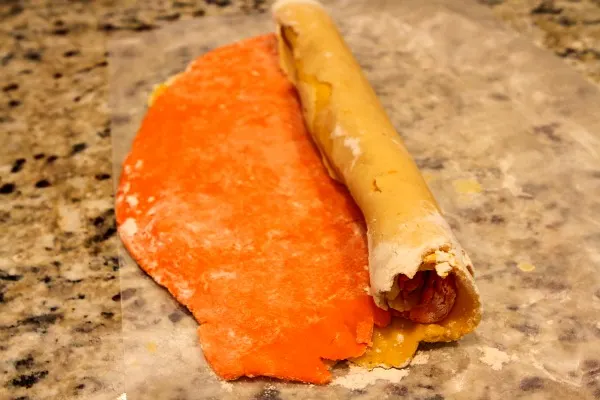 It was really hard to roll the dough into rectangles because the dough kept sticking to the rolling pin! Eventually, I got each section of dough rolled up into a log. Then you need to stick it in a fridge after you make the log. Waiting is soooooo boring! Finally I got to cut the cookies from the log and stick them in the oven. Yay! Mission accomplished.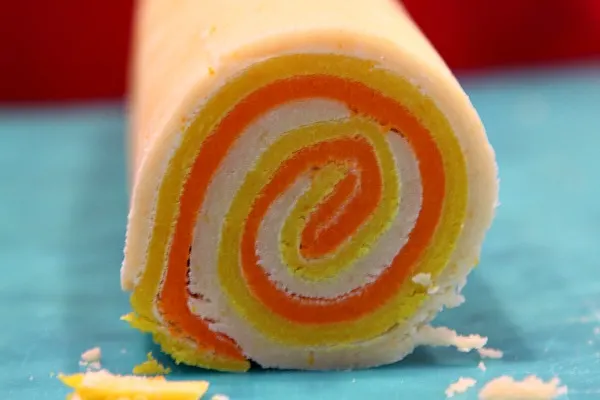 These are the logs that you cut the cookies from. Swirls!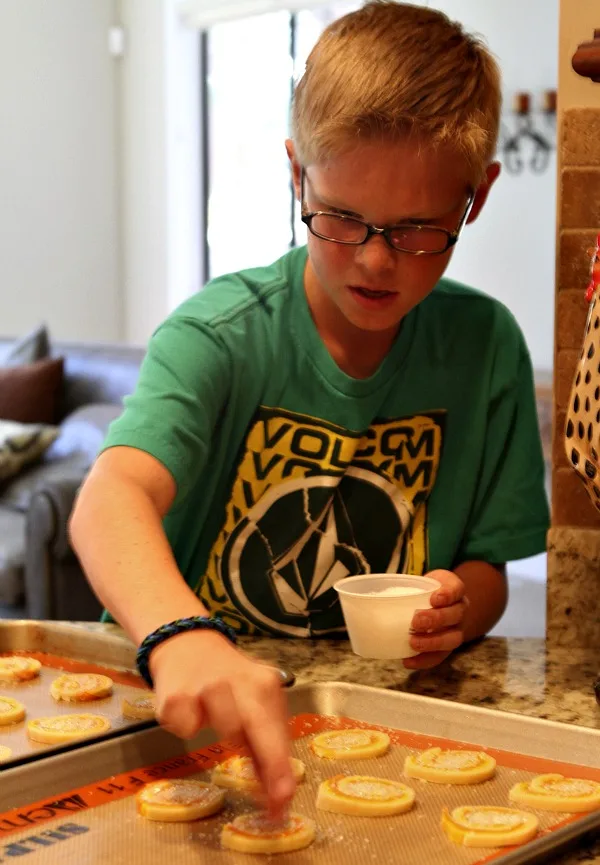 While I cut the cookies from the log, my friend sprinkled course sugar on the cookies.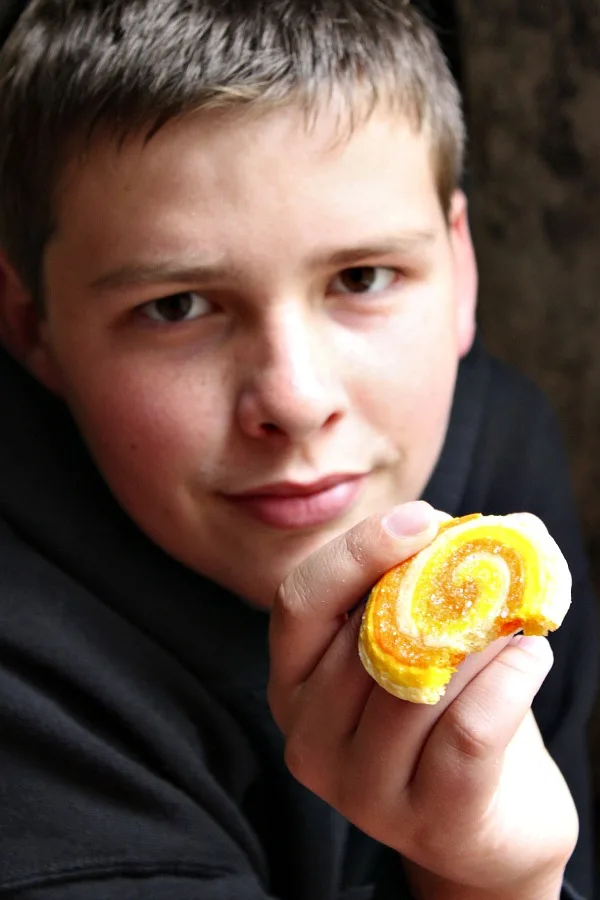 Yum yum yum! The cookies were orange flavored because of the orange zest we added and they tasted like heavenly orange sweet things! I just love cookies that taste like fruit!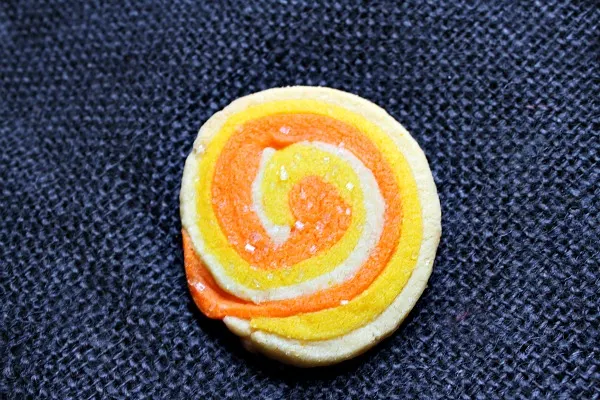 When the cookies came out of the oven, they looked so perfect! The swirls look really cool right? As tough as this recipe was… the finished product was amazing. We loved the cookies! I brought them to school the next day and everyone around me was admiring the swirls and begging me to have a cookie. Guess what I said. "Nope. Sorry but they are my cookies. MY COOKIES!"
And even a kid can make a hard but awesome cookie recipe… Like Me!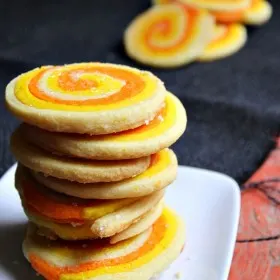 Candy Corn Cookies
I love these super cool swirl cookies - perfect for fall!
Ingredients
1

cup (2 sticks)

softened butter

1½

cups

powdered sugar

1

large

egg

grated zest of 1 medium orange

2½

cups

all purpose flour

1

teaspoon

baking soda

1

teaspoon

cream of tartar

⅛

teaspoon

orange gel food color

⅛

teaspoon

yellow gel food color

coarse sugar,

if desired
Instructions
In a large bowl, beat the butter, powdered sugar, egg and orange zest with an electric mixer on medium speed, or mix with a spoon. Stir in the flour, baking soda and cream of tartar.

Divide the dough into thirds. Tint one portion orange and one portion yellow- leave the other portion just dough. Flatten each portion into a round. Wrap each in plastic wrap and refrigerate for 20 minutes.

On separate sheets of lightly floured waxed paper, roll each portion of the dough into a 12x9-inch rectangle (it does not have to be perfect). Place the orange rectangle on top of the yellow rectangle, using waxed paper ends to help flip the dough over. Top with the plain dough rectangle. Starting on a long side, use the waxed paper to help you roll the dough into a log. Wrap the log in plastic and refrigerate for 1 hour

Preheat the oven to 375℉. Cut the dough into ¼-inch slices and place them on an ungreased baking sheet (about 1 inch apart). Sprinkle with coarse sugar, if using.

Bake 7 to 8 minutes or until edges are set. Cool for a few minutes, then transfer to a rack to cool completely.
Nutrition
Serving:
1
serving
Calories:
151
kcal
Carbohydrates:
18
g
Protein:
2
g
Fat:
8
g
Saturated Fat:
5
g
Polyunsaturated Fat:
0.4
g
Monounsaturated Fat:
2
g
Trans Fat:
0.3
g
Cholesterol:
29
mg
Sodium:
112
mg
Potassium:
41
mg
Fiber:
0.4
g
Sugar:
7
g
Vitamin A:
260
IU
Vitamin C:
1
mg
Calcium:
6
mg
Iron:
1
mg