Texas Potato Salad is a spicy version of classic potato salad with pickled jalapeños, pickled onions and plenty of mustard!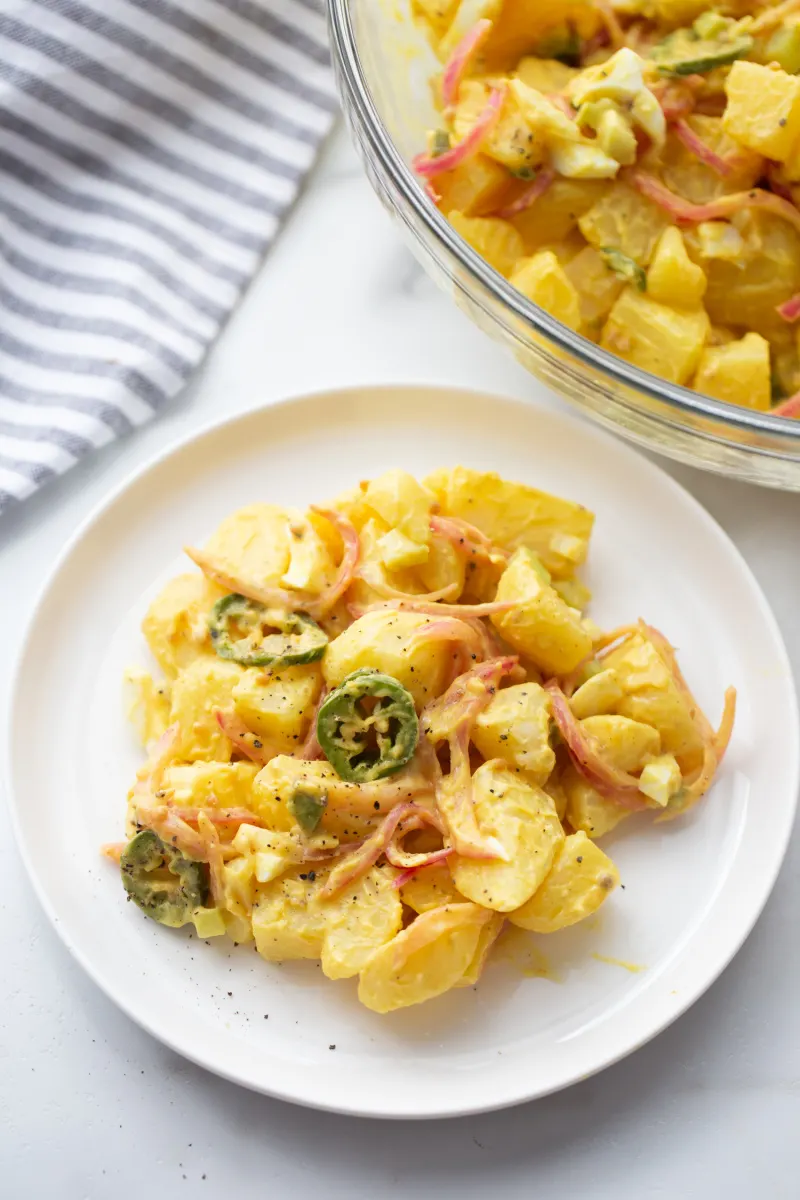 Since my son Brooks lives in Texas (and he was the original creator of the RecipeBoy blog), I feel compelled to share Texas style recipes like Texas Sheet Cake, Tex Mex Shredded Beef Sandwiches and this Texas Potato Salad! The state of Texas is known for having great barbecue everywhere you look, and good, hearty, flavorful potato salads to go along with it.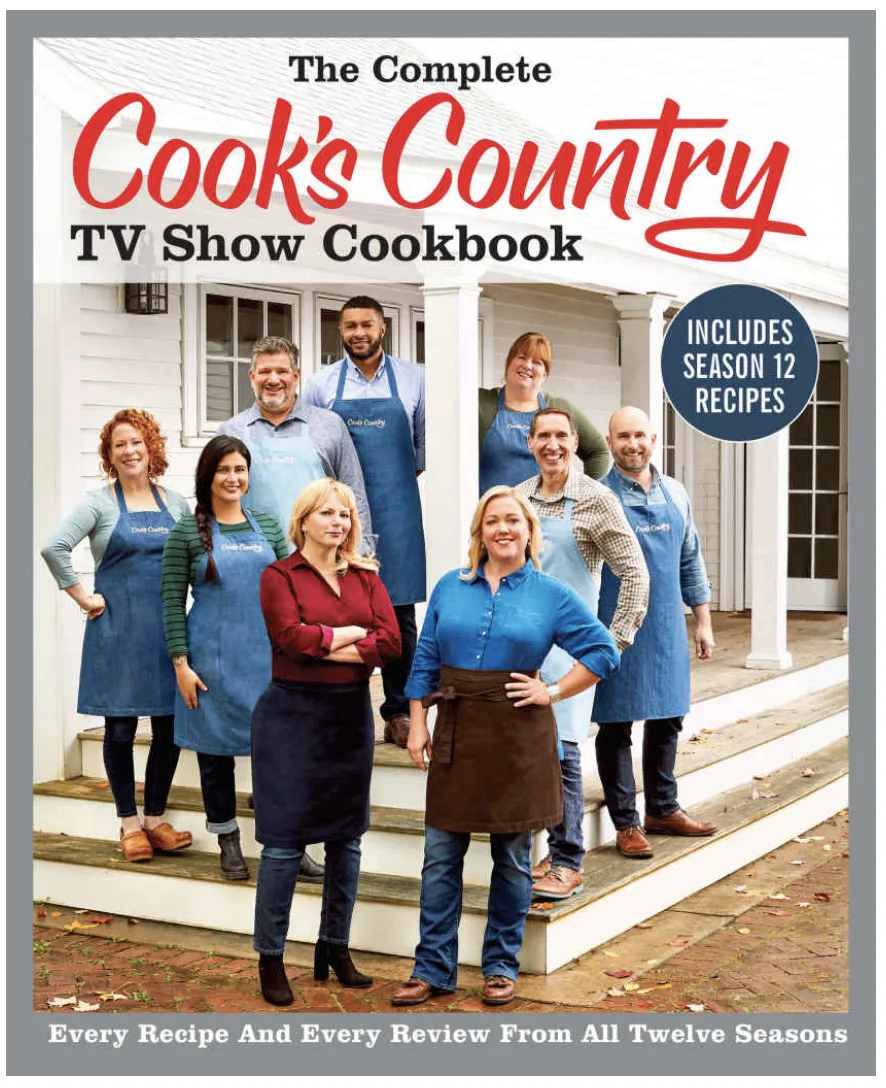 This recipe comes from The Complete Cook's Country TV Show Cookbook: every recipe and every review from all 12 seasons. Let me just start out by saying how much I love this cookbook. America's Test Kitchen is behind making these recipes, and they test their recipes like crazy before publishing. So you are guaranteed that every recipe is amazing! I always enjoy adding these cookbooks to my cookbook shelf.
Here are a few recipes in the book that I've decided I must make (though there are many more)!
Strawberry Pretzel Salad
Meatloaf with Mushroom Gravy
Crispy Fish Sticks with Tartar Sauce
New Orleans Muffulettas
Hawaiian Macaroni Salad
Grilled Sugar Steak
Caesar Green Bean Salad
Prosciutto Bread
Baked Manicotti with Meat Sauce
Muffin Tin Doughnuts
Blueberry Jam Cake
Tunnel of Fudge Cake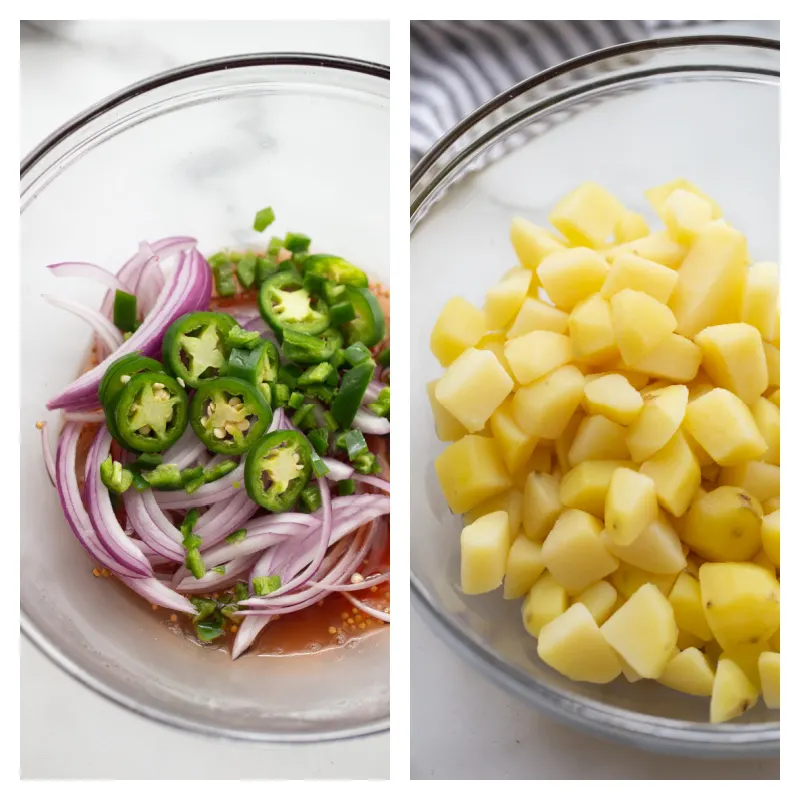 How to make Texas Potato Salad:
The first thing you're going to do is pickle the veggies. Vinegar, sugar, salt and mustard seeds are microwaved in a bowl for a couple of minutes. Red onion and sliced jalapeño are added to the vinegar mixture and left to "pickle" for about 20 minutes. Then you'll drain the vinegar mixture (saving 2 tablespoons of it) and set the pickled veggies aside.
Peel potatoes, cut into cubes and boil in salted water until tender. Drain and add to a big bowl. Drizzle the reserved 2 tablespoons of the vinegar mixture onto the warm potatoes. Refrigerate the potatoes until cooled.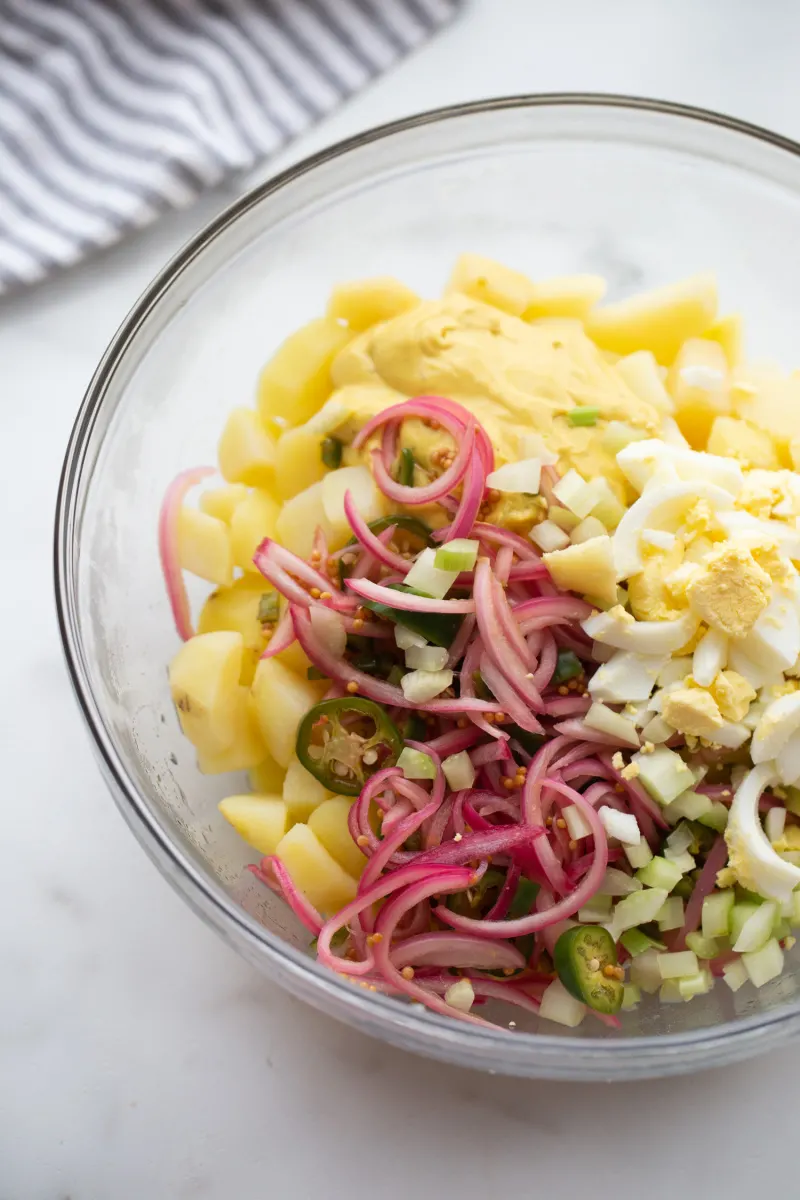 The dressing is a mixture of mayonnaise, mustard, cayenne pepper and regular pepper. Add the dressing to the potatoes in the bowl, along with the pickled veggies, chopped egg and chopped celery.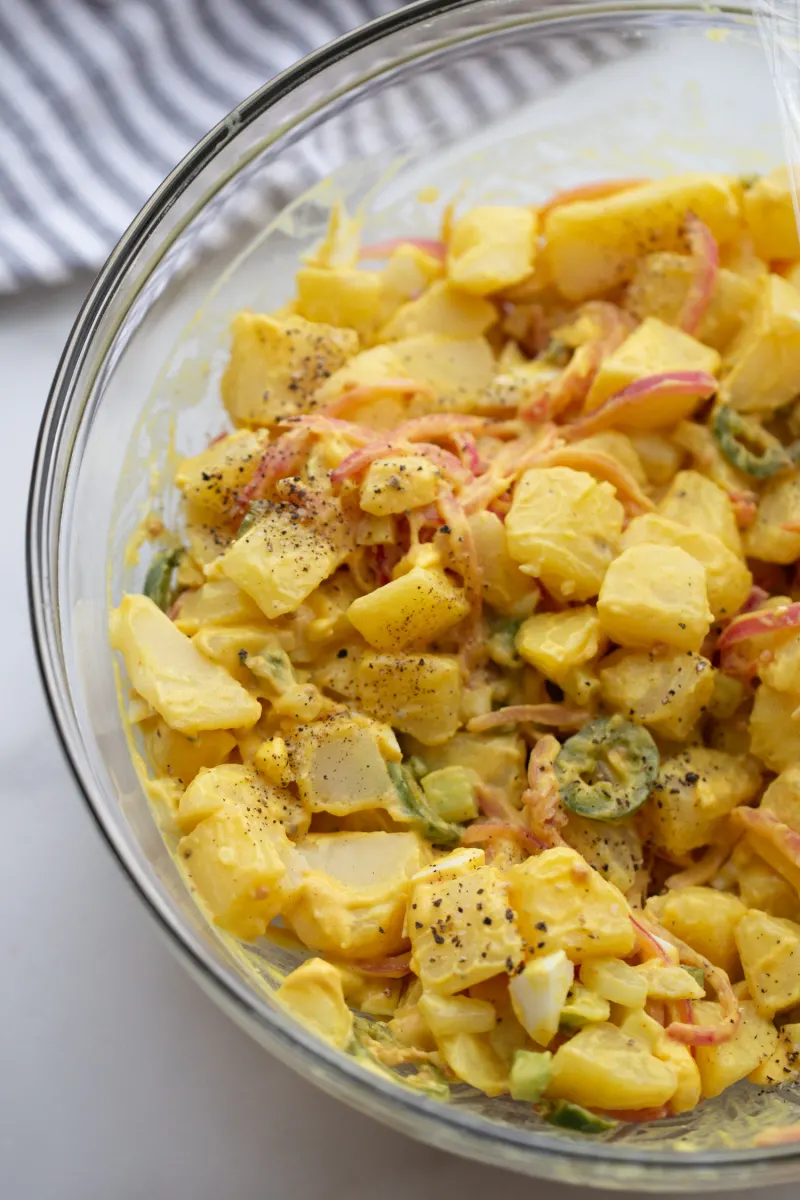 Stir to combine, and season with salt and pepper. Refrigerate for at least 30 minutes before serving. I like to refrigerate it for a couple of hours to really give the flavors a chance to blend with the potatoes!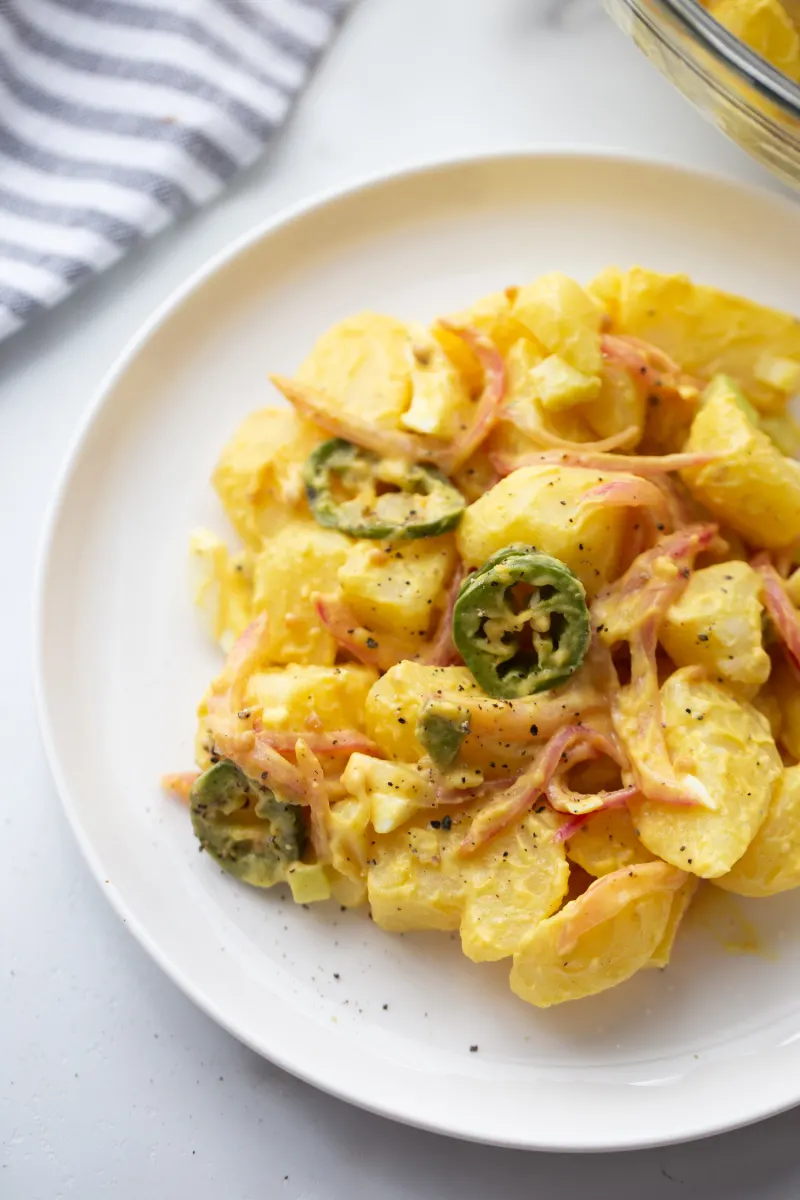 Serve with your favorite Texas Smoked Brisket and a super cold beverage of your choice. Don't worry too much about this Texas Potato Salad being overly spicy. The jalapeños are pickled, and that cuts down on the spice a bit. There are really great flavors in this potato salad. Enjoy!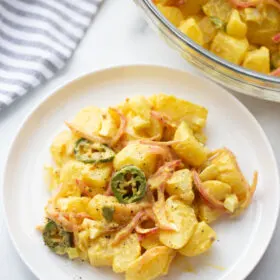 Texas Potato Salad
Texans take their potato salad up a notch with plenty of mustard and spicy chopped jalapeños.
Ingredients
PICKLED VEGETABLES:
½

cup

red wine vinegar

1½

tablespoons

granulated white sugar

1½

teaspoons

salt

1

teaspoon

yellow mustard seeds

½

small

red onion,

sliced thinly

2

medium

jalapeño chiles

(1 sliced into thin rings, and the other stemmed, seeded and minced)
SALAD:
3

pounds

Yukon Gold potatoes,

peeled and cut into ¾-inch cubes

8

cups

water

1

tablespoon

salt

6

tablespoons

mayonnaise

6

tablespoons

yellow mustard

½

teaspoon

freshly ground black pepper

¼

teaspoon

ground cayenne pepper

2

large

hard-boiled eggs,

cut into ¼-inch pieces

1

rib

celery,

minced
Instructions
PICKLE THE VEGETABLES:
In a glass bowl, combine the vinegar, sugar, 1½ teaspoons salt and mustard seeds. Microwave for 2 minutes. Whisk until the sugar and salt are dissolved. Add the onion and jalapeños and set aside to cool- 15 to 20 minutes. Strain the onion and jalapeños through a fine mesh sieve set over a bowl. Reserve the pickled vegetables and 2 tablespoons of the vinegar mixture separately. You can toss the rest of the vinegar mixture unless you have another use for it.
MAKE THE POTATO SALAD:
Meanwhile, in a large pot-combine the potatoes, water and salt; bring to a boil over high heat. Reduce the heat to medium and simmer until the potatoes are just tender, 10 to 15 minutes. Drain the potatoes thoroughly, then transfer to a large bowl. Drizzle 2 tablespoons of the reserved vinegar mixture over the hot potatoes and toss gently. Refrigerate until cool, about 30 minutes (stirring halfway through).

In a small bowl, whisk together the mayonnaise, mustard, black pepper, and cayenne pepper until combined. Add the mayo mixture, pickled veggies, eggs and celery to the potatoes and stir gently to combine. Season with salt and pepper, to taste. Cover and refrigerate at least 30 minutes before serving. Can be made up to 2 days ahead of serving.