This week I made Chocolate Thumbprint Cookies. I was feeling like something sweet, so I made a simple batch of buttery thumbprint cookies and filled them with yummy chocolate.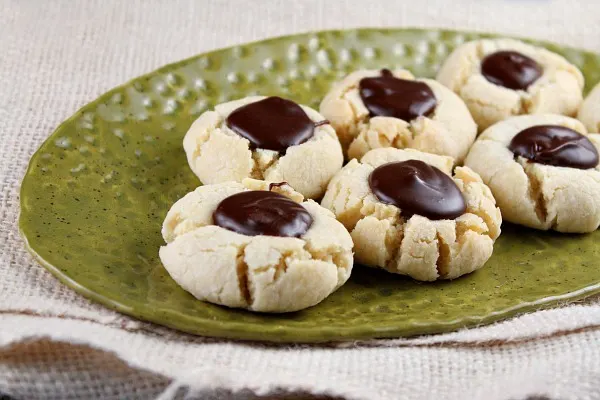 I've been so busy watching my 3 favorite shows that I almost forgot to blog! What TV shows do you like? I absolutely LOVE Modern Family, Wahlburgers, and Wicked Tuna. Wahlburgers and Wicked Tuna are both filmed near where my family and I stay every summer in Massachusetts, so we love to see familiar sights. Modern Family is just hilarious! If you guys haven't seen these shows, record them NOW! I wouldn't watch TV at all if it wasn't for these shows.
So… back to my cookies! These cookies tasted even BETTER than they look! The chocolate balanced out the cookie well. I personally would add a little bit more chocolate, but that's just me.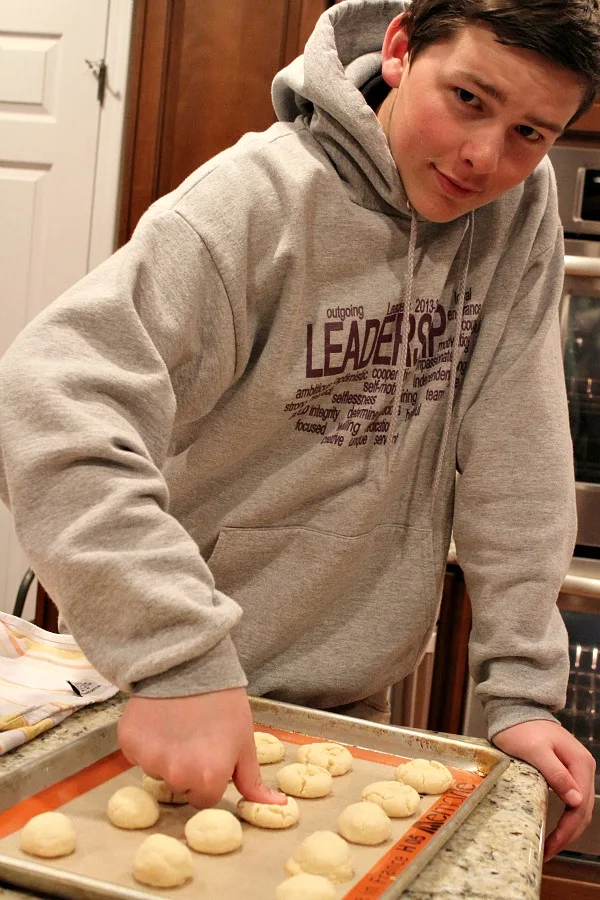 The cookies aren't that hot when they come out of the oven. The original recipe said to dip your thumb into cold water before pressing each cookie (to cool them off), but it's not necessary.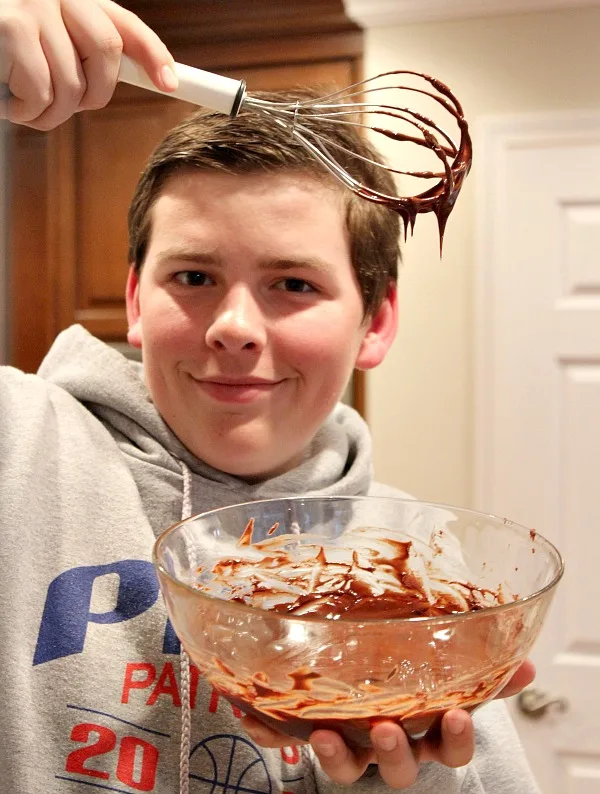 Originally I used milk chocolate chips in the chocolate mixture, but it turned out really grainy. We tried the chocolate mixture with milk chocolate again, and it was still grainy. Then we discovered that it was the chocolate that was causing the problem. The next day I made the same mixture but with semi-sweet chocolate instead of milk chocolate. It worked! I think that milk chocolate would have tasted better, but you have to cook with what works.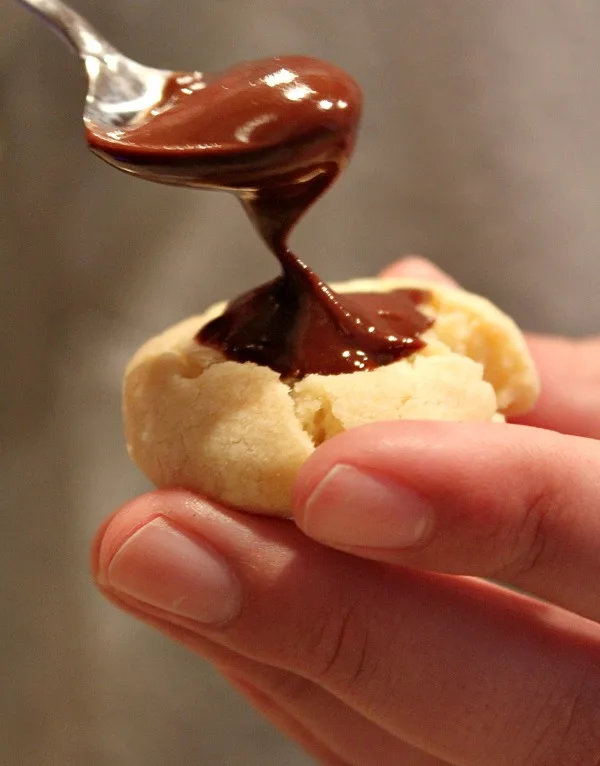 Filling the cookies was hard! First I put too much chocolate, then I put too little chocolate, and finally I got it right… about 10 cookies later. 🙂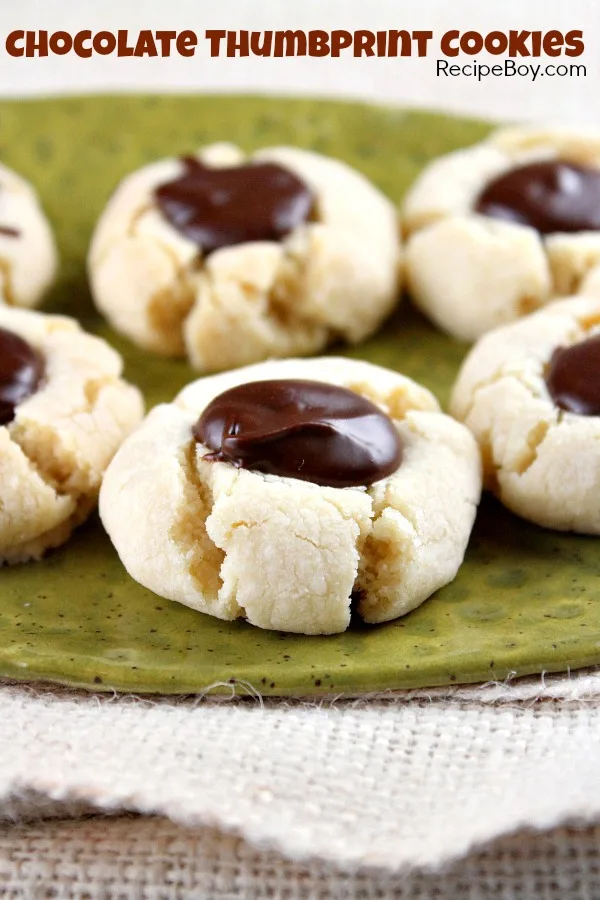 These cookies tasted great! The cookie was a little hard, so I'm going to try to find a way to make it softer. The chocolate mixture tasted great even with the semi-sweet chocolate. If I was going to change this recipe next time, I would find ways to use milk chocolate in the mixture and make the cookie softer. These Chocolate Thumbprint Cookies were good enough for a nice dessert (and lunchbox treat!)
And even a kid has his favorite TV shows… Like Me!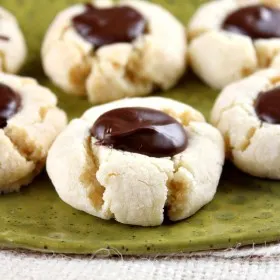 Chocolate Thumbprint Cookies
These cookies are the best of both worlds: buttery cookie + chocolatey goodness!
Ingredients
COOKIES:
1

cup (2 sticks)

unsalted butter,

at room temperature

1

cup

powdered sugar

¼

teaspoon

salt

2

teaspoons

vanilla extract

2½

cups

all purpose flour
CHOCOLATE FILLING:
6 ounces

semi-sweet chocolate,

chopped

6

tablespoons (¾ stick)

unsalted butter,

at room temperature

2

teaspoons

corn syrup
Instructions
Preheat the oven to 350 degrees F. Line two baking sheets with parchment paper or silpat mats.

In a large bowl, use an electric mixer to combine the butter, powdered sugar, salt and vanilla. Beat until smooth- about 2 minutes. Beat in the flour until combined.

Form balls using about 2 teaspoons of dough for each. Place balls 1 inch apart on the prepared baking sheets. You should be able to fit 15 cookies on each sheet. Bake 10 minutes, then remove from the oven and use your thumb to press a deep indentation into the middle of each cookie. Return to the oven and bake 7 to 9 minutes more, until light brown on the edges. When the cookies come out of the oven, check the middles. Use your thumb to press down a little bit in the middle of each cookie once again, being careful not to press too hard. Cool completely.

In a medium glass bowl, combine the chocolate, butter and corn syrup. Set the bowl over a pan of simmering water and use a whisk to combine the chocolate mixture until melted and smooth. Set the bowl aside for about 10 minutes or so to cool (and let it thicken a little). Fill the middles of the thumbprint cookies with small spoonfuls of the chocolate mixture. Let them sit on a rack to firm up. Then store them in a covered container for up to 3 days (or freeze them). That's it!