Monkey Bread Muffins are a super quick and easy breakfast recipe!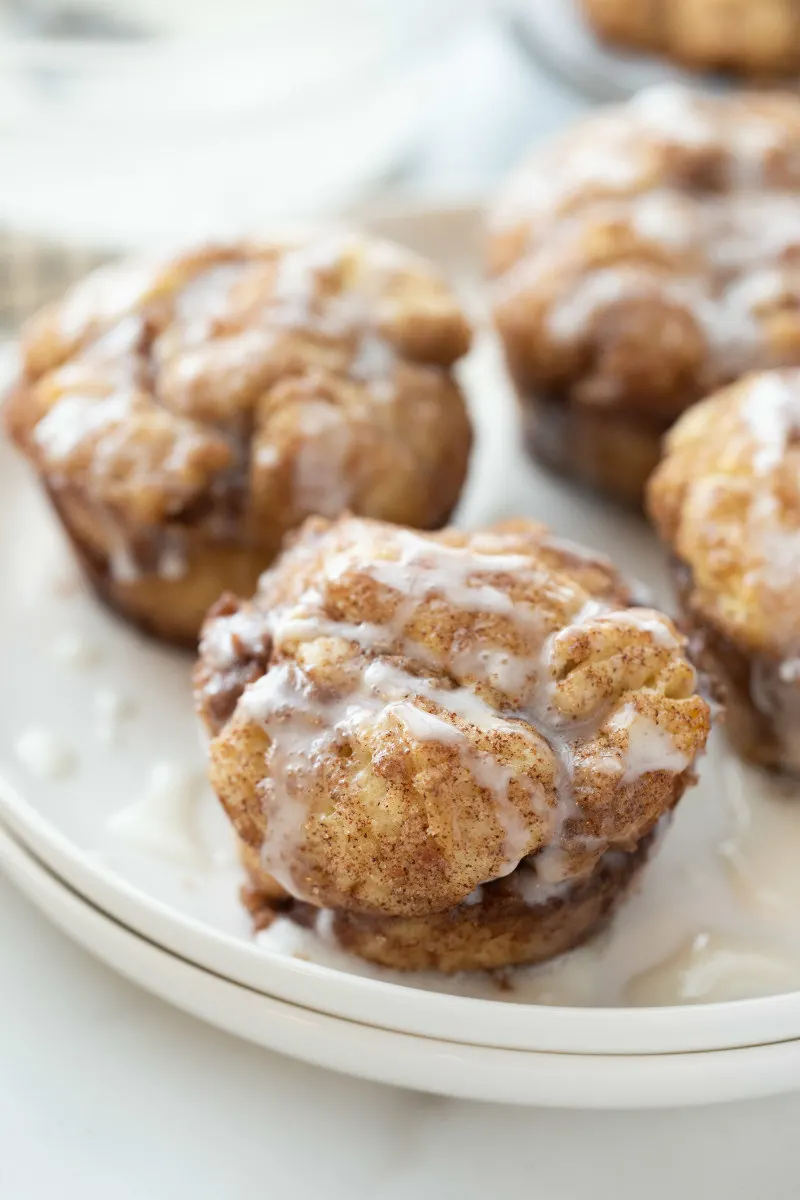 I'm sure you've had Monkey Bread before, right? Well, this recipe for Monkey Bread Muffins allows you to enjoy Monkey Bread in individual servings. The muffins are made in a muffin tin. You'll get muffins that have that same pull-apart consistency as the classic recipe. Because these are portion-sized, maybe you'll be able to control yourself from eating too much!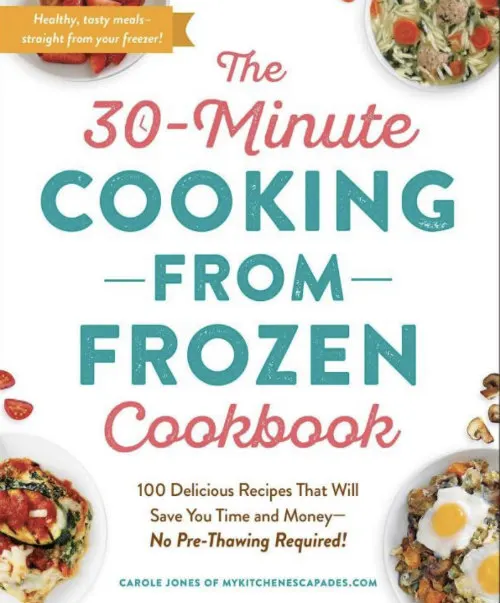 The 30-Minute Cooking from Frozen Cookbook
This recipe comes from The 30-Minute Cooking From Frozen Cookbook by Carole Jones (MyKitchenEscapades.com). This cookbook has 100 delicious recipes that will save you time and money by using some frozen foods in the ingredients for the recipe (no pre-thawing required!) Carole shows you how to make affordable, wholesome meals for you and your family in less than 30 minutes. You'll also learn what to look for in the frozen food aisle and how to maximize nutrition using frozen ingredients.
I don't usually use a lot of frozen foods in my cooking, but I like this cookbook because it calls for using "some" frozen ingredients in the recipe. Each recipe calls one or two or a few frozen ingredients that will "shortcut" the recipe and make it easier and quicker to prepare. Here are a few recipes in the book that I've bookmarked to make: Peach Cobbler Oatmeal, Quick Breakfast Pizza, Breakfast Tater Tot Casserole, Vegetable Fried Rice, Sweet Pea and Bacon Salad, Baked Barbecue Chicken Sliders, Biscuit-Topped Chicken Pot Pie, Garlic Butter Cauliflower Pizza, Pot Sticker Soup, Philly Cheesesteak Sloppy Joes, Baked Shrimp Scampi, Greek Avocado Salmon Salad, Loaded Waffle Fry Nachos, Roasted Vegetable Tacos, Peach Pie Roll-Ups, and Grilled S'Mores.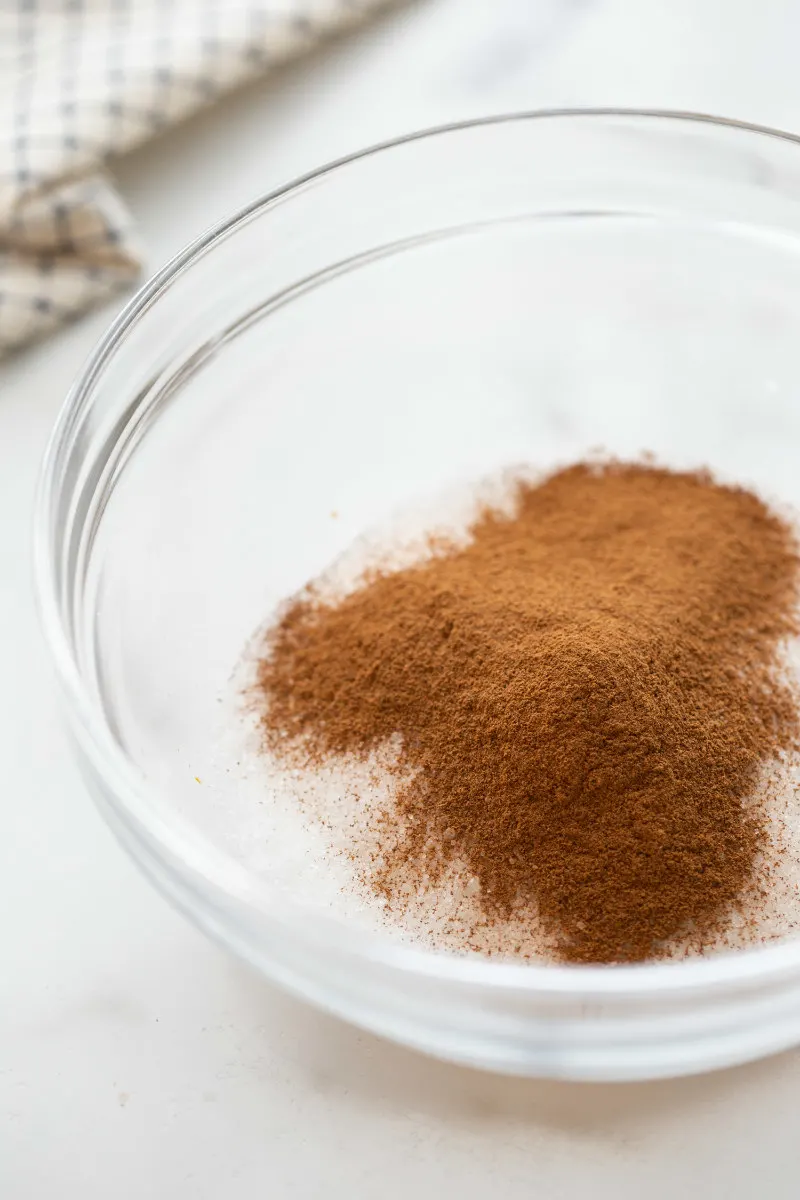 How to make Monkey Bread Muffins:
Sugar and cinnamon are combined in a bowl.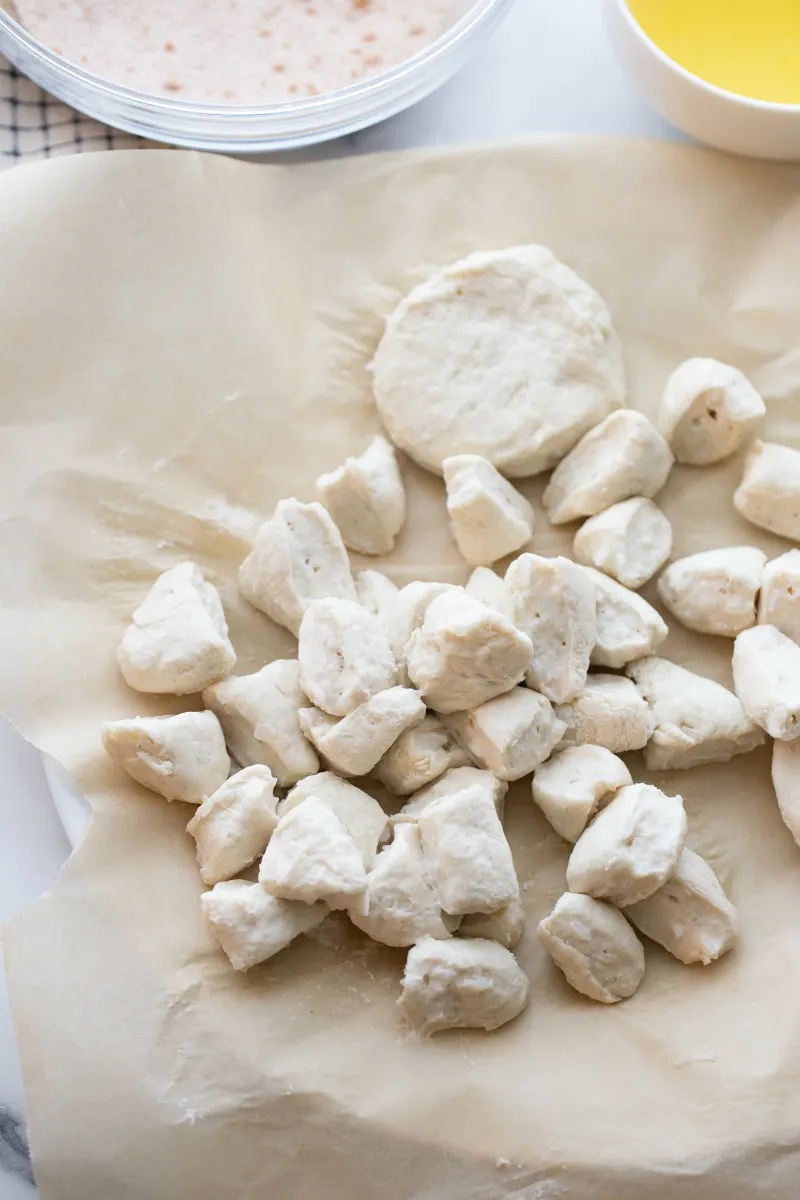 Frozen biscuit dough is cut into pieces. You can defrost the biscuit dough in the microwave (or let it defrost at room temperature).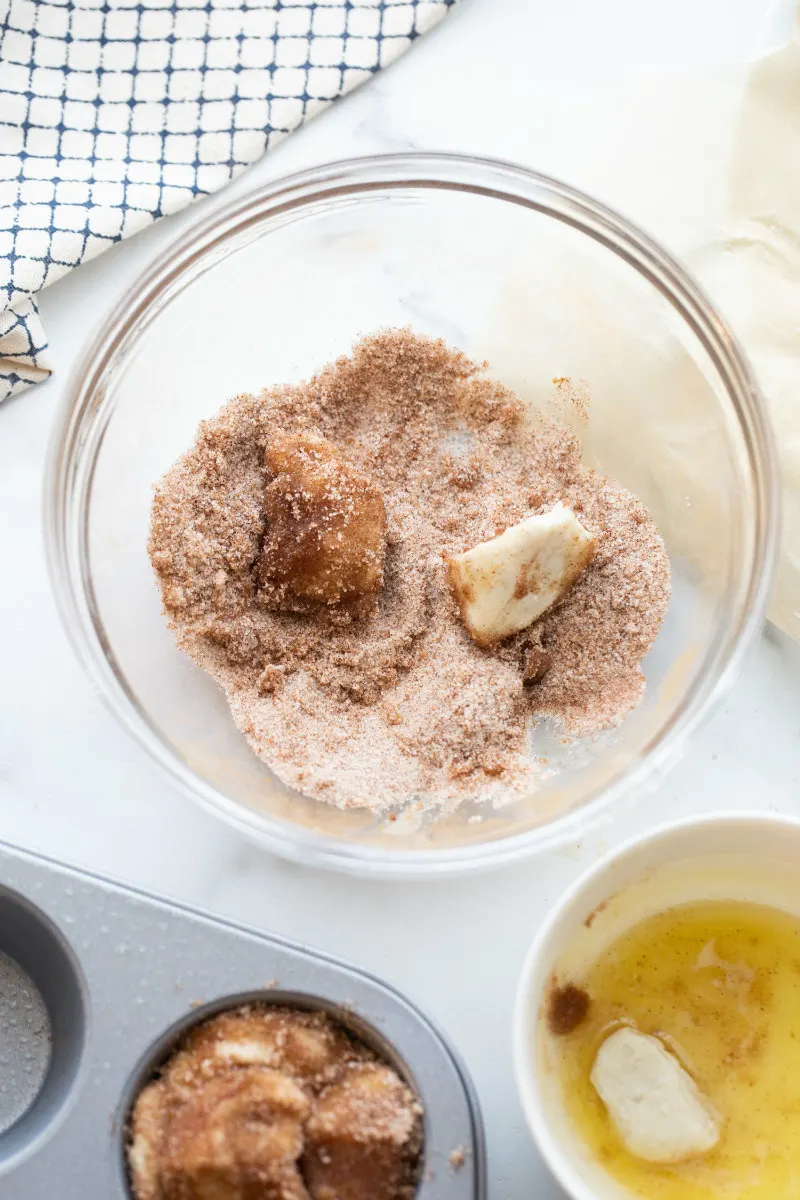 You will dip each piece of biscuit in melted butter and then place into a muffin cup. Use a 6-cup muffin tin. Nine dipped biscuit pieces will go into each muffin cup- to create six Monkey Bread Muffins. If you only have a traditional 12-cup muffin tin, use 4 or 5 pieces per muffin cup.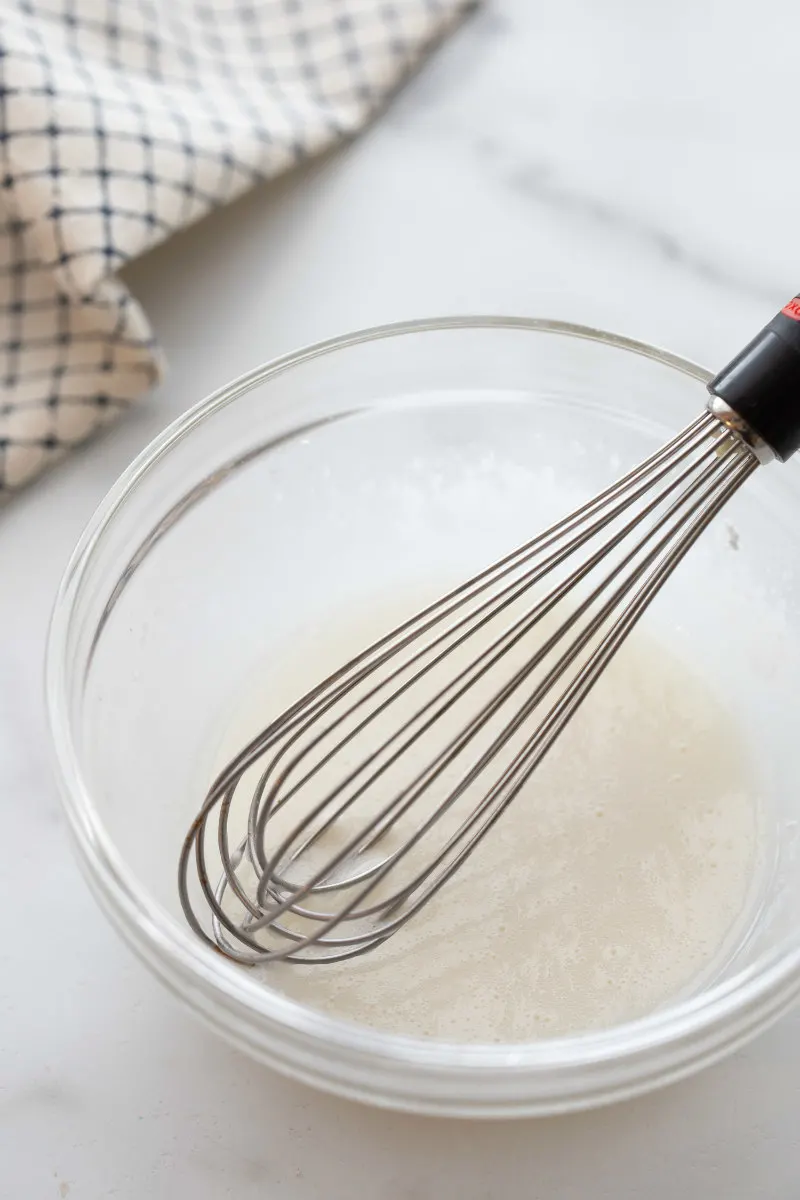 While the muffins are baking, you can make the glaze (a simple mix of powdered sugar and milk).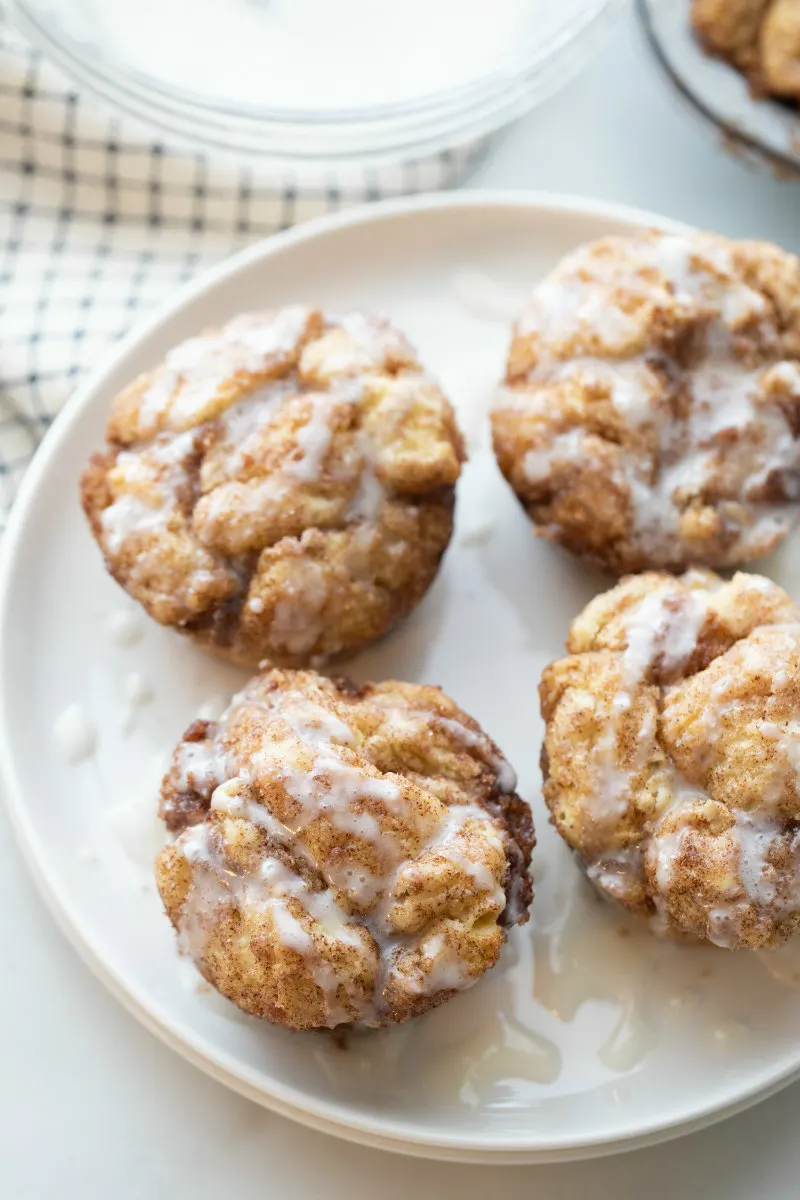 When your Monkey Bread Muffins come out of the oven, drizzle them with the glaze.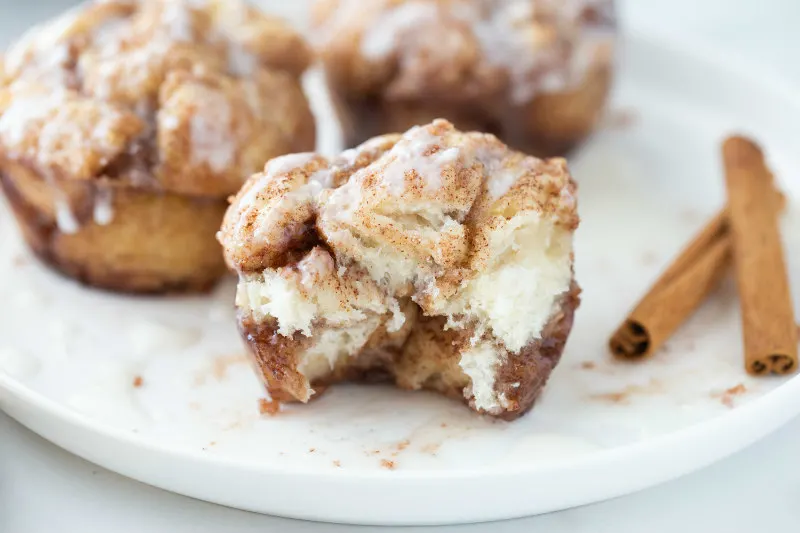 Serve and eat them while they're warm and wonderful. You can pull them apart and experience a gooey and delicious treat. I highly recommend that you double the recipe to make 12 muffins instead of 6. Monkey Bread Muffins would also be perfect to make for holiday mornings. Enjoy!
Here are a few more breakfast recipes you might like to try: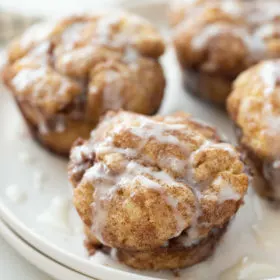 Monkey Bread Muffins
A super easy and delicious breakfast treat!
Ingredients
7

frozen

raw biscuits

1/2

cup

granulated white sugar

1½

teaspoons

ground cinnamon

4

tablespoons

salted butter,

melted

1/3

cup

powdered sugar

2

tablespoons

1% milk
Instructions
Preheat the oven to 375 degrees F. Grease a 6-cup muffin tin with nonstick spray.

Lay the biscuits flat on a microwave-safe plate and microwave at 30 percent power in 30-second increments until thawed, flipping biscuits over after each increment. Thawing will take 4 to 5 times total. Alternately, you can leave the biscuits at room temperature (covered) until they are thawed out.

In a small bowl, combine the granulated sugar and cinnamon.

Use scissors to cut each biscuit into eight even pieces. Dip each piece first in the butter, and then toss in the cinnamon sugar to coat completely. Put nine pieces in each muffin cup and bake until golden brown and centers are set, 16 to 18 minutes.

While the muffins bake, in a small bowl, combine the powdered sugar and milk and whisk together until smooth to form a glaze. Drizzle the glaze over the baked muffins and serve immediately.
Notes
If you only have a traditional 12-cup muffin tin, use 4 or 5 pieces per muffin cup.