Hi there everyone! I am currently driving with my family from Scottsdale, Arizona to Dallas, Texas for college (Southern Methodist University- SMU)!! I'm trying to muster as much energy as possible, but it is an exhausting 16 hour drive. I do have the opportunity to share a recipe I made last week. Here are my Air Fryer French Fries!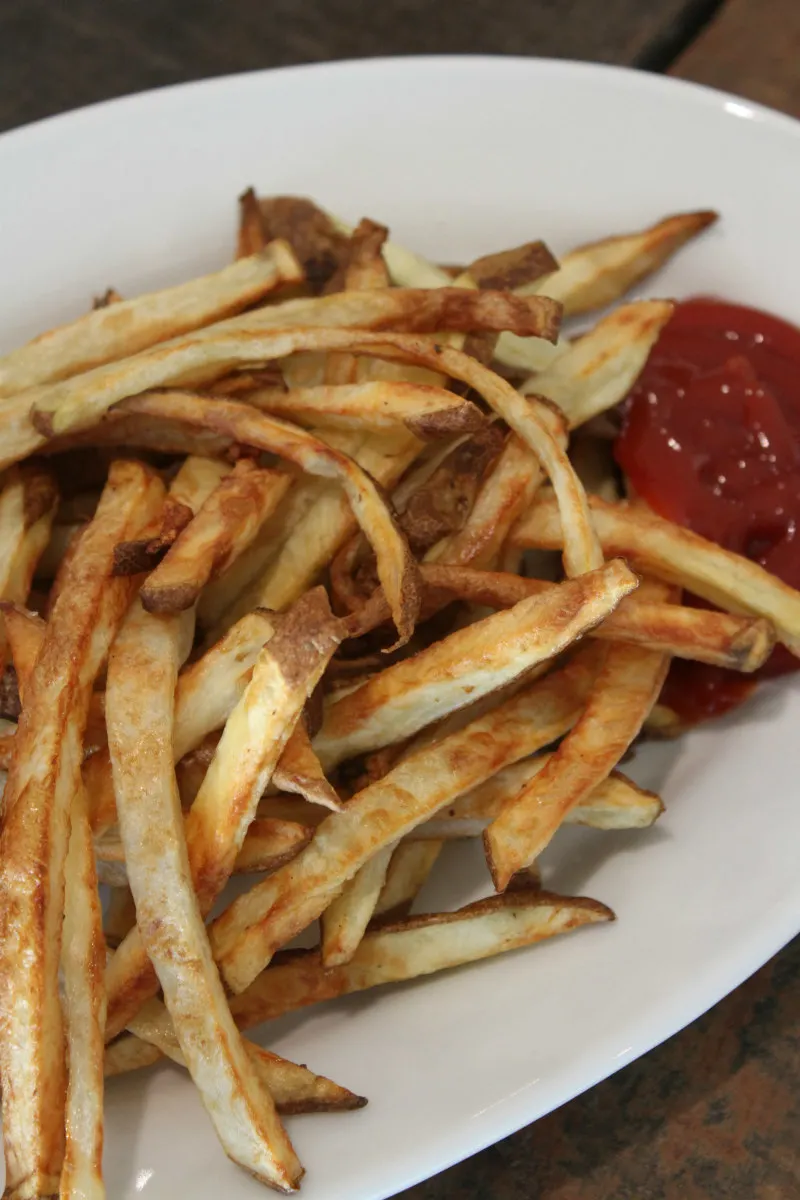 French fries are entirely based on personal preference. Some people prefer In-N-Out, others prefer Jack in the Box, but one thing remains the same: everyone loves fries! With an air fryer, you gain the capability to make your own french fries at home. With this recipe, you can control how thin or thick your fries are. You can also cook them for a longer period of time to gain extra crunch. An air fryer is basically a custom fry-machine!!!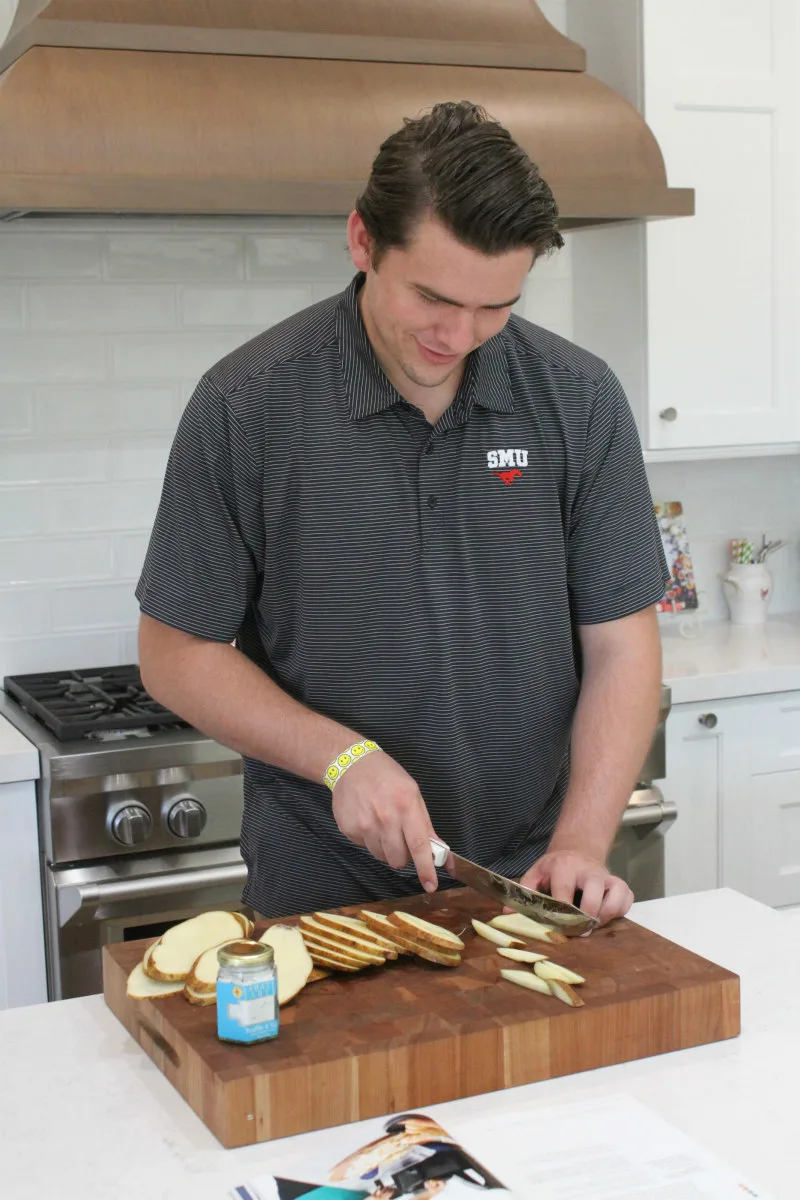 Cutting potatoes is a breeze (after you get the hang of it). When you first start out, it will be difficult to cut your potatoes into similar sized strips. Be sure to add extra care and attention for a perfect set of fries.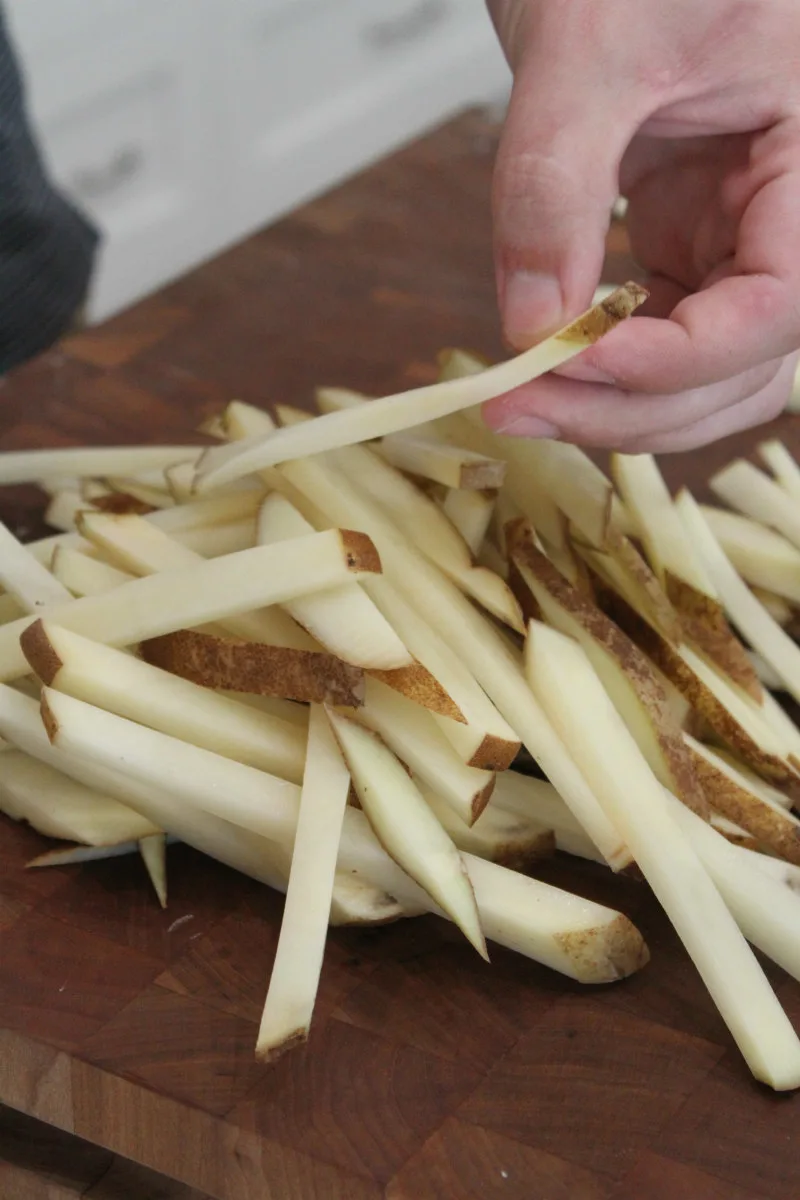 After going back through each potato slice, I was finally satisfied with the sizes of my french fries. Definitely try to get them as close to the same size as possible, otherwise they will cook differently in the air fryer.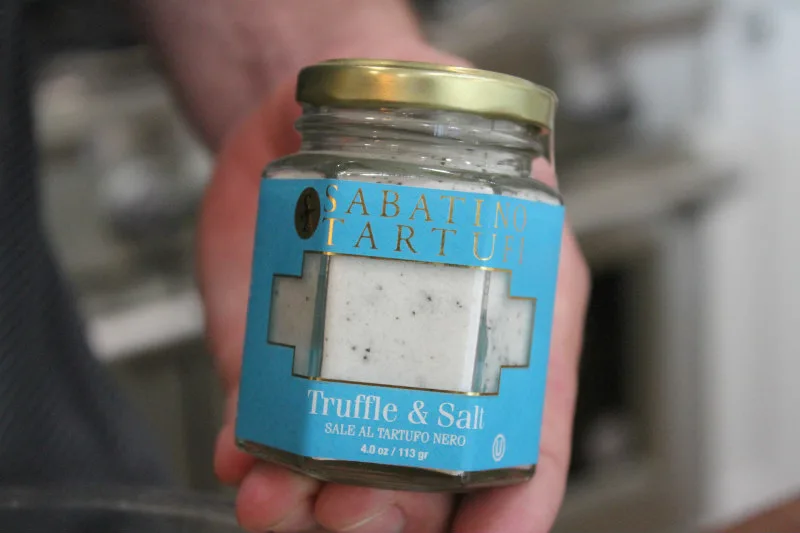 I absolutely LOVE truffle fries, so I added truffle salt to the fries! It's a perfect way to jazz up ordinary french fries and transform them into something special.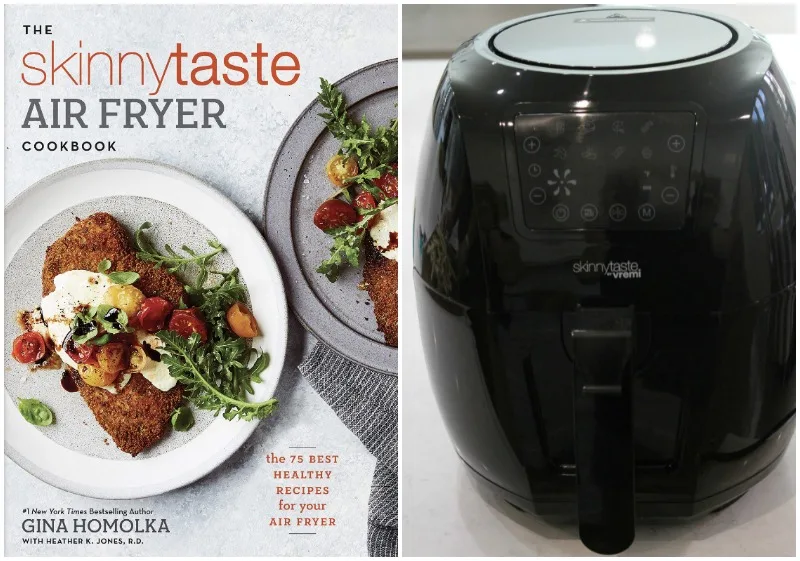 The Skinnytaste Air Fryer:
My Mom's friend Gina Holmolka is the founder of Skinnytaste.com. She has written NYT best-selling cookbooks, and now she has her very own Skinnytaste Air Fryer for sale too! There is a cookbook that you can buy to go with it: The Skinnytaste Air Fryer Cookbook. That's where this Air Fryer French Fries recipe comes from. There are very easy instructions and recipes in the book for using the Air Fryer. I have to say, it was pretty cool to see how these French fries turned out!
The cookbook has good recipes in in– things like PB&J Oatmeal Bake with Bananas and Blueberries, Homemade Bagels, Crab and Cream Cheese Wontons, Garlic Knots, Chicken Parmesan Caprese, Chicken Cordon Bleu, Low Carb Cheeseburger Sliders with Special Sauce, Apple Stuffed Pork Chops, Crispy Coconut Shrimp with Sweet Chili Mayo, Tortilla Shrimp Tacos with Cilantro-Lime Slaw, Mexican Street Corn, Crispy Onion Rings and Mini Churros!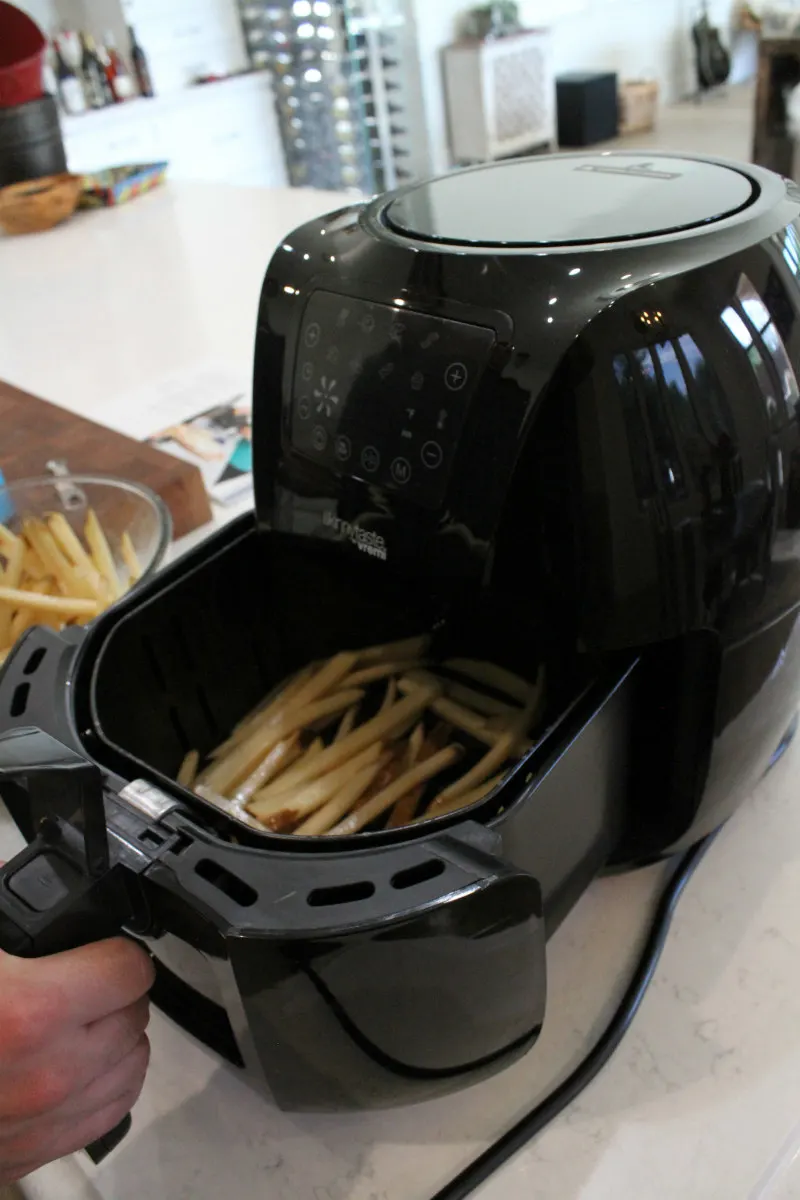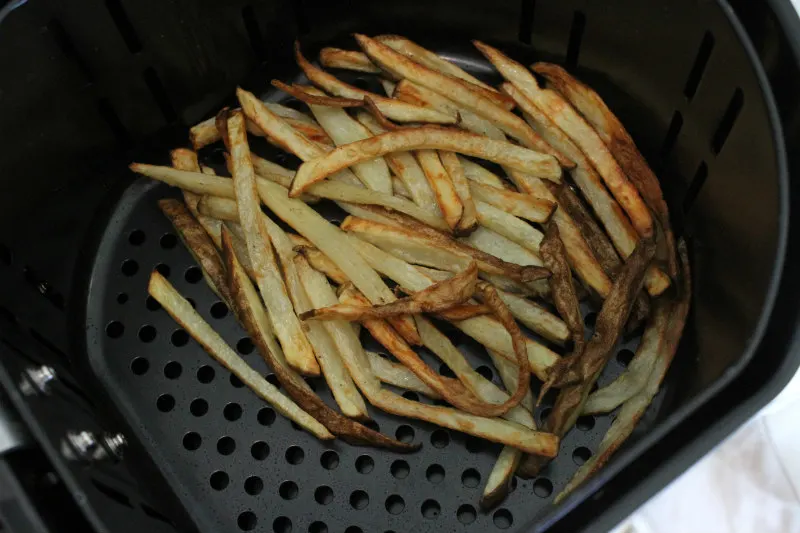 The air fryer cooks the french fries in a single layer at the bottom, without any oil added to the fryer itself! Instead, the fries are tossed with a bit of olive oil before they are put in.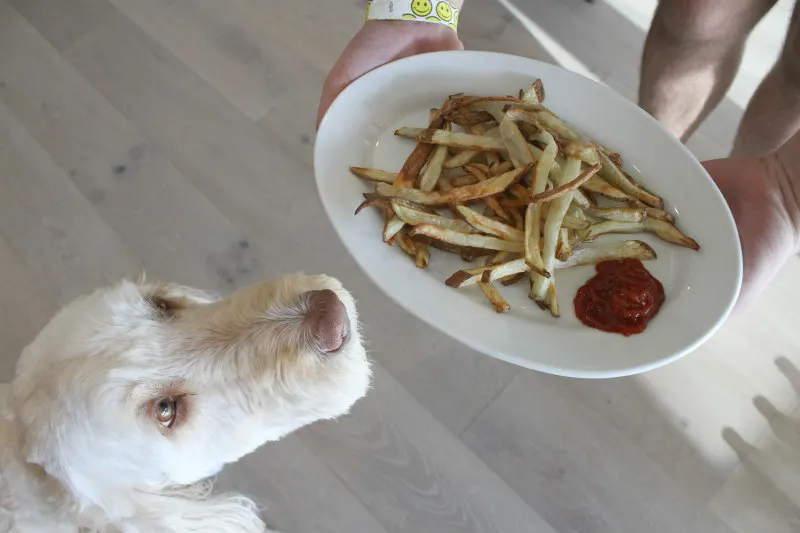 My dog Tessie is obviously a fan of the fries!! She's always hoping that we'll drop food scraps on the floor!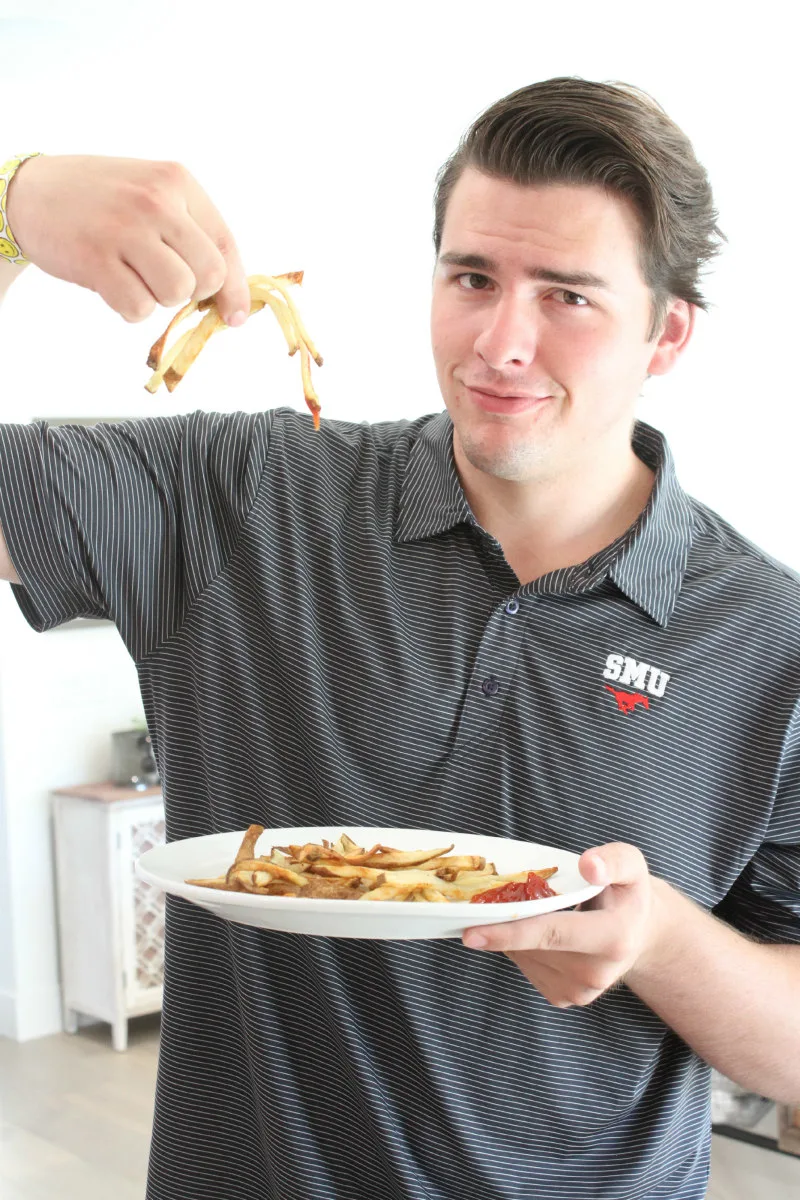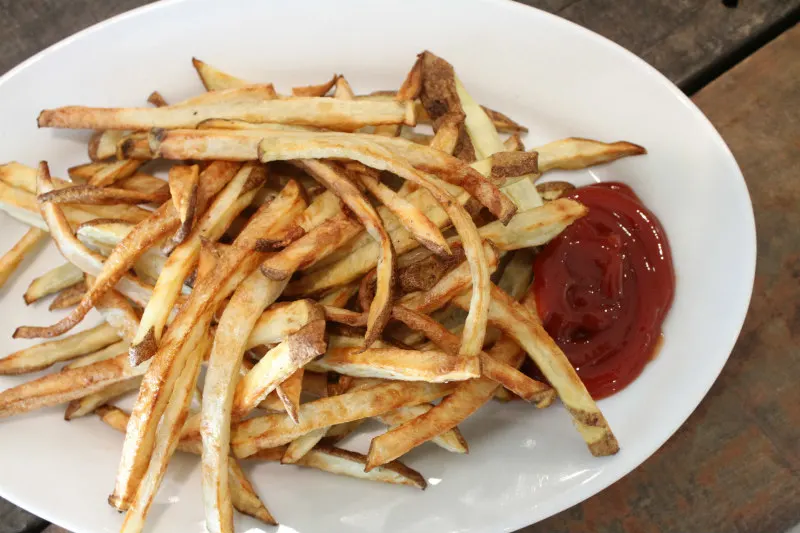 These Air Fryer French Fries were incredible! They are much healthier than traditional french fries, which tend to be very greasy. I loved being able to customize my fries, which meant adding truffle salt and cooking them a little longer than normal (crispier is better!). I'd highly recommend getting an air fryer for your home because it allows you to do so many different things that didn't even seem possible in your kitchen! On top of that, foods made in an air fryer are much healthier than the items you'll find at fast-food restaurants.
And as for me and my RecipeBoy blog… I'll be living in the dorms at SMU, so I won't be able to share recipes while I'm there. My Mom (RecipeGirl) will share recipes here once in a while, and she'll give you some updates on my progress in college. I'll pop in to write posts when I'm home on breaks. I really appreciate so many of you following my blog all of these years (some of you have been reading since I started the blog OVER EIGHT YEARS AGO!) It has been a blast learning how to cook and sharing my experiences with the world. RecipeBoy.com will continue on, so stay tuned!
Here are a few more potato recipes you might like to try: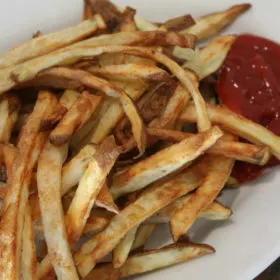 Air Fryer French Fries
You can make them as crispy as you want them, and you can season them however you want too!
Ingredients
two

6-ounce

Yukon Gold or russet potatoes,

washed and dried

2

teaspoons

olive oil

¼

teaspoon

kosher salt

¼

teaspoon

garlic powder

freshly ground black pepper,

to taste
Instructions
Cut the potatoes lengthwise into ¼ inch thick slices, then cut each slice into ¼ inch thick fries.

In a medium bowl, toss the potatoes with the oil. Season with the salt, garlic powder, and pepper to taste, tossing to coat.

Preheat the air fryer to 380℉.

Working in batches, arrange a single layer (no overlapping) of the potatoes in the air fryer basket. Cook for 12 to 15 minutes, flipping halfway, until the potatoes are golden and crisp. (For a toaster oven-style air fryer, cook at 350 degree F; the timing remains the same). Serve immediately.
Nutrition
Serving:
1
serving
Calories:
102
kcal
Carbohydrates:
15
g
Protein:
2
g
Fat:
4
g
Saturated Fat:
1
g
Polyunsaturated Fat:
0.5
g
Monounsaturated Fat:
3
g
Sodium:
296
mg
Potassium:
363
mg
Fiber:
2
g
Sugar:
1
g
Vitamin A:
2
IU
Vitamin C:
17
mg
Calcium:
11
mg
Iron:
1
mg
Disclosure: There are Amazon affiliate links included within this post.