Patriotic Jello is a red, white and blue, hand-held finger jello that is perfect for serving for summer parties and holidays!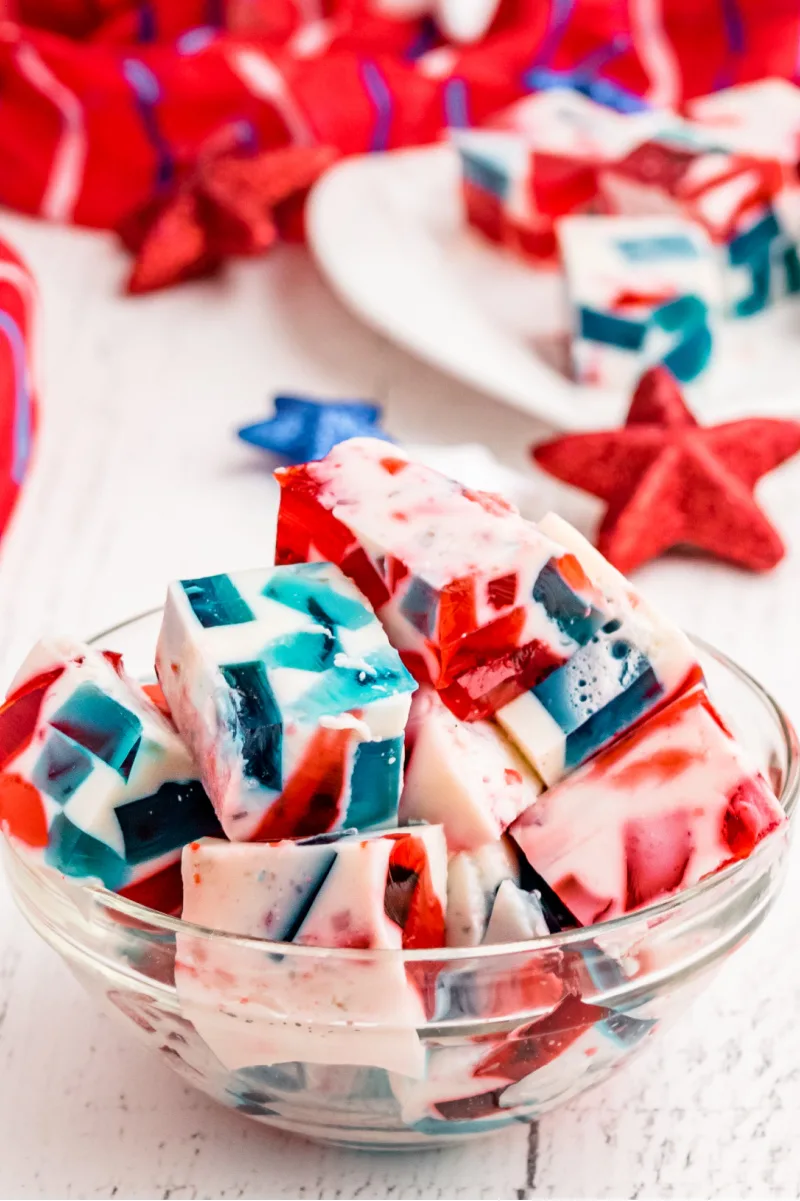 This is a re-post of RecipeBoy's original post back in 2011. He was inspired by RecipeGirl's Sea Glass Jell-O to make a red, white and blue version. Finger Jello happens to be a delicious treat to serve. Kids love it, but I must admit… adults love it too. This jello is a perfect recipe for summer barbecues and it's a fun recipe to make with your kids too.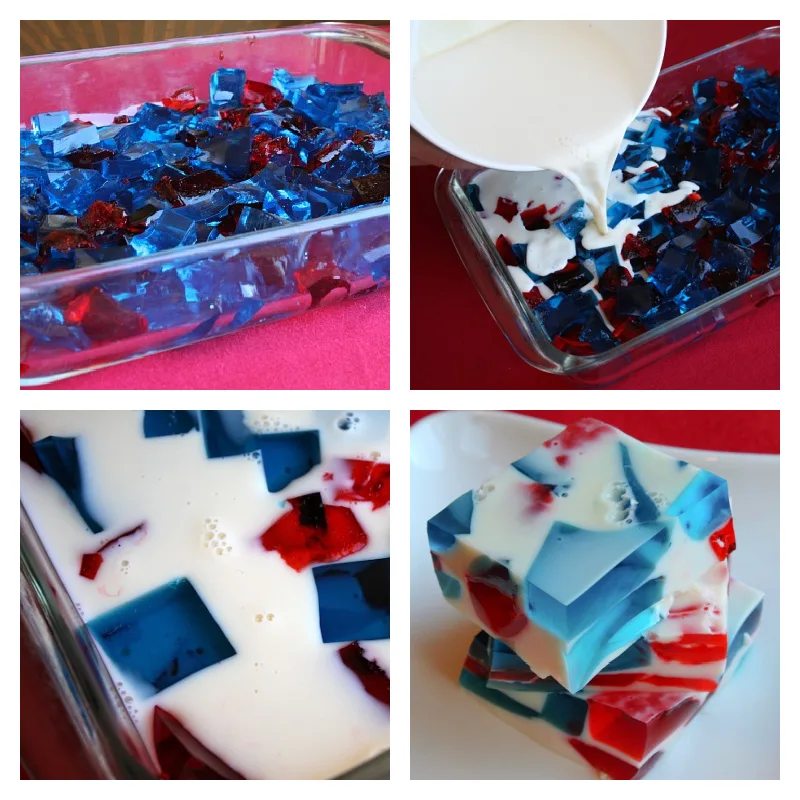 How to make Patriotic Jello:
Be sure to read the directions carefully and follow the steps one-by-one. Make red jello and blue jello in two separate pans. Let them set, then cut them into chunks and sprinkle both color jello chunks all into one pan.
The next step is mixing unflavored gelatin with cold water, and then adding in hot water. Then sweetened condensed milk is mixed in. This mixture is cooled down, and then it's poured onto the jello chunks. The whole thing is refrigerated until set. Then you can cut the patriotic jello into pieces and serve.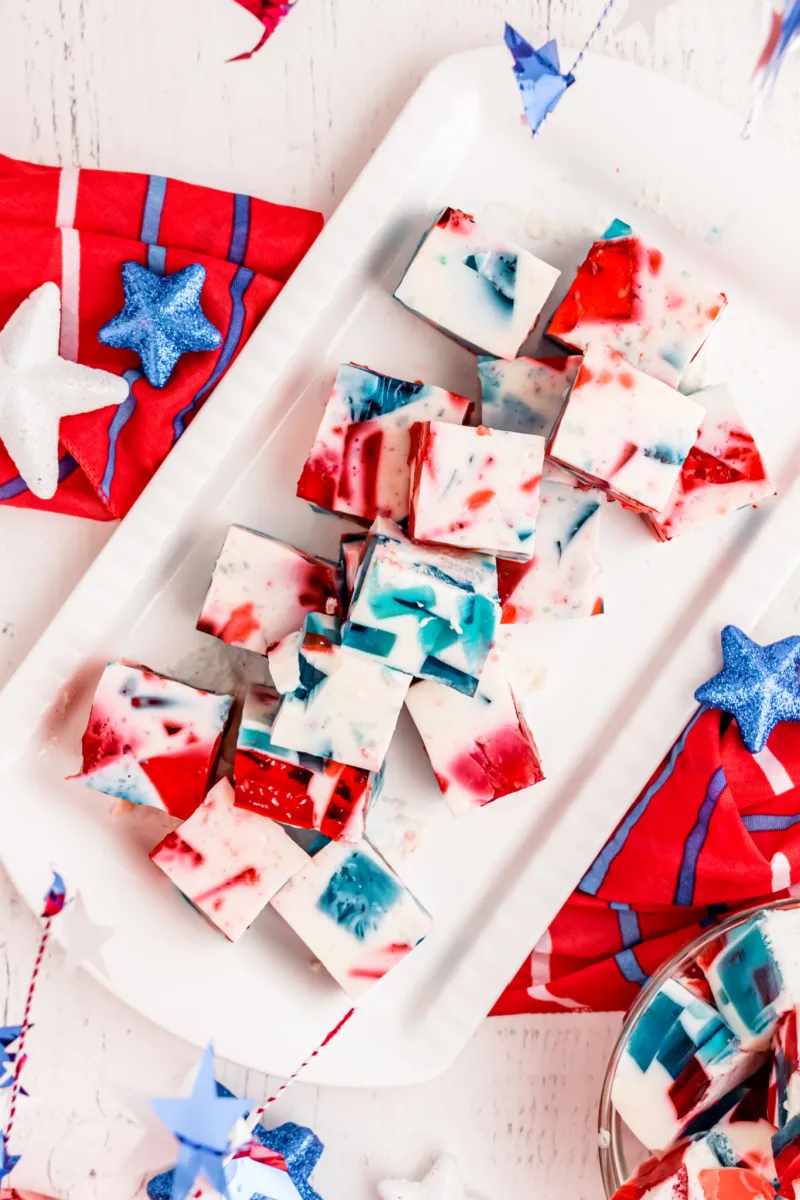 NO utensils are required! Simply display the pieces of Jell-O on a platter and let people pick them up eat them with their hands!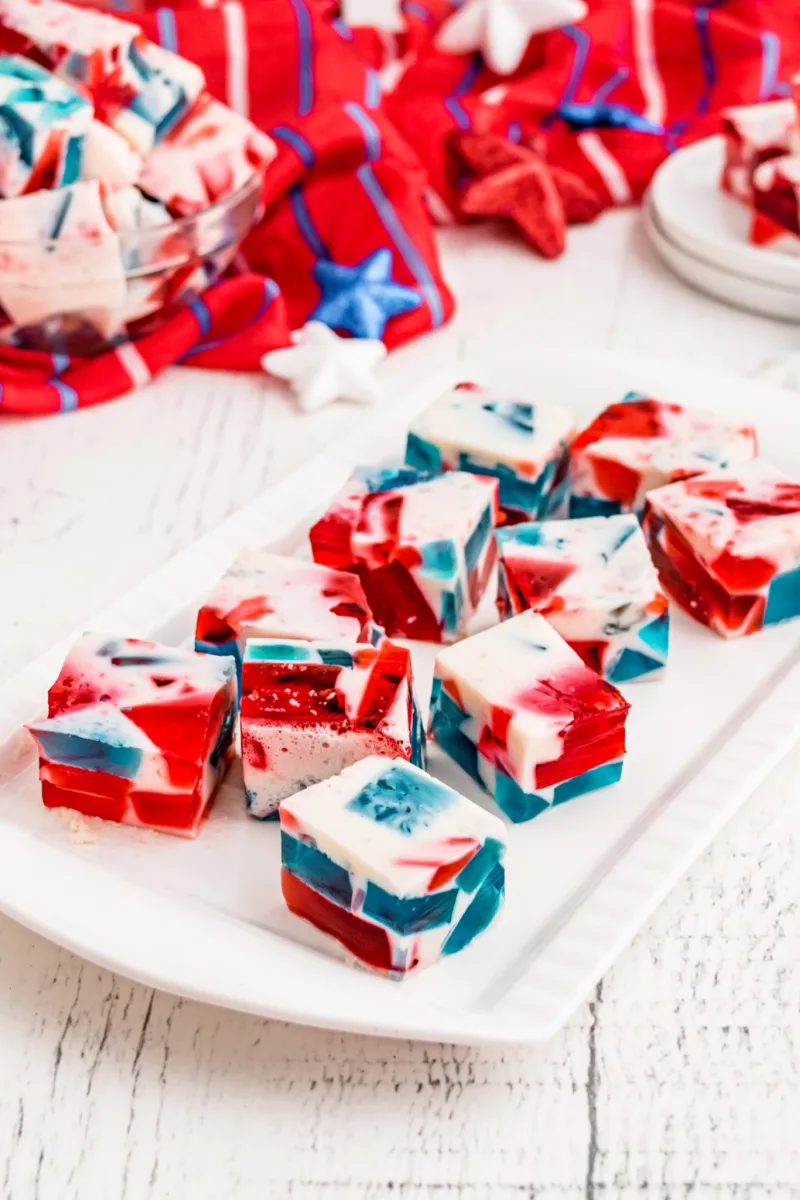 They will be sturdy pieces, so they're easy to pick up as a hand-held treat.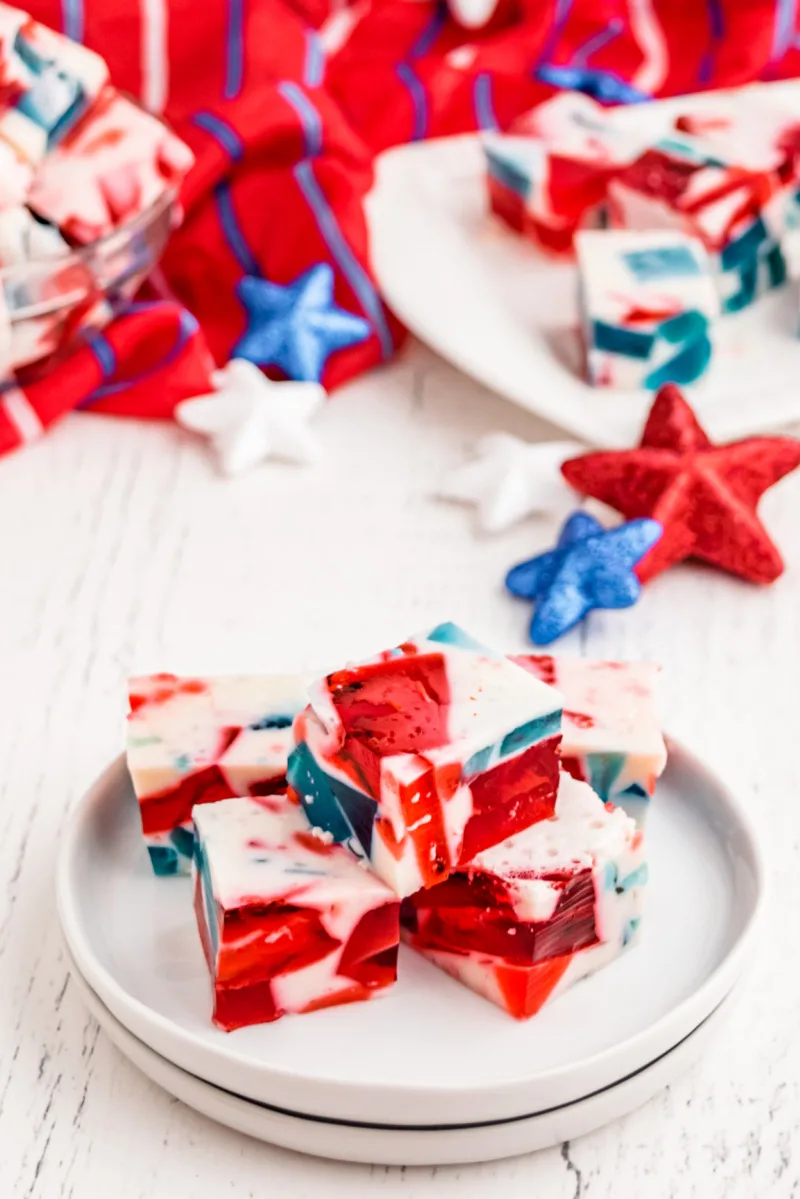 It's such a fun dessert for 4th of July, Memorial Day or Labor Day weekend. The red, white and blue makes these the perfect patriotic treat!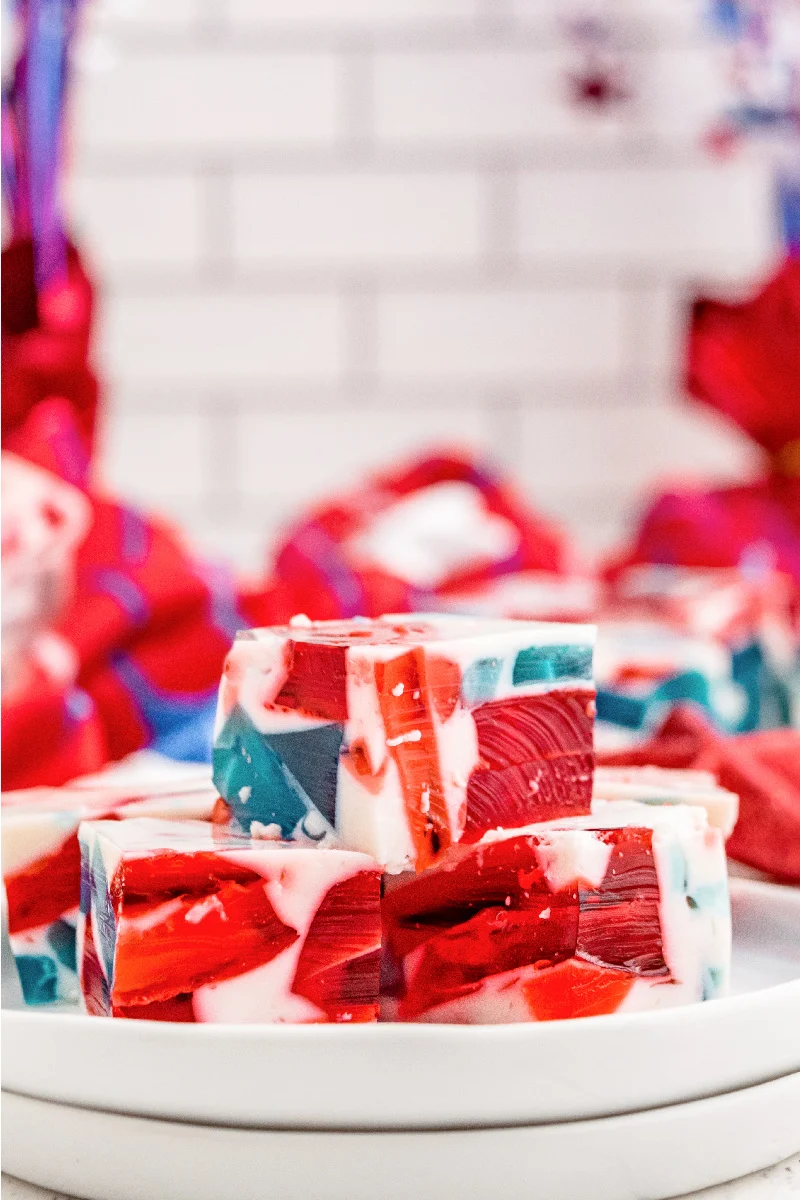 Be prepared for questions about this recipe. Everyone will want to know how you made it. Patriotic Jello tends to be an impressive addition to your party table!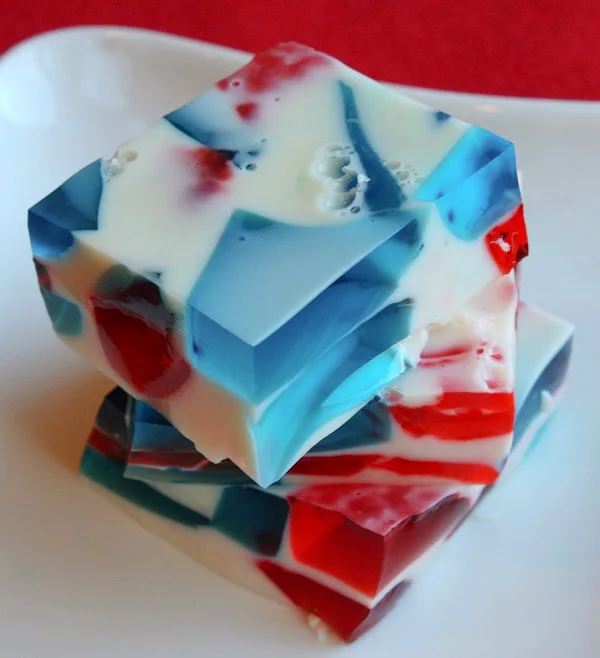 All kids who like jiggly foods will LOVE this one because it's colorful and everybody likes Jell-O. And as I mentioned before, adults will like this one too! Be sure to make Chocolate Covered Peanut Butter Pretzels as well for an additional super easy treat for summer parties!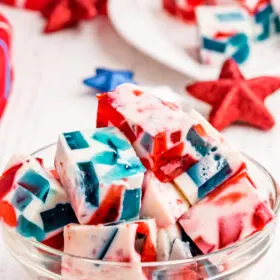 Patriotic Jello
This is a really good recipe for parties on Memorial Day weekend or Fourth of July. Plus, it shows some real spirit for old Uncle Sam!
Ingredients
One

6-ounce box

red Jello gelatin

(strawberry or raspberry)

One

6-ounce box

blue Jello gelatin

(berry blue)

4

cups

boiling water

2

envelopes

Knox unflavored gelatin

½

cup

cold water

1½

cups

boiling water

One

14-ounce can

sweetened condensed milk
Instructions
In two separate rectangular pans (9x13-inch is fine), sprinkle each box of Jell-O gelatin. Add 2 cups of boiling water to each pan. Stir until the gelatin dissolves. Put in refrigerator for at least 3 hours, until the liquid turns into jiggly Jell-O.

Cut each flavor into small blocks. Carefully mix the blocks in a 9x13-inch pan.

In a different bowl, sprinkle 2 pouches of unflavored gelatin into ½ cup of cold water. When the gelatin blooms, add 1½ cups boiling water. Whisk it together until it dissolves. Add the can of sweetened condensed milk. Stir and cool.

Pour the milk mixture over the Jell-O blocks and stick it in the refrigerator for at least 3 hours (or overnight). Then cut into squares and serve.
Nutrition
Serving:
1
piece
Calories:
70
kcal
Carbohydrates:
13
g
Protein:
2
g
Fat:
1
g
Saturated Fat:
1
g
Polyunsaturated Fat:
0.05
g
Monounsaturated Fat:
0.3
g
Cholesterol:
5
mg
Sodium:
47
mg
Potassium:
53
mg
Sugar:
13
g
Vitamin A:
38
IU
Vitamin C:
0.4
mg
Calcium:
41
mg
Iron:
0.04
mg