Key Lime Bars are my new favorite dessert. They're addicting!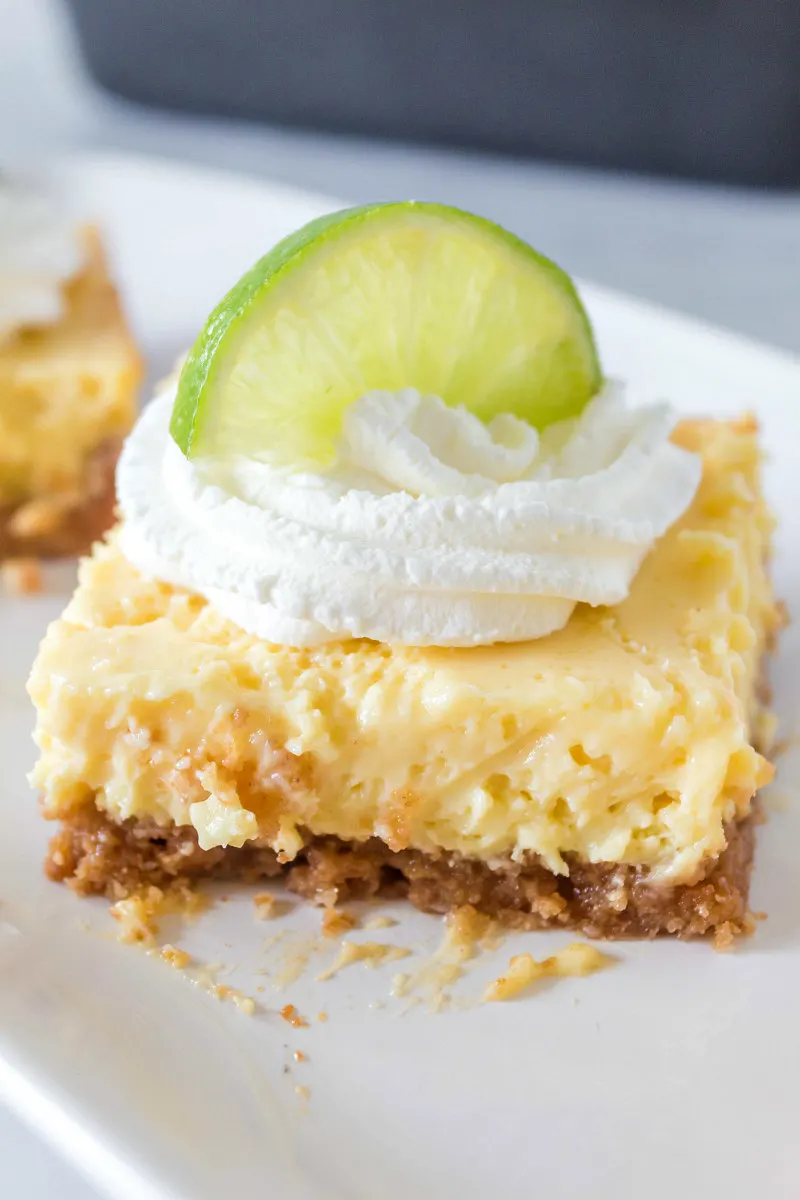 If you're a fan of lemon bars, you'll most likely really enjoy key lime bars too. They have a fabulous sweet and tangy flavor. It's so hard to eat just one. The texture of the filling is creamy, and they have a graham cracker crust. We'll be making these again and again, for sure!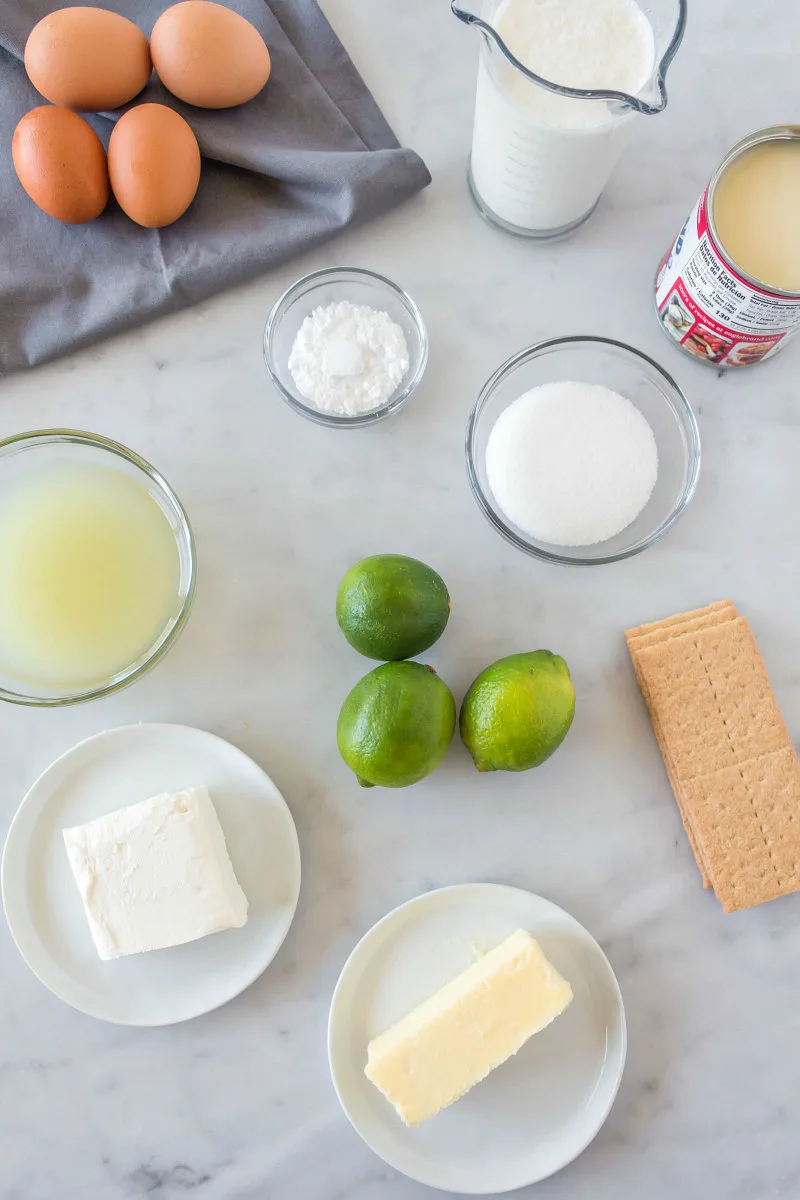 Ingredients needed:
graham crackers
butter
sugar
cream cheese
sweetened condensed milk
egg yolks
key lime juice
heavy whipping cream
powdered sugar
key lime slices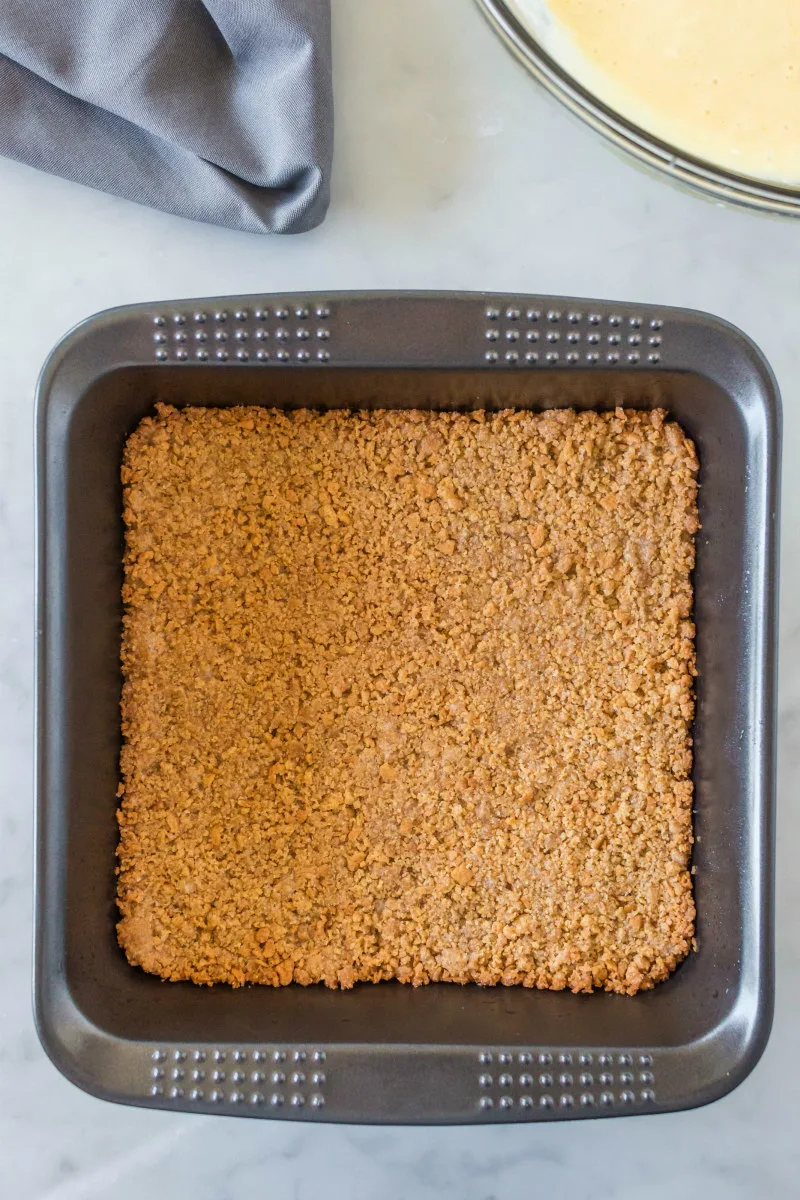 How to make graham cracker crust:
A graham cracker crust is a simple combination of finely ground graham cracker crumbs, sugar and butter. It's pressed into the bottom of an 8×8-inch square pan and baked. You can buy graham cracker crumbs in a box at the store, or you can plan to grind up graham crackers in your food processor to create crumbs.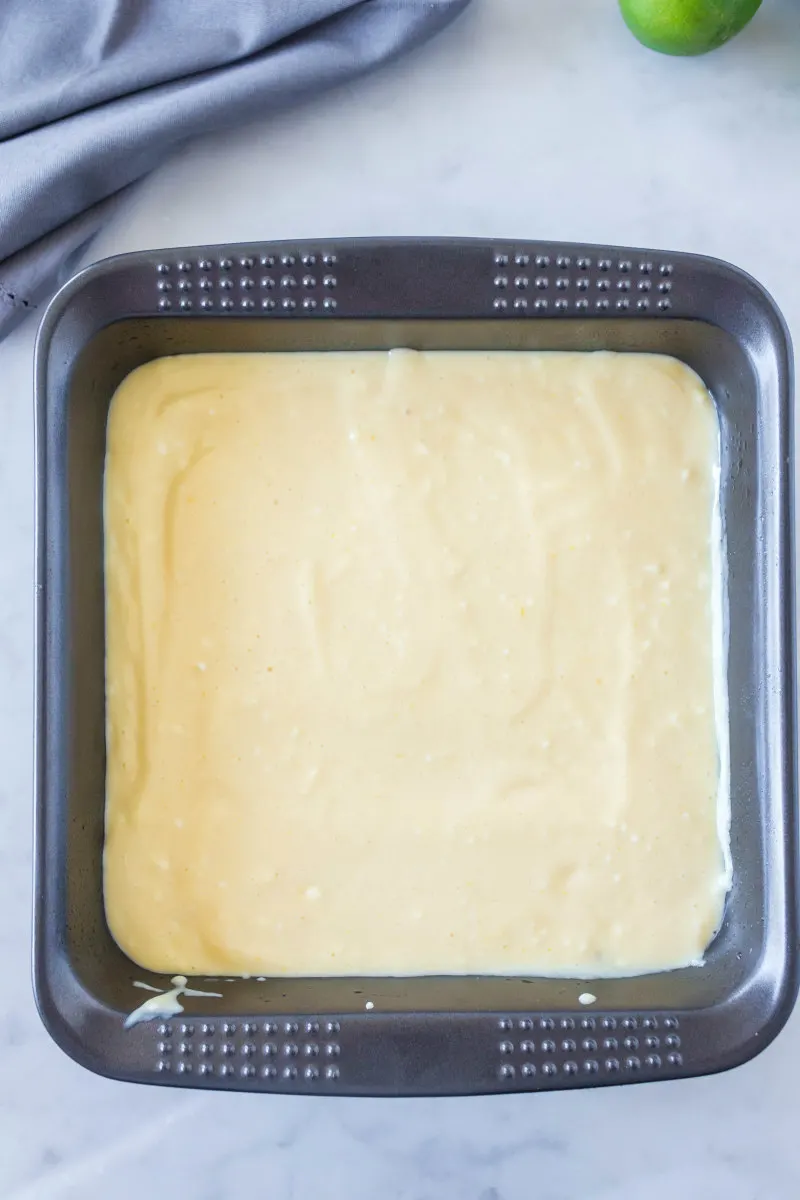 How to make the filling for Key Lime Bars:
The filling is a mix of cream cheese, sweetened condensed milk, egg yolks and key lime juice. If you're thinking that you have to squeeze a million tiny key limes to get enough lime juice for this recipe, don't worry– you don't have to do that! In the juice aisle of your local market, you should be able to buy key lime juice in a bottle. The brand I always buy is (affiliate link) Nellie & Joe's Key Lime Juice. The filling is spread onto the baked graham cracker crust, and then the pan goes back into the oven to bake some more.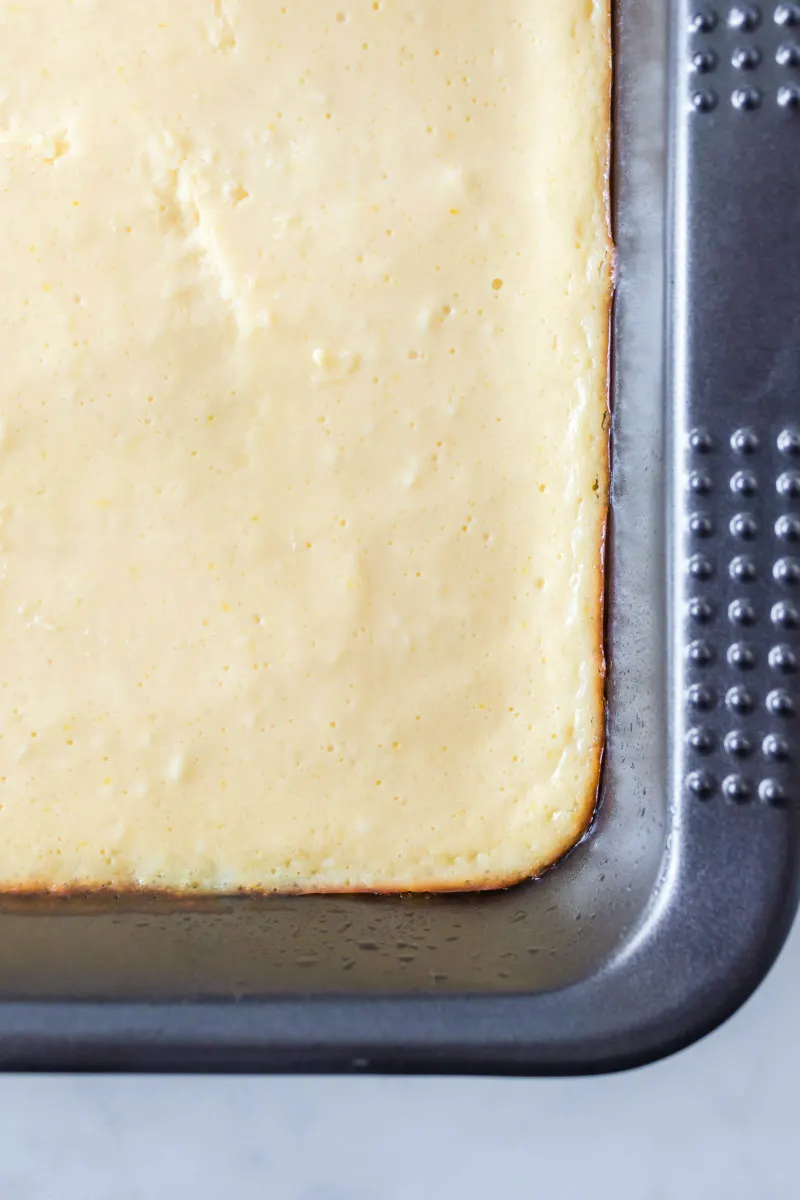 And this is how the key lime bars will look when they come out of the oven. It's best to refrigerate them at this point so they have a chance to get nice and chilled and firmed up. They are so delicious that you could cut the bars just like this and eat them.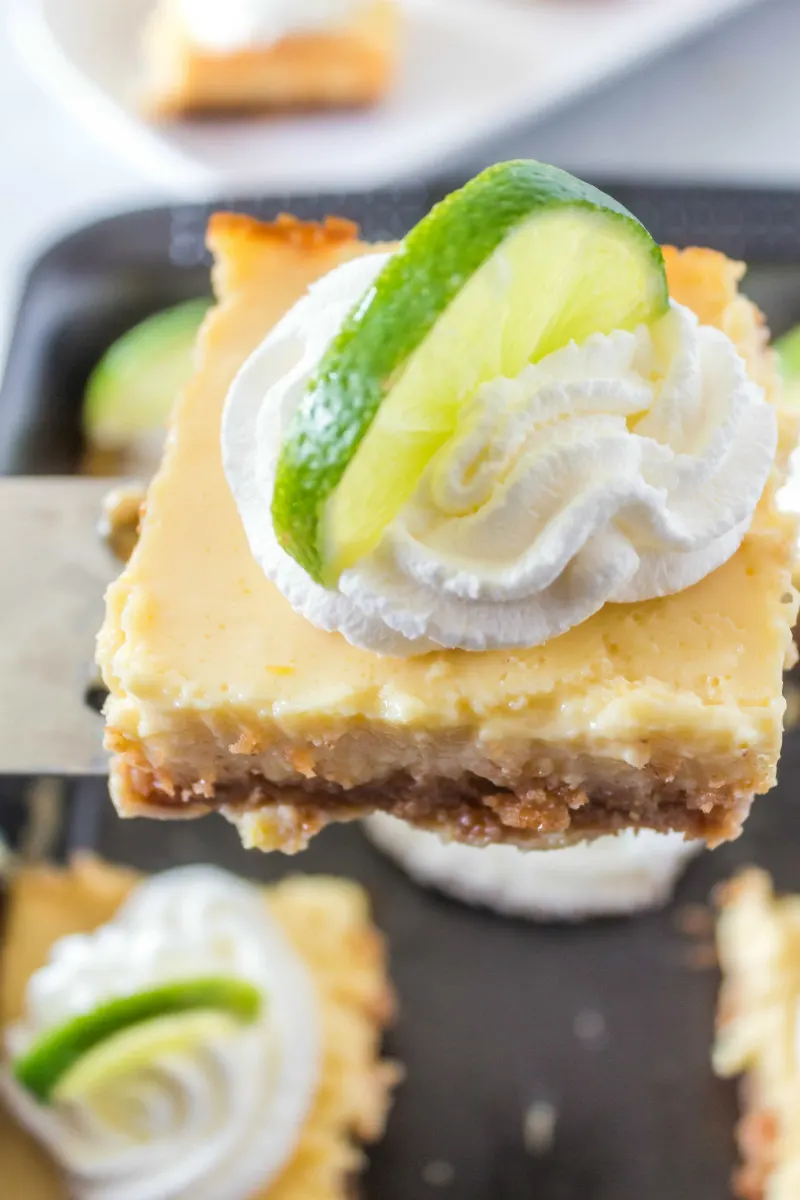 I like to add a little piping of freshly whipped cream on top, and then garnish them with a small slice of a fresh key lime. Look for key limes in your market's produce section. They are a tiny version of regular limes.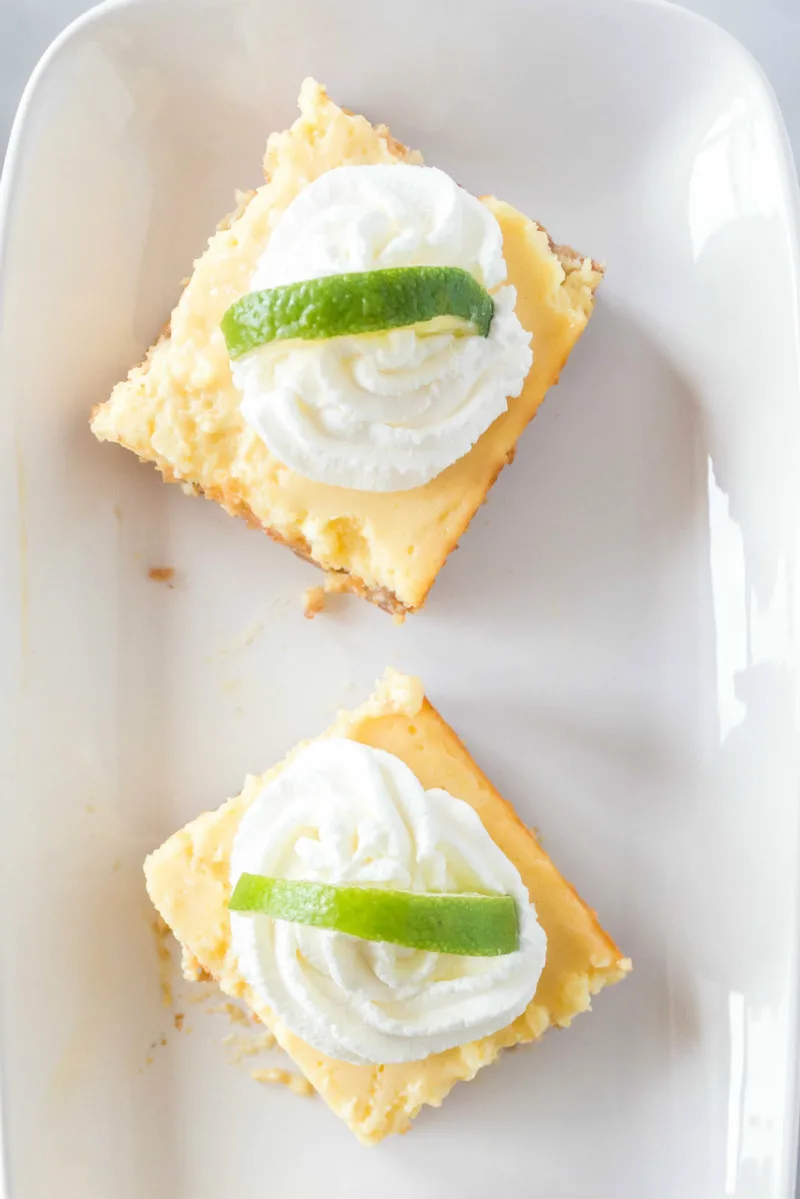 Store your key lime bars in a covered container in the refrigerator until you are ready to serve them. Keep leftovers chilled as well. I served these bars at a birthday gathering recently, and they were a big hit. Several people asked for the recipe. We found ourselves unable to keep away from them at home too. They are completely addicting!
Here are a few more dessert bars you might like to try: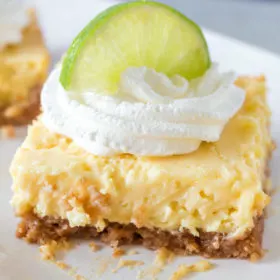 Key Lime Bars
Totally delicious, sweet and tangy bars!
Ingredients
CRUST:
9

whole

graham crackers

6

tablespoons

butter,

melted

1/4

cup

granulated white sugar
FILLING:
4

ounces

cream cheese,

softened to room temperature

One

14-ounce can

sweetened condensed milk

4

large

egg yolks

1/2

cup

key lime juice

(look for Nellie & Joe's brand in the juice aisle)

pinch of salt
TOPPING:
1

cup

heavy whipping cream

1

tablespoon

powdered sugar

3

regular

key limes,

cut into thin slices and then cut in half
Instructions
Preheat the oven to 350 degrees F. Spray an 8x8-inch pan with nonstick spray.
PREPARE THE CRUST:
In a medium bowl, combine the graham cracker crumbs, butter and sugar. Stir until well combined. Press the crust mixture into the prepared pan. Bake for 8 minutes.
PREPARE THE FILLING:
In a large bowl, use a mixer to combine the cream cheese, sweetened condensed milk, egg yolks, lime juice and salt; beat until well combined and smooth. Scrape the filling on top of the baked crust and smooth with a rubber spatula to make it even. Bake 15 to 20 minutes, or until the filling is set. Chill the cooked bars for at least 2 hours (or overnight).
ADD THE TOPPING:
In a medium bowl, use an electric mixer to whip the cream and sugar until the cream has thickened. Cut the bars into squares and move them to a serving platter. Spoon the whipped cream onto the bars and garnish with a piece of lime. Alternately, you can put the whipped cream into a piping bag and pipe it decoratively on top of each bar.