These Raspberry Shortbread Bars are completely delicious and totally addicting. You won't be able to stop eating them!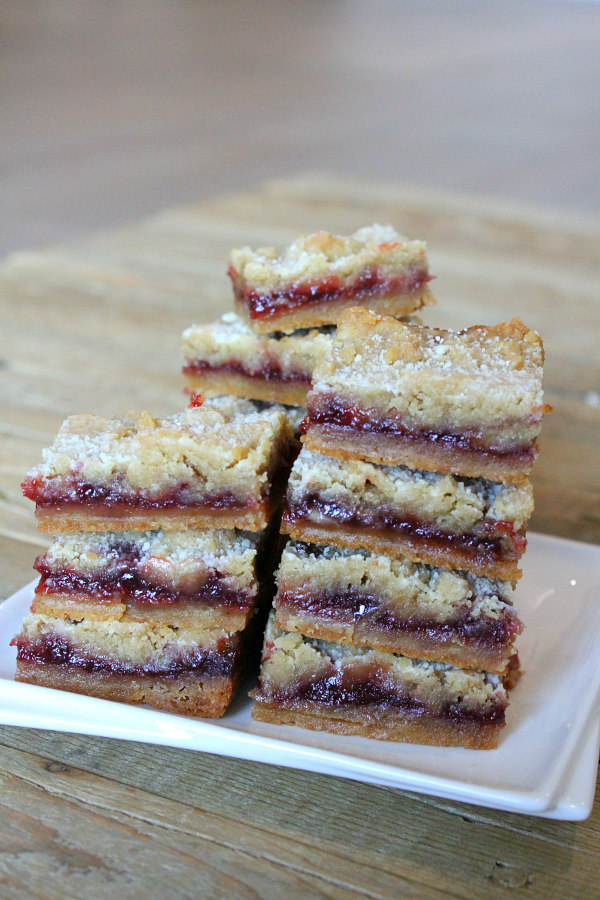 Hi, it's RecipeGirl here (Brooks' Mom). Brooks is in his first year of college at Southern Methodist University in Dallas, and since he's busy with all of that… I'm going to share recipes on his blog until he's home on Christmas break. Then he'll have time to pop in and share a recipe and share about his experience in college. In the meantime, I'll share some updates and photos once in a while, and give you some great recipes to try!
I made these Raspberry Shortbread Bars for a couple of parties we had this summer. The recipe makes 30 small bars, so I served half of the recipe at one party, and I froze the other half of the recipe to be served at the next party. It worked perfectly, and they were a big hit at both parties!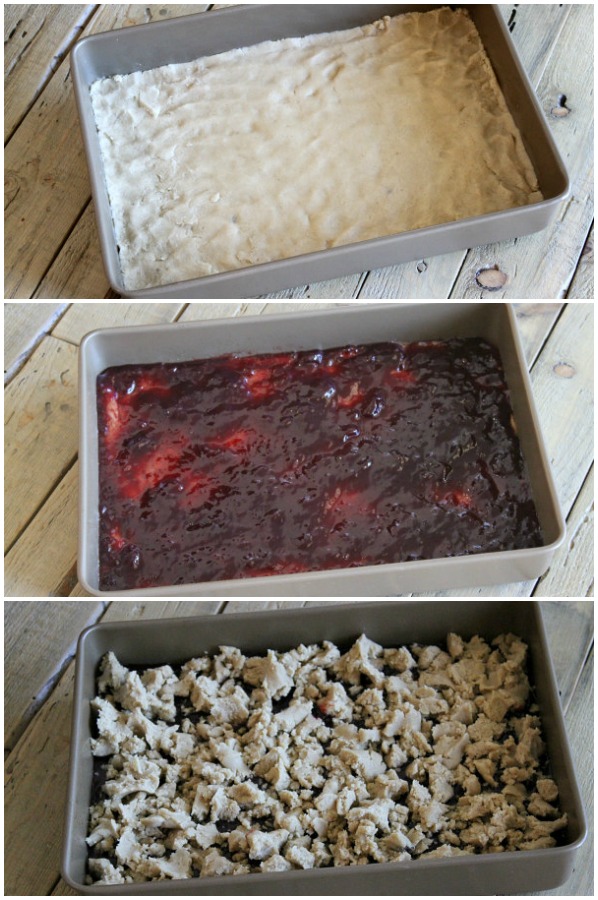 How to make Raspberry Shortbread Bars:
They begin with a buttery shortbread crust. That's baked in the oven by itself, and then it's pulled out of the oven to add the rest of the ingredients. Seedless raspberry jam is spread on the baked crust. And more of the buttery shortbread crust dough is sprinkled on top. Back into the oven it goes!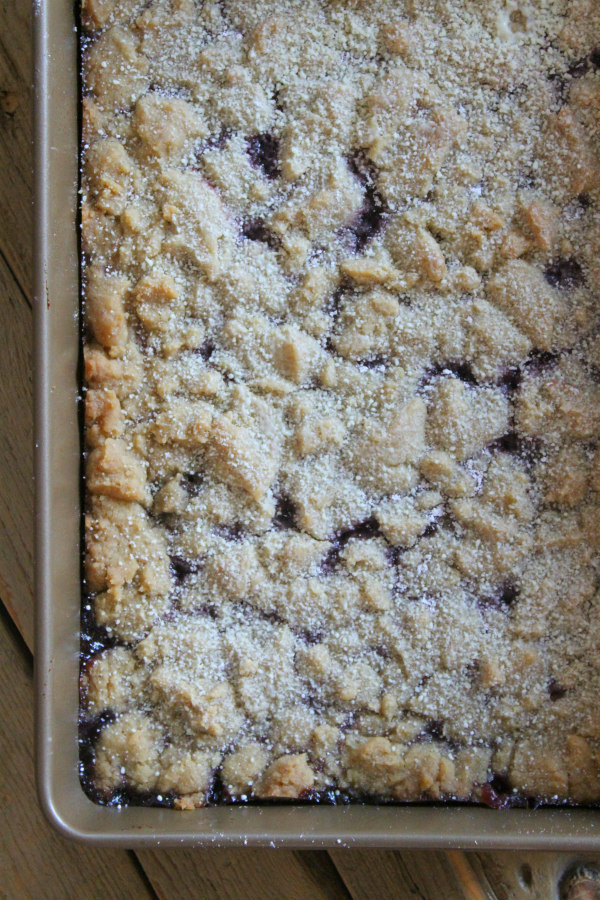 It comes out looking like this (with some powdered sugar sprinkled on top after cooling). I love how everything comes together as it bakes. There is just enough raspberry in the middle to give these bars a punch of sweet flavor in between that buttery shortbread crust.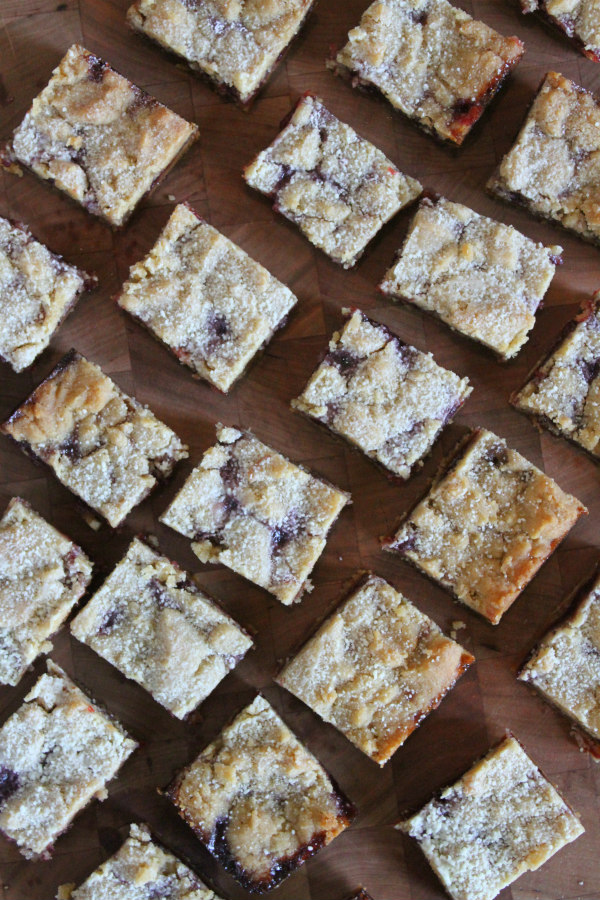 I like to let them cool completely before trying to cut them into bars. Then you'll get nice, clean cuts out of them. The crust remains firm, so they're easy to pick up and eat. They won't fall apart.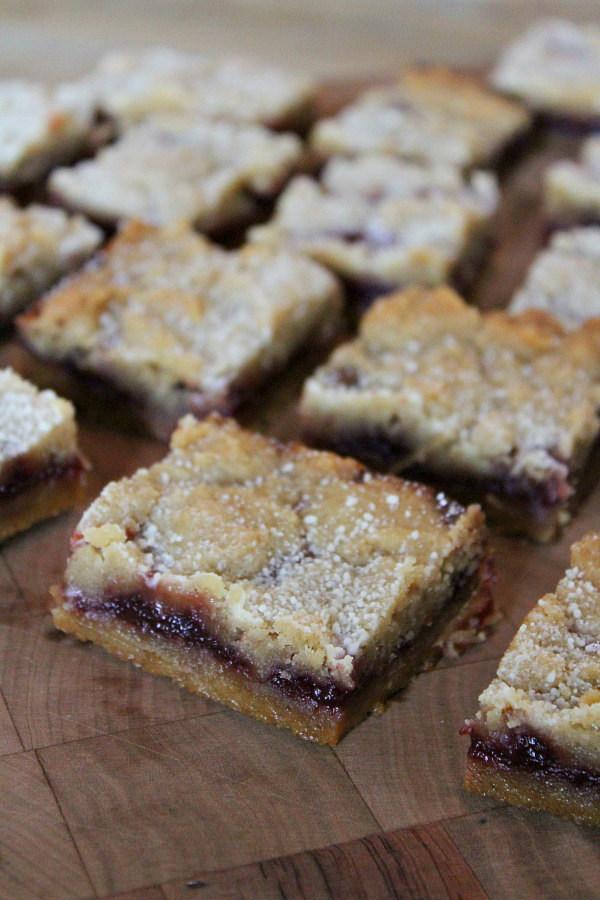 I put these on a platter for serving a couple of hours before my party… and Brooks kept coming into the kitchen and taking them off of my platter. I told you they were addicting!!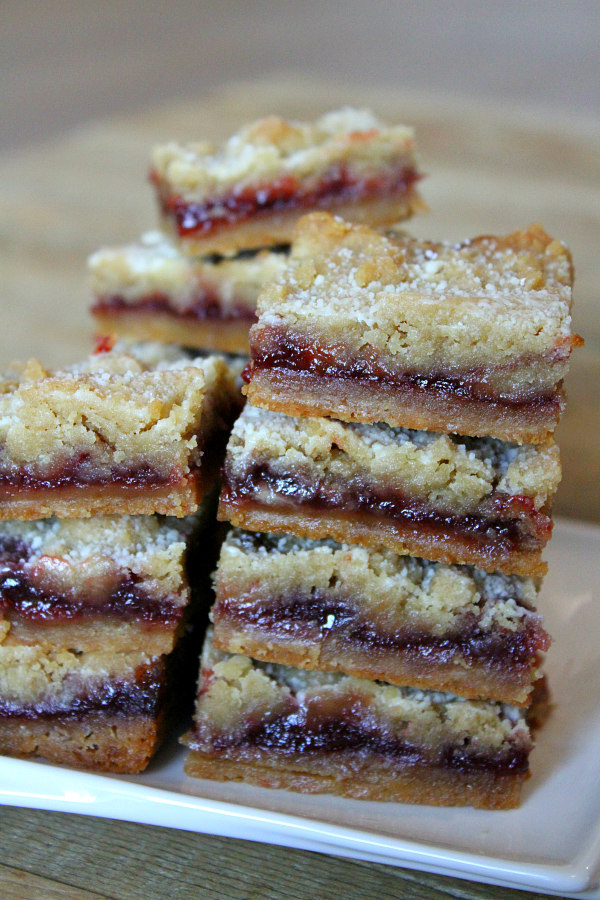 They freeze and defrost nicely. So if you have leftovers at the end of your party, just put them back into the freezer in a covered container until you want to serve them next. Enjoy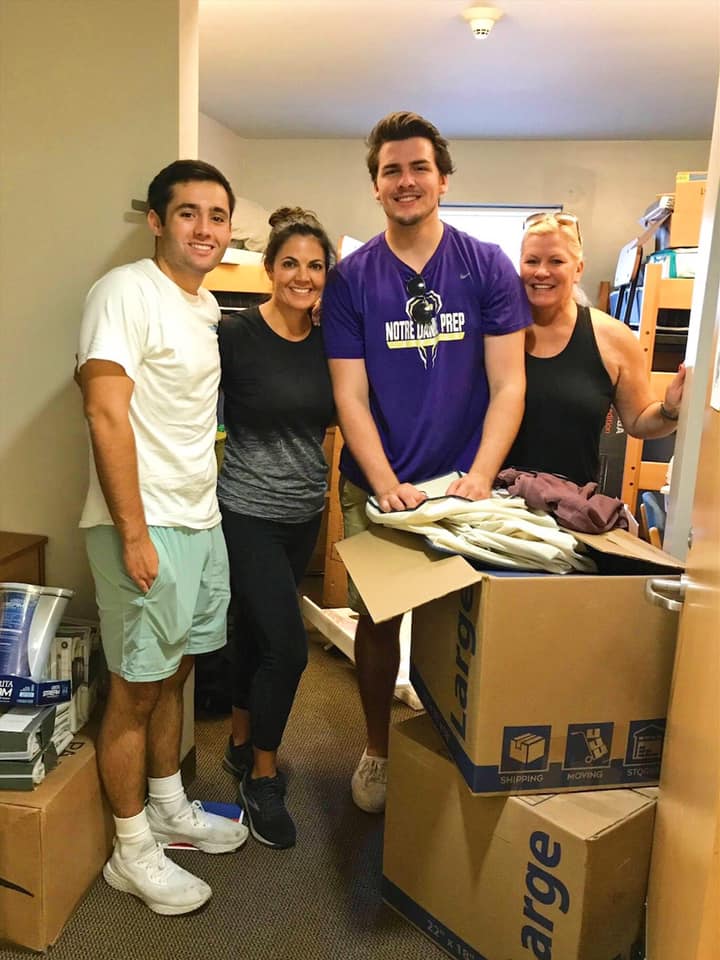 Here's a photo of Brooks (in the purple) and his roommate… and me and roommate's Mom helping them move into their dorm room at SMU. Brooks really seems to love it so far.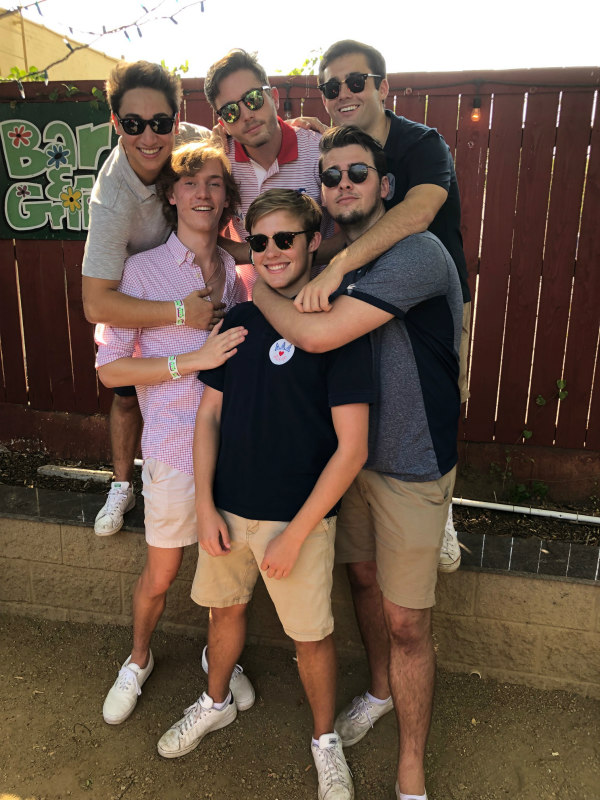 He has a great group of friends, he's looking to join a fraternity in the spring, and he's keeping his grades up as a business major. I'll be seeing him in a couple of weeks for family weekend. Since we'll be staying in Dallas for a week at an Airbnb, he has requested that I make dinner for him and NINE of his friends! We are excited to see him and meet his crowd. Thanks for your support everyone- Brooks is so appreciative, and he still loves his readers and his RecipeBoy blog!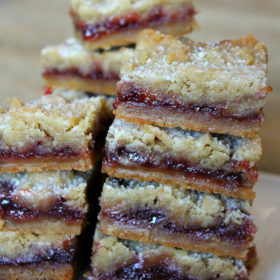 Raspberry Shortbread Bars
These bars are addicting!
Ingredients
1½

cups (3 sticks)

butter,

at room temperature

¾

cup

packed light brown sugar

¾

cup

granulated white sugar

2

teaspoons

vanilla extract

¾

teaspoon

salt

3½

cups

all purpose flour

1½

cups

seedless raspberry jam

powdered sugar
Instructions
Preheat the oven to 325 degrees F. Spray a 9x13 inch pan with nonstick spray.

PREPARE THE SHORTBREAD: In a large bowl, use an electric mixer to combine the butter and sugars; beat until creamy. Add the vanilla and salt, and beat until well combined. Beat the flour into the butter mixture on low speed, just until a smooth dough forms. Divide the dough in half. Wrap one half in plastic wrap and refrigerate for 30 minutes or so. Press the other half of the dough into the bottom of the prepared pan to form the bottom crust. Bake the crust until it is just beginning to turn light brown around the edges, about 20 minutes. Remove the pan from the oven.

ADD FILLING AND TOPPING: Place the jam into a bowl and stir very well until it is nice and smooth. Spread the jam evenly over the partially baked crust. Crumble the refrigerated shortbread dough over the jam to form a crumbled topping. Return the pan to the oven and continue baking until the topping is firm and crisp and golden in color, about 30 minutes. Transfer to a wire rack and let cool completely. Sprinkle lightly with powdered sugar before cutting into bars.