Nutella Chunk Cookies
This post may contain affiliate links.


What I have been wondering lately is why the Nutella Company has not yet come out with Nutella Chips. Everybody loves Nutella, so why haven't they? The only answer I could think of is that they haven't even thought about the idea. Well, apparently I have. That would sure be bad for business if a ten-year old had to give them an idea worth a million bucks. My idea was to make chocolate chip cookies, but with with chunks of frozen Nutella instead of the chocolate chips. The finished cookies are called Nutella Chunk Cookies.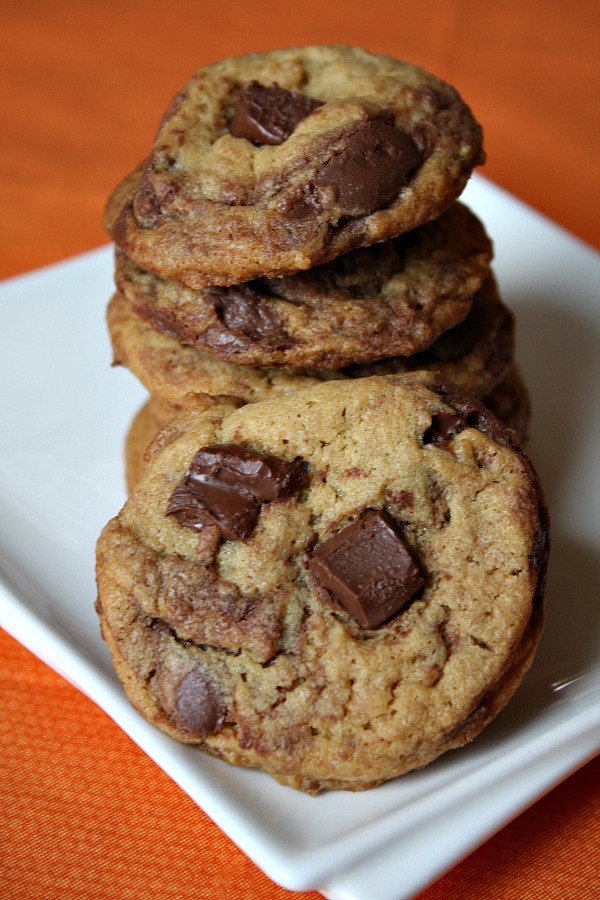 At the beginning, I thought this recipe would be a flop. I thought the Nutella would melt and everything would just fail. If it did, it would be my first failed recipe ever. Based on the picture above, I think the cookies turned out okay. But not just okay, they were super-calafragalistic-espealadociously awesome.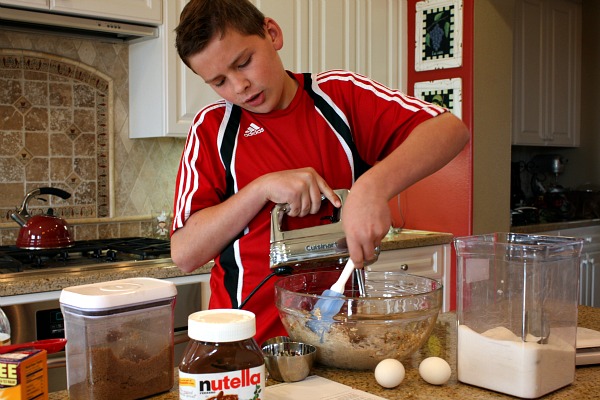 This recipe was a total experiment!!!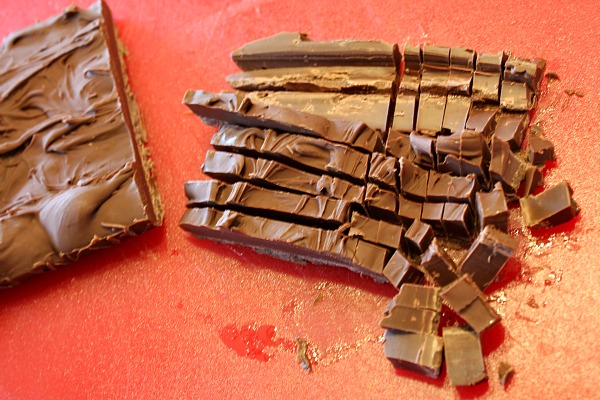 I put the Nutella in a dish and froze it solid. Then I chopped it up into chunks. At this point, the Nutella chunks were starting to melt. And so were our hopes.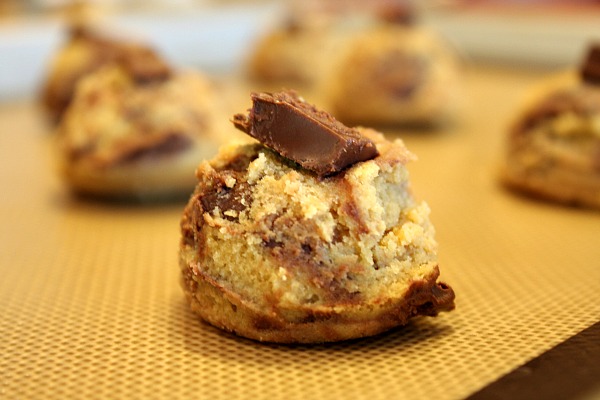 Look at that fat piece of rich Nutella sitting on top of the glorious dough ball.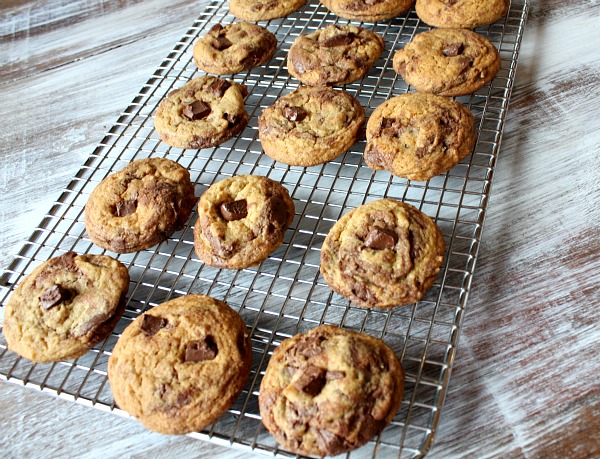 Cooling time. If I could put a wiping-the-sweat-off-your-forehead-icon in here right now, I would. The cookies were a success.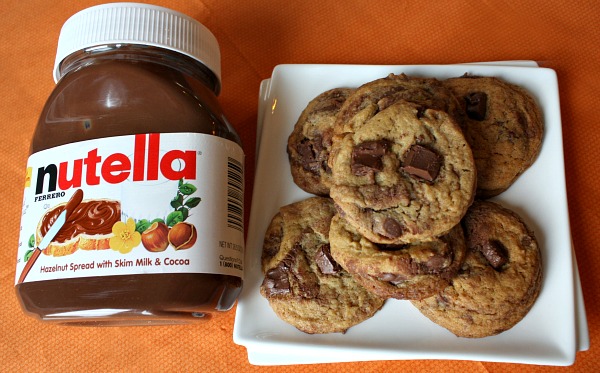 It's funny how some people like me, enjoy ketchup or chicken noodle soup, but don't like tomatoes or carrots. I like carrots baked in a soup, but don't like them plain. In Nutella, I don't like skim milk, but I can't keep my fingers out of the jar of Nutella when it's near me.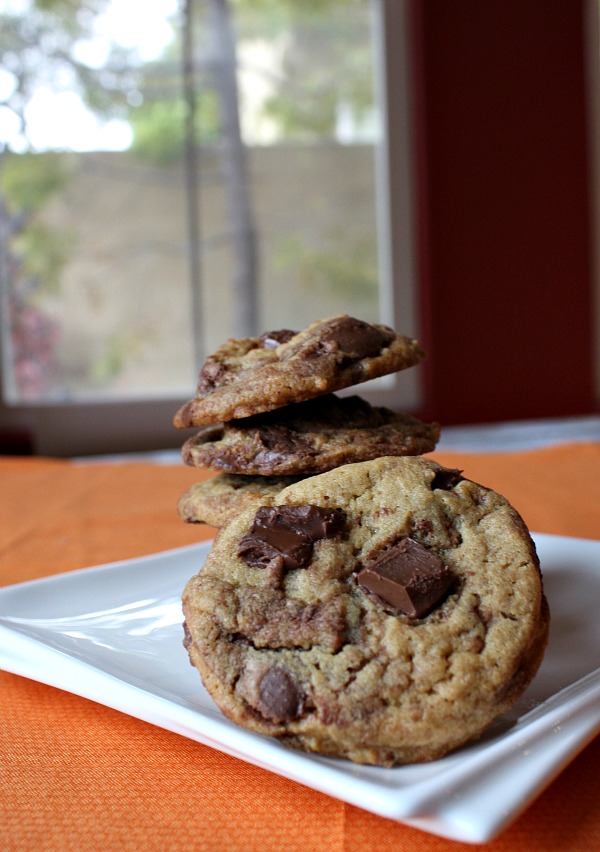 Three letters… big meaning. YUM.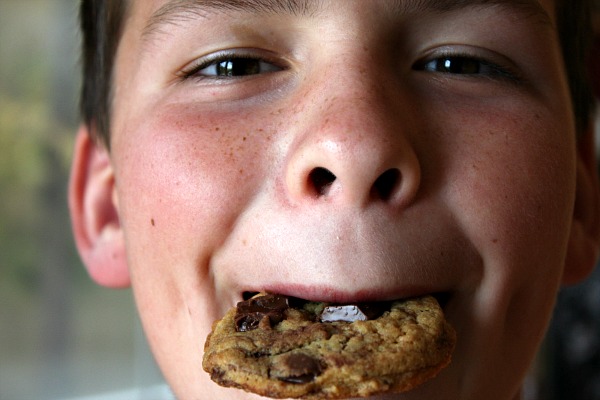 Some of the Nutella swirled in with the cookie to create sort of a marbled chocolate effect. One tip: eat a half a cookie while it's still warm, and the another half when it's not as warm. The warm one tastes like a moist chocolatey bliss. If you're still not getting the message I'm trying to get through to you, listen up and I will tell you the direct message. Make this recipe now. I WILL tell you this in Pig Latin if I have to. 🙂 Just make this recipe and you'll impress your friends.
And even a kid can be a future thinker-upper for the Nutella Company if he has to be… Like Me!
Nutella Cookies
Just a quick stay in the freezer, and Nutella turns into Nutella chunks for baking cookies.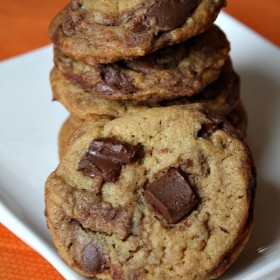 Ingredients:
About 1 1/2 cups Nutella (chocolate hazelnut spread)
2 1/4 cups all-purpose flour
1 teaspoon baking soda
1 cup salted butter, at room temperature
3/4 cup packed dark brown sugar
1/4 cup granulated white sugar
One 3.4-ounce package instant vanilla pudding mix (dry)
2 large eggs
1 teaspoon vanilla extract
Directions:
1. Spray a piece of parchment or waxed paper with nonstick spray. Spread the nutella on the greased paper in a rectangular shape- about 1/2-inch thick. Place it in the freezer on a flat surface until it is frozen solid.
2. Preheat the oven to 350 degrees F. Line two cookie sheets with parchment paper or silpat mats.
3. Sift together the flour and baking soda. Set it aside.
4. In a large bowl, use an electric mixer to combine the butter and sugars. Beat in the pudding mix until blended. Stir in the eggs and vanilla, and then the dry ingredients.
5. Take the Nutella out of the freezer. Peel off the paper and put it on a cutting board. Use a sharp knife to carefully cut the nutella into chunks. Stir about 3/4 of the Nutella chunks into the cookie dough, and save some chunks to place on top of the cookies.
6. Use a cookie scoop or rounded spoonful to place little balls of cookie dough on the prepared cookie sheets. Top each ball of cookie dough with a couple of chunks of Nutella. If you have any leftover cookie dough or Nutella chunks, place them in the refrigerator while your first batch is baking.
7. Bake 12 to 14 minutes, or until the cookies are golden and not so soft in the middles. The edges should be golden brown. Remove them from the oven and let them cool on the cookie sheets for about 10 minutes before moving them to a wire rack to cool completely. Repeat with the remaining chilled cookie dough.