Caprese Chicken Skillet is a great idea for dinner. It's family friendly too!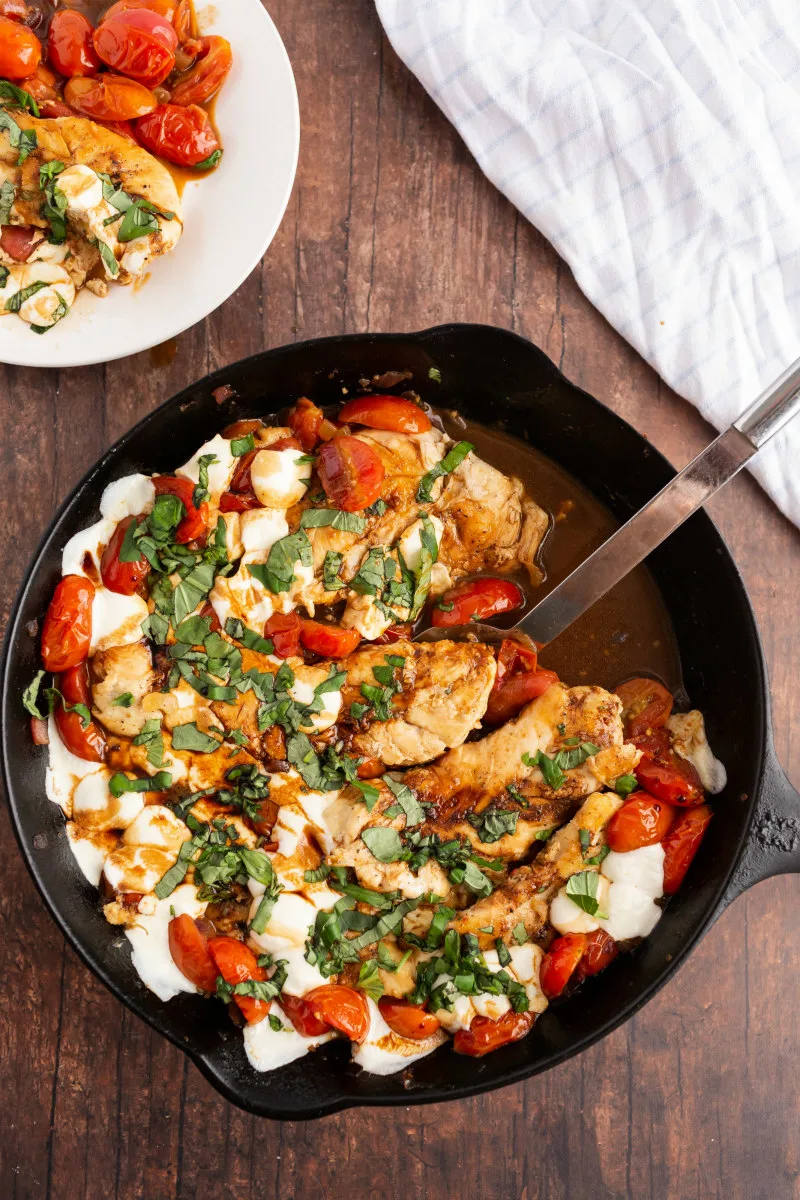 Easy dinner recipe!
This is an easy dinner recipe that will make everyone happy! I'll be saving this recipe to make for my college son, Brooks, when he comes home for Thanksgiving. He loves a good classic caprese salad and he even shared a Watermelon- Strawberry Caprese Salad on his blog a couple summers ago. This Caprese Chicken Skillet is full of all of the good components of a caprese salad– tomato, mozzarella, fresh basil and balsamic syrup. With chicken added in, a complete meal is made!
I just talked to my son Brooks (the original "RecipeBoy") yesterday, and he's doing so well in college– even though things are weird this fall. He was skateboarding down the hall of the fraternity house as he was talking to me, and he showed me the amazing view of campus that he has from his bedroom. Brooks is studying business at SMU, and is managing some darn good grades despite the social distractions (haha). Accounting class appears to be his biggest challenge and most-despised class this semester. The chef at the fraternity whips up some good dinners for the boys, so he's good there too.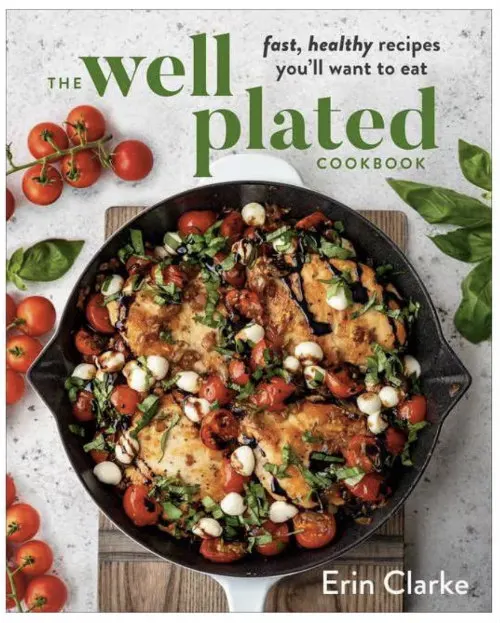 The Well Plated Cookbook
This recipe comes from a new cookbook by blogger Erin Clarke of WellPlated.com: The Well Plated Cookbook. Erin is awesome at creating fabulous, healthy recipes. Her first cookbook is full of fast, healthy recipes you'll want to eat. Chapters are for all meals of the day- breakfast, appetizers/drinks, salads, main dishes, sandwiches, soup, side dishes and desserts. This is a beautiful cookbook to add to your cookbook shelf!
Here are a few recipes I've bookmarked to try: Fruit and Honey Scones, Every Day Apple-Cinnamon Pancakes, Girl's Night Sangria, Caramelized Onion Bacon Dip, Sticky Asian Cauliflower Wings, Maple Roasted Butternut Squash Salad, Instant Pot Jambalaya, 5-Ingredient Maple-Dijon Salmon, Slow Cooker Apricot-Glazed Pork, Stuffed Sweet Potatoes, Portobello Philly Melts, Slow Cooker Crispy Pineapple Pork Carnitas, Blue Ribbon Chili, Rosemary-Cheddar Cornbread, Instant Pot Confetti Rice and Beans, Double Trouble Fudge Cookies, Chocolate-Covered Strawberry Brownies and Lemon Yogurt Pound Cake. Everything looks amazing!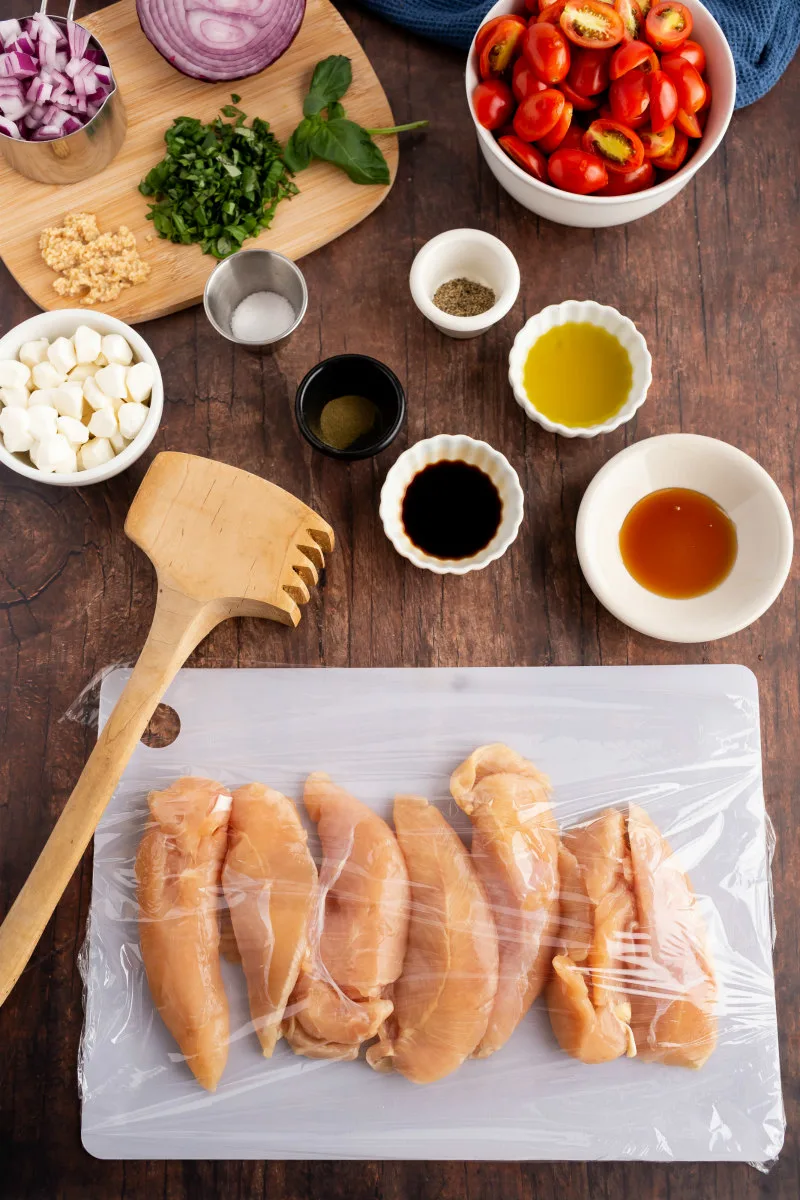 Making Balsamic Syrup:
It's easy! Just simmer balsamic vinegar and a little honey until the mixture has reduced and thickened (about 15 minutes). This will be the syrup that you drizzle over the caprese chicken skillet just before serving.
How to make Caprese Chicken Skillet:
You'll first pound out the chicken to make sure it's all an even thickness (for more even cooking). Use a meat mallet for that.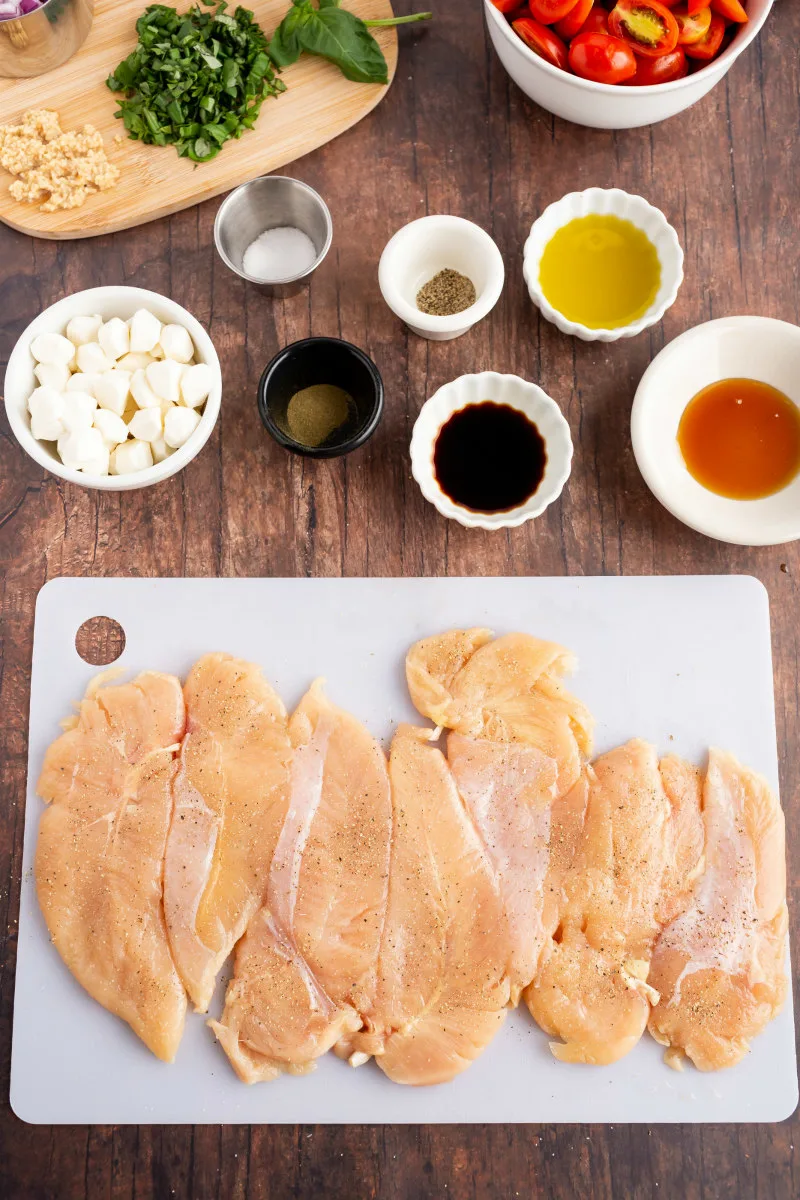 Then you'll sprinkle the chicken all over with salt and pepper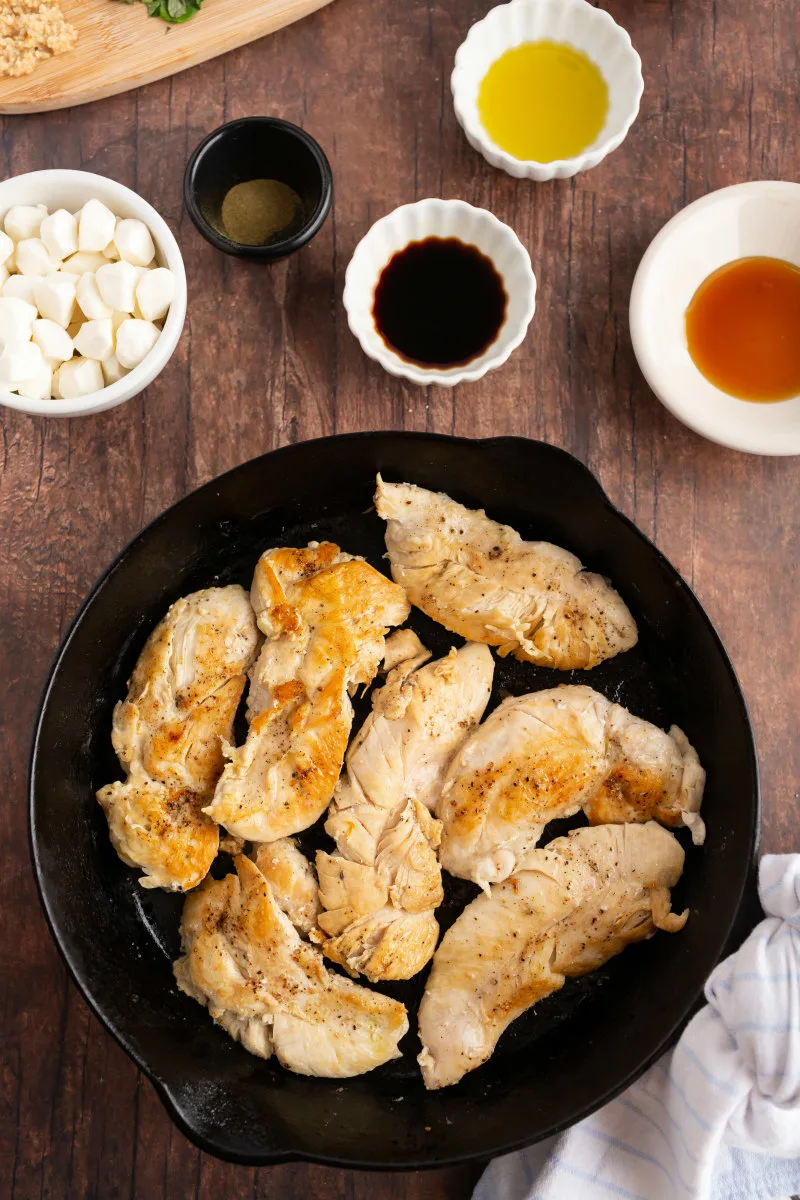 The chicken is then cooked on both sides in a heavy skillet (I like to use a cast iron skillet). Then you'll remove the chicken from the skillet and set it aside to keep warm.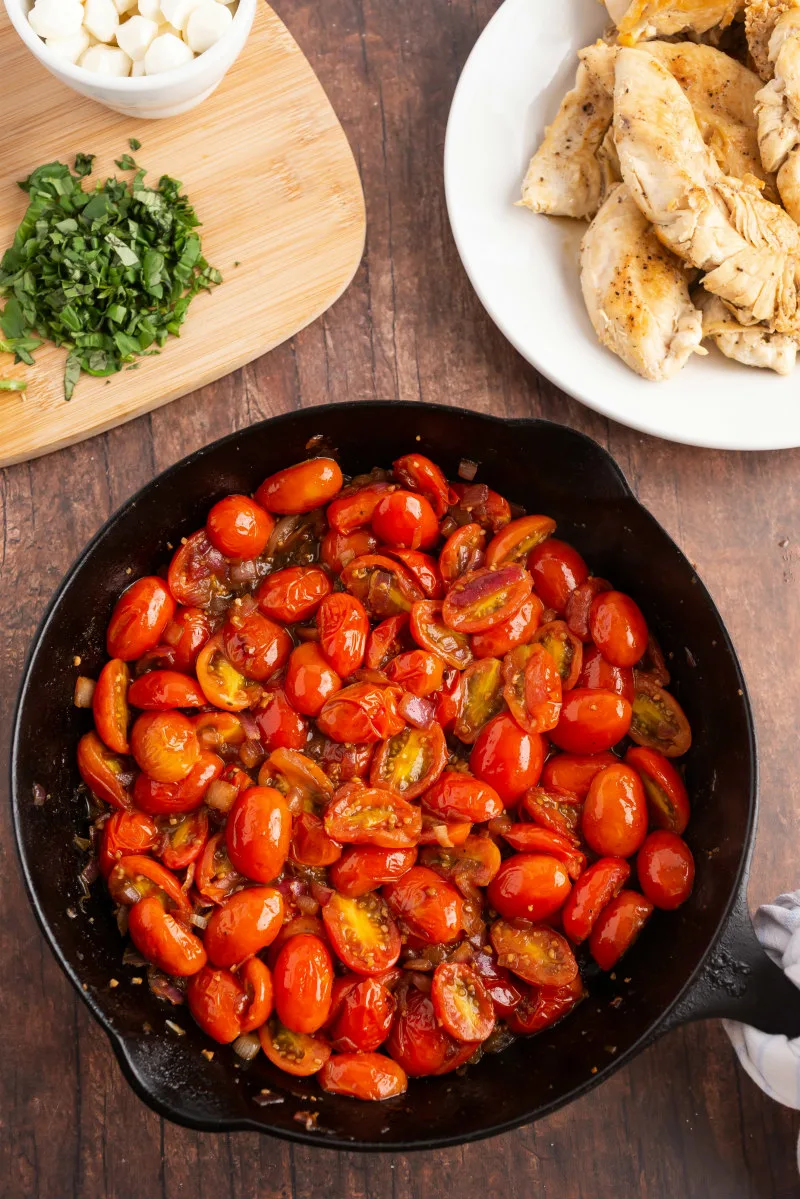 Then you'll cook red onion with oil and garlic. Tomatoes, thyme, balsamic vinegar, honey and salt/pepper are added in next and cooked until the tomatoes begin to soften.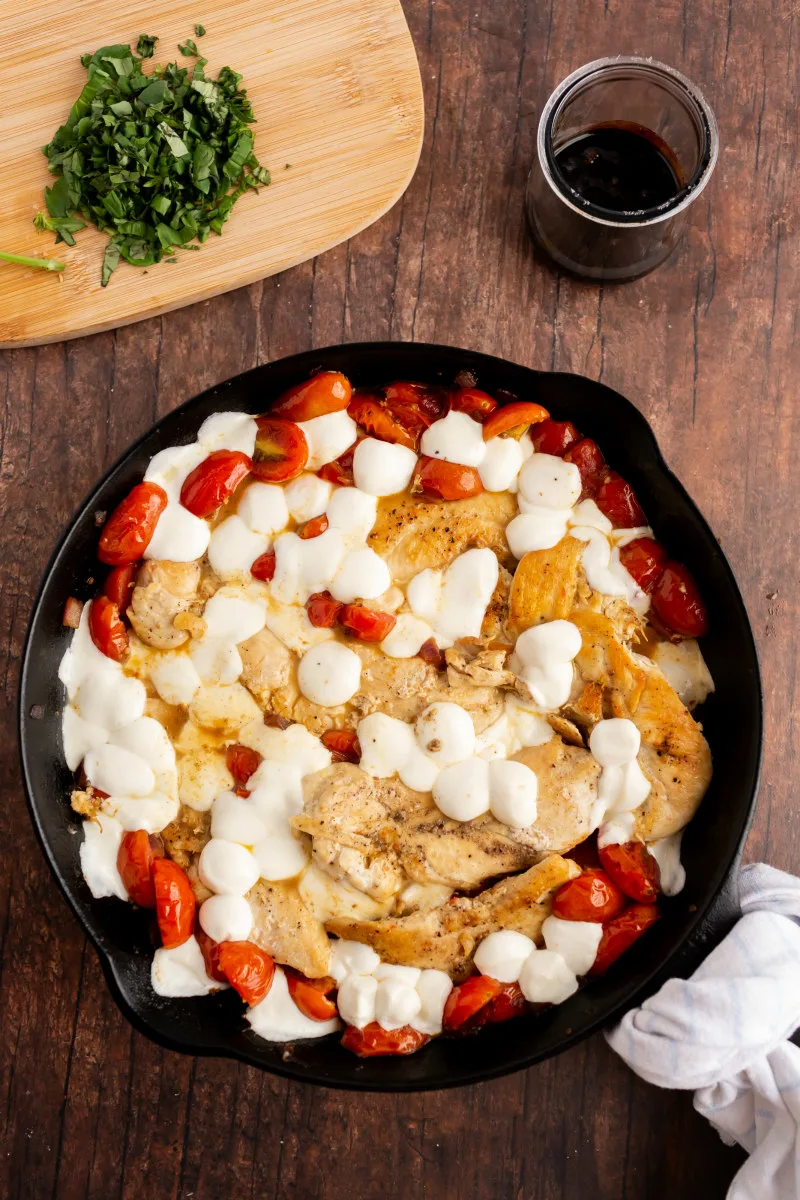 And finally, you'll add the chicken back into the pan, nestling it in among the tomatoes. Mozzarella pearls are sprinkled in, and the pan is covered so the cheese can be given a chance to melt.
About the mozzarella:
If you don't want to use (or don't have access to) fresh mozzarella pearls, substitute regular mozzarella cheese that has been cut into bite-sized cubes.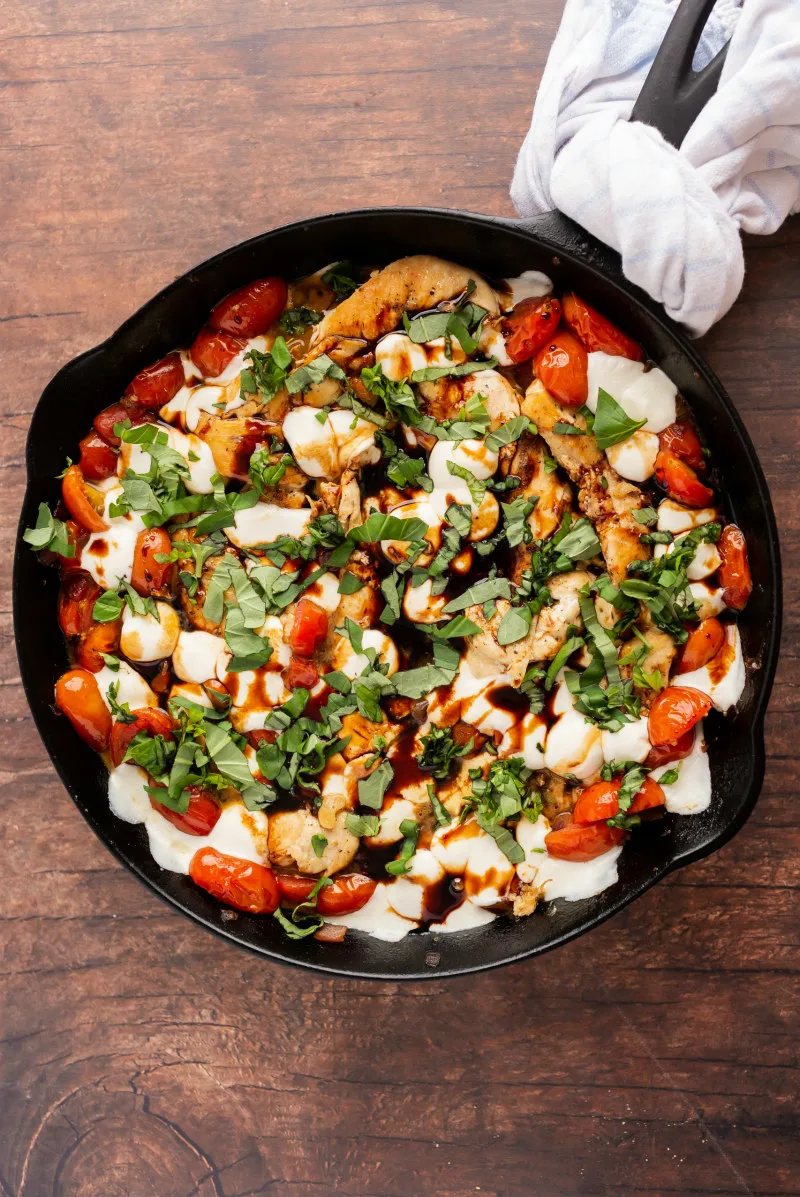 Just before serving, you'll drizzle on that awesome balsamic syrup that you made in the beginning. And it's ready to dish out and eat! You can eat Caprese Chicken Skillet on its own, or serve it over some hot angel hair pasta.
Suggestion for leftovers:
Make a Caprese Chicken and Arugula Salad! Chop up the leftover chicken. Add to a mixing bowl with any remaining leftover tomatoes and mozzarella, and a few handfuls of arugula. Drizzle with a few splashes of olive oil and balsamic vinegar and sprinkle with salt and pepper. Toss to combine.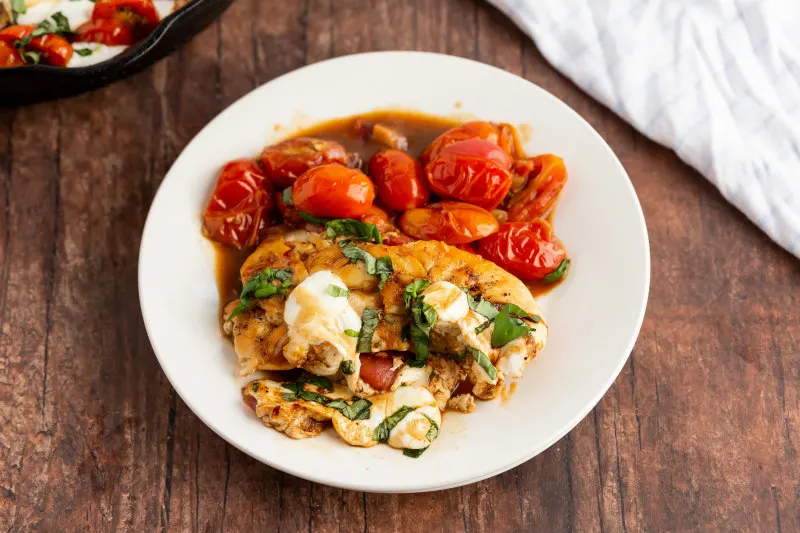 Try this new dinner recipe for Caprese Chicken Skillet. You're going to love it, and everyone else will probably love it too. Enjoy!
Here are a few more chicken dinner recipes you might like to try: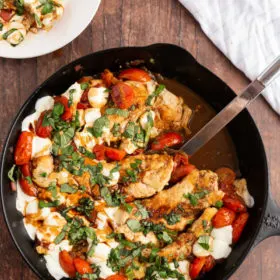 Caprese Chicken Skillet
A one-pan recipe that is so delicious for dinner!
Ingredients
BALSAMIC SYRUP:
½

cup

balsamic vinegar

1

tablespoon

honey
CHICKEN SKILLET:
1½

pounds

boneless, skinless chicken breasts

1¼

teaspoons

kosher salt,

divided

½

teaspoon

freshly ground black pepper,

divided

2

tablespoons

extra virgin olive oil,

divided

1

small

red onion,

diced (about 1 cup)

4

medium

garlic cloves,

minced (about 4 teaspoons)

4

cups

halved cherry or grape tomatoes

(2 pints)

¼

teaspoon

dried thyme

1

tablespoon

balsamic vinegar

1

teaspoon

honey

4

ounces

part-skim mozzarella pearls

(about 1 cup)

¼

cup

tightly packed fresh basil leaves,

thinly sliced
Instructions
MAKE THE BALSAMIC SYRUP:
In a small saucepan, combine the vinegar and honey. Gently simmer over medium-low heat, stirring occasionally, until thickened and reduced by a little more than half, about 15 minutes. Remove from the heat and set aside.
MAKE THE CHICKEN SKILLET:
While the balsamic reduces, arrange the chicken on a cutting board and stretch a large piece of plastic wrap over the top. Lightly pound the chicken breasts into an even ½-inch thickness. Discard the plastic wrap, then sprinkle the chicken with ¾ teaspoon of the salt and ¼ teaspoon of the pepper, seasoning both sides.

In a large, heavy-bottomed skillet (I use cast iron), heat 1 tablespoon of oil over medium-high heat. Once the oil is hot but not smoking, swirl to coat the pan, then add the chicken breasts top-sides down, being careful of oil that may splatter. Let cook undisturbed for 4 minutes, or until lightly browned. Flip and cook an additional 3 minutes. Check for doneness. The chicken should reach 165 degrees F at the thickest part when tested with an instant-read thermometer, and when sliced, the juices should run clear. If it needs additional time, flip again and continue cooking for a few minutes on each side, until done. The total cooking time will vary depending upon the thickness of your chicken. Remove to a plate and cover to keep warm.

Without wiping out the pan, reduce the skillet heat to medium. Add the remaining 1 tablespoon of oil, swirl to coat the pan, then add the red onion and let cook until slightly softened, about 3 minutes, scraping the browned bits off the bottom of the pan as it cooks. Add the garlic and let cook 30 seconds, just until fragrant. Add the tomatoes, thyme, vinegar, honey, remaining ½ teaspoon salt and remaining ¼ teaspoon pepper. Increase the heat back to medium-high and cook until the tomatoes begin to soften, about 2 minutes.

Return the chicken to the pan, nestling it into the tomatoes, and scatter the mozzarella throughout. Cover the pan and remove from the heat. Let stand for 1 to 2 minutes to allow the mozzarella to become soft and melty. Uncover; drizzle the balsamic syrup over the top, and sprinkle with fresh basil. Serve warm.
Notes
MOZZARELLA NOTE- can substitute 4 ounces of regular mozzarella cheese, cut into bite-sized cubes.
Nutrition
Serving:
1
serving
Calories:
437
kcal
Carbohydrates:
22
g
Protein:
45
g
Fat:
18
g
Saturated Fat:
6
g
Polyunsaturated Fat:
2
g
Monounsaturated Fat:
8
g
Trans Fat:
0.02
g
Cholesterol:
131
mg
Sodium:
1129
mg
Potassium:
1080
mg
Fiber:
2
g
Sugar:
16
g
Vitamin A:
1055
IU
Vitamin C:
39
mg
Calcium:
195
mg
Iron:
2
mg