This week I'm bringing y'all my take on one of the most classic NFL Sunday snacks out there: Sheet Pan Steak Nachos!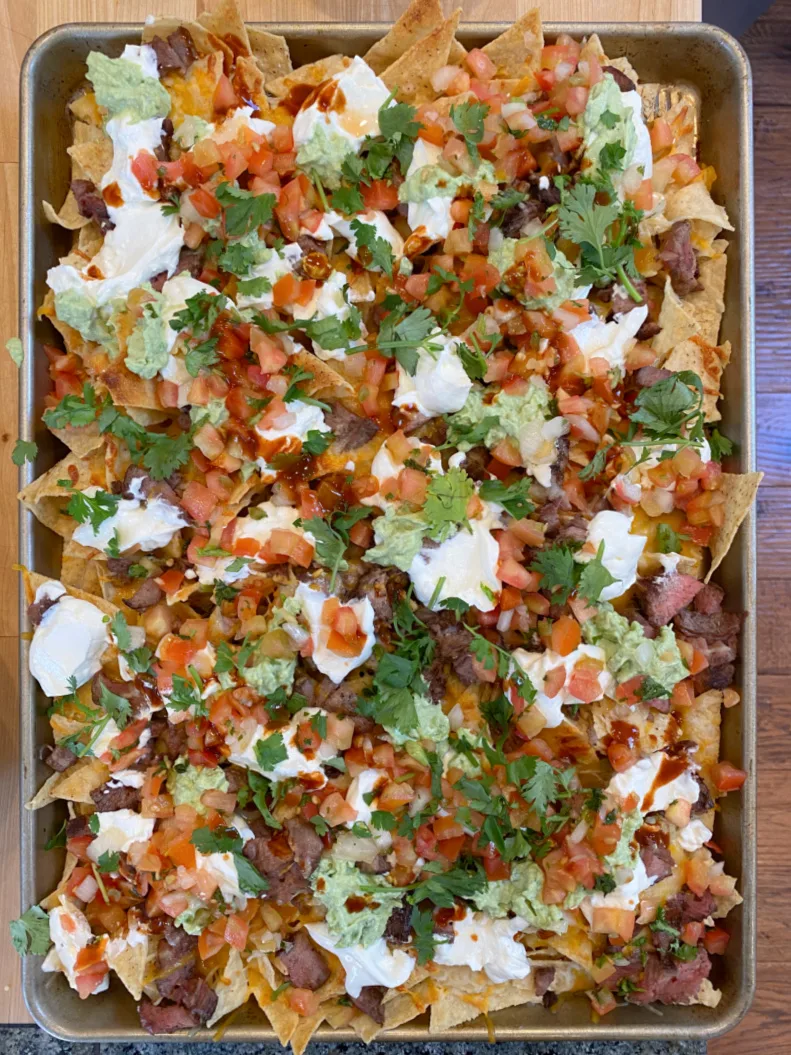 The inspiration for this recipe came from my girlfriend, Mimi, who is the biggest nacho-lover of all time. I decided to use steak on these nachos because… well… it was the obvious decision. I'll let the picture speak for itself!
PRO TIP:
Use leftover steak from last night's dinner for making sheet pan steak nachos!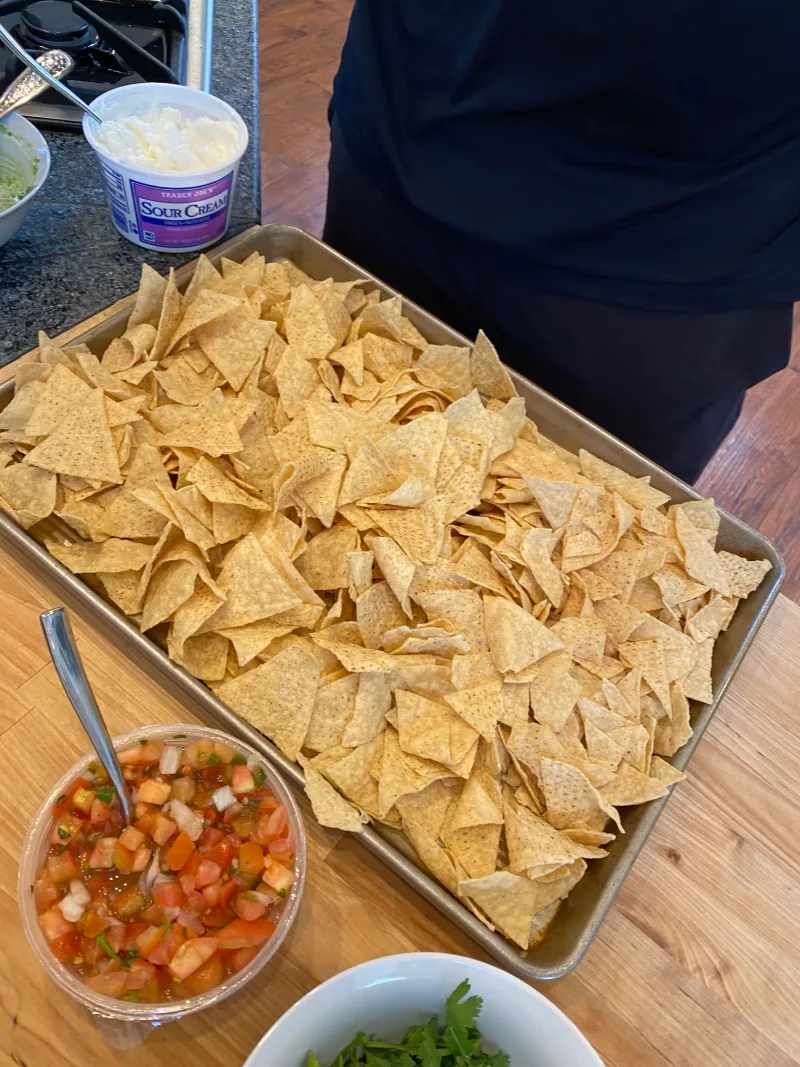 How to make Sheet Pan Steak Nachos:
The complete, printable recipe is at the end of this post.
Ready to construct your nachos? Let's start by filling your sheet pan (or rimmed baking tray) with tortilla chips and laying out your ingredients.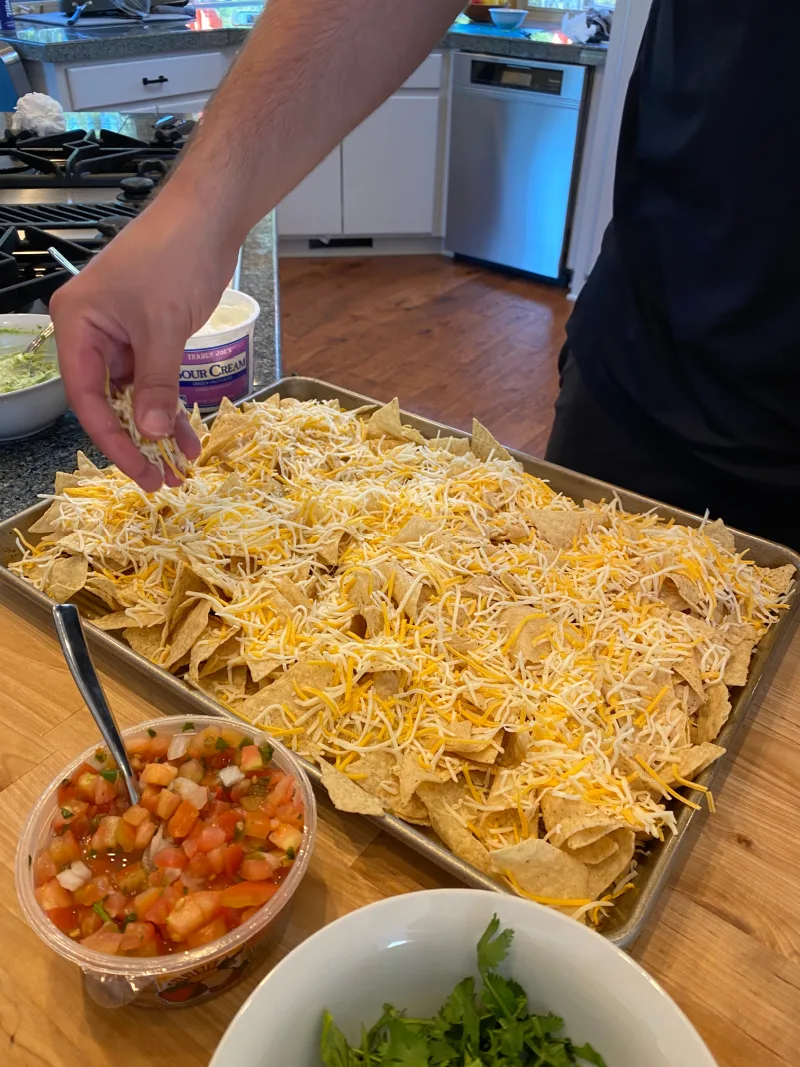 Smother–and I mean SMOTHER–those chips with shredded cheese. I typically opt for the Mexican-style blend, which you can purchase from almost any grocery store.
My girlfriend is adamant about using shredded cheese because she insists that nachos with queso taste "fake." I don't have much of a preference (as long as you're using quality queso), so that's always an option too.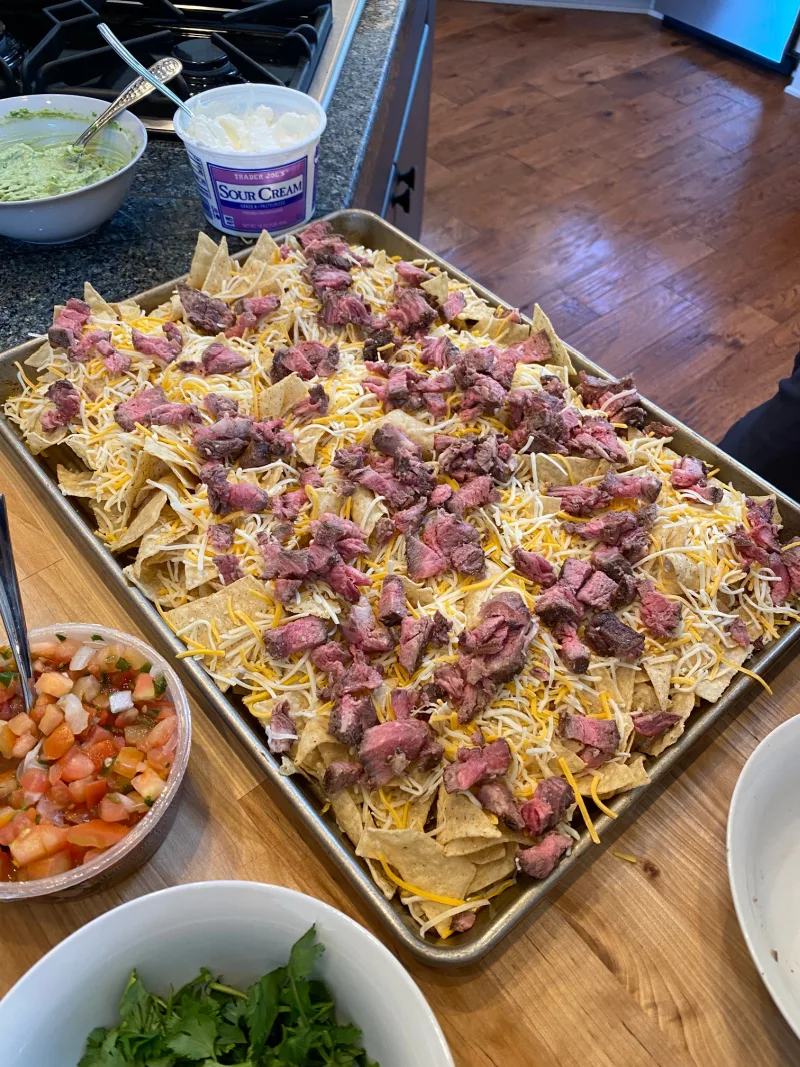 Next, pile on that steak! You can use any kind of chopped, cooked steak. The chips, cheese, and meat form the base of our nachos.
Set your oven to broil and throw in your sheet pan nachos until the cheese is nice and melty.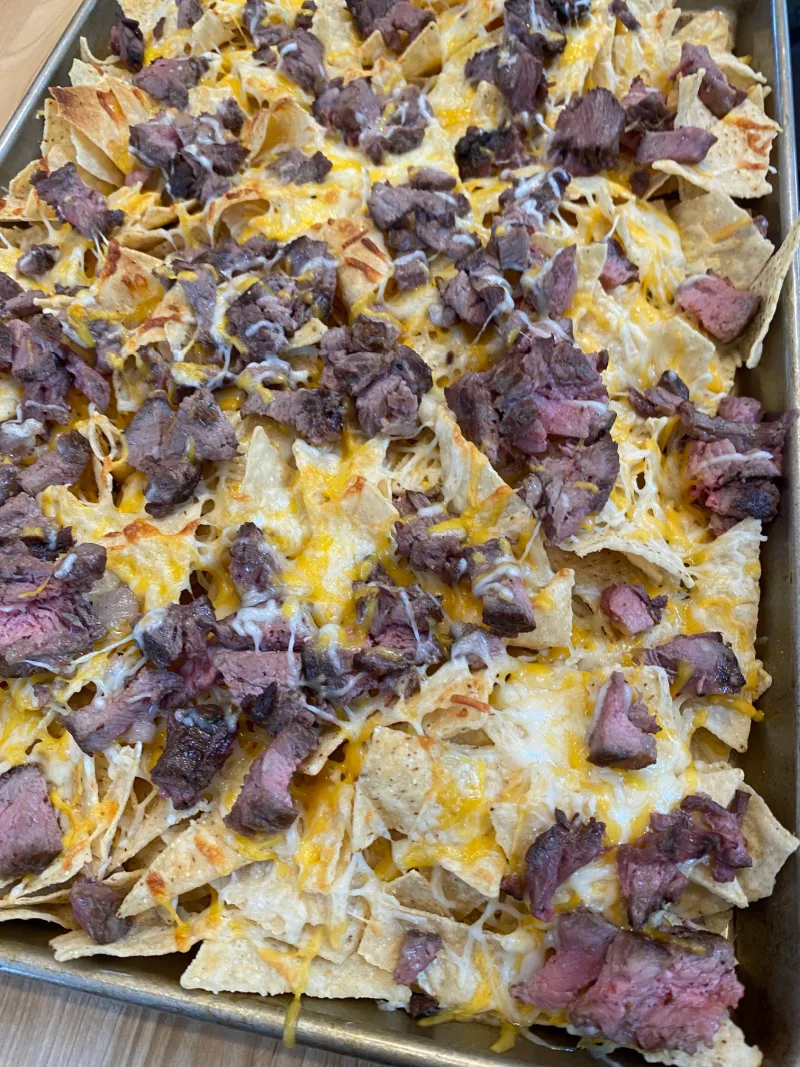 There's that ooey-gooey, cheesy mess we all love! I opted for steak, but you can use any meat you'd like for these nachos. Chicken is always a classic, but why not try with something special, like brisket? **Let me know if you do**
Now here's where you can get creative with this recipe…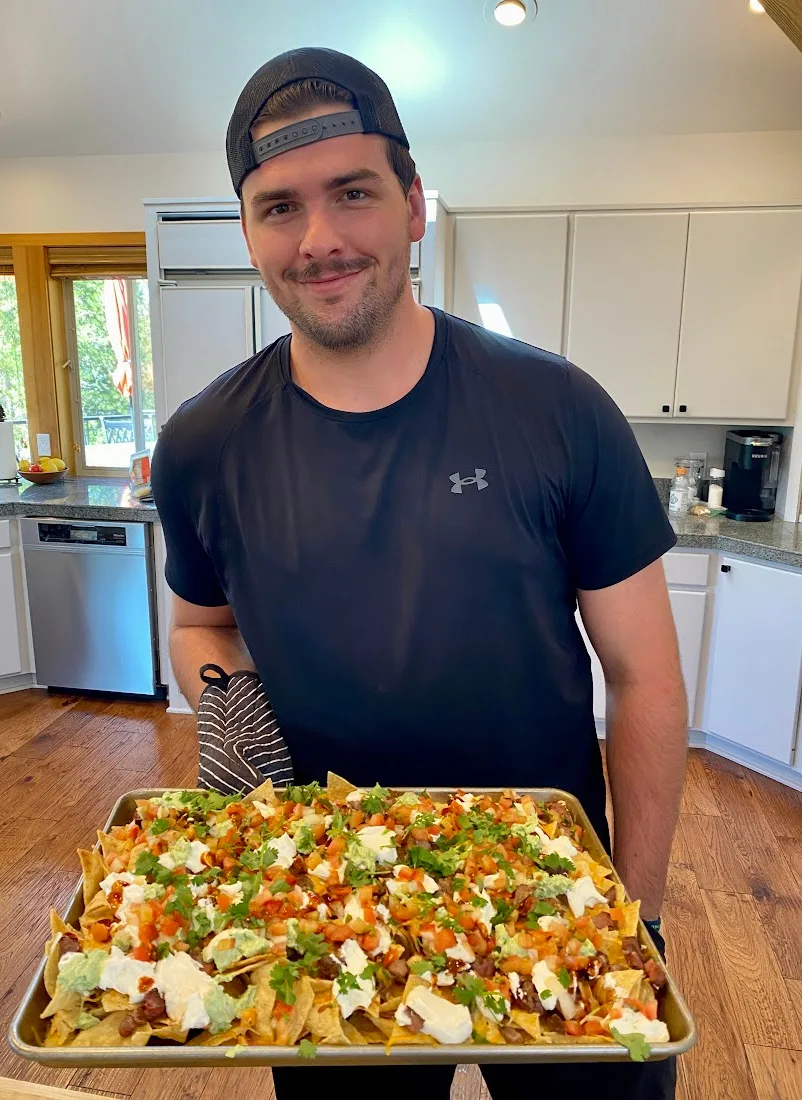 Toppings! I decided to use pico de gallo, sour cream, guacamole, and chopped fresh cilantro. My girlfriend swears by jalapeños, but I've never been one for spicy foods.
Some other additions could include beans (refried or black), lettuce, multiple types of meat, black olives, shallots… The list goes on and on, but you get what I'm saying. Go crazy with toppings!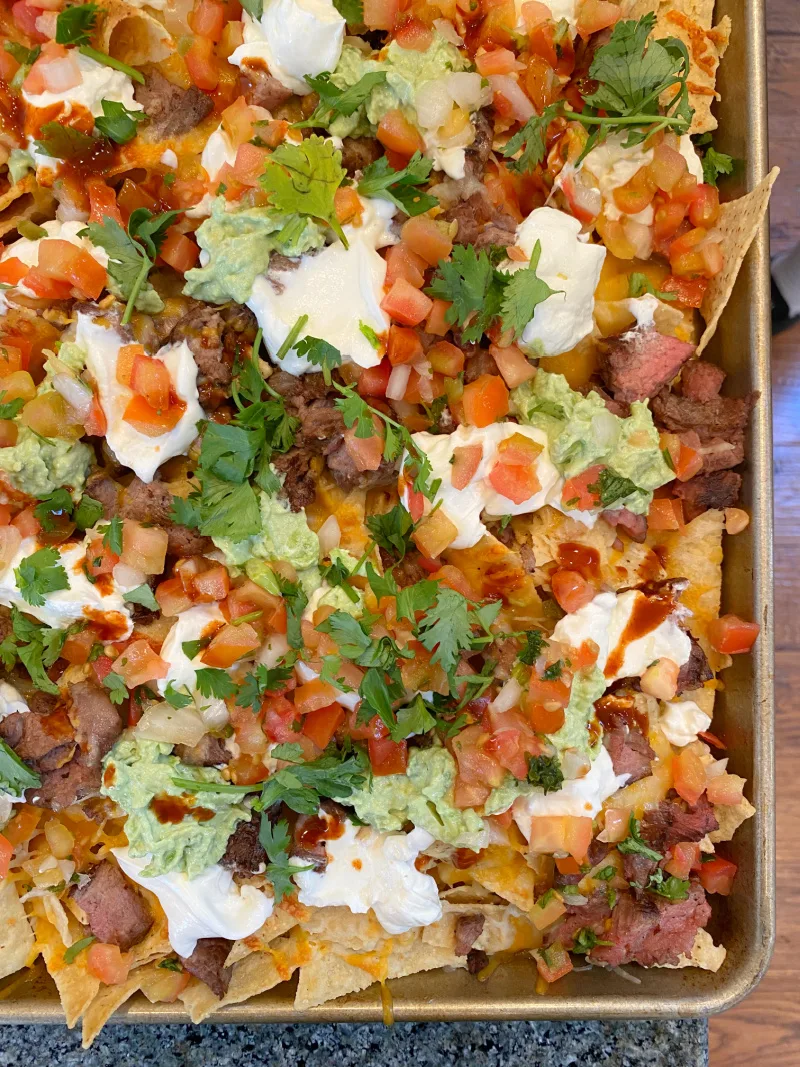 These Sheet Pan Nachos are the perfect Gameday food now that the NFL season is back in full swing! Take your Sunday watch party to the next level by building your own mouthwatering nacho platter. It's as easy as it sounds!
Constructing these nachos is a fantastic way to get kids involved in the kitchen. It's a super fun, hands-on recipe that the whole family will have a blast making (and enjoying!).
The Best Comfort Food Appetizer Recipes:
Sheet Pan Steak Nachos
Ingredients
tortilla chips

shredded cheese

chopped steak

(great use of leftover steak!)

pico de gallo or salsa

sour cream

guacamole

chopped fresh cilantro

other possible additions: refried beans, black beans, chicken instead of steak
Instructions
Preheat the oven to the broil setting.

Spread tortilla chips on a rimmed sheet pan. Sprinkle shredded cheese on top. Sprinkle chopped steak on top. Then sprinkle some more cheese. Broil until the cheese melts.

Add on top: pico, sour cream, guacamole and fresh cilantro.