Everyone has experienced leftover Halloween candy at some point in their life. This week I came up with a solution to leftover candy bars from Halloween! Usually after Trick or Treating, candy stays in a tub in the pantry and gets older, and older, and older. Eventually it gets so stale that it would break your teeth if you tried to bite into it! Before your candy bars reach the point of no return, you can make cookies with them! Candy bar cookies aren't very interesting by themselves, but I added pudding! I have never made pudding cookies before, so I was intrigued the moment I heard about them. The other cool part about these cookies is that you can use almost any "fun-sized" candy bar! I decided to use Twix, but you could also probably use Snickers, Baby Ruth, or even Milky Way. These are Twix Bar Chocolate Pudding Cookies!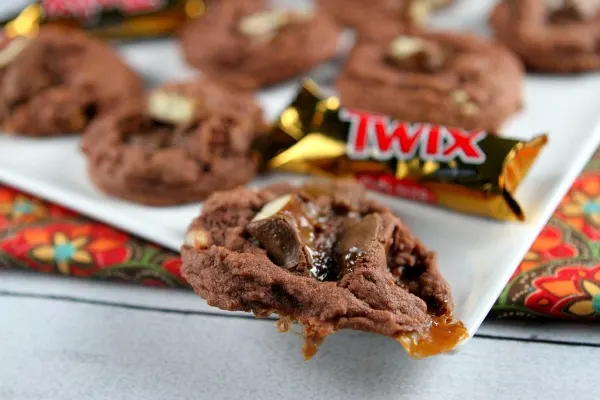 The caramel in the Twix bars spread out all over the cookies to form layers of gooey caramel on the edges and in the middle. All I can say is that these cookies are like a Twix bar, but in the shape of a circle and soft (the cookie version of a Twix bar).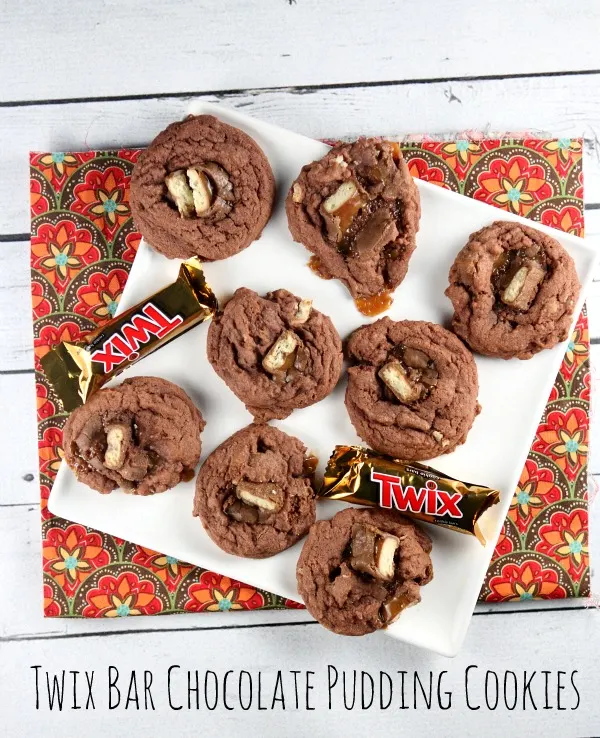 The pudding really affected the consistency of the cookies. They were soft and delicious, but with that crunch of the Twix bars here and there. Twix is one of my favorite candies. I also LOVE Milky Way candy bars. They are the bomb!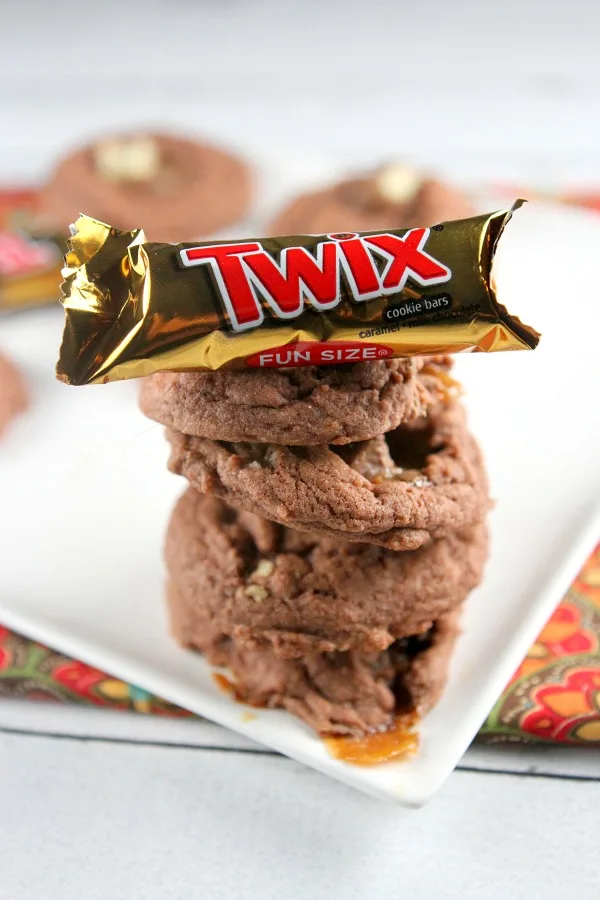 Overall, these cookies had the perfect texture and taste. They were so easy to make and different, too! I mean, it is pretty cool to put pudding and Twix in one cookie, isn't it? They tasted simply fantastic. The cookies were surprisingly light, but really chocolatey and caramely (is caramely a word?!). One tip of advice is to be gentle when you are folding the Twix bars into the batter. You don't want to crush the candy bars and make the cookies look ugly. Oh it looks like I forgot something… happy belated Halloween!
And even a kid can make cookies with Twix and pudding… Like Me!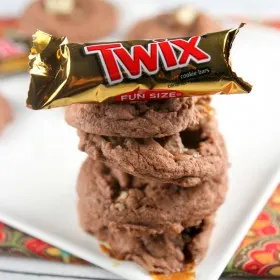 Twix Bar Chocolate Pudding Cookies
Great recipe for using up your leftover Halloween candy!
Ingredients
1

cup (2 sticks)

unsalted butter,

at room temperature

¾

cup

packed brown sugar

¼

cup

granulated white sugar

one

3.4-ounce package

chocolate instant pudding

(dry)

2

large

eggs

1

teaspoon

vanilla extract

2¼

cups

all purpose flour

1

teaspoon

baking soda

½

teaspoon

salt

10

ounces

chopped Twix bars (or 18 fun-size),

plus a few more
Instructions
Preheat the oven to 350℉. Line 2 baking sheets with parchment paper or silpat mats.

In a large bowl, use an electric mixer to combine the butter and sugars until creamy. Mix in the pudding, eggs and vanilla. In a separate bowl, whisk together the dry ingredients: flour, baking soda and salt. Add the dry ingredients to the wet ingredients and mix until well combined. Gently stir in the Twix chunks.

Scoop out spoonfuls of the cookie dough and roll into balls. Place them on the cookie sheet a couple of inches apart. If you want them to look pretty, place a couple more Twix chunks on top of each ball of cookie dough. Bake 10 to 12 minutes, or until set in the middle. They'll still be soft, but they'll harden a little once cooled. Let the cookies cool on the baking sheet for about 10 minutes before moving to a cooling rack to cool completely.
Nutrition
Serving:
1
cookie
Calories:
152
kcal
Carbohydrates:
19
g
Protein:
2
g
Fat:
8
g
Saturated Fat:
5
g
Polyunsaturated Fat:
0.3
g
Monounsaturated Fat:
2
g
Trans Fat:
0.2
g
Cholesterol:
25
mg
Sodium:
123
mg
Potassium:
41
mg
Fiber:
0.4
g
Sugar:
11
g
Vitamin A:
185
IU
Vitamin C:
0.05
mg
Calcium:
17
mg
Iron:
1
mg