These Tex Mex Shredded Beef Sandwiches are a super easy and delicious dinner recipe to make when you're having a busy week!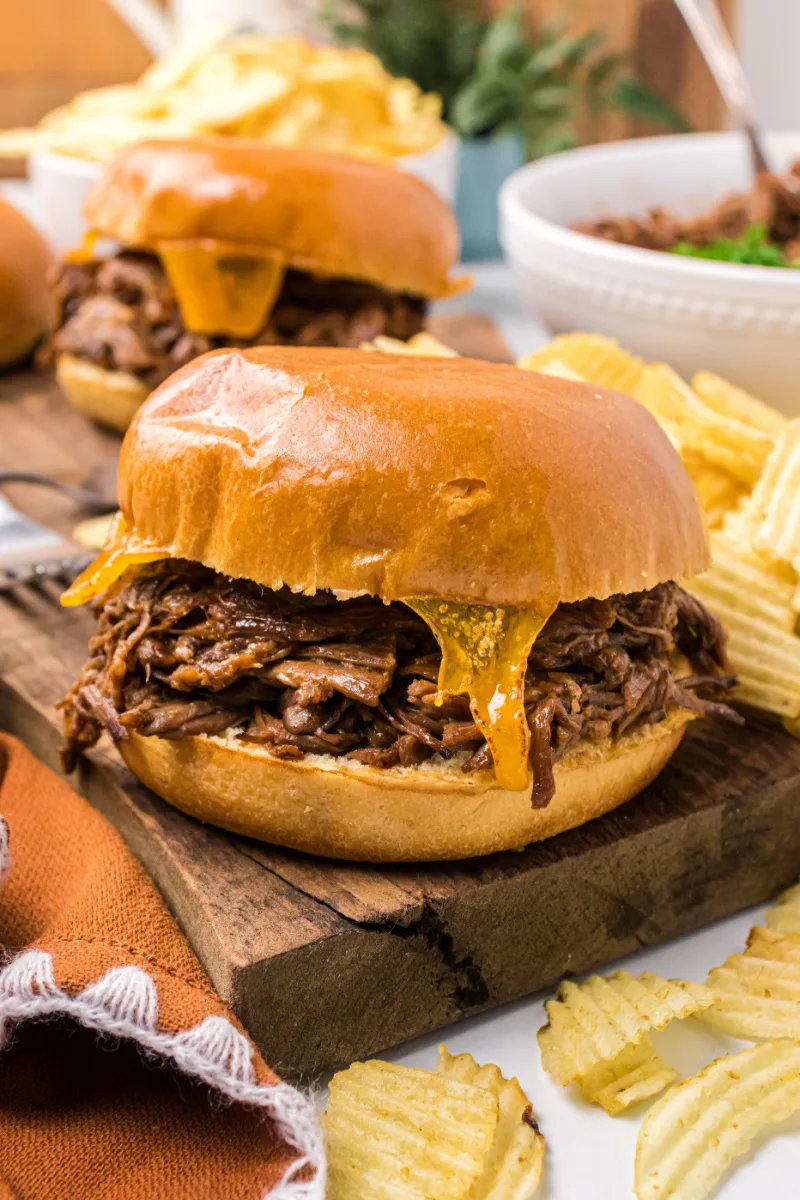 This slow cooker sandwich recipe has a short list of ingredients and it takes about 5 minutes to get it going in your slow cooker. Easy peasy! You'll need a boneless beef roast, your favorite barbecue sauce, an envelope of dried onion soup mix and some spices that are likely already in your spice cupboard. It's a great recipe to make for your family, and it's sure to become a favorite.
It's RecipeGirl here, and I'm sharing recipes on RecipeBoy's blog that I know he and his readers would totally enjoy. He's in college at SMU in Dallas, and I wish he were home to sample these Tex Mex Shredded Beef Sandwiches. I'll have to make them again and have him sample them when he comes home! I first published this in 2019, and I'm updating it now in 2022 with some new photos.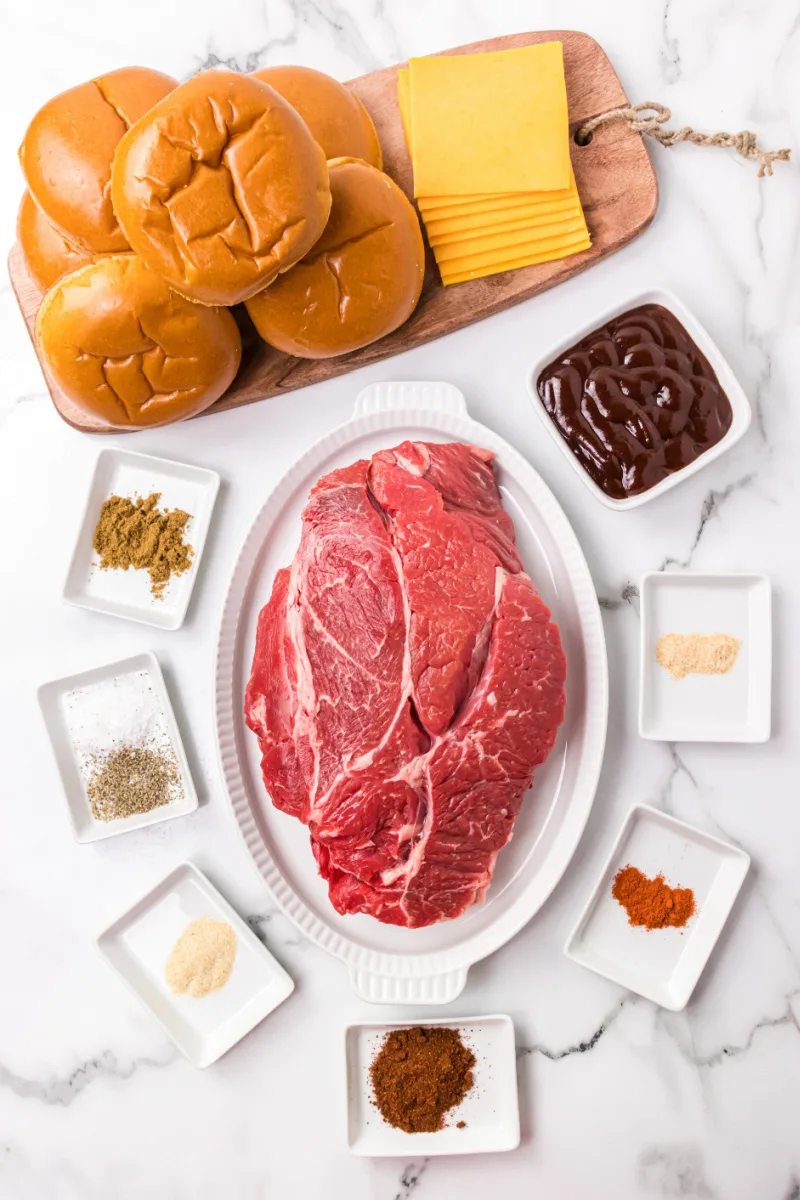 Ingredients needed:
boneless beef roast
chili powder
ground cumin
kosher salt and freshly ground black pepper
onion powder and garlic powder
cayenne pepper
barbecue sauce
sandwich rolls
cheddar cheese
How to make Tex Mex Shredded Beef Sandwiches:
You'll need a boneless beef roast that's about three pounds. Place it in your slow cooker. Sprinkle spices on top (chili powder, salt, cumin, onion powder, garlic powder, cayenne pepper and black pepper).
Then you'll spread some barbecue sauce on top- your favorite kind. For the record, the favorite barbecue sauce in our house is Sweet Baby Ray's. There is no need to put anything else in the slow cooker- no water needed. Just place the lid on top and cook on low for 8 hours.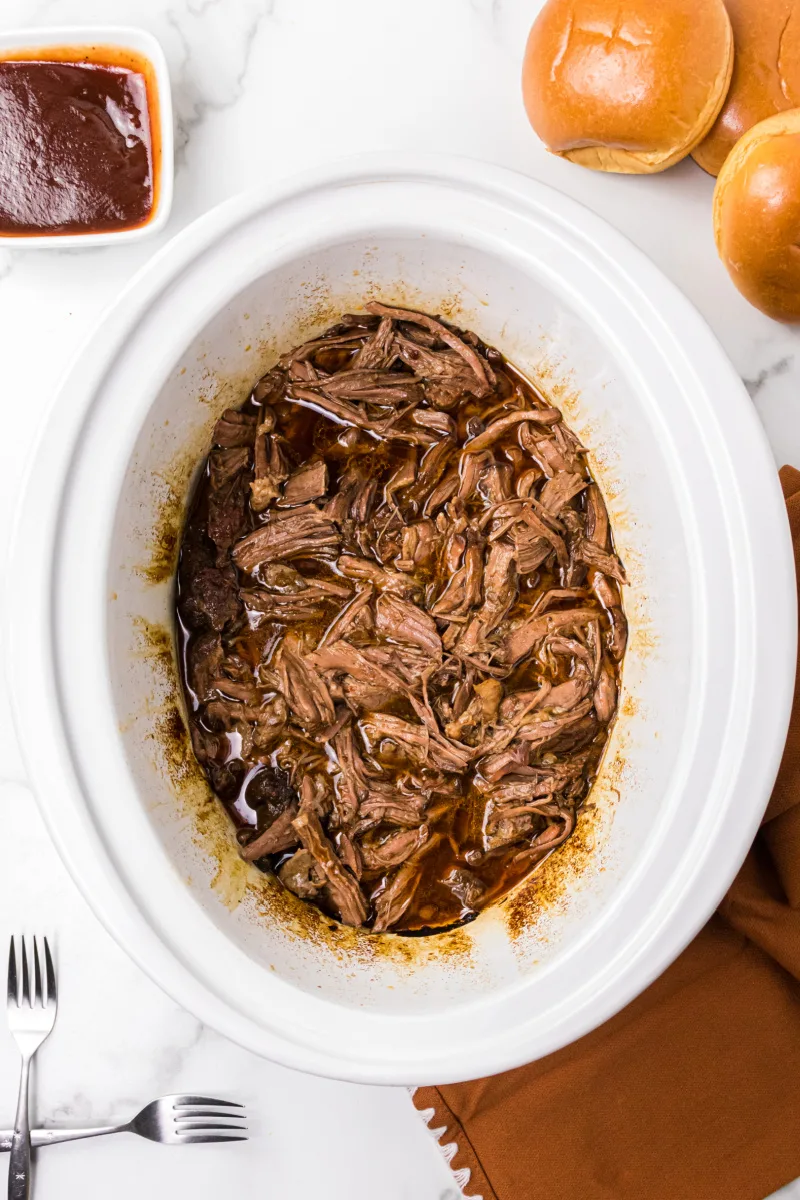 When eight hours is up, use two forks to pull apart the beef. You can either take the roast out of the cooking liquid and place it into a large bowl and shred it apart, or you can do it right there in the slow cooker. The beef will shred apart so tender and beautifully. As you shred it apart, you will come across some pieces of fat that you can take out and discard. Just keep all of that wonderful, shredded beef.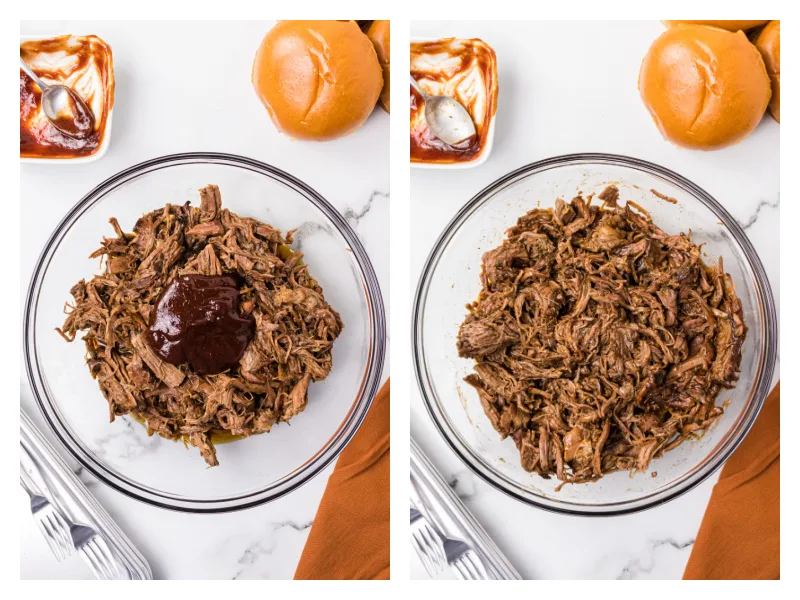 Put the shredded beef into a bowl and stir in an additional 1/2 cup of barbecue sauce to the beef. And then it will be ready for making sandwiches!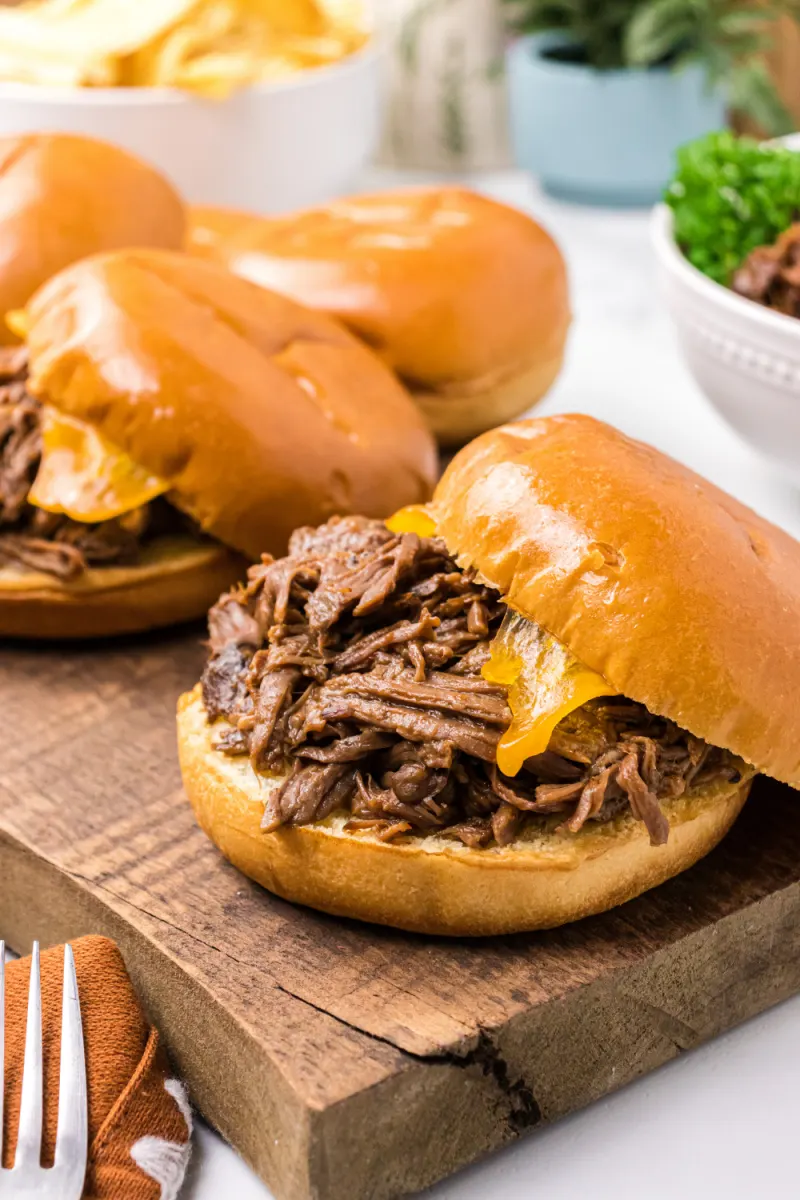 To assemble the Tex Mex Shredded Beef Sandwiches, pile some shredded beef on the bottom bun of a sandwich roll. Add a slice of cheddar cheese on top. At this point, you can place them under your oven broiler for a couple of minutes to melt the cheese… or you can give them a quick warm-up in the microwave. Put the top buns on top and they're ready to eat! Enjoy!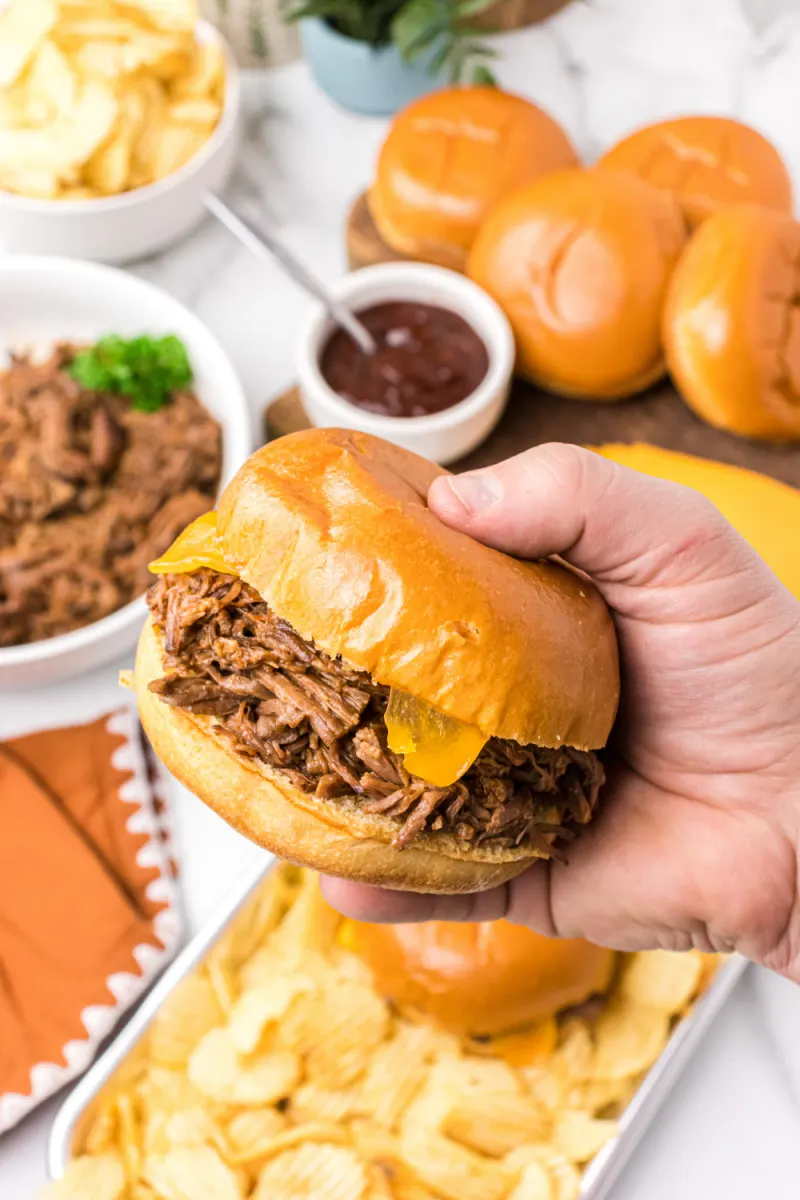 The Best Sandwich Recipes: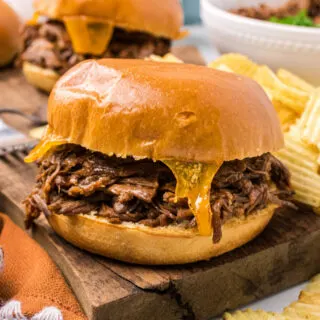 Tex Mex Shredded Beef Sandwiches
Totally delicious and easy dinner recipe!
Ingredients
one

3-pound

boneless beef roast

1

tablespoon

chili powder

1

teaspoon

ground cumin

1

teaspoon

kosher salt

½

teaspoon

onion powder

¼

teaspoon

ground cayenne pepper

¼

teaspoon

garlic powder

¼

teaspoon

freshly ground black pepper

1

cup

barbecue sauce,

divided

8

sandwich rolls

8

slices

cheddar cheese
Instructions
Place the roast in your slow cooker.

In a small bowl, combine the chili powder, cumin, salt, onion powder, cayenne, garlic powder and pepper. Sprinkle the spice mixture evenly over the roast. Spread ½ cup barbecue sauce over the top of the spices. Cover and cook on low for 8 hours or until the meat is tender.

Remove the roast from the slow cooker and move to a bowl. Pull apart the beef, removing pieces of fat and discarding them as you come across them. Add ½ cup barbecue sauce to the shredded beef.

Pile beef onto bun bottoms, top with cheese and put bun tops on top. If you'd like the cheese melted, you can warm the sandwiches briefly in the oven or the microwave.
Nutrition
Serving:
1
serving
Calories:
540
kcal
Carbohydrates:
46
g
Protein:
48
g
Fat:
17
g
Saturated Fat:
7
g
Polyunsaturated Fat:
2
g
Monounsaturated Fat:
6
g
Cholesterol:
122
mg
Sodium:
1191
mg
Potassium:
766
mg
Fiber:
2
g
Sugar:
13
g
Vitamin A:
576
IU
Vitamin C:
0.3
mg
Calcium:
225
mg
Iron:
6
mg