This is a really delicious and easy recipe for traditional Texas Sheet Cake.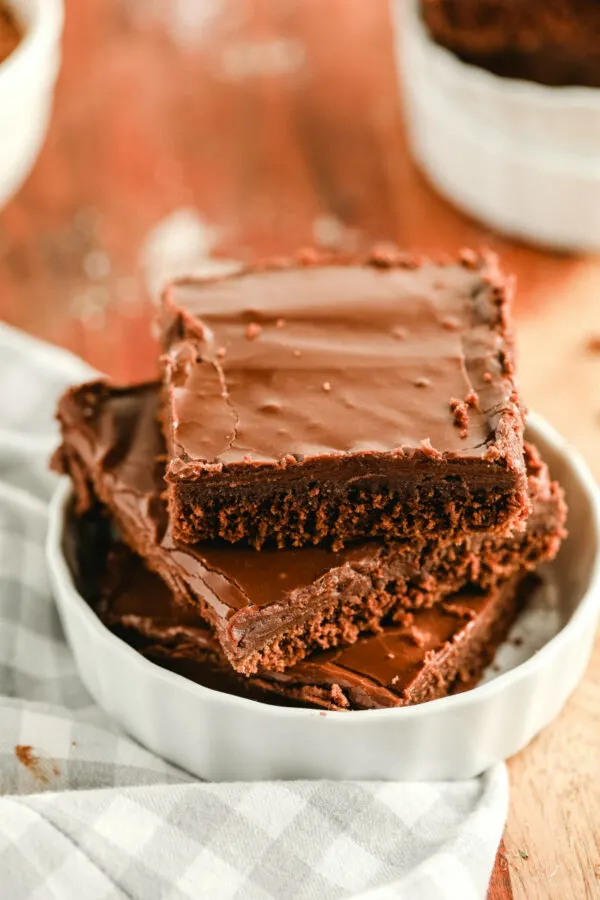 Anyone ready for some comfort food? I sure am. Texas Sheet cake has always been a favorite of mine. I like to bake cake in a shallow pan, I like to share my cake with a lot of people, and I love a good chocolate cake with a thick layer of frosting.
If you have been a regular reader of RecipeBoy's blog, you might be interested in seeing a recent photo of my baby boy Brooks. He's now almost 19 years old, and he's currently working remotely from home as a college freshman at SMU. Scroll to the end of this post and you will see a current photo of Brooks!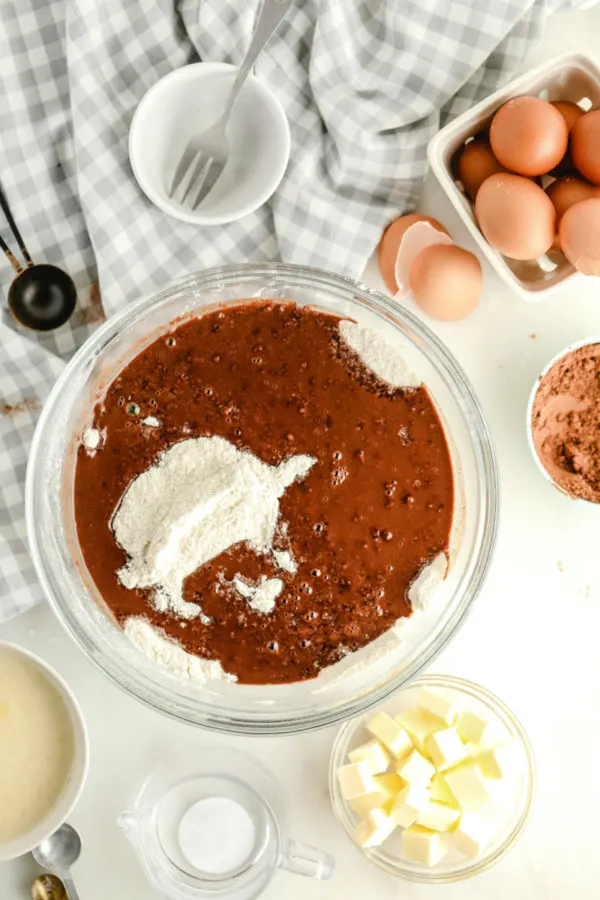 Ingredients needed:
butter
unsweetened cocoa powder
flour
white sugar and powdered sugar
buttermilk and regular milk
eggs
baking soda, salt and vanilla extract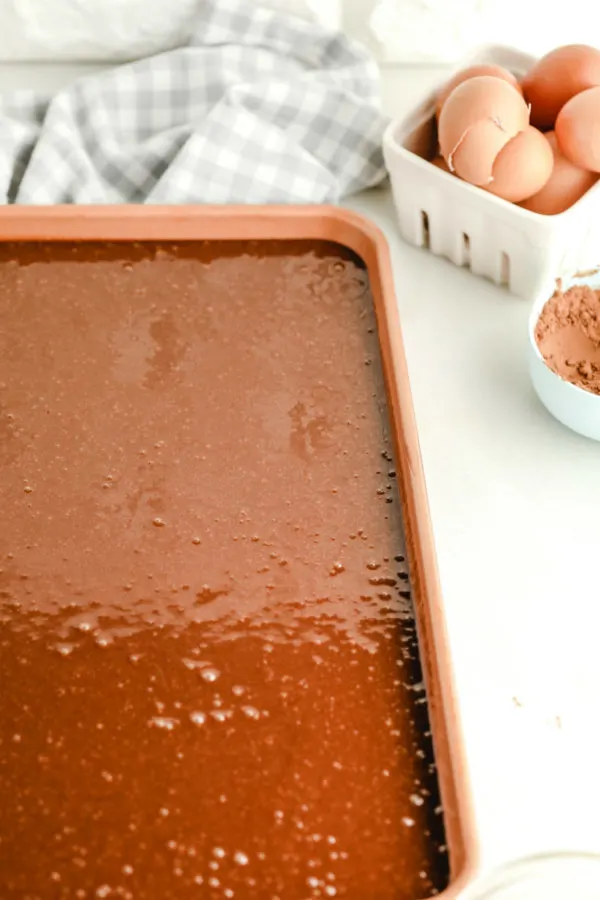 How to make Texas Sheet Cake:
The full printable recipe and instructions for this recipe are included at the end of this post. You'll need a sheet pan (sometimes referred to as a jelly roll pan). Amazon affiliate link >> this is the sheet pan that is recommended for making Texas sheet cakes.
Flour, sugar, baking soda and salt are combined with buttermilk and eggs. On the stove, you'll heat butter, water and cocoa powder and then add that to the other mixture. That makes up the cake batter, which is then poured into your sheet pan. The cake is then baked for 25 minutes.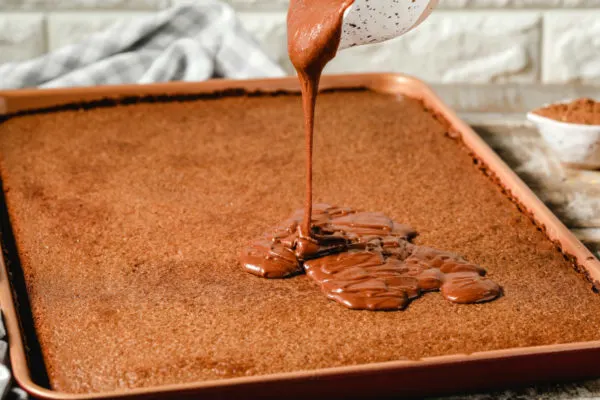 Adding the frosting:
The frosting on a Texas sheet cake is heated in a pan, and then it's poured onto your chocolate cake while it's still warm. The frosting is spread evenly over the top of the cake.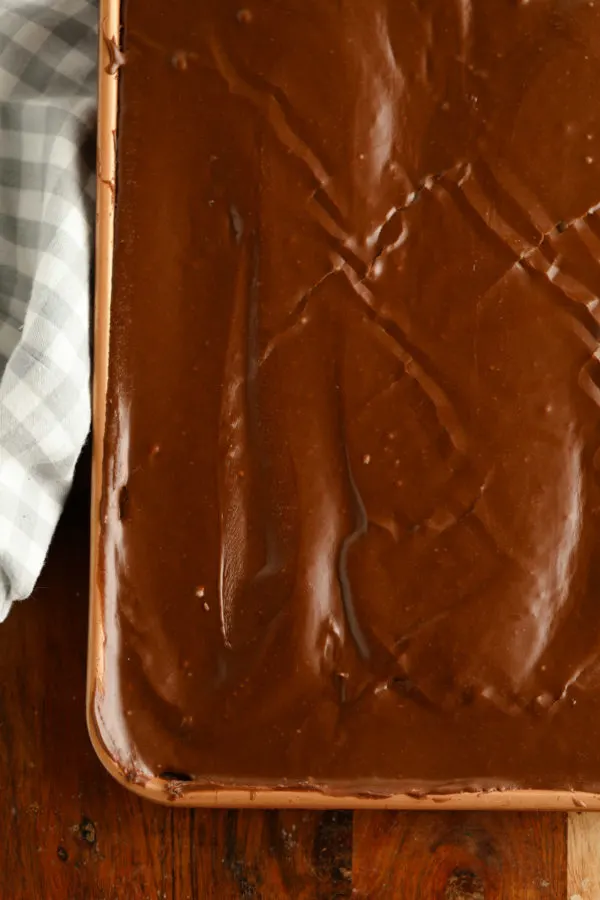 It's a thick and fudgy layer of frosting- so good!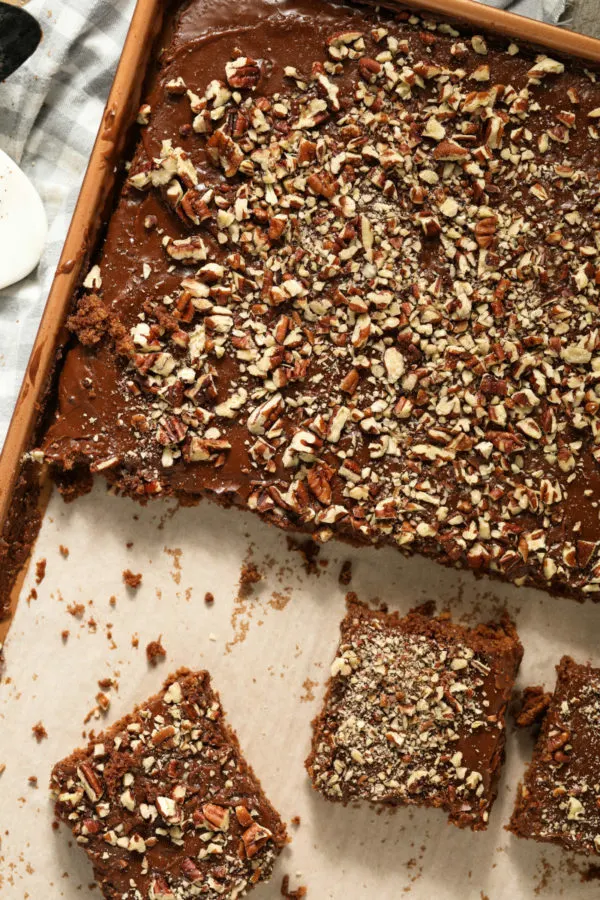 About Texas Sheet Cake:
History has it that Texas Sheet Cake got its name because it's a big cake (big, like the state of Texas). And others say it was given that name because it's a very rich cake (like wealthy Texans!) More than likely, it took off in popularity when a very good chocolate sheet cake recipe was submitted to the Dallas Morning News in 1957. As they say in modern-day terms, that recipe went "viral."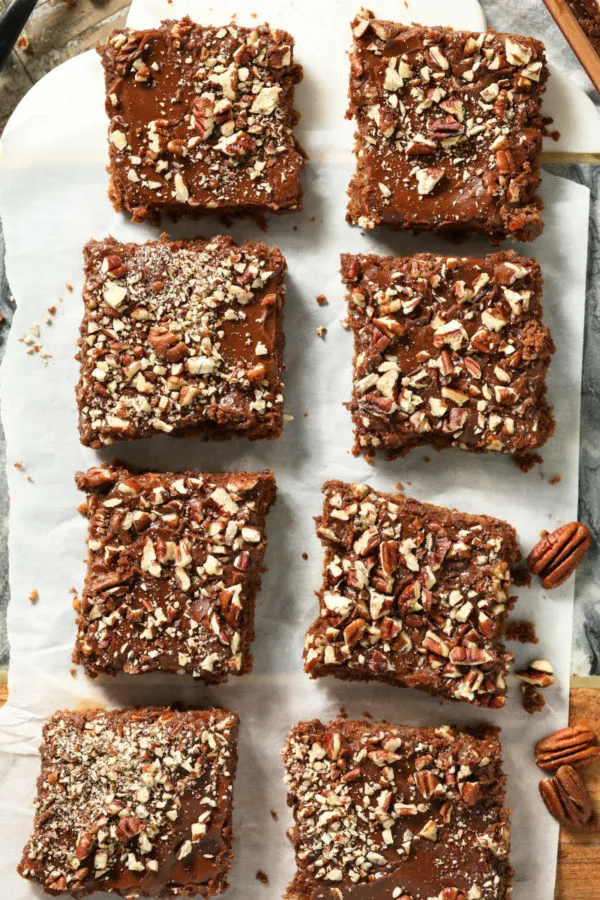 Texas sheet cake recipes will vary. Families have their own versions of this cake, and they'll swear it's the best and that it's original. One thing they usually have in common is the inclusion of buttermilk and pecans in the recipe. My family isn't much into nuts, so we usually make it without. Others will argue that it's not really a Texas Sheet Cake unless it has pecans in it! In any case, this is a good chocolate cake recipe. And we think it's the best!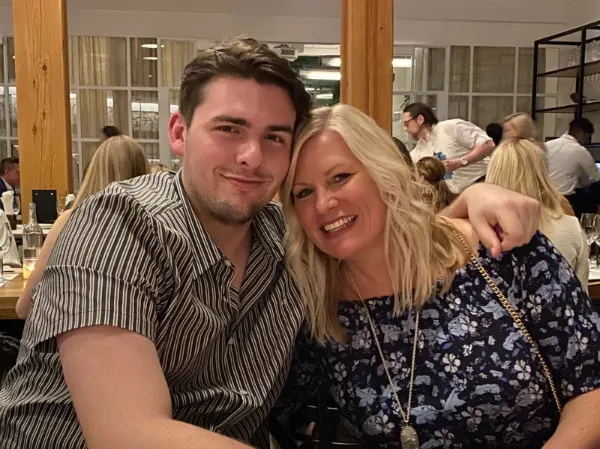 A couple of weeks ago, I flew to Dallas to go to Sigma Chi fraternity Mom's weekend at SMU. The crisis situation we're experiencing now wasn't even on anyone's radar during that visit. So I'm very thankful I got to go. My boy Brooks is very sad to have to come home to Arizona to wait things out. We hope this will end quickly, and we are wishing everyone the best.
Here are a few more cake recipes you might like to try: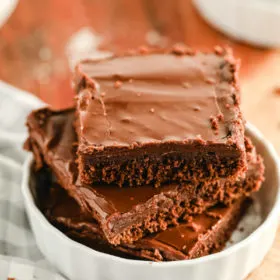 Texas Sheet Cake
A delicious version of this popular cake recipe.
Ingredients
FROSTING:
½

cup (1 stick)

butter

6

tablespoons

milk

4

tablespoons

unsweetened cocoa powder

1

pound

powdered sugar

1

teaspoon

vanilla extract

chopped pecans or walnuts

(optional)
Instructions
BAKE THE CAKE:
Preheat the oven to 350℉. Spray a 17x12x1-inch rimmed baking sheet with nonstick spray.

In a medium saucepan, add the butter, water and cocoa powder. Bring the mixture to a boil, then pull off the heat and set aside.

In a large bowl, whisk together the flour, sugar, baking soda and salt. Whisk in the buttermilk and eggs. Then whisk in the hot mixture until well-blended.

Scrape the batter into the prepared pan and spread evenly. Bake for 25 minutes, or until the cake tests done with a toothpick inserted into the middle coming out clean.
PREPARE THE FROSTING (while the cake is still warm):
In a medium saucepan, add the butter, milk and cocoa powder and bring to a boil. Remove the pan from heat and stir in the vanilla. Whisk in the powdered sugar until well blended. Pour the frosting onto the warm cake and spread evenly to cover. Sprinkle the cake with nuts, if using.
Notes
Sifting the powdered sugar will prevent lumps from forming in the frosting.
Nutrition
Serving:
1
serving
Calories:
296
kcal
Carbohydrates:
44
g
Protein:
2
g
Fat:
13
g
Saturated Fat:
8
g
Polyunsaturated Fat:
1
g
Monounsaturated Fat:
3
g
Trans Fat:
0.5
g
Cholesterol:
48
mg
Sodium:
203
mg
Potassium:
48
mg
Fiber:
1
g
Sugar:
36
g
Vitamin A:
407
IU
Calcium:
20
mg
Iron:
1
mg