Thursday, June 9, 2011
For my fourth post, I wanted to do something that isn't a dessert. So I decided to make dinner for my family. I was really in the mood for a nice and yummy pizza, so that's what I made. My delicious pizza had a world class homemade sauce on it and three toppings: spinach, goat cheese….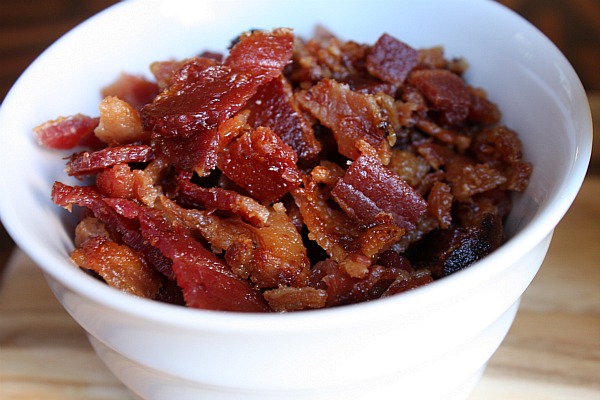 and BACON! Well, my mom told me that bacon is very popular in the blogosphere, so I included that as my third topping.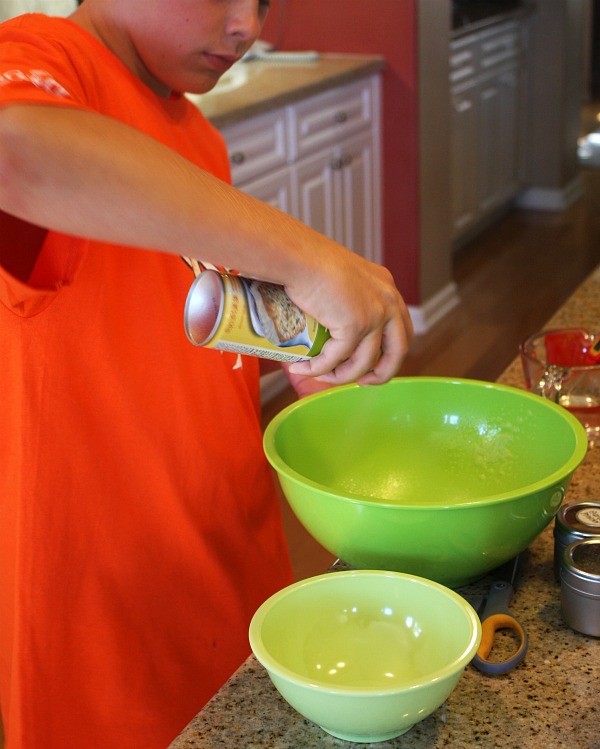 I'm spraying olive oil into a large bowl.  This is where the pizza dough is going to rise.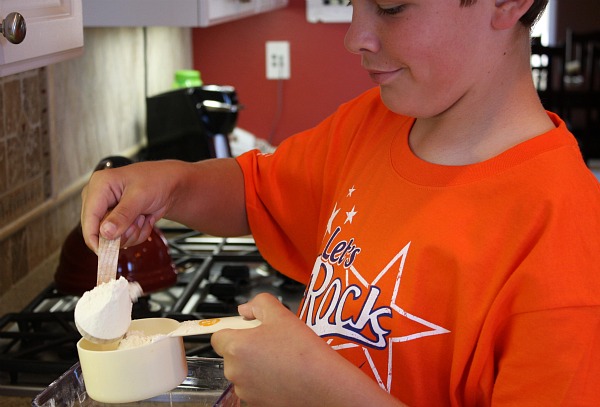 The pizza dough ingredients are mixed in a food processor.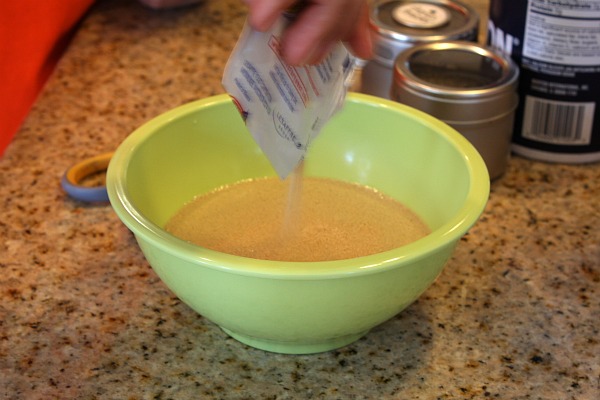 Yeast is mixed with warm water and poured into the food processor. The yeast is what's going to help the dough rise.
Once the dough is mixed together, it is put on a floured surface and kneaded with your hands.  (It might be a little messy!)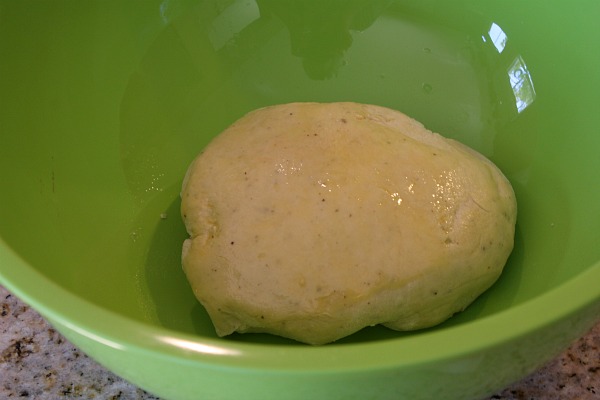 Next put the dough in the greased bowl.  Cover the bowl with plastic wrap and put it in a warm place to rise.  I put it in the oven while it was turned off.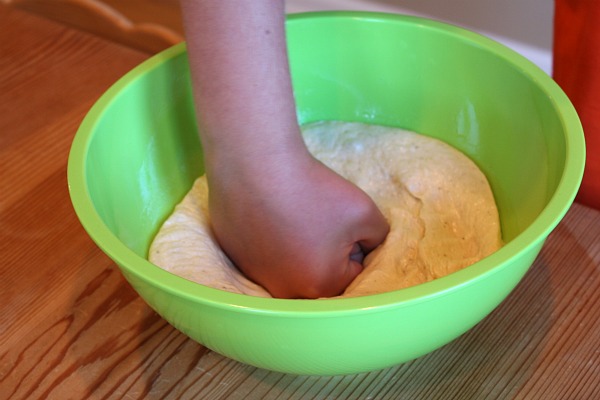 When it's done rising, punch the dough down with a fist.  Punch it like you mean it!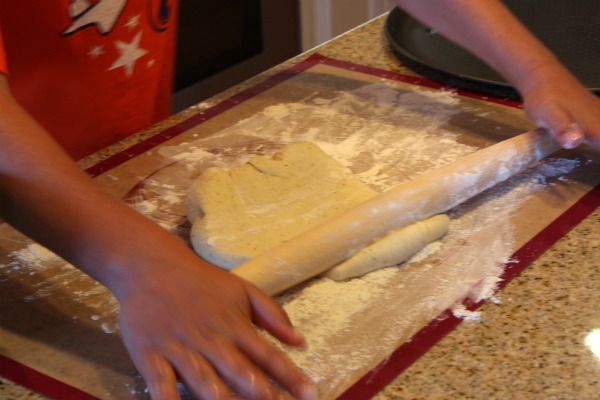 Flatten it into a pizza shape with a rolling pin.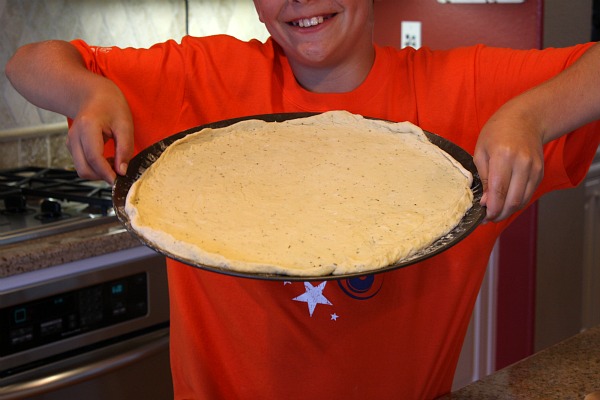 Put it on a pizza pan and display for all to see.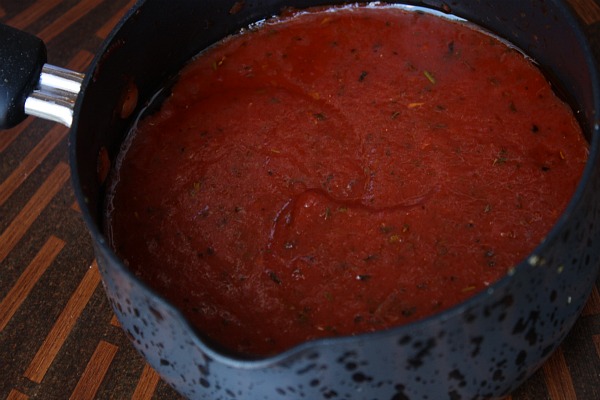 I made my own homemade sauce too.  It was really easy!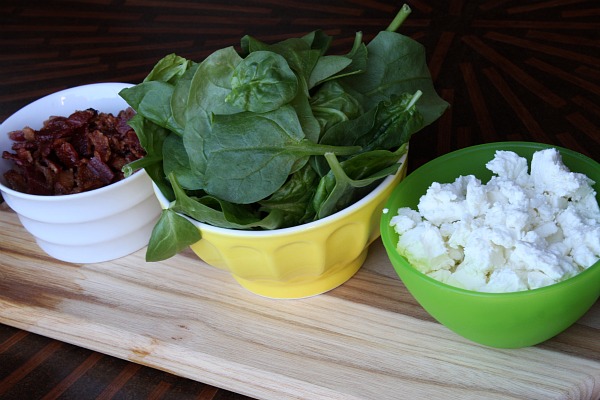 These are the three toppings that I chose for my masterpiece.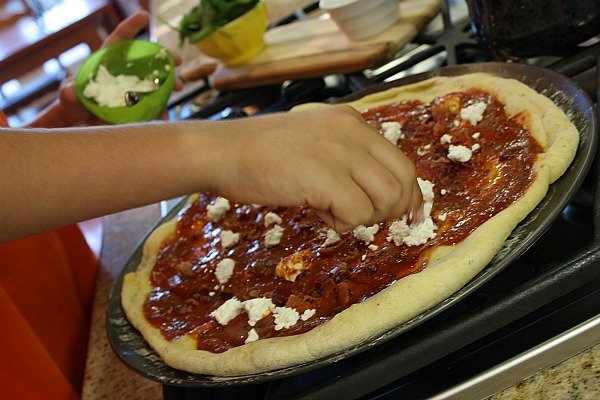 Say "Cheese!"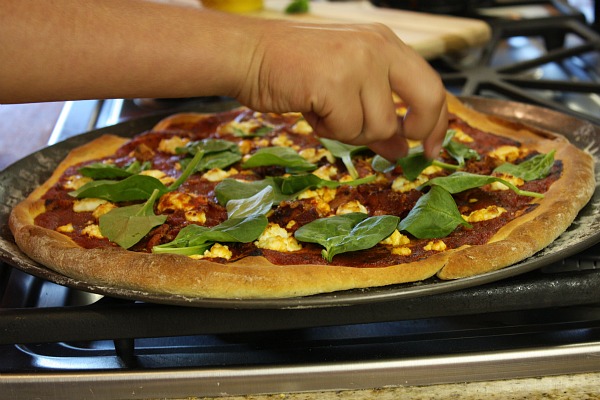 After the pizza is all baked, it is then that you put on the fresh spinach.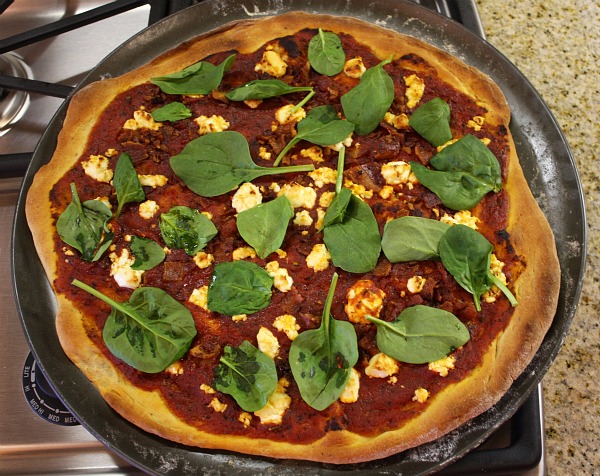 That looks yummy!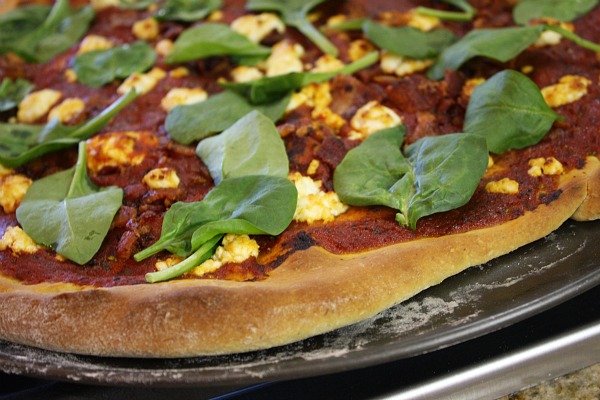 Extreme close-up!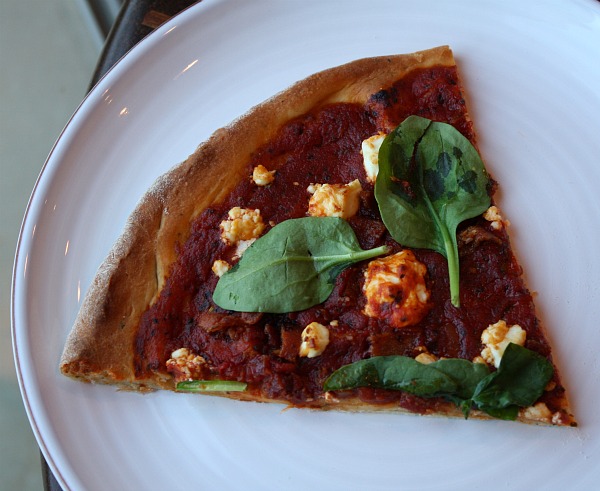 Want a slice?  What's your favorite pizza topping?
If you like pizza, this is one that will enter your favorites list.  And even a kid can make it… like me!
Bacon, Goat Cheese and Spinach Pizza

Yield: 6 to 8 slices

Prep Time: 30 min + rising time

Cook Time: 40 min

Welcome to one of the best pizzas you've ever eaten!

Ingredients:

PIZZA SAUCE:
1 (6 ounce) can tomato paste
1 cup water
1/4 cup extra-virgin olive oil
2 cloves garlic, minced
salt and pepper, to taste
1/2 Tablespoon dried oregano
1/2 Tablespoon dried basil
1/2 Tablespoon chopped fresh rosemary
1/2 teaspoon granulated white sugar

PIZZA DOUGH:
3/4 cup warm water (105 to 115 degrees F)
1 envelope active dry yeast
2 cups (or more) all-purpose flour
1 teaspoon granulated white sugar
3/4 teaspoon salt
1/2 teaspoon Italian seasoning
1/2 teaspoon garlic powder
3 Tablespoons olive oil

TOPPINGS:
cooked and crumbled bacon
goat cheese crumbles
fresh spinach leaves

Directions:

1. Make the pizza sauce: In a medium saucepan, whisk together the tomato paste, water and olive oil. Add the rest of the ingredients. Heat over medium heat until it gets hot, then reduce to low and simmer on the stove for about 15 minutes. Turn off the stove and let the sauce sit and cool while you make the rest of the pizza.

2. Make the pizza dough: Pour water into a small bowl and sprinkle the yeast on top. Let it stand for a couple of minutes to let the yeast dissolve. In a food processor, mix the remaining dough ingredients, along with yeast water. Turn on the processor and process until the dough comes together and forms a sticky ball. Dump the ball out onto a floured surface and knead it with your hands until it's smooth. If it's super sticky, add a little bit of flour to get it smooth. Put the kneaded dough ball into a large greased bowl, cover it with plastic wrap, and let it rise in a warm place until it doubles (at least an hour). Punch down the dough with your fist after it has risen. Roll out the dough into a pizza shape and place it on a pizza pan. I used a nonstick pizza pan, but you can also use a pizza stone with cornmeal sprinkled on top.

3. Make the pizza: Preheat your oven to 450 degrees F. Bake the pizza crust for 15 minutes, then remove it from the oven and add your toppings. Spoon pizza sauce on top and then sprinkle it with bacon and goat cheese (or whatever you want). Then put it back into the oven for 10 or 15 more minutes until the crust is lightly browned (like the pictures above). Add the spinach on top after it comes out of the oven.

4. Slice and EAT.

Source: RecipeBoy.com (sauce and pizza dough adapted from AllRecipes)