I made some magnificent Strawberry Waffles!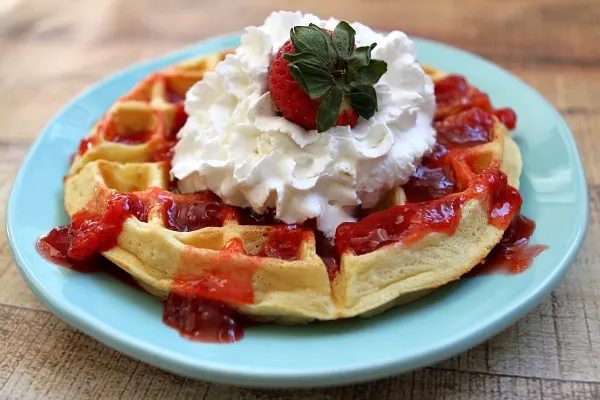 These waffles are very light and fluffy. Perfect texture, perfect taste. The homemade, fresh strawberry syrup is on-point. Everything about these waffles is completely awesome. Even the whipped cream on top tastes better than ever!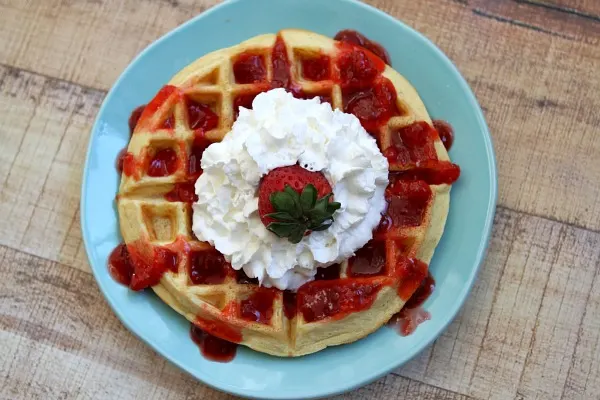 This recipe is super festive for Valentine's Day. The perfect breakfast for your special someone! My new puppy would eat this entire waffle in five seconds, as she does with all food (including paper towels). My mom has dubbed our puppy the "Little Sock Stealer" because it is impossible to do laundry with the puppy in the house. She is constantly stealing socks and running away as fast as she can because she knows she isn't supposed to have them. It's pretty funny to watch. 🙂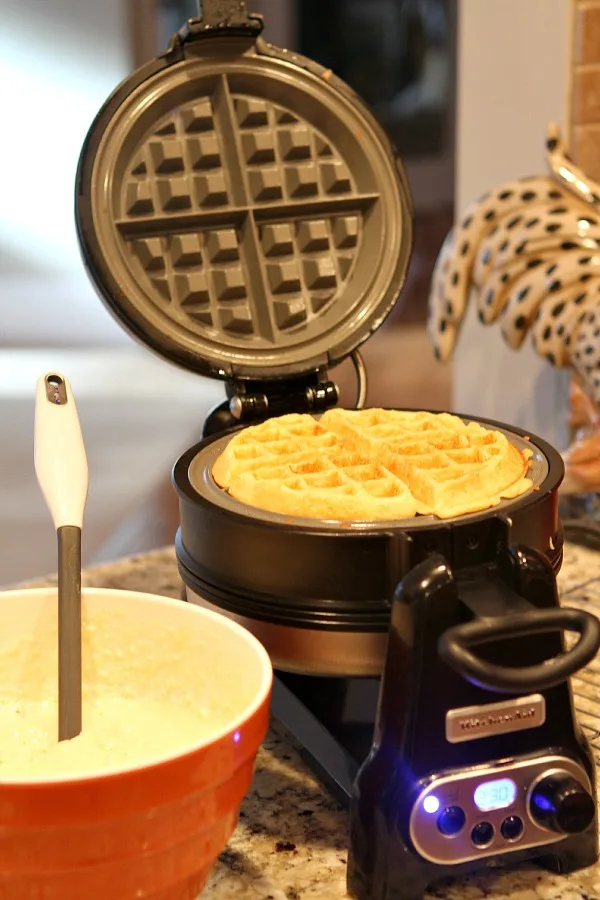 This waffle baker is a dream come true for anyone that wants a good breakfast. I used a simple batter for these waffles, and they came out amazing! Could this waffle baker have magic powers? Maybe.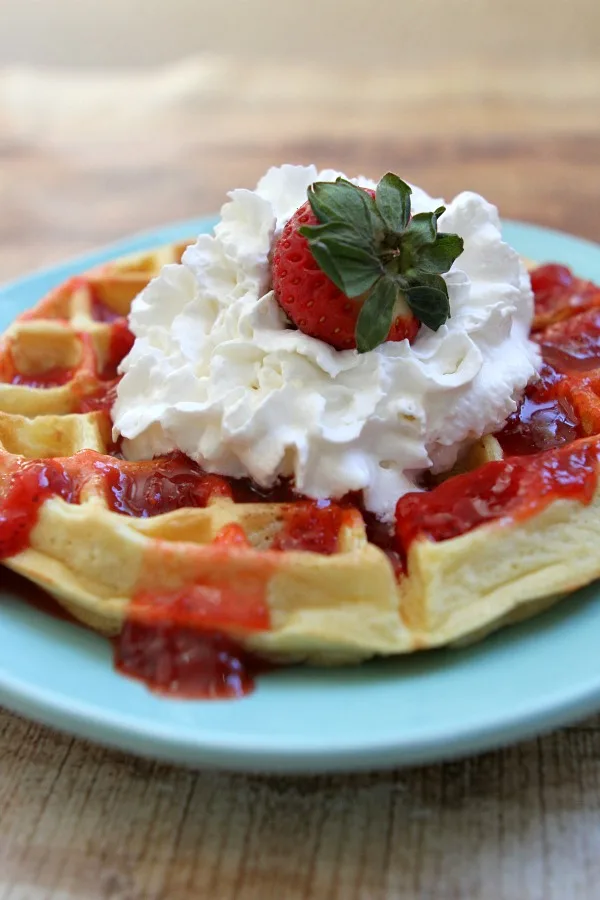 The strawberry syrup is the hardest part of this recipe, but it still isn't very hard to make. It just simmers on the stove for a while and then you have to let it cool. I couldn't get over how sweet the strawberry syrup was! Mildly sweet waffles with a sweet syrup. Delish.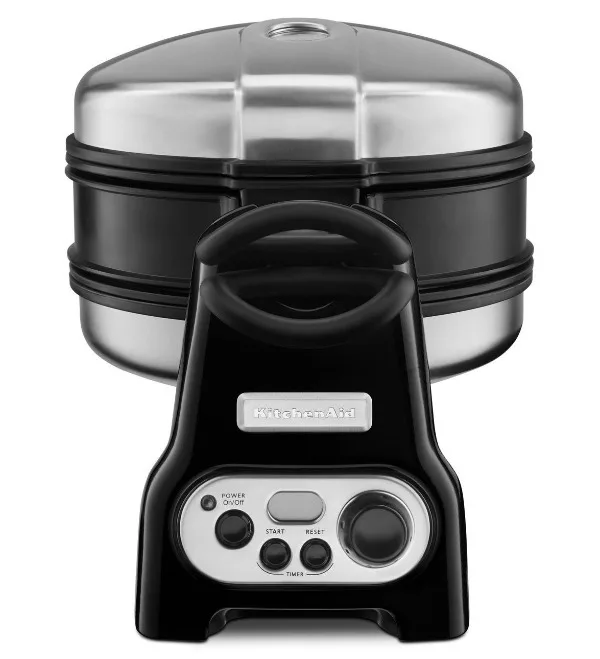 This waffle baker is ready to go! It has awesome nonstick waffle liners that are really easy to wipe clean and a timer to let you know when your waffles are done. My favorite part of the waffle baker is that it can make two waffles at the same time! I am not patient at all, so this feature satisfies me for sure. My life motto is "ease of effort." It means that you should find ways to do less work and get more of a product (Bill Gates has said something along the lines of that). So if I'm going to put in the effort to make waffles, why not get them done twice as fast? Please give yourself and someone else a special treat this Valentine's Day by making them this festive recipe.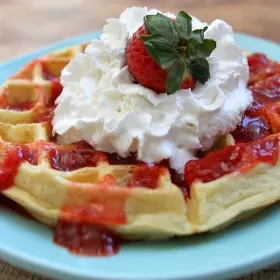 Strawberry Waffles
A classic waffle with strawberry syrup!
Ingredients
WAFFLES:
2

cups

all purpose flour

2

teaspoons

baking powder

½

teaspoon

salt

4

large

eggs,

separated

2

tablespoons

granulated white sugar

2

cups

whole milk

¼

cup (½ stick)

unsalted butter,

melted

2

teaspoons

vanilla extract
STRAWBERRY SYRUP:
1

pound

fresh strawberries,

hulled and diced (about 3 cups)

¾

cup

granulated white sugar

3

tablespoons

freshly squeezed orange juice

1

teaspoon

cornstarch

½

teaspoon

finely grated orange zest

whipped cream

(totally optional)
Instructions
MAKE THE SYRUP: Add the strawberries and sugar to a medium saucepan. In a small bowl, stir together the orange juice and cornstarch until the cornstarch is dissolved. Add to the pan along with the orange zest. Bring the mixture to a boil. Reduce the heat to low and simmer until the strawberries are soft and the syrup has thickened (stirring every once in a while) for about 15 to 18 minutes. Remove from heat and let cool (or refrigerate) until ready to serve.

MAKE THE WAFFLES: Preheat your waffle baker. Sift the flour, baking powder and salt into a medium bowl. In a separate bowl, whisk together the egg yolks and sugar until sugar has dissolved and the mixture is a pale yellow color. Whisk in the milk, butter and vanilla. Add the dry ingredients and whisk just until combined. In a 3rd bowl, use an electric mixer to beat the egg whites until soft peaks form (about 1 minute). Use a rubber spatula to gently fold the egg whites into the batter.

Spray the waffle iron with nonstick spray. Spoon the batter onto the center of the waffle iron and let it spread to the edges. Close the waffle iron and cook until golden brown, about 2 to 3 minutes. Repeat with the remaining batter. Serve warm waffles with strawberry syrup (and whipped cream)!