OMG where do I even begin today!!! I recently made some ice cream. But not just ice cream! It was Marshmallow Fudge Swirl Ice Cream. It is absolutely amazing. AMAZING I TELL YOU!!! 😉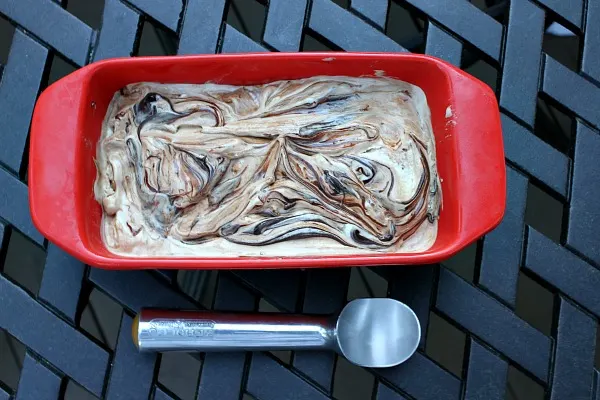 It's the hottest time of the year and what would be better than a Marshmallow Fudge Swirl Ice Cream Cone to cool off with? I can tell you the answer. Nothing is better to eat than this during summer!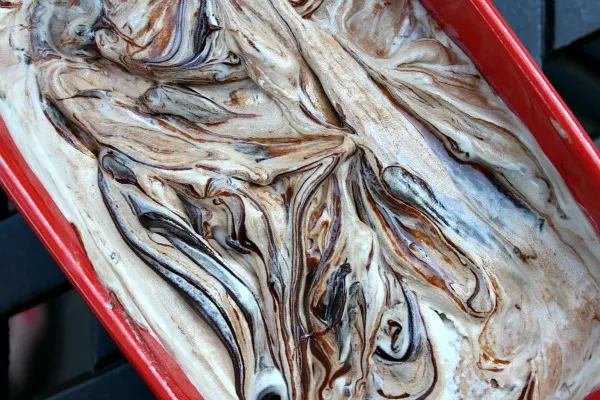 Just stare deep into the fudge and imagine the taste of gooey marshmallow and smooth fudge swirl. It tastes even better than it sounds!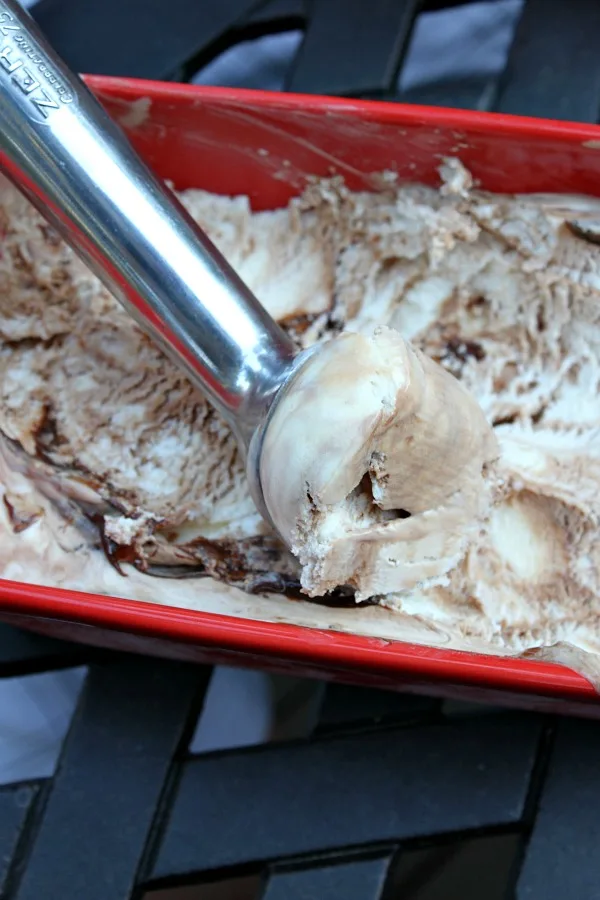 You all should get out your scoopers right now and go on strike against bad ice cream flavors! 😉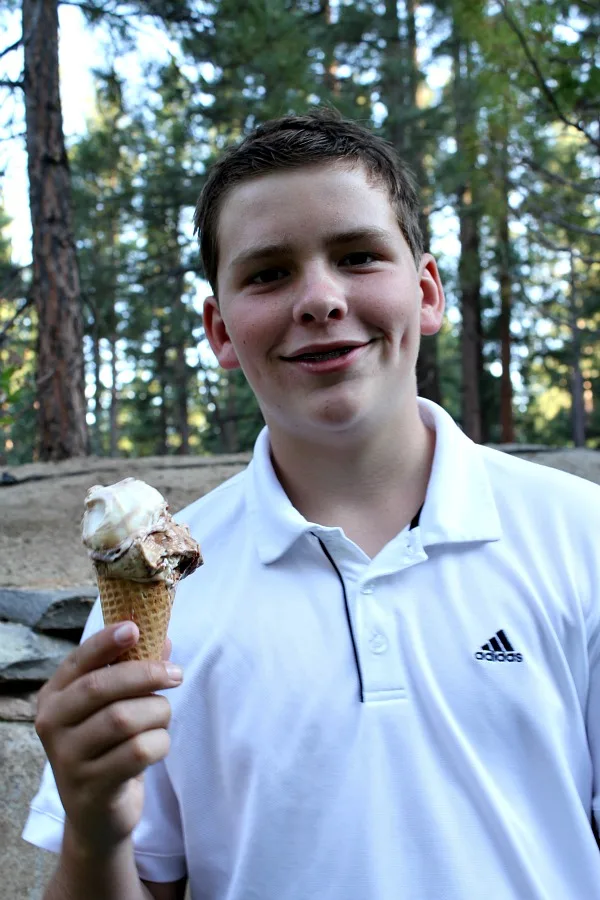 I just had to take a couple licks between shots.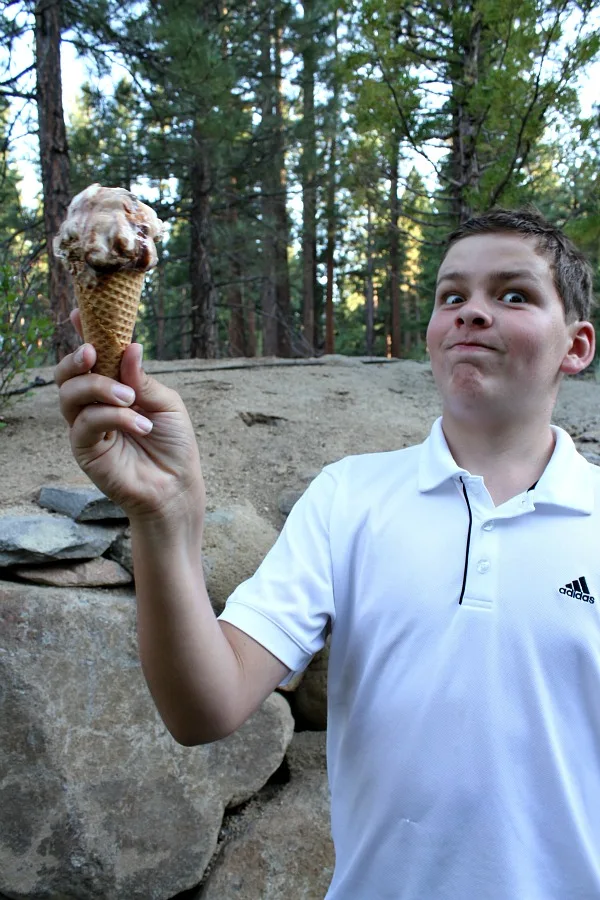 I, Brooks Lange, have conquered the ice cream world! I have found the one superior flavor that surpasses all other good flavors. I will sell my creation at $7 per scoop. 🙂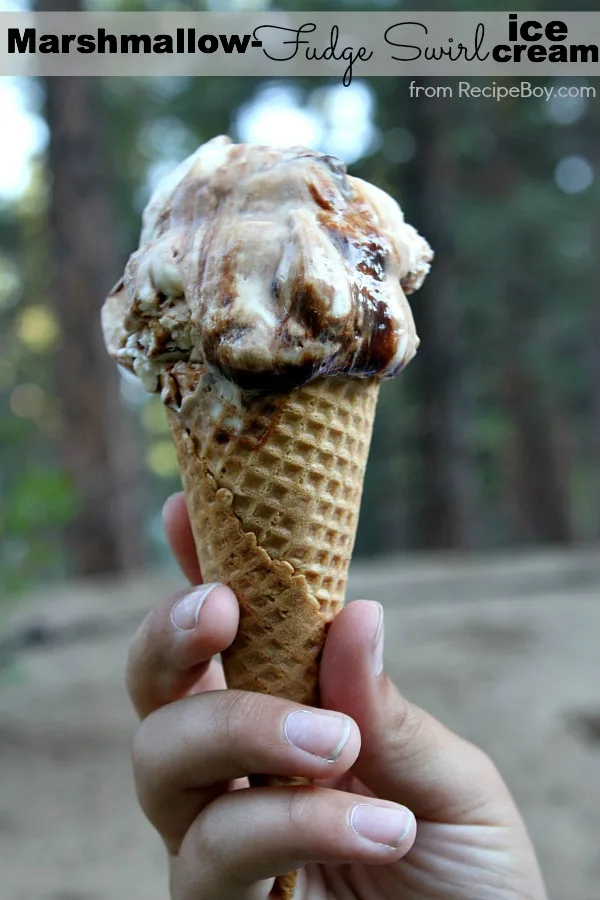 This picture was taken after a few licks. I couldn't restrain myself during the pictures. My mom and dad tried some of this and they totally loved it too! It's the NEW super flavor that everyone is craving. It's just too good! What is your favorite flavor of ice cream?
And even a kid can make superb homemade ice cream… Like Me!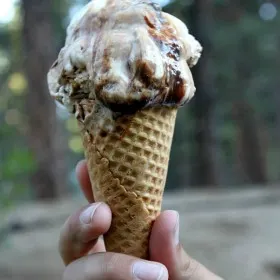 Marshmallow Fudge Swirl Ice Cream
It's marshmallow ice cream with a lot of hot fudge swirled into it!
Ingredients
2

cups

heavy whipping cream

2

cups

half and half cream

4

cups

mini marshmallows

(or 32 large marshmallows)

½

teaspoon

vanilla extract

pinch

of salt

hot fudge
Instructions
First of all, make sure your ice cream maker insert has had a chance to freeze for a full 24 hours.

Heat the cream, half and half and marshmallows in a medium saucepan over medium heat. Stir until the marshmallows are melted into the cream. Remove from heat and stir in the vanilla and add the salt. Pour the mixture into a bowl, cover it and refrigerate overnight or until completely chilled.

Process the ice cream base in your ice cream maker according to your ice cream maker instructions (ours took about 30 minutes to turn into thick ice cream). At the end of processing, spoon in some generous spoonfuls of hot fudge. You just want to swirl it in there instead of getting the whole thing to turn into chocolate. Turn off the ice cream maker and scrape the ice cream into a freezer-safe container. You can swirl in more fudge if you want. Freeze until firm, then scoop and eat!
Nutrition
Serving:
1
serving
Calories:
428
kcal
Carbohydrates:
37
g
Protein:
5
g
Fat:
30
g
Saturated Fat:
19
g
Polyunsaturated Fat:
1
g
Monounsaturated Fat:
8
g
Cholesterol:
89
mg
Sodium:
144
mg
Potassium:
192
mg
Fiber:
1
g
Sugar:
25
g
Vitamin A:
1089
IU
Vitamin C:
1
mg
Calcium:
114
mg
Iron:
0.4
mg