Spinach Palmiers are an easy and delicious, 6-ingredient appetizer recipe or snack that will fly off the table!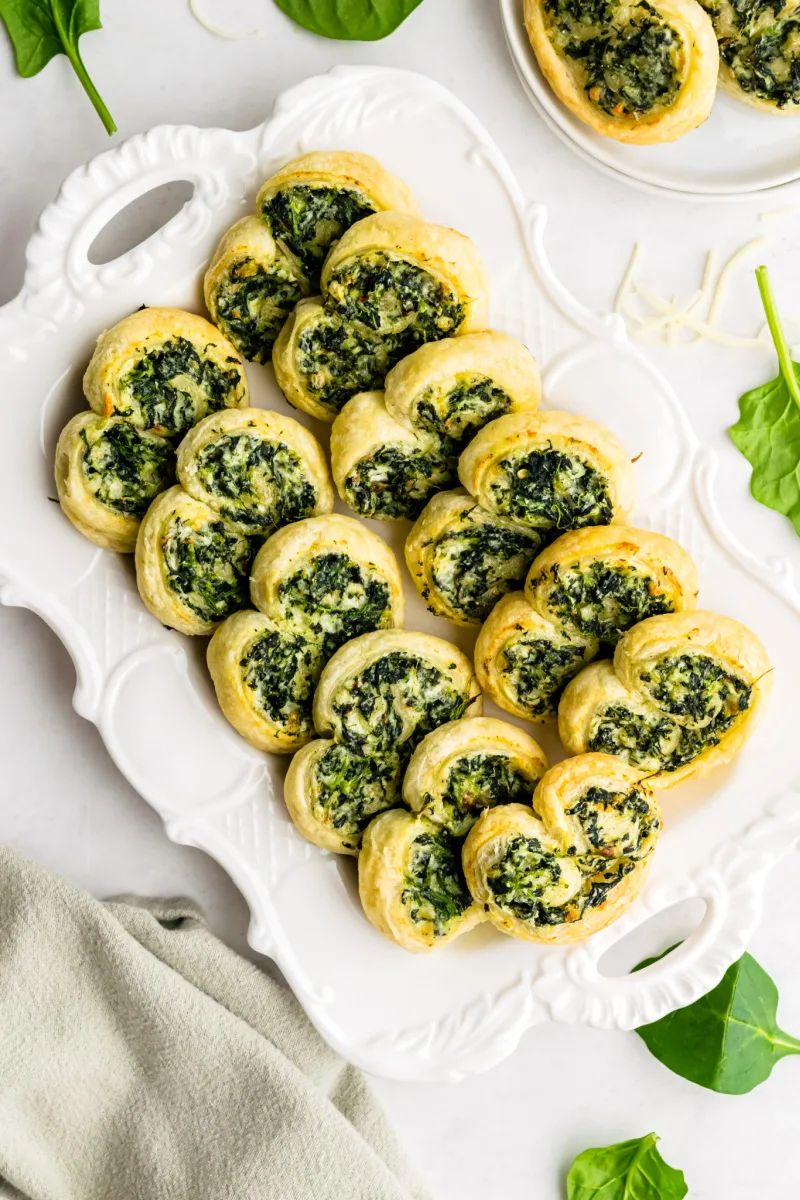 Don't those look SO yummy? They are. RecipeBoy (Brooks) made these Spinach Palmiers for a family party way back in 2011 (he was only 10 years old back then!) They were a big hit with the family, so we've made and enjoyed them many times since. This post is being re-shared in 2021 with some new photos showing you this gorgeous appetizer.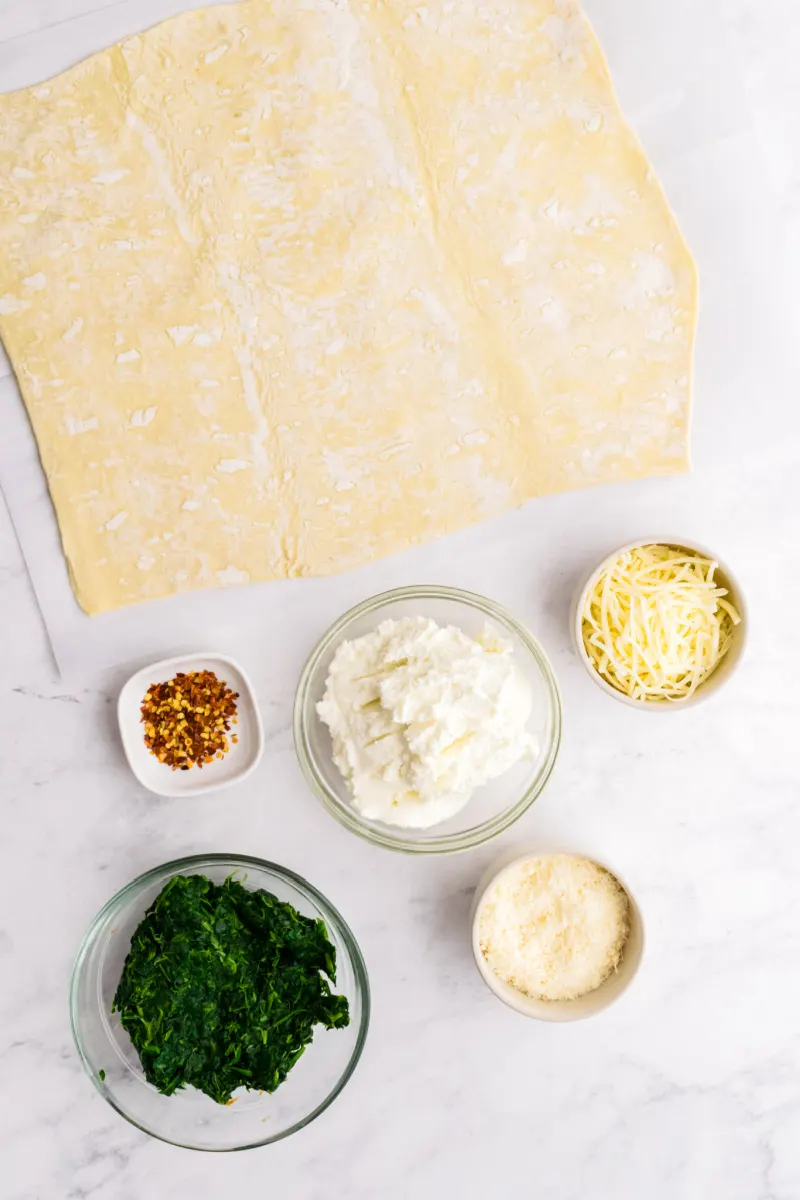 Ingredients needed:
one sheet of Puff Pastry
frozen chopped spinach, thawed and squeezed dry
ricotta cheese
mozzarella cheese
Parmesan cheese
red pepper flakes
salt and pepper
If you have just taken the Puff Pastry out of the freezer, let it defrost for about 30 minutes before you start making the recipe.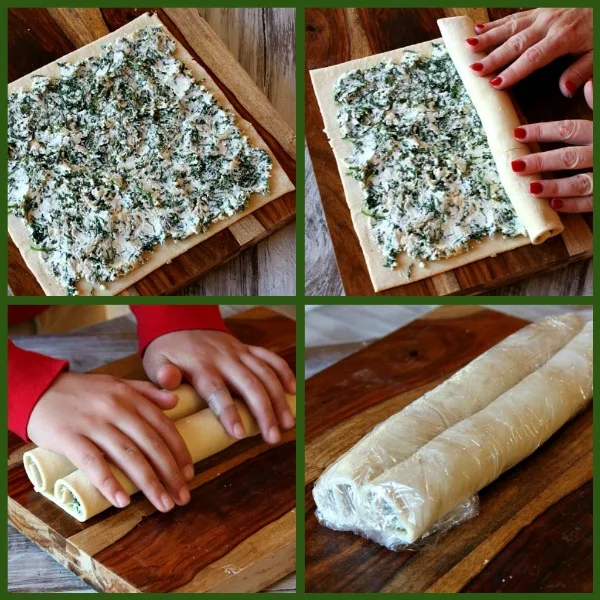 How to make Spinach Palmiers:
To make the filling, combine the spinach, ricotta cheese, Parmesan cheese and red pepper flakes. You don't want any extra moisture in the filling, so be sure to squeeze the moisture out of the thawed spinach before using. And if your ricotta cheese happens to have extra liquid floating around in it, then drain that before using too.
Spread the filling on the Puff Pastry but not too close to the edges. Sprinkle with salt and pepper. Roll one side to the middle, then the other side to the middle too. Once it is all rolled up, cover it tightly with plastic wrap and stick it in the freezer until it is slightly firm (about 30 minutes). It'll be easier to cut that way.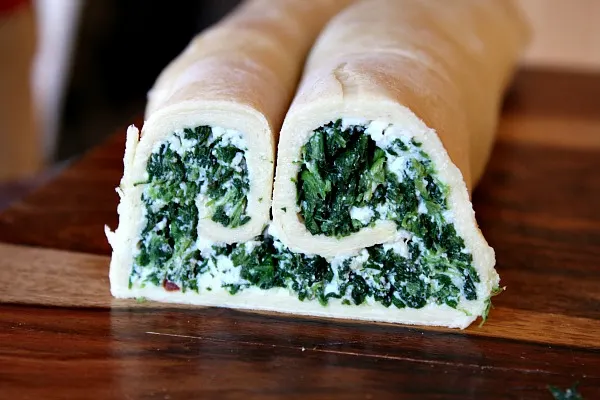 This is what it will look like when you cut into it. Cut slices and place them on a baking sheet. Bake for 20 minutes at 400 degrees.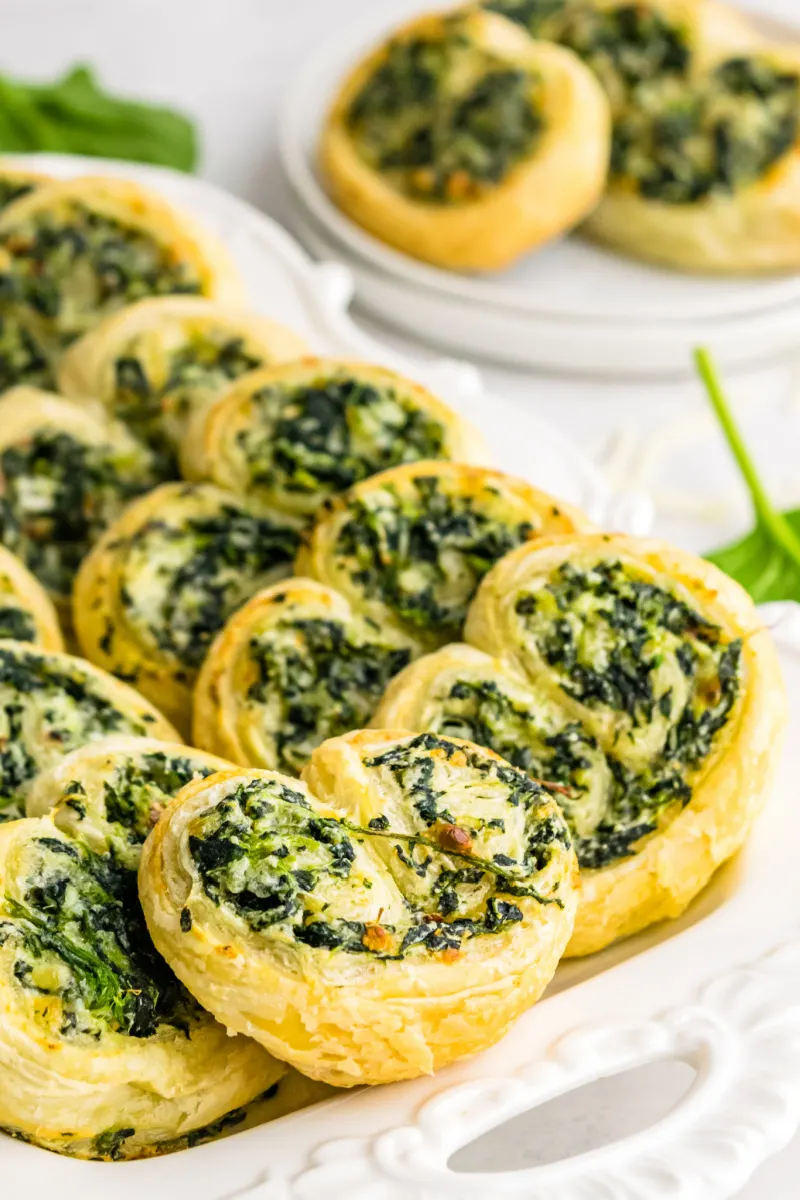 They will come out all golden and wonderful. That spinach filling is so delicious tucked inside the flaky puff pastry!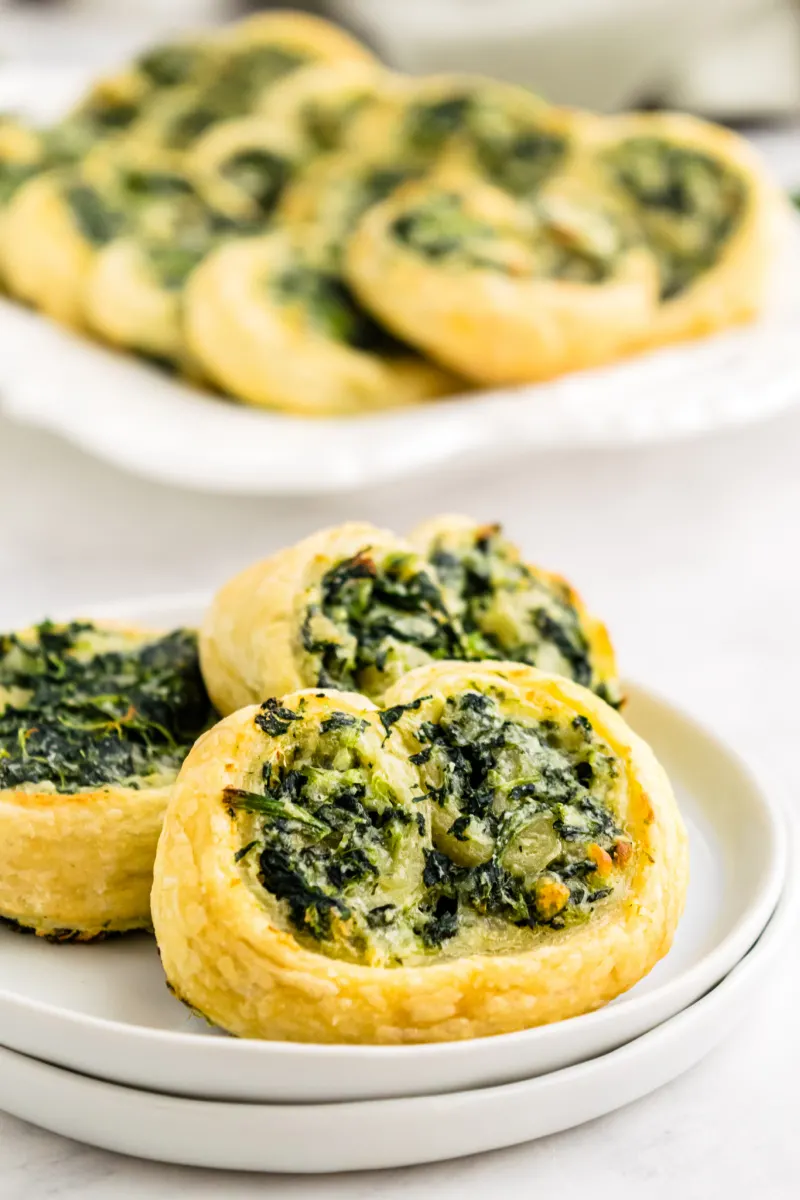 I know that "Spinach Palmiers" sound fancy and all, but they're really just a simple, savory version of classic sweet French palmiers.
You can make these and bring them to a party or gathering with friends because they don't have to be served warm. I'd serve them the same day you make them though.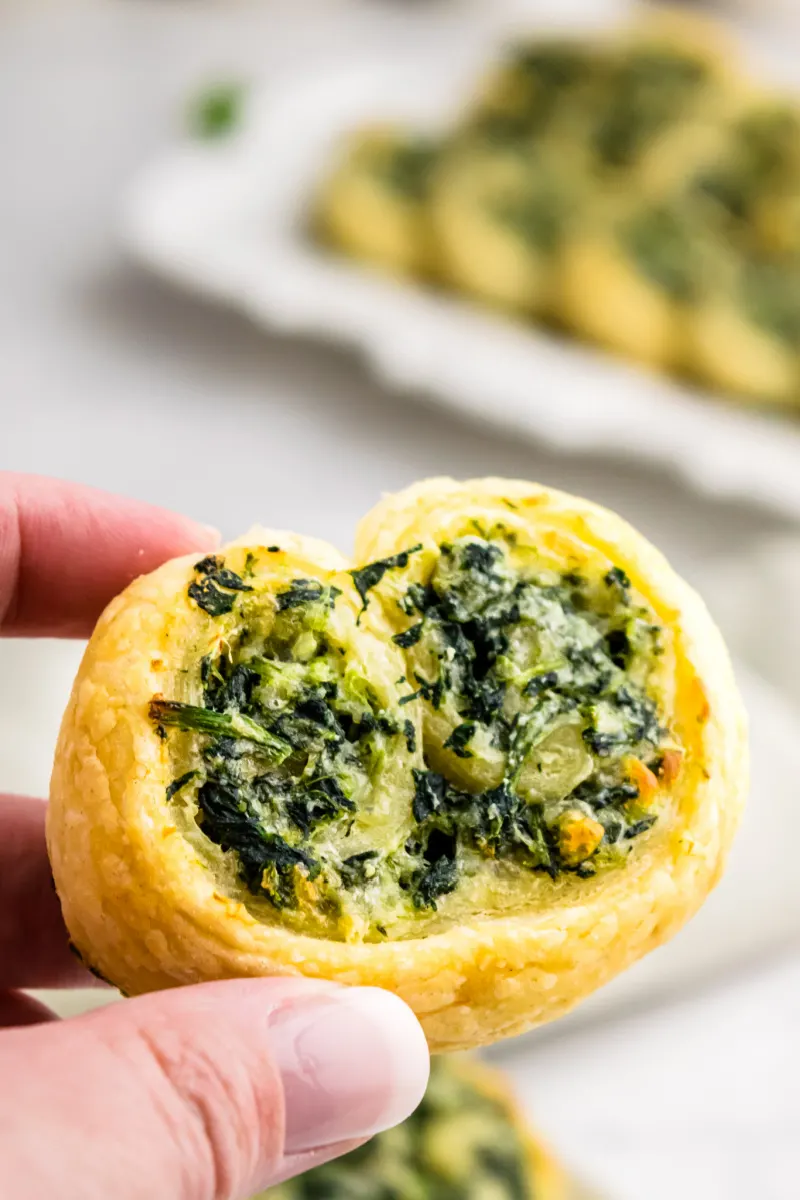 Here's a quote from Brooks when he first wrote this post, which I thought was really funny:
Kids, Kids! I'm calling out to you to try this yummy recipe. If you have not tried spinach, TRY IT RIGHT NOW! When I first tried spinach, I thought it was going to be disgusting. But, if you look at me now, I am eating spinach like it's chocolate!
He really does still like his spinach, ha ha! And he loves artichokes too. Remember the Artichoke Bruschetta that he made recently? He has always been quite the good eater.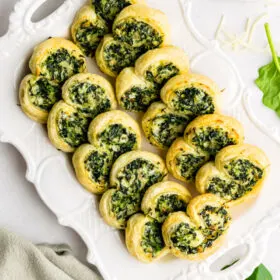 Spinach Palmiers
This easy and delicious appetizer recipe has just 6 ingredients!
Ingredients
1

sheet

puff pastry,

thawed according to package instructions

One

10-ounce package

frozen chopped spinach,

thawed and squeezed dry

1

cup

ricotta cheese

(drain if there is excess moisture)

¼

cup

grated mozzarella cheese

¼

cup

finely grated Parmesan cheese

1

teaspoon

red pepper flakes

salt and pepper,

to taste
Instructions
Lay the puff pastry sheet out on a cutting board or a lightly floured surface. Roll it out to even out the bumps, if needed.

In a medium bowl, mix the spinach, ricotta, cheeses and red pepper. Spread this mixture on the puff pastry, leaving about ½-inch border all the way around. Sprinkle with salt and pepper.

Roll one side of the puff pastry into the center. Then start from the other side and roll that into the center. Wrap it tightly with plastic wrap and place it in the freezer until semi-firm (about 30 minutes).

Preheat the oven to 400℉. With a very sharp knife, cut about ½-inch slices and place them on a baking sheet. Bake for 20 minutes, or until cooked through and golden. Serve immediately or at room temperature.
Nutrition
Serving:
1
appetizer
Calories:
114
kcal
Carbohydrates:
7
g
Protein:
4
g
Fat:
8
g
Saturated Fat:
3
g
Polyunsaturated Fat:
1
g
Monounsaturated Fat:
4
g
Cholesterol:
9
mg
Sodium:
125
mg
Potassium:
83
mg
Fiber:
1
g
Sugar:
0.3
g
Vitamin A:
1964
IU
Vitamin C:
1
mg
Calcium:
71
mg
Iron:
1
mg