Salsa Chicken is a super easy 6-ingredient chicken recipe that is family friendly and quick to prepare.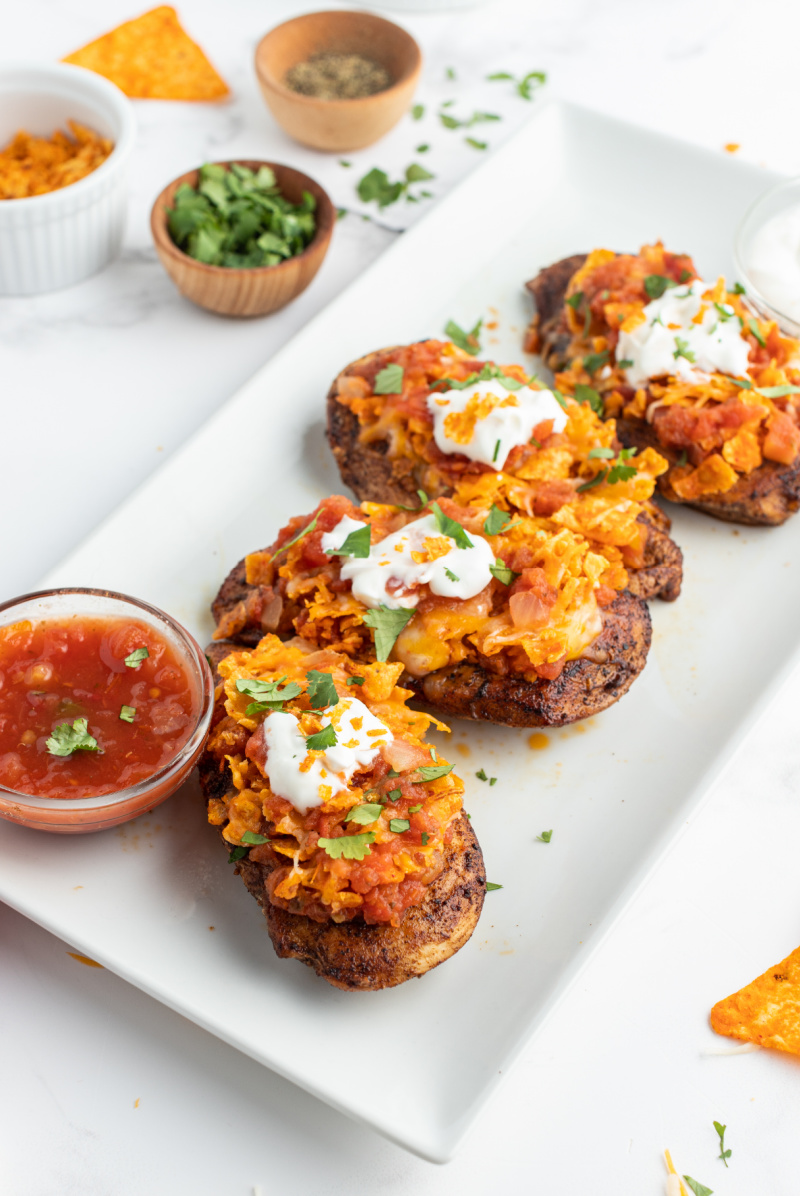 This is one of those recipes you don't even have to think a lot about when cooking. There is a short list of ingredients and simple directions. Salsa Chicken is so quick to whip up for an easy meal, and the ingredients are all things that people usually enjoy. It's family friendly!
This recipe comes from The Best of Bridge 5-Ingredient Cooking cookbook. The book has 125 recipes for fast and easy meals. I am enjoying this book because I really love cookbooks with easy recipes and call for few ingredients. They make a lot of sense! It's a good book to buy and add to your cookbook collection. I've made the blender pancakes (fabulous!) and the cauliflower tots, and I have plans to make more from the book!
Here are the recipes I've bookmarked to make:
Double Cheese Polenta Fries
Chicken Meatball Feta Wraps
Pizza Soup
Smoked Beef Brisket
Grilled Peanut Butter Pineapple Chicken Skewers
Ham and Ricotta Stuffed Lasagna Rolls
Bow Tie Shrimp and Pesto Pasta
Ricotta- Zucchini Pizza
No Churn Mango Ice Cream
Bittersweet Chocolate Mousse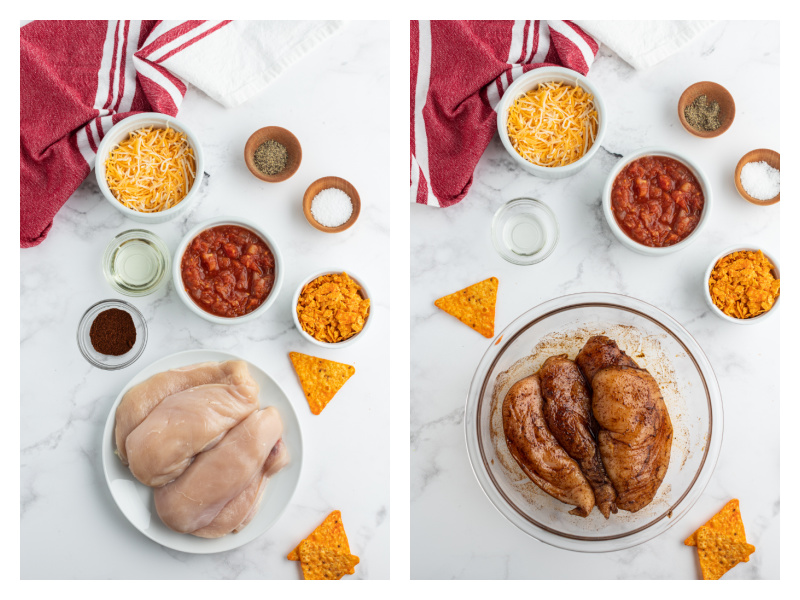 How to make Salsa Chicken:
The chicken is marinated with oil, chili powder, salt and pepper. That's it! If you wanted to add cumin powder, oregano, smoked paprika or garlic powder, that's okay too. But this is a really basic recipe so the spices are simple. At this point, you can cover the bowl of chicken and refrigerate it until you're ready to proceed with the recipe. Or you can go ahead and cook the chicken right away.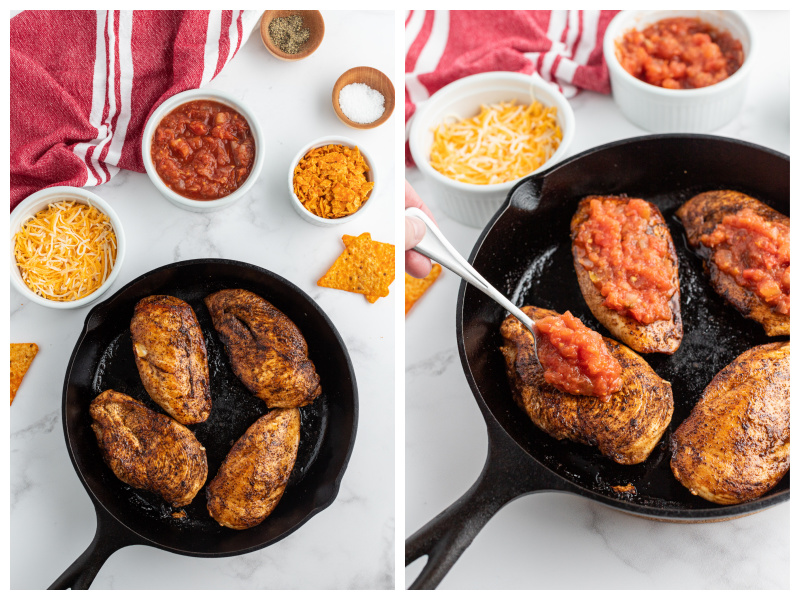 Grab an oven-safe skillet for cooking the chicken. A cast iron skillet works just fine. The chicken is browned on both sides. I like to pound out the chicken breasts so they are similar in thickness before cooking. You don't have to cook the chicken all the way through because it's going to go in the oven for a while. Next you'll spoon salsa on top of the chicken.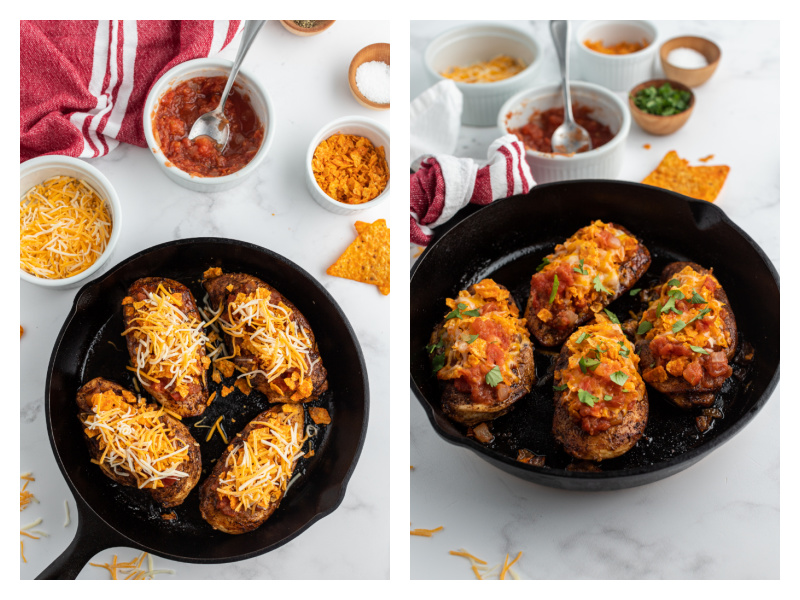 And then you'll add shredded cheese (I like the cheddar-jack blend). And then a few crushed, flavored tortilla chips. Nacho cheese or ranch flavored Doritos work well for this. Place the skillet in the oven for about 15 minutes. The chicken will cook through, and the cheese will melt.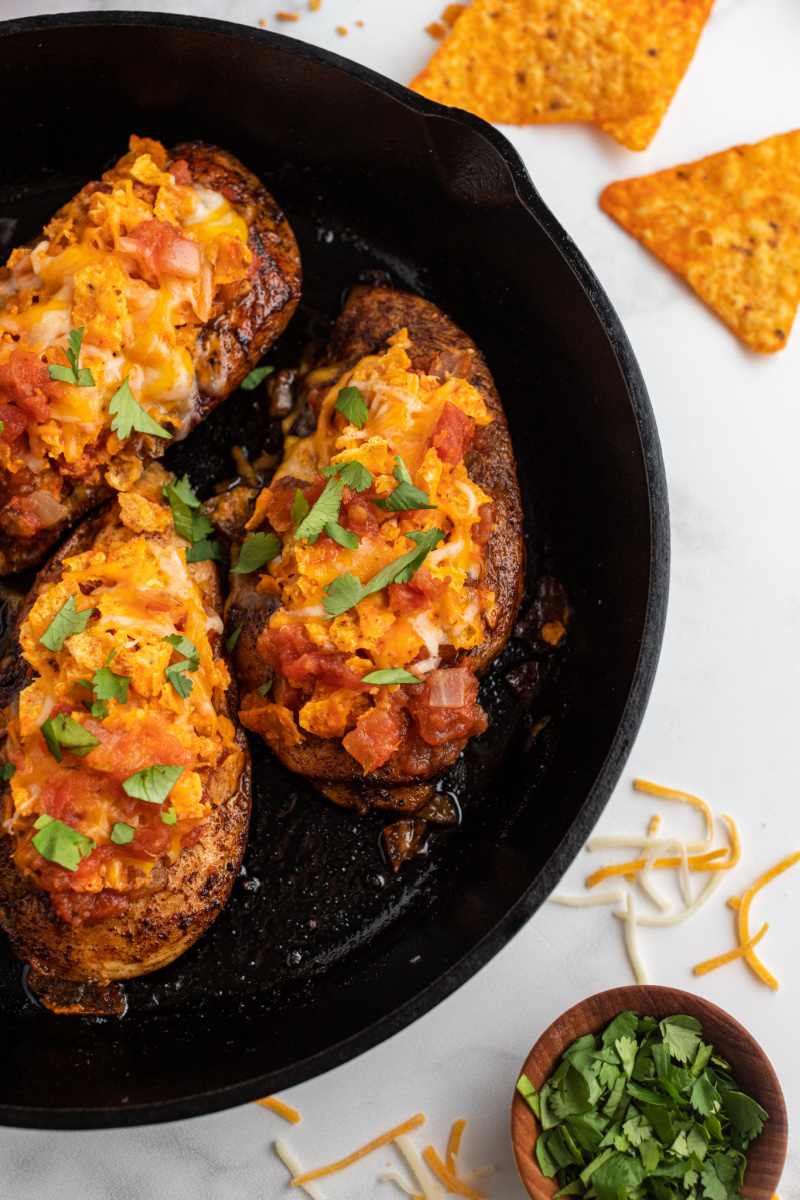 And that's it! If you want to get fancy, you can add a little chopped fresh cilantro on top of the chicken to finish it off (totally optional).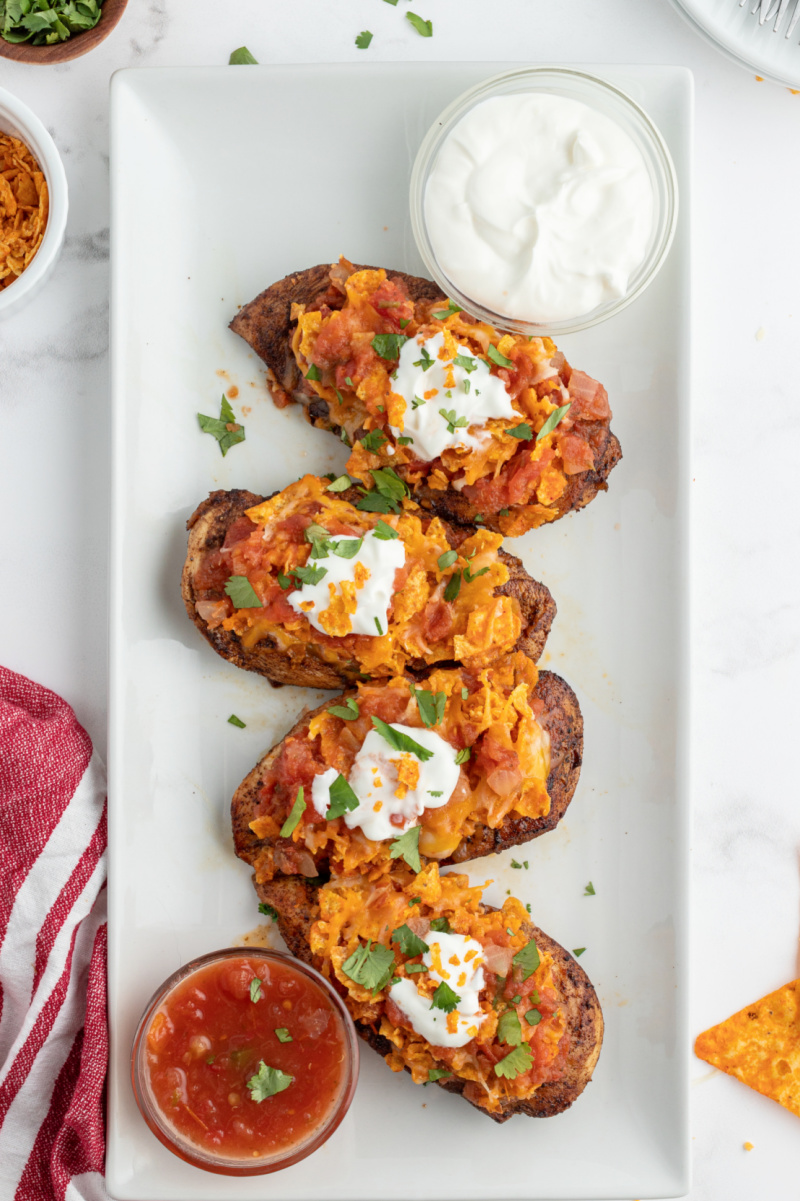 And we like to add a little sour cream and extra salsa to our Salsa Chicken. Serve with (our favorite) Skillet Macaroni and Cheese and our other favorite Avocado Pine Nut Salad. Enjoy!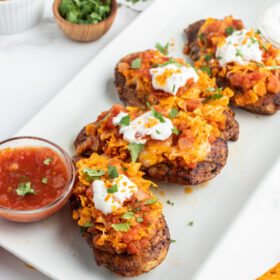 Salsa Chicken
Super easy, 6-ingredient chicken recipe!
Ingredients
2

tablespoons

canola or vegetable oil,

divided

2

teaspoons

chili powder

¼

teaspoon

salt

¼

teaspoon

freshly ground black pepper

1½

pounds

boneless, skinless chicken breasts

1

cup

salsa

¾

cup

shredded cheddar-Jack cheese blend

½

cup

coarsely crushed flavored tortilla chips

(like Nacho Cheese Doritos)
Instructions
Preheat the oven to 400 degrees F.

In a large bowl, stir together 1 tablespoon oil, chili powder, salt and pepper. Add the chicken and turn to coat the chicken evenly.

In a large, oven-proof skillet, heat the remaining oil over medium-high heat. Brown the chicken on both sides and remove the skillet from heat. Pour the salsa all over the chicken and sprinkle with the cheese and chips.

Place the skillet in the oven for about 15 minutes or until the chicken is no longer pink and the cheese is bubbly and golden.