Cookie Dough S'Mores and The Cookie Dough Lover's Cookbook
This post may contain affiliate links.


Who loves to nibble on cookie dough? I certainly do! Today, I will be sharing a recipe for Cookie Dough S'Mores and giving away  a copy of the new Cookie Dough Lover's Cookbook. You need to know that the recipes in this cookbook are totally SAFE to eat- there are no eggs in the cookie dough that make up these recipes. This means that you can eat cookie dough without the danger of getting sick from eating raw eggs. That is truly awesome.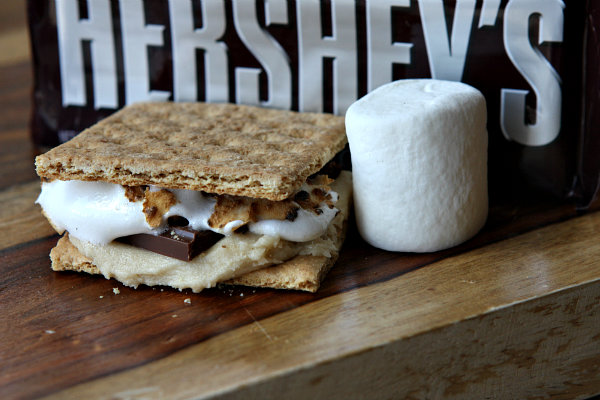 Oh boy, oh boy, oh boy! A S'More with cookie dough smeared on one of the graham crackers. Pure YUM!!!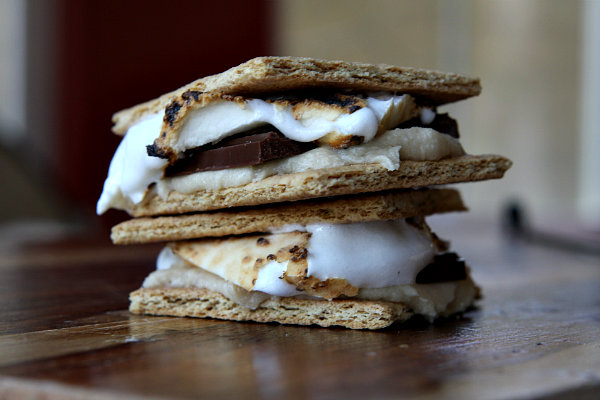 I love how the (egg-free) cookie dough adds a unique flavor to the S'Mores. Regular S'Mores were said to be created by the Girl Scout Troop of America in the early 1900's. This Cookie Dough edition is the BRAND NEW way to make the legendary campfire treat.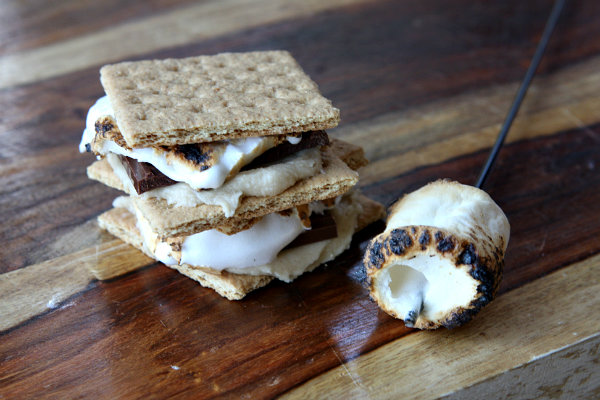 Who doesn't like toasted marshmallows? Somehow, my marshmallows always catch on fire. Then I have to huff and puff until I blow them out. 🙂
The author of this cookbook designed both my website and my mom's, but she also has a food blog called Love and Olive Oil. She must love cookie dough as much as I do if she wrote a cookbook full of it!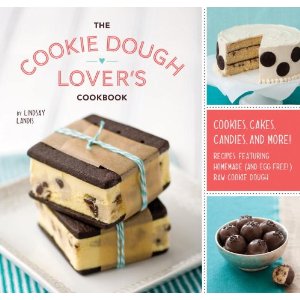 To enter to win a copy of The Cookie Dough Lover's Cookbook, leave a comment on this post, answering the following question: "What's better… the cookies or the cookie dough?!"
This giveaway ends on the night of Wed., June 6th and is only open to people with a USA mailing address. One winner will be chosen via random.org and announced on this post. I'll be emailing the winner, who will have 72 hours to respond.  If the winner doesn't respond, a new winner will be chosen. THIS GIVEAWAY IS NOW CLOSED!  The randomly selected winner is #197 Joanna from Colorado- thanks to all for entering!
Cookie Dough S'Mores
Classic S'Mores with a little added cookie dough!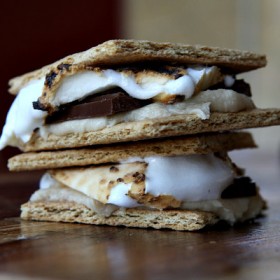 Ingredients:
Cookie Dough:
4 tablespoons (1/2 stick) unsalted butter, at room temperature
2 tablespoons granulated white sugar
1/4 cup packed light brown sugar
1/2 teaspoon vanilla extract
2 tablespoons milk or cream
1/2 cup all-purpose flour
1/8 teaspoon salt
S'Mores:
12 graham cracker sheets, carefully broken in half
Two (1.55-ounce) bars milk chocolate
12 marshmallows
Directions:
1. Prepare the cookie dough: In a large bowl, use an electric mixer to combine the butter and sugars on medium speed until light and fluffy (2 to 3 minutes). Add the vanilla and milk. Mix in the flour and salt and beat on low speed until incorporated.
2. Spread about 1 tablespoon of dough onto 12 of the graham cracker halves. Break the chocolate bars into 12 equal pieces, and center one piece atop each mound of cookie dough.
3. Toast the marshmallows over an open flame until golden brown. Place a hot marshmallow on top of the cookie dough and chocolate and top with remaining graham crackers. Gently press until the marshmallow begins to ooze out the sides. Let sit for 30 seconds to soften and melt the chocolate. Eat!
Source: RecipeBoy.com (re-printed w/ permission from Quirk Books)
Disclosure:  I received a copy of The Cookie Dough Lover's Cookbook from Quirk Books to review, but all opinions here are my own.  This post contains affiliate links.