This week I made some great Glazed Milk Chocolate Cake! It is almost football season, and I am sooooo excited!!! I have my fantasy football team ready, and the high school football schedule ready to go. Fall lacrosse is also starting soon. Man oh man, I'm going to be busy! Well in the meantime, I can still bake! I'm starting to try to eat a little bit healthier, so this is the last super chocolatey thing I will be posting for a while. Maybe one more dessert before I start my healthy eating though…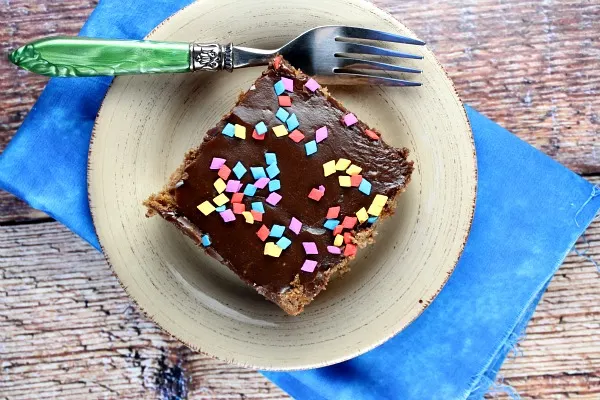 No soft serve ice cream or cake is ever good without rainbow jimmies (or sprinkles). Rainbow sprinkles are the BOMB. They don't taste like much, but they look awesome. These aren't true jimmies, but they are still rainbow sprinkles.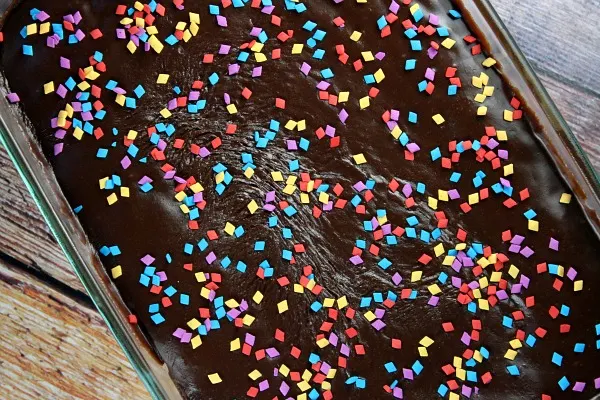 The cake looked a little wrinkled in the middle where the glaze pooled together, but that didn't do anything to the taste at all. This chocolate cake is an easy, light recipe that isn't super thick and heavy like other cakes. It is the perfect hit-the-spot type of treat for dessert. Yummm!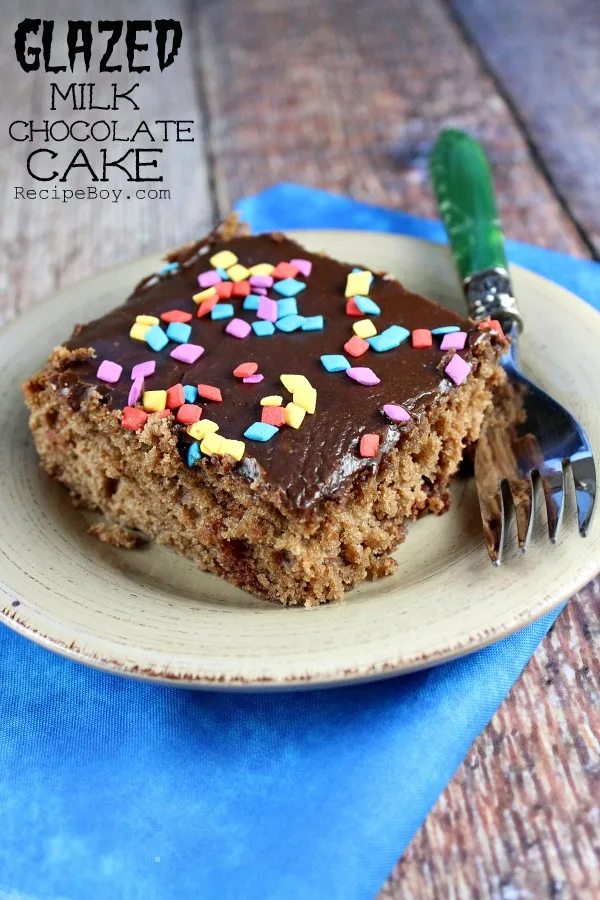 This cake looks easy, and it is. It's a very simple recipe that took me about 10-15 minutes to make before putting it in the oven. I would highly recommend trying this cake for yourself, or for sharing it with family and friends. It may be simplistic… but it will keep everyone coming back for more! 🙂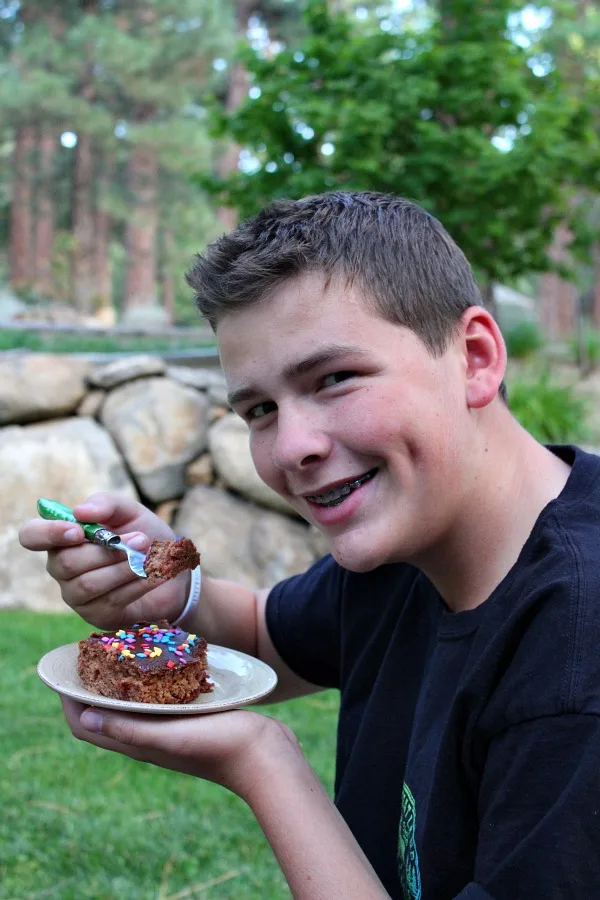 As you can see I totally chowed down on this cake! My dad was on a trip the week that I made this cake, so my mom, my friend, and I demolished this cake into a pile of crumbs! I thought it was kind of cool to see the discoloration of the inside of the cake. You can kind of see it right here actually. The top (below the glaze) is way darker than the middle. I wonder why that is… Let me know if you have any possible solutions. 🙂 This cake kicked butt. It is nice and light, not heavy like other chocolate cakes. I might even make this again for football season and draw a BIGGG football right in the center (or a Patriots logo, of course). As football season is starting up, do you guys have any teams you are especially rooting for this year? I'm really excited to see Darrelle Revis (a former cornerback on the rival New York Jets) suit up for the Patriots! They used to say that whoever Revis was guarding was stranded on Revis Island. Pretty ironic if you ask me. A player that tortured Tom Brady for years is now his teammate. 🙂 Well enough football talk… I don't want to bore you guys with my stats. Again, this cake is fantastically amazing. Super easy to make and really light. It sounds like a win-win-win situation to me!
And even a kid can create a match made in heaven… Like Me!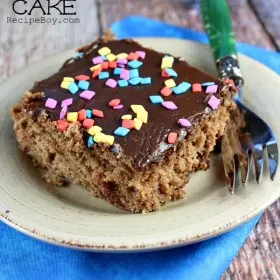 Glazed Milk Chocolate Cake
AWESOME cake!!!! P.S. If you do not want a super thick layer of chocolate glaze, you can cut the glaze recipe in half and just spread it to the edges.
Ingredients
CAKE:
½

cup (1 stick)

unsalted butter,

1½

cups

granulated white sugar

2

large

eggs

1

square

unsweetened chocolate,

melted

1

teaspoon

vanilla extract

2

cups

all purpose flour,

sifted

pinch

of salt

1

cup

buttermilk

1

teaspoon

baking soda

1

tablespoon

white vinegar

(dissolve the baking soda in the vinegar)
GLAZE:
½

cup (1 stick)

salted butter,

melted

4

tablespoons

unsweetened cocoa powder

6

tablespoons

buttermilk

1

teaspoon

vanilla extract

1

pound

powdered sugar,

sifted to remove lumps

sprinkles

(optional)
Instructions
Prepare the cake: Preheat the oven to 350 degrees F. Butter and flour a 13x9 inch baking pan. In a large bowl, use an electric mixer to combine the butter and sugar until light and fluffy, 1 to 2 minutes. Add the eggs one at a time, beating after each addition. Blend in the melted chocolate and vanilla. Mix in half the flour and pinch of salt, then the buttermilk, then the rest of the flour, and then the soda/vinegar. Scrape the batter into the prepared pan. Bake 25 to 30 minutes.

Prepare the glaze: Melt the butter in a heavy saucepan over medium-low heat. Add the remaining ingredients, powdered sugar 1/2 cup at a time. Pour the warm glaze over the cake as soon as you remove it from the heat. Add sprinkles, if you want them1

Let the cake set for a little while before cutting into it.