Pumpkin Peanut Butter Dog Biscuits are the best homemade treats to feed your furry friends!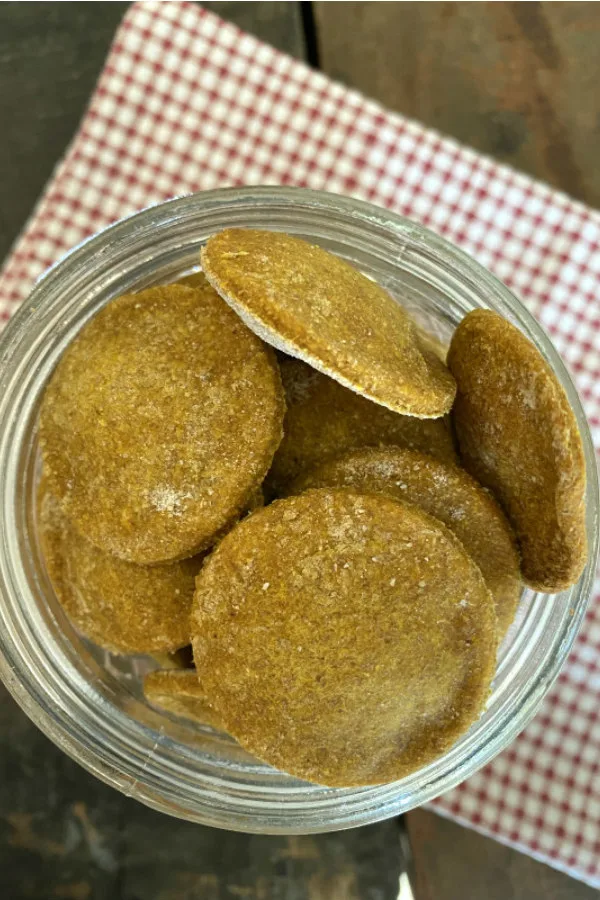 I'm doing something a little different today. I'm sharing a treat you can make for your dogs! I've always wanted to bake some homemade dog biscuits for my dog, but this was my first time doing so. It was a great success. These Pumpkin Peanut Butter Dog Biscuits are so easy to make, and my dog would tell you that they are delicious!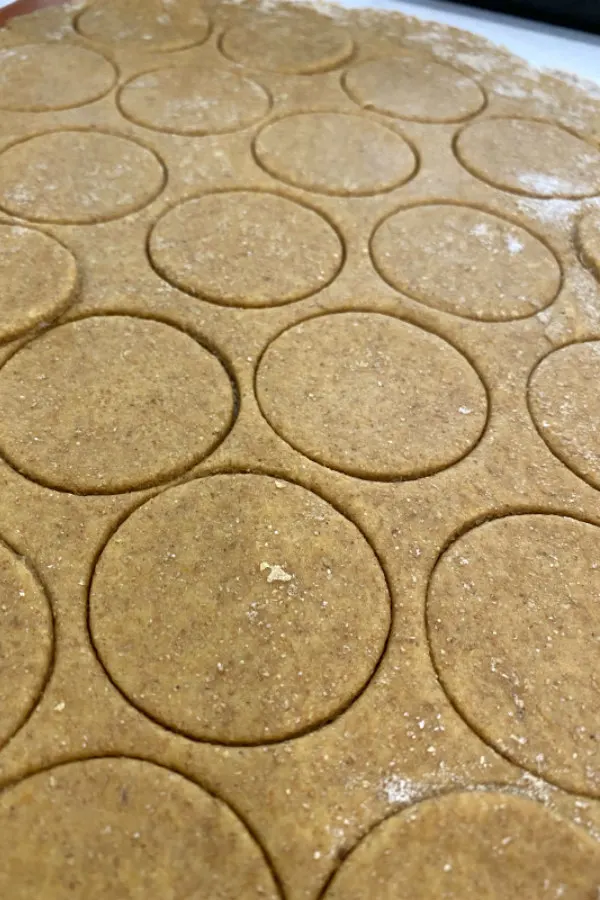 How to make Pumpkin Peanut Butter Dog Biscuits:
There are only five ingredients in these dog biscuits. So you can feel good about making a treat for your dog that doesn't have any artificial ingredients or preservatives in it. You'll combine whole wheat flour, unsweetened pumpkin puree, eggs, peanut butter and cinnamon in a bowl. Be sure to use natural peanut butter with no sugar and no xylitol. Xylitolcan be poisonous to dogs. All you have to do is mix that up until the dough comes together. Then you'll roll out the dough on a floured mat at cut out some biscuits. Amazon affiliate links ahead >> If you have the cute dog bone cutter, you can use that. I just used biscuit cutters.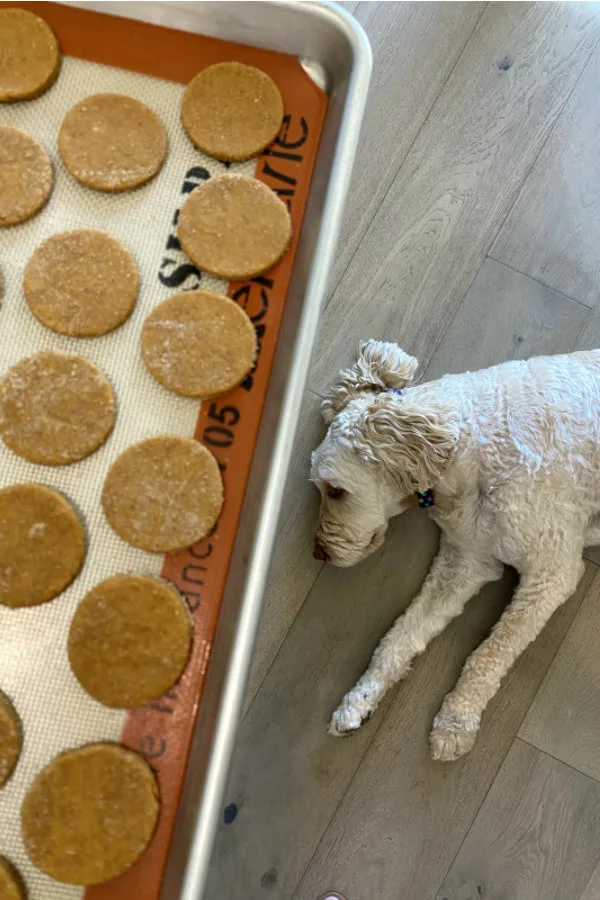 If your dog is anything like our sweet labradoodle Tessie, she'll be waiting to see if you are going to drop anything on the floor so she can eat it. These dog biscuits go into the oven for 30 minutes.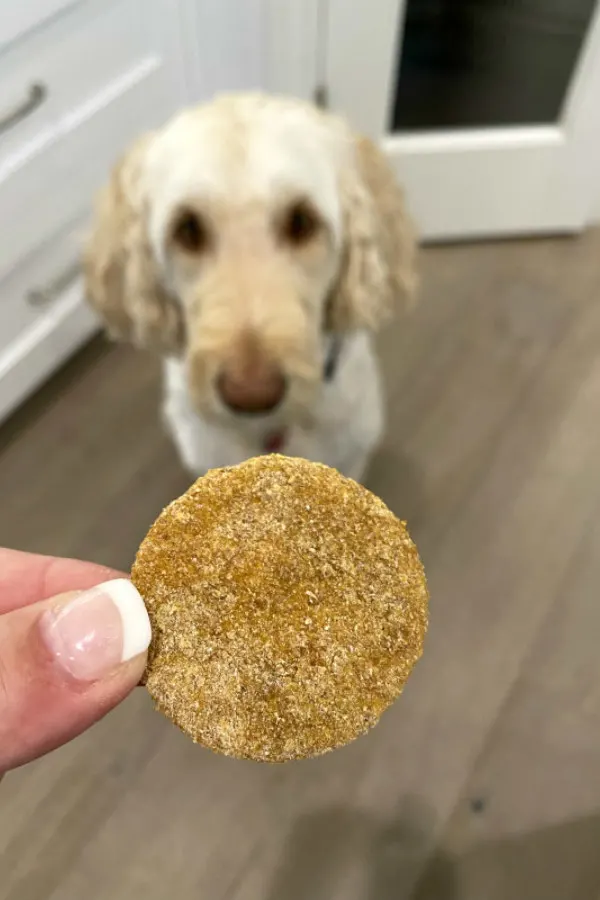 And here's what they look like when they are done baking! Tessie was waiting… eager to be my taste tester.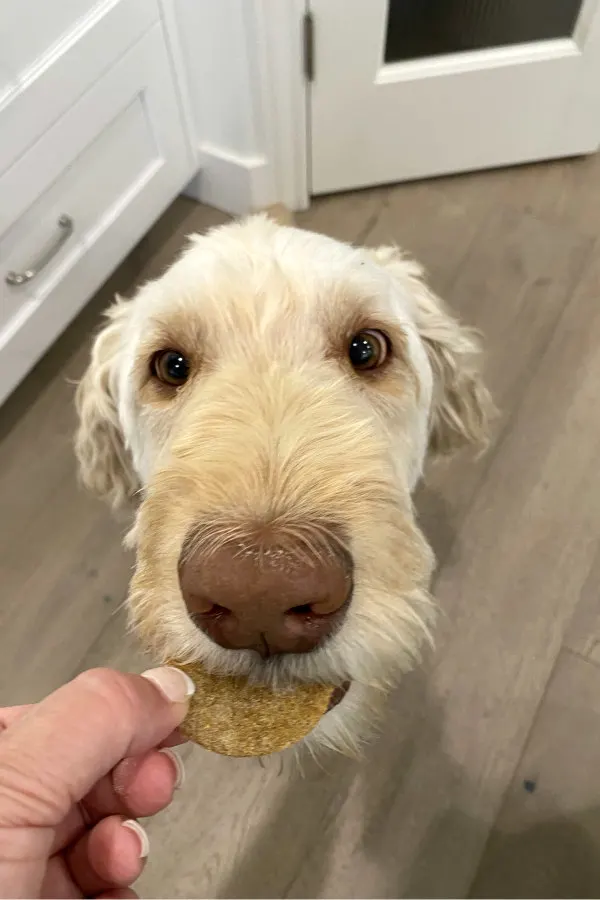 She was pretty enthusiastic about it too. And she had no problem gobbling these up.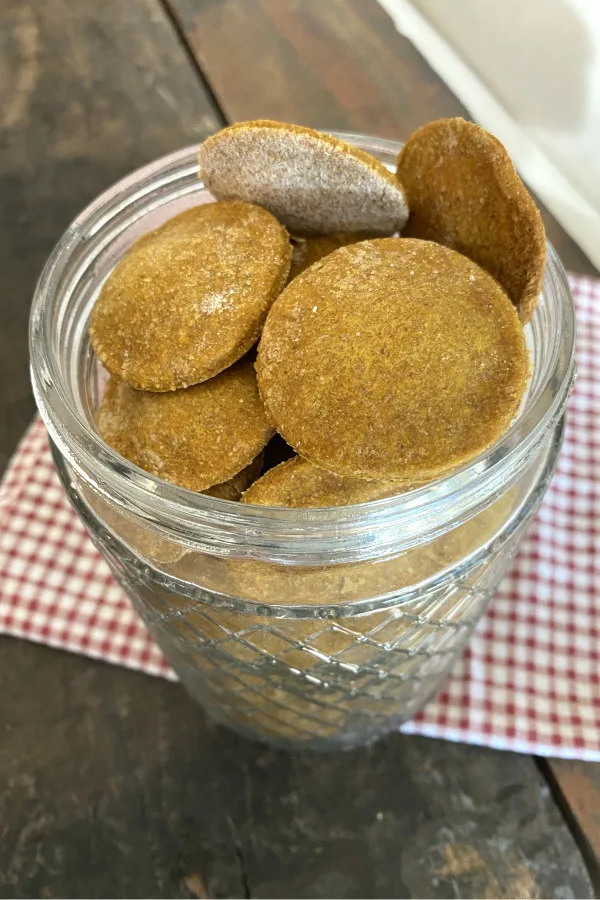 The recipe makes 60 dog biscuits. They'll be good in a jar or zip baggie at room temperature for about a week. If you don't have enough dogs to eat up 60 biscuits in a week, then go ahead and store the extra in the freezer in a zip baggie.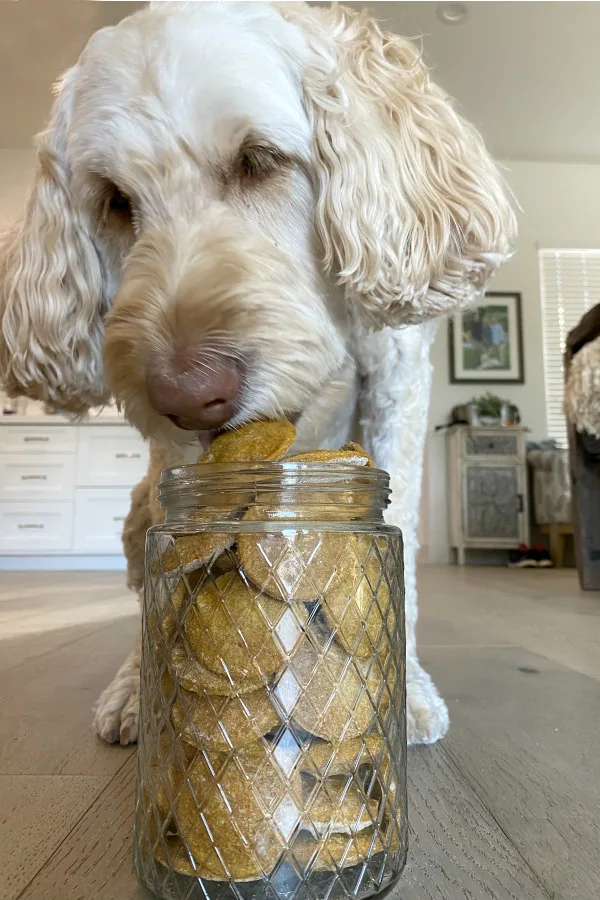 The texture of these is kind of medium. They are not a super hard dog biscuit, and they aren't soft either. If you wanted them to be really hard, you could always bake them a little bit longer. Hope your dog enjoys them!!
Here are a few more recipes made with pumpkin puree: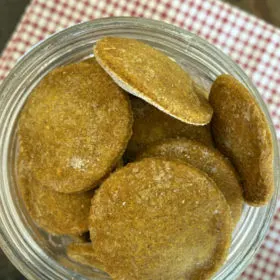 Pumpkin Peanut Butter Dog Biscuits
Super easy, homemade treats to make for your furry friends!
Ingredients
2½

cups

whole wheat flour

1

cup

unsweetened pumpkin puree

¼

cup

creamy peanut butter

(I like to use natural... no sugar or xylitol)

2

large

eggs

½

teaspoon

ground cinnamon
Instructions
Preheat the oven to 350℉. Line two baking sheets with parchment paper or silpat mats.

Combine all ingredients in a large bowl and stir until combined. The mixture will be somewhat dry, but it will come together when you roll it out.

Move the dough to a floured mat and use your hands to mix the dough some more so it is well combined. Roll out the dough. Cut into shapes (dog bone, round or whatever shape you want), and transfer the cut-out biscuits to the baking sheets.

Bake for 30 minutes. You can bake both sheets at the same time. Just put them on two different racks. The baked biscuits will be crisp, but not rock hard. Some might puff up a bit and some will stay flat.

Biscuits will be fine in a covered container for up to one week. If you want to freeze them, you may throw them in a freezer zip baggie and take them out to defrost as you wish.
Notes
Each biscuit is 27 calories.
Xylitol can be poisonous for dogs, so be sure to use peanut butter that does not have xylitol listed as an ingredient.
Nutrition
Serving:
1
serving
Calories:
27
kcal
Carbohydrates:
4
g
Protein:
1
g
Fat:
1
g
Saturated Fat:
0.2
g
Polyunsaturated Fat:
0.2
g
Monounsaturated Fat:
0.3
g
Trans Fat:
0.001
g
Cholesterol:
6
mg
Sodium:
7
mg
Potassium:
35
mg
Fiber:
1
g
Sugar:
0.3
g
Vitamin A:
645
IU
Vitamin C:
0.2
mg
Calcium:
4
mg
Iron:
0.3
mg