I made some amazing Homemade Soft Pretzels– here is a short video where I show you how to make them!
Scroll all the way to the end of this post to print out the recipe.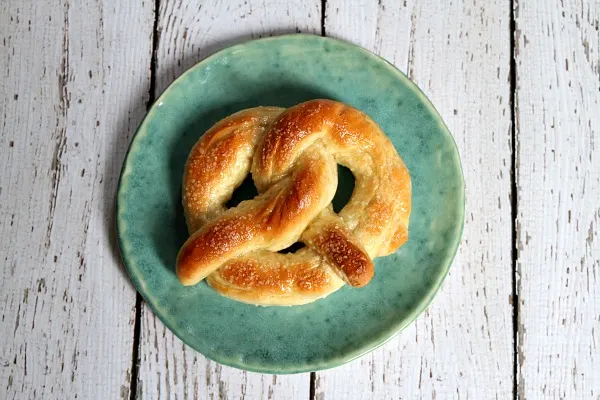 After I made them I was able to bring them to a movie with my friend! These Homemade Soft Pretzels may not be the healthiest snacks, but they are certainly better than movie candy!
This recipe comes from the cool kid's cookbook: KIDS COOKING MADE EASY- FAVORITE TRIPLE-TESTED RECIPES. There are a ton of cool recipes from this cookbook! They are easy to make and even the pickiest eaters will find something to eat in here.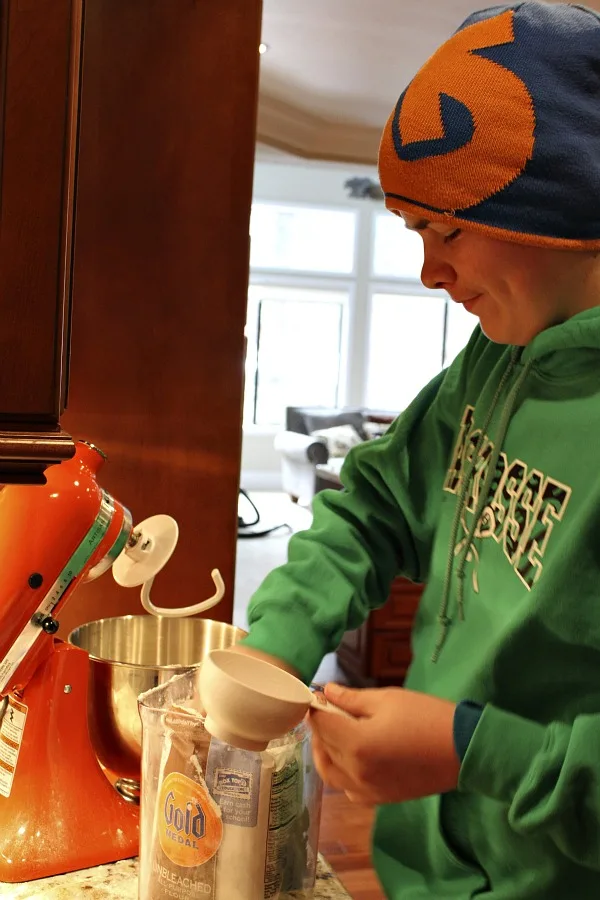 Pretzels take so much flour!!! The dough is so thick that you could probably use it as a carpet in your house! 🙂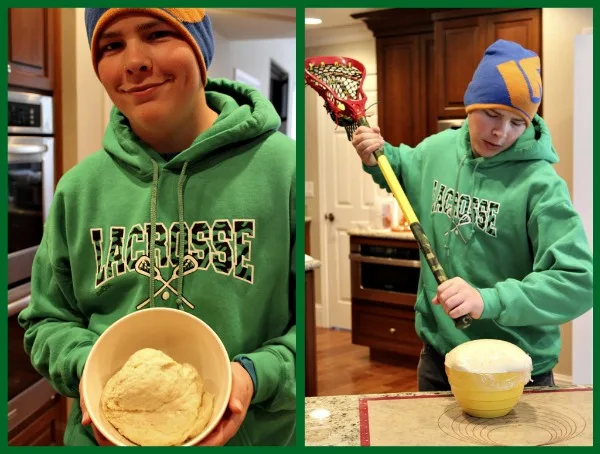 The dough rose a lot more than I expected. It puffed out a lot!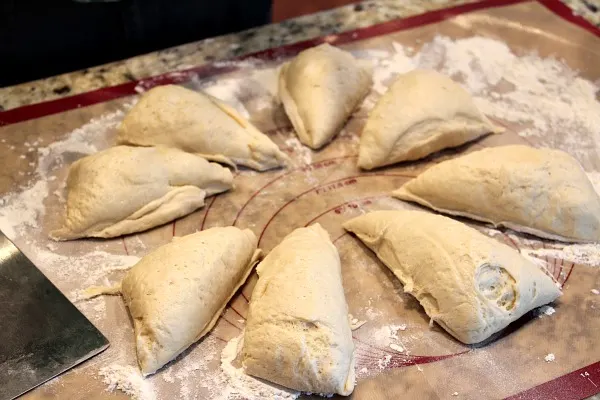 You have to divide the dough into 8 parts. Time to get your hands dirty! 🙂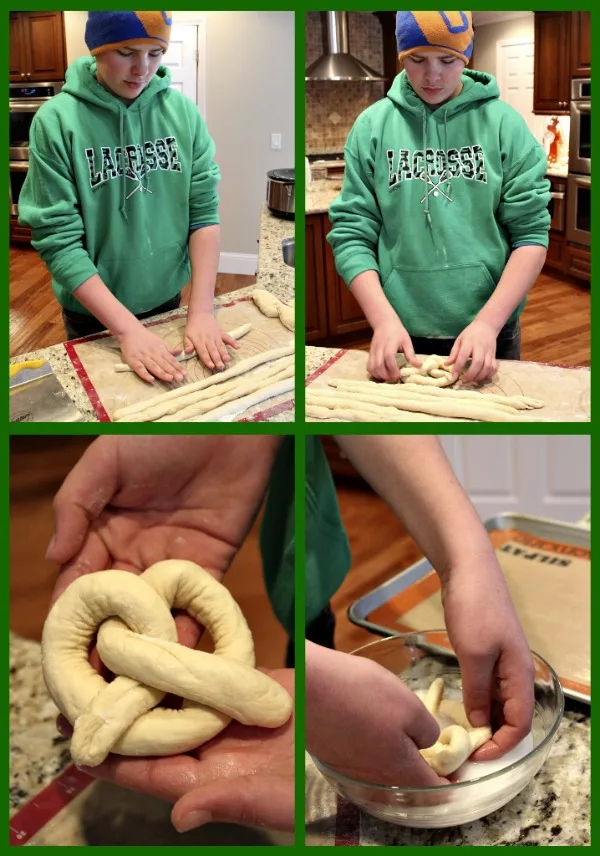 See this post for > HOW TO SHAPE A PRETZEL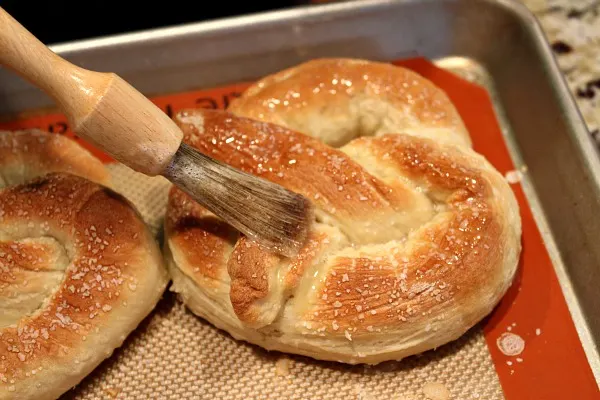 The pretzels were really thick. On some of my pretzels, they closed up and pretty much formed a big baked blob. Tip: Roll the dough THIN! The butter brushed on top makes the pretzels extra yummy.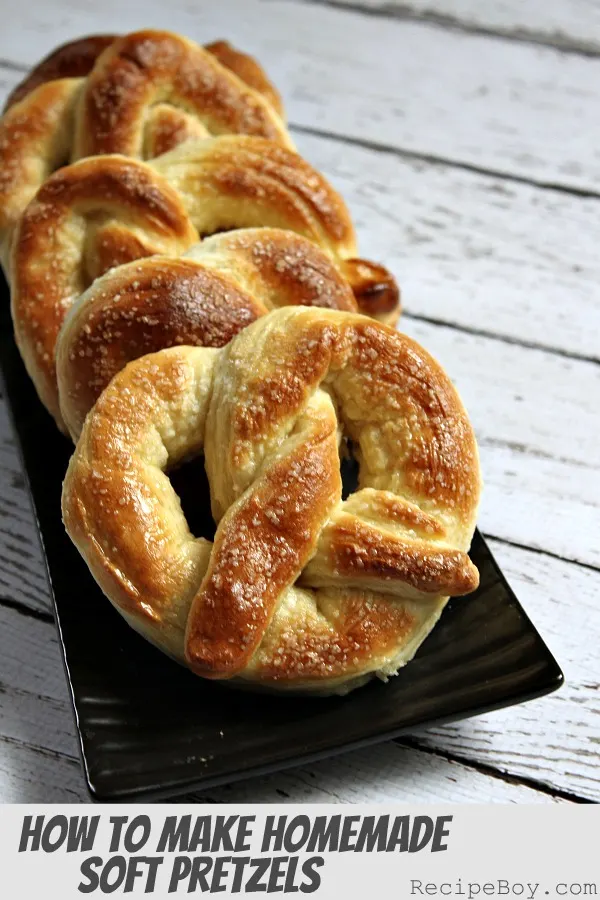 Oh boy. I just realized how much I love pretzels. Soft pretzels amaze me with their taste. Yum.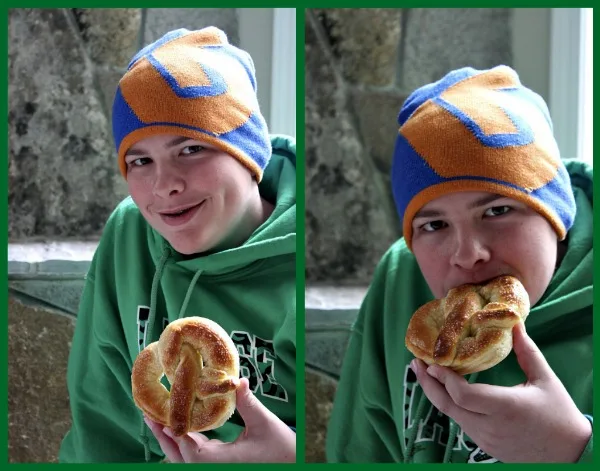 What did I tell you?! I love eating soft pretzels. Remember: next time you go to the movies, consider a pretzel instead of some candy junk. These pretzels are the BOMB! They were hard to make and shape, like pretty hard… but I was able to do it. The difficulty was totally worth it! Make these yourself and you'll see why I like them so much. 🙂
And even a kid can make his own Homemade Soft Pretzels… Like Me!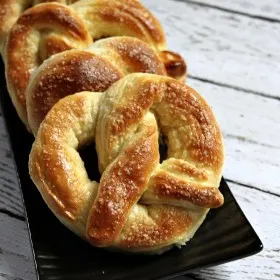 How to Make Homemade Soft Pretzels
I snuck these into the movie theater to eat with friends (instead of buying popcorn). YUM!
Ingredients
DOUGH:
3

teaspoons

instant dry yeast

1½

cups

warm water

(about 105 degrees F)

2

tablespoons

granulated white sugar

4

cups

all purpose flour

1

teaspoon

salt
CRUST:
1

cup

water

2

teaspoons

baking soda

coarse sea salt or kosher salt

¼

cup (½ stick)

butter,

melted
Instructions
In a large bowl, combine the yeast, warm water and sugar. Add in the flour and salt and knead until smooth (you can use your hands, or you can use a stand mixer with a dough hook for this part).

Grease a second bowl with nonstick cooking spray and place the dough into the bowl. Cover with greased plastic wrap or a clean dish towel and let rise for 30 minutes in a warm place.

Preheat the oven to 425℉. Line 2-baking sheets with parchment paper or silpat mats.

Divide the dough into 8 equal parts. Roll each part into a rope about 24 to 26 inches long and form into a pretzel shape (see the link in my the post for detailed instructions on how to shape a pretzel).

In a shallow bowl, combine water and baking soda. Submerge each pretzel in the water and then place on the prepared baking sheets. Sprinkle with salt. Let the pretzels rest for 5 to 10 minutes.

Bake 12 to 15 minutes, or until golden brown. Brush each hot baked pretzel with melted butter immediately after taking them out of the oven.
Nutrition
Serving:
1
pretzel
Calories:
307
kcal
Carbohydrates:
53
g
Protein:
8
g
Fat:
7
g
Saturated Fat:
4
g
Polyunsaturated Fat:
0.5
g
Monounsaturated Fat:
2
g
Trans Fat:
0.2
g
Cholesterol:
16
mg
Sodium:
1198
mg
Potassium:
112
mg
Fiber:
3
g
Sugar:
3
g
Vitamin A:
185
IU
Vitamin C:
0.01
mg
Calcium:
14
mg
Iron:
3
mg