Sausage and Corn Chowder
This post may contain affiliate links.


To add to the list of why I love the East Coast so much, I love chowdah! Although I usually eat clam chowder, I decided to mix it up for a change. Today I made Sausage and Corn Chowder. Believe me, it was wicked awesome!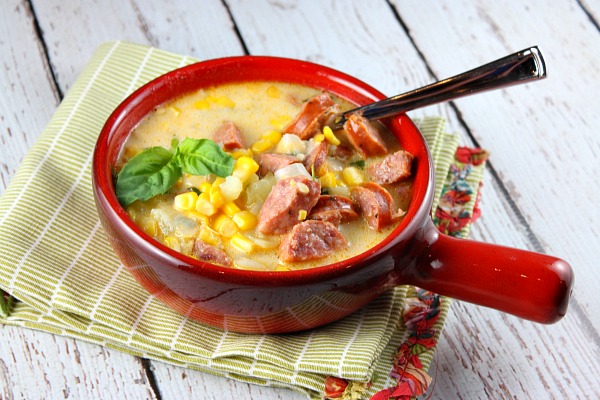 The chowder itself was a work of art and so easy to make! We didn't do hardly any prepping before this picture! And if you can even imagine this… it tastes even better than it looks!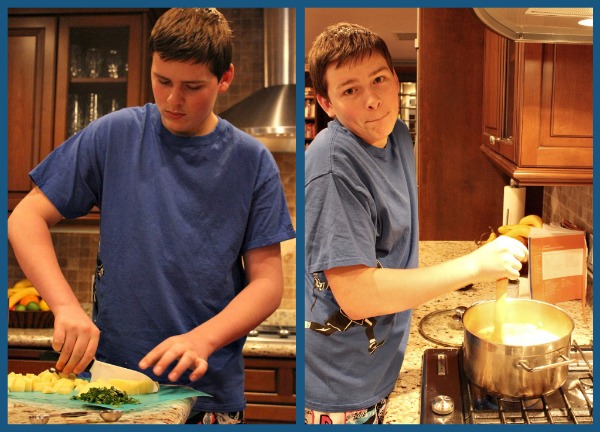 I cut the sausage and the onions and browned them in the pot. They made the soup pretty flavorful. Later I added the spices, potatoes, corn, water and milk. This recipe was pretty basic.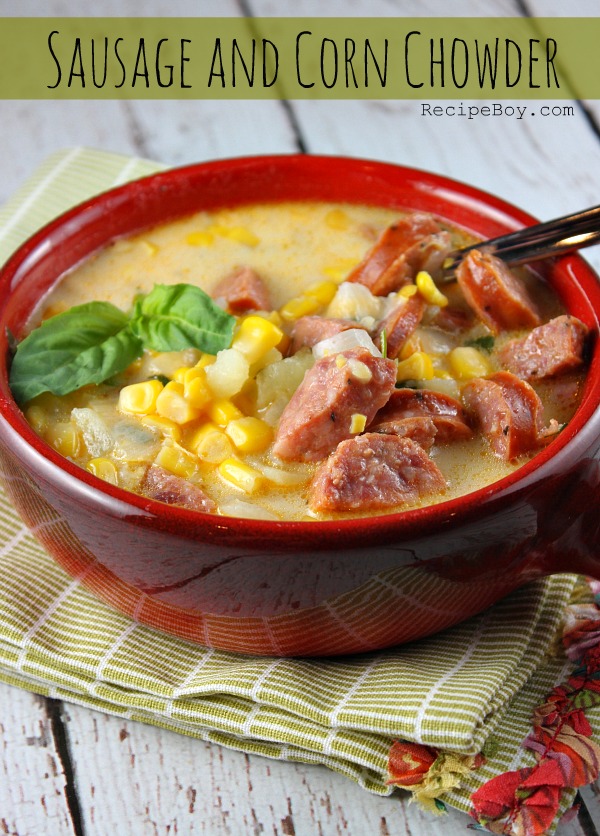 This soup could be served in a restaurant! Our friends from San Diego were visiting when I made this chowder and they LOVED it! My buddy said that it was the bomb. Everyone loved this soup. I will definitely make this again. Trust me… this is delish!!! 🙂
And even a kid can make a soup that is the bomb.com… Like Me!
Sausage and Corn Chowder
Just a really easy, delicious soup recipe!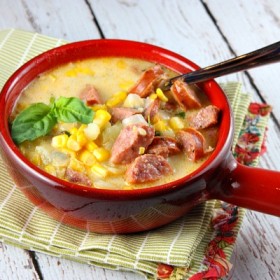 Ingredients:
1 pound smoked sausage, halved and thinly sliced
1 medium onion, chopped
4 cups water
3 cups diced potato
2 tablespoons finely chopped fresh parsley
1 tablespoon finely chopped fresh basil
1 teaspoon salt
1/8th teaspoon freshly ground black pepper
One 15.25-ounce can whole kernel corn, drained
One 14.75-ounce can cream-style corn
One 12-ounce can 2% evaporated milk
Directions:
1. In a large soup pot, brown the sausage and onion over medium heat. Add the water, potatoes, parsley, basil, salt and pepper. Bring to a boil. Reduce heat to simmer, cover and cook for about 15 minutes, or until the potatoes are tender.
2. Add the corn and milk, and heat through about 5 minutes.