Peanut Butter Chocolate Chip Pancakes
This post may contain affiliate links.


Peanut butter? AND Chocolate? This may be one of the best combinations in food history! That's why I made the glorious Peanut Butter Chocolate Chip Pancakes.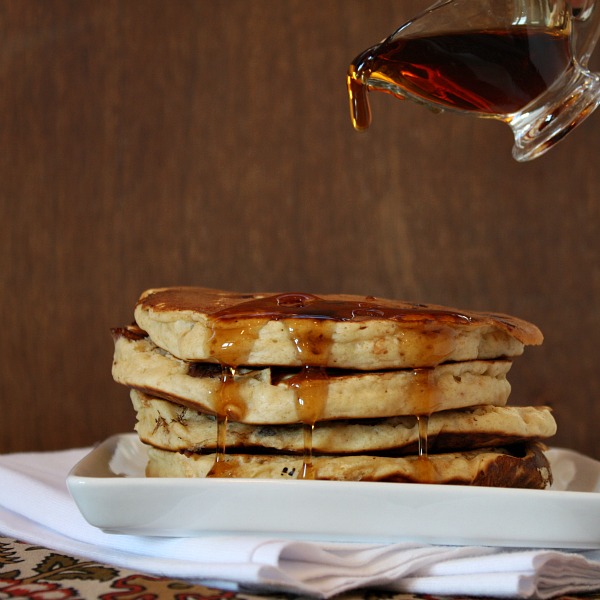 Heaven. All you need is a fork to eat that heaven, too. Syrup dripping down the four story yum-cake. (a combo between yummy and pancake!) 🙂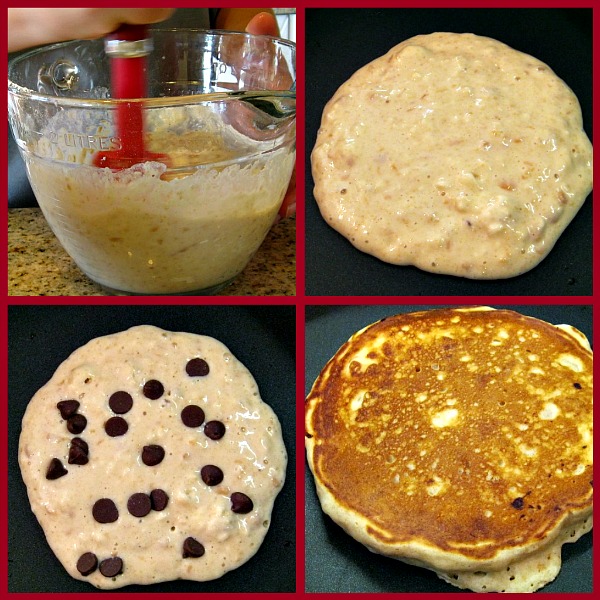 A funny story is that my mom developed this recipe and had just jotted down the ingredients but not the directions of this recipe, and then she left the room. Unfortunately, I tried to make the recipe with no directions, and when my mom came back in the room, I had a pancake on the stove already! Only problem, I hadn't added enough vanilla, I had omitted the egg and had added the whole bag of chocolate chips. 🙂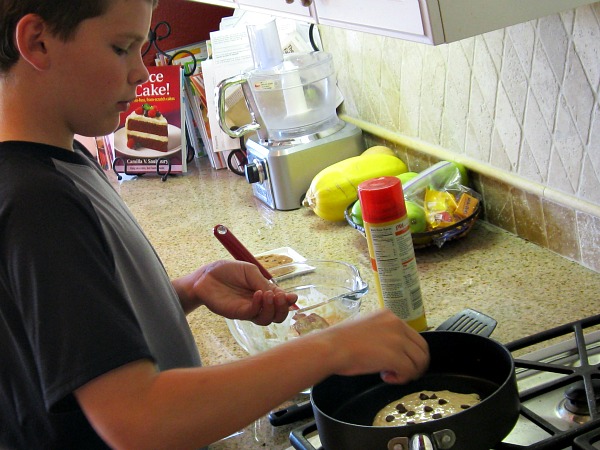 I started over. Now I learned my lesson and gently sprinkled a FEW chocolate chips on the batter.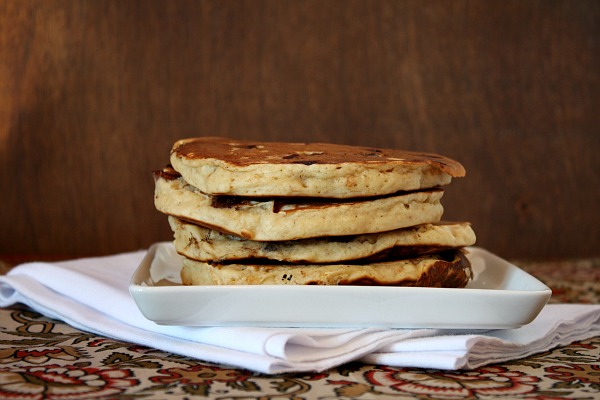 The pancakes turned out light and fluffy but not the fall apart kind of fluffy. Just firm but light.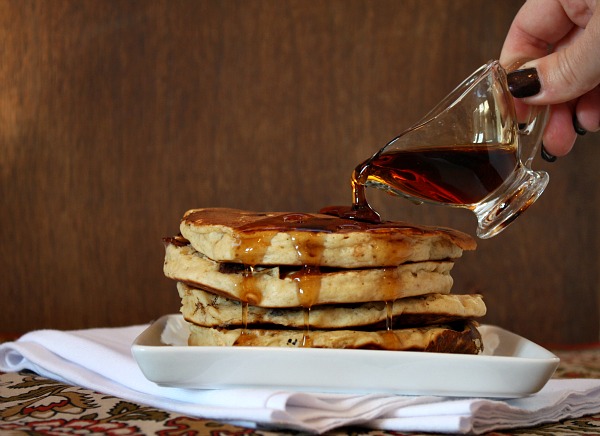 Those of you wondering, I was taking the pictures in this photo and my mom was drizzling the syrup. She's a pro!
After this delicious breakfast, I seriously did not want to eat any more chocolate for the next two weeks! Lesson learned. A little chocolate chips is better than a lot.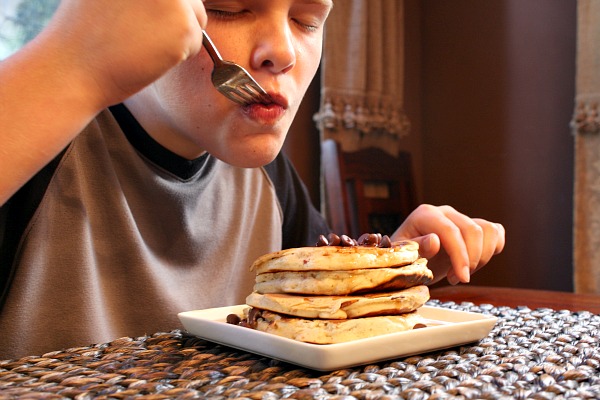 Yummy!!! Look at the look of bliss on my face. Pure joy. I want to dedicate this post to my Grandma, who just got out of the hospital from lower back surgery. She was not able to try this recipe because of her gluten-free diet but I still love her and wish her well.
The Peanut Butter Chocolate Chip Pancakes tasted AWESOME! They had a rich chocolaty inside and a warm syrupy outside. On any day, make this recipe because it is perfect for any weather. Hmmm. I think the only thing left to wonder about is how many calories this has!
And even a kid can make a short stack of Peanut Butter Chocolate Chip Pancakes with warm syrup that looks exactly the kind of pictures that you see in commercials…. Like Me!
Peanut Butter Chocolate Chip Pancakes
I made this as a special breakfast for my Mom and me 🙂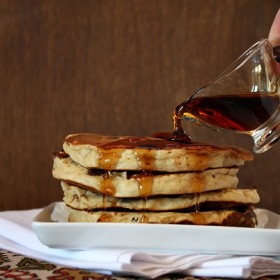 Ingredients:
1 1/4 cups all-purpose flour
1 tablespoon granulated white sugar
1 tablespoon packed light brown sugar
1 tablespoon baking powder
1/2 teaspoon salt
1 1/4 cups milk
1/4 cup crunchy peanut butter
1 large egg
1 teaspoon vanilla extract
handful of chocolate chips (I used milk chocolate)
Directions:
In a large bowl, whisk together flour, sugars, baking powder and salt. In a separate bowl, whisk together milk, peanut butter, egg and vanilla. Pour the wet ingredients into the dry ingredients and stir gently until all is combined.
Preheat a skillet to medium and spray with nonstick spray. Scoop 1/2 cup of batter onto the skillet and sprinkle the pancake with several chocolate chips. Reduce the heat to medium-low and watch the pancake. When bubbles begin popping and forming in the center of the pancake, wiggle a spatula underneath and gently flip it over. Cook the other side for a minute or so until both sides are a nice, golden brown. Repeat with the rest of the batter and chocolate chips. Serve with warm maple syrup.
Source: RecipeBoy.com