Peanut butter? AND Chocolate? This may be one of the best combinations in food history! That's why I made the glorious Peanut Butter Chocolate Chip Pancakes.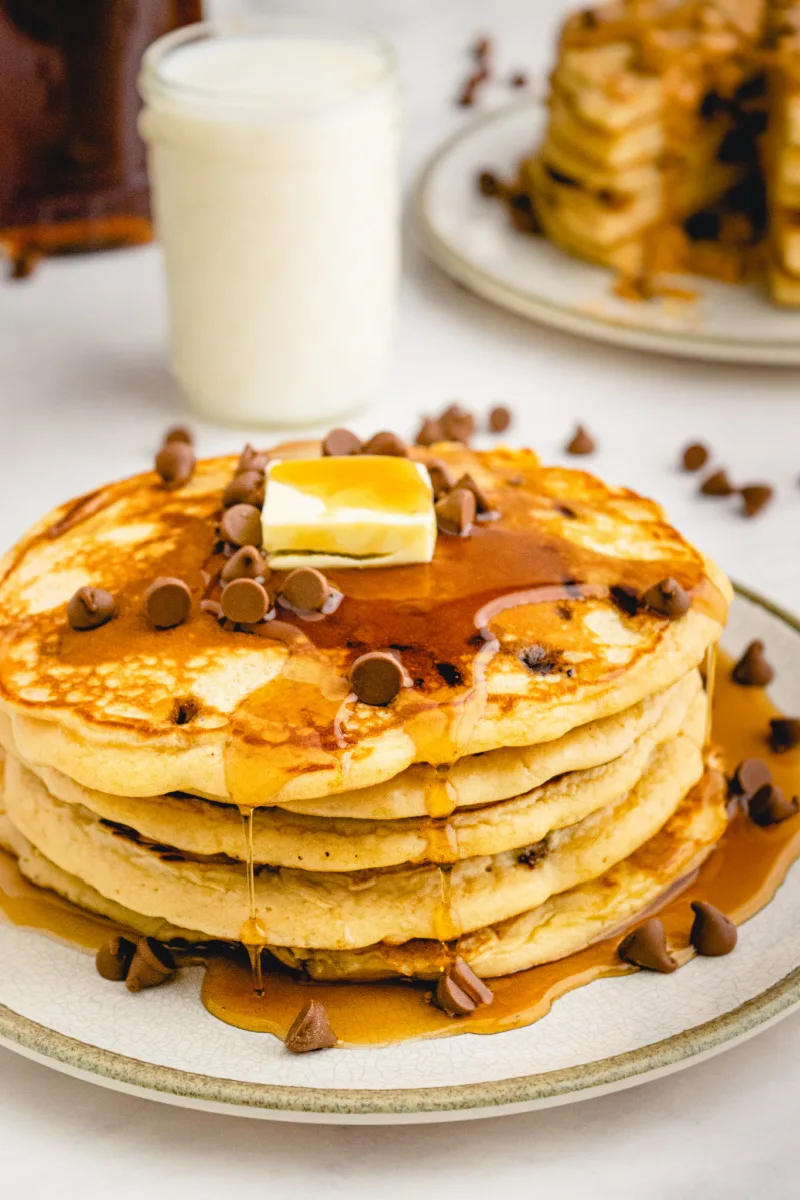 Heaven. All you need is a fork to eat that heaven, too. Syrup dripping down a multi-stack of pancakes. These peanut butter pancakes are fluffy and wonderful. The peanut butter flavor is not overwhelming. Chocolate chips are an excellent pairing with peanut butter pancakes!
This is a re-post of RecipeBoy's original post first published in 2011, so this post is written from his 10-year old perspective! The photos have been updated, but I left a little pic of RecipeBoy making these pancakes at the end of the post- underneath the recipe.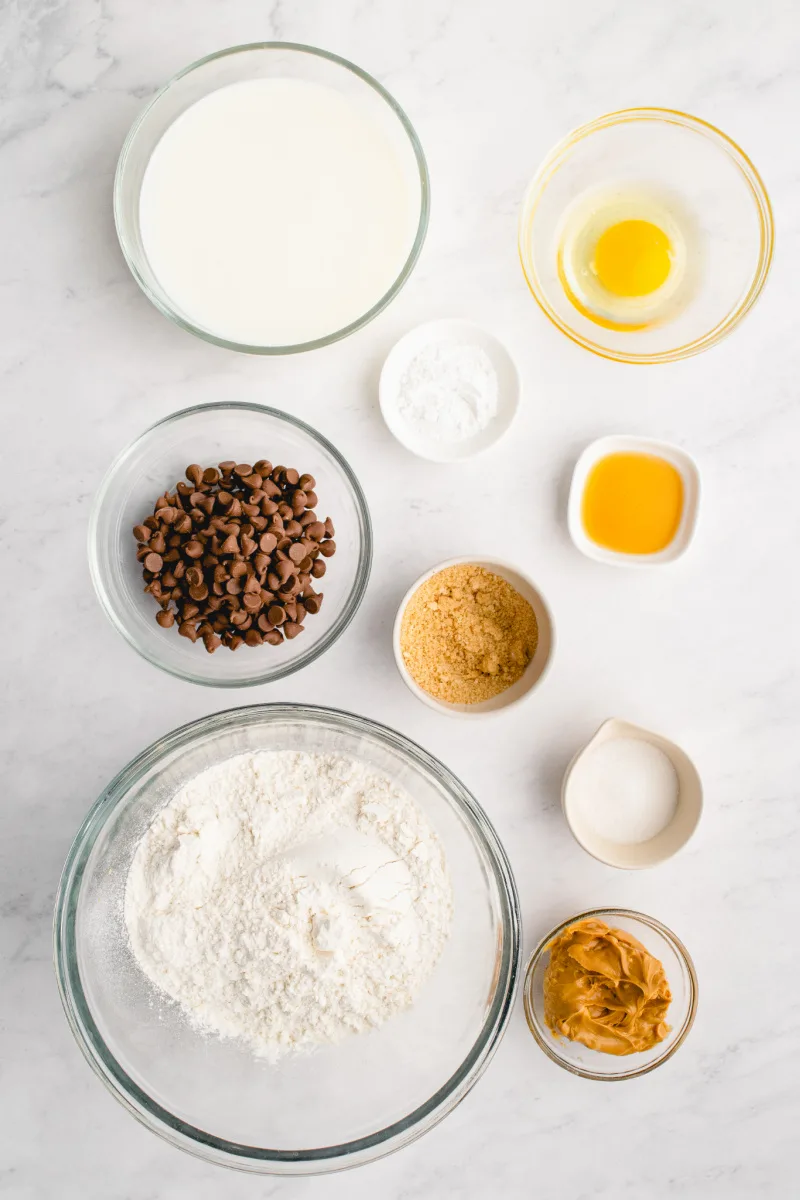 Ingredients needed:
all purpose flour
white sugar
brown sugar
baking powder
salt
milk
peanut butter
egg
vanilla extract
chocolate chips
A funny story is that my mom developed this recipe and had just jotted down the ingredients but not the directions of this recipe, and then she left the room. Unfortunately, I tried to make the recipe with no directions, and when my mom came back in the room, I had a peanut butter pancake on the stove already! The only problem was that I hadn't added enough vanilla, I had omitted the egg and had added the whole bag of chocolate chips. I'm such a fan of chocolate chip cookies that I got a little crazy.
I started over. I learned my lesson and gently sprinkled just a few chocolate chips on the batter in the skillet.
The pancakes turn out light and fluffy, but not the fall apart kind of fluffy. They're firm, but light. I've always been a fan of making French toast or waffles for breakfast, but I sure love these peanut butter pancakes!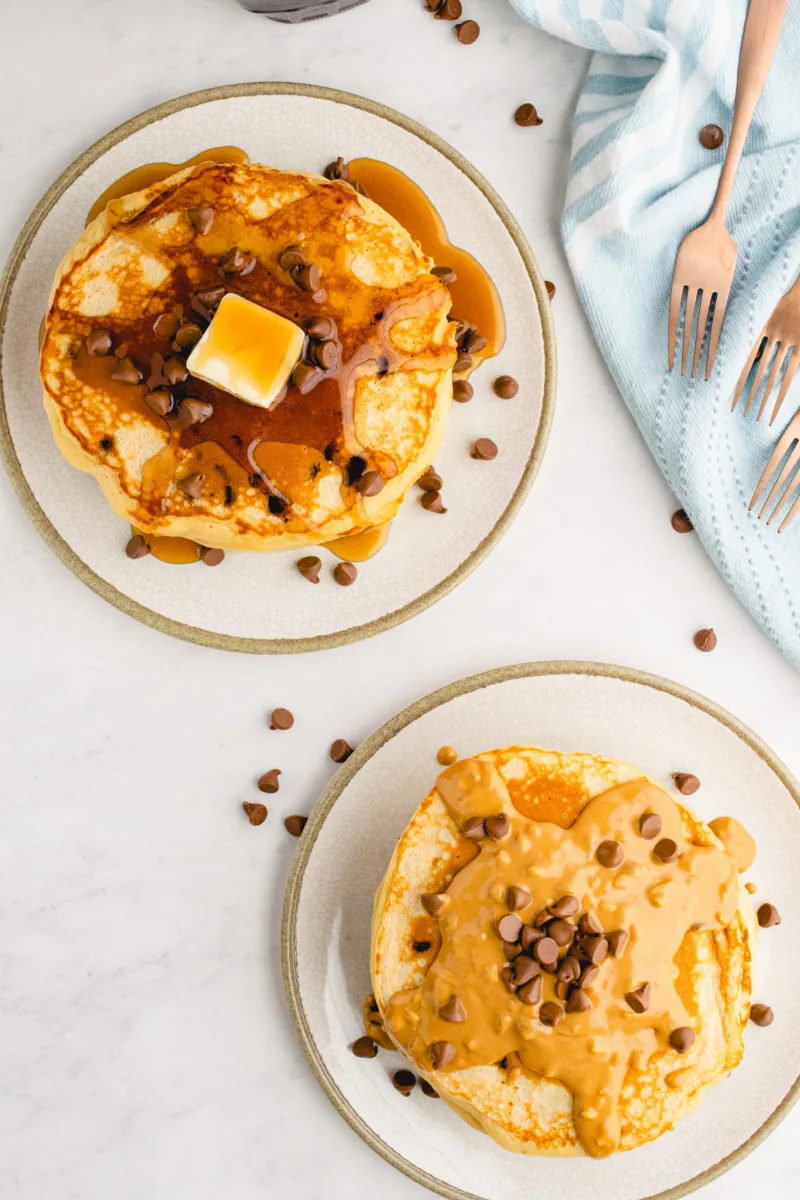 What's the best topping for peanut butter pancakes?
There are two ways to go about topping peanut butter pancakes. Butter, syrup and a few more chocolate chips can be added for a more traditional topping. If you're really, really into peanut butter, you can top the pancakes with peanut butter instead. Warm some peanut butter in the microwave and drizzle it on top with more chocolate chips. Either way, it will be delicious and you'll be stuffed.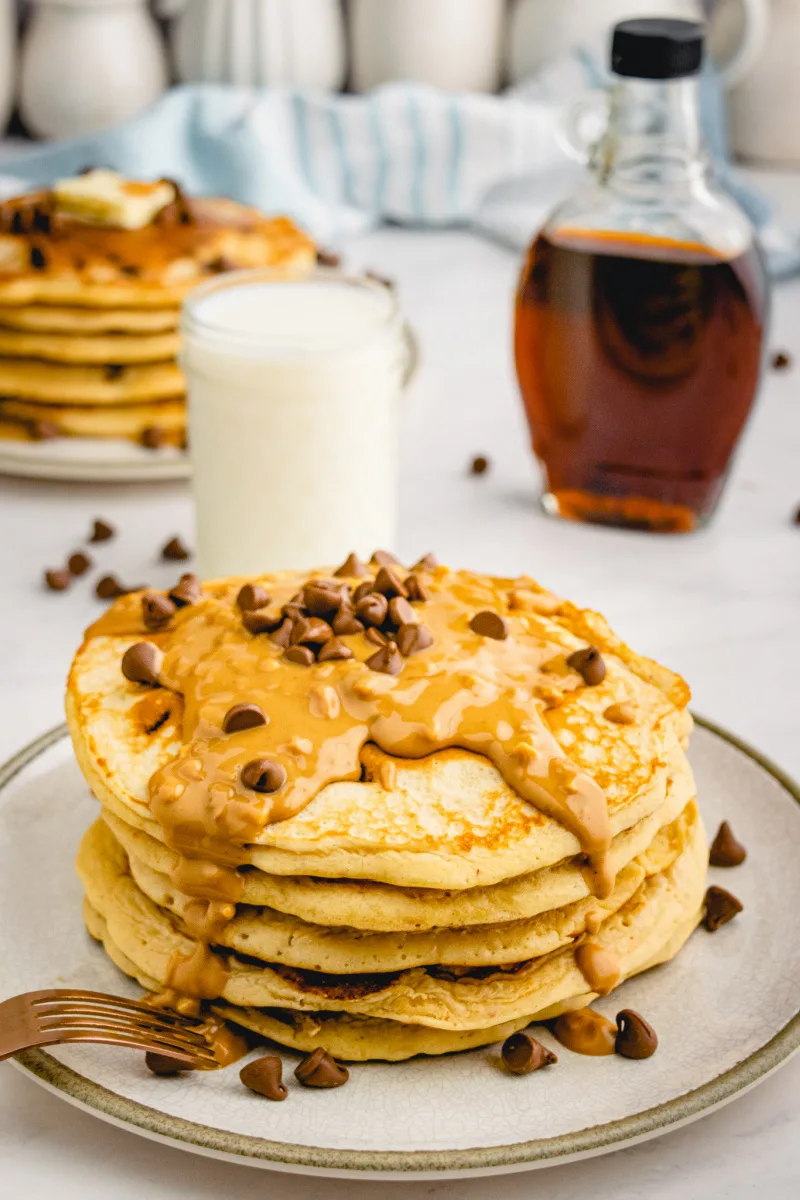 These Peanut Butter Chocolate Chip Pancakes taste AWESOME! They have rich chocolate bites inside and a warm syrupy or peanut buttery outside. On any day, make this recipe because it is perfect for any weather. Hmmm. I think the only thing left to wonder about is how many calories this has!
After this delicious breakfast, I seriously do not need to eat any more chocolate or peanut butter for the next two weeks!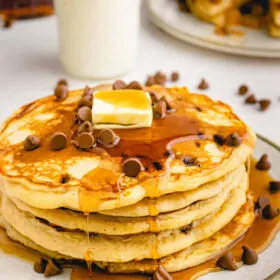 Peanut Butter Pancakes with Chocolate Chips
Totally delicious pancakes for chocolate + peanut butter lovers!
Instructions
In a large bowl, whisk together the flour, baking powder, sugars and salt. In a separate bowl, whisk together the milk, peanut butter, egg and vanilla. Pour the wet ingredients into the dry ingredients and stir gently until all is combined.

Preheat a skillet or griddle to medium and spray with nonstick spray. Scoop ½ cup of batter onto the skillet and sprinkle the pancake with several chocolate chips. Reduce the heat to medium-low and watch the pancake. When bubbles begin popping and forming in the center of the pancake, wiggle a spatula underneath and gently flip it over. Cook the other side for a minute or so until both sides are a nice, golden brown. Repeat with the rest of the batter and chocolate chips. Serve with warm maple syrup or warmed peanut butter.
Nutrition
Serving:
1
serving
Calories:
296
kcal
Carbohydrates:
39
g
Protein:
8
g
Fat:
12
g
Saturated Fat:
5
g
Polyunsaturated Fat:
2
g
Monounsaturated Fat:
3
g
Trans Fat:
0.003
g
Cholesterol:
37
mg
Sodium:
490
mg
Potassium:
243
mg
Fiber:
2
g
Sugar:
16
g
Vitamin A:
128
IU
Calcium:
206
mg
Iron:
2
mg