Here's a super easy recipe for Pumpkin Gooey Butter Bars. Watch the video showing you how to make this recipe, then scroll to the end of this post and print out the complete recipe so you can make them at home.
It's fall! The holiday season is coming right up and I am so excited! Fall is the only time of year where it is acceptable to slip pumpkin into any recipe known to mankind, so I figured that I would share something festive and delicious…. this week I made Pumpkin Gooey Butter Bars.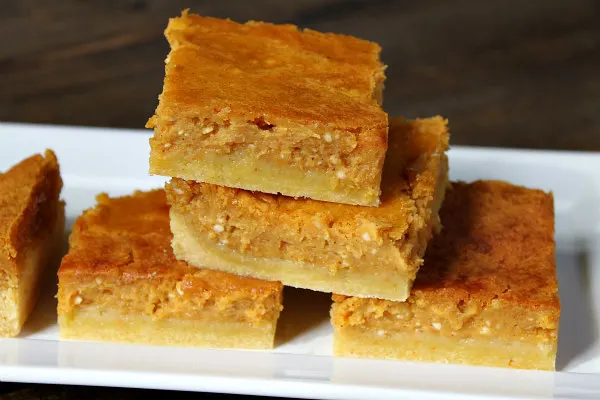 There's nothing like the comforting orange glow of pumpkin… it looks great and festive, and it tastes even better. Pumpkin is a miracle flavor!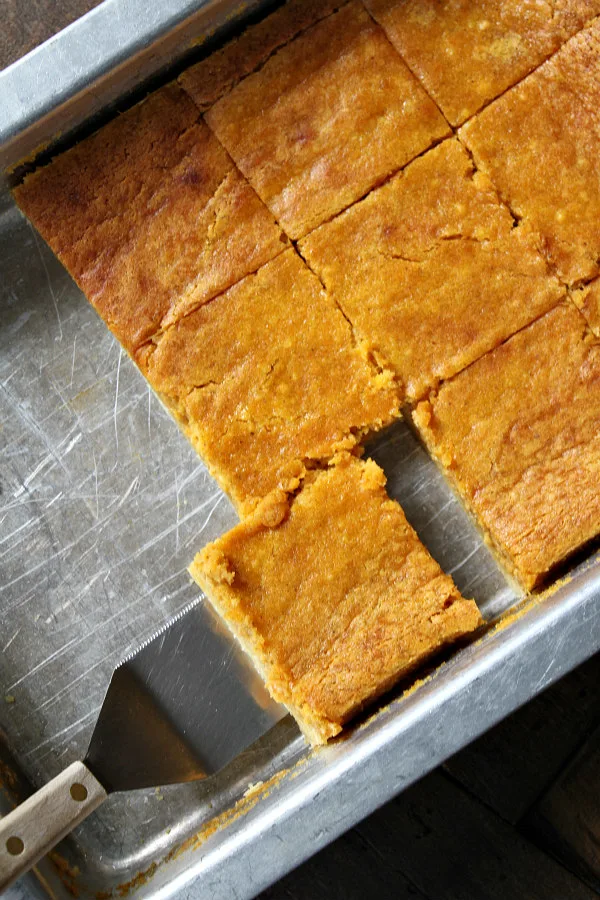 Delish! All pumpkin pie lovers out there will go crazy over this recipe.
I loooove pumpkin pie (and anything pumpkin) and I noticed that the two desserts have similar consistencies. I do have to say that the crust on the Pumpkin Gooey Butter Bars is a hundred times better than Pumpkin Pie crust.
This recipe even has you looking forward to eating the crust!!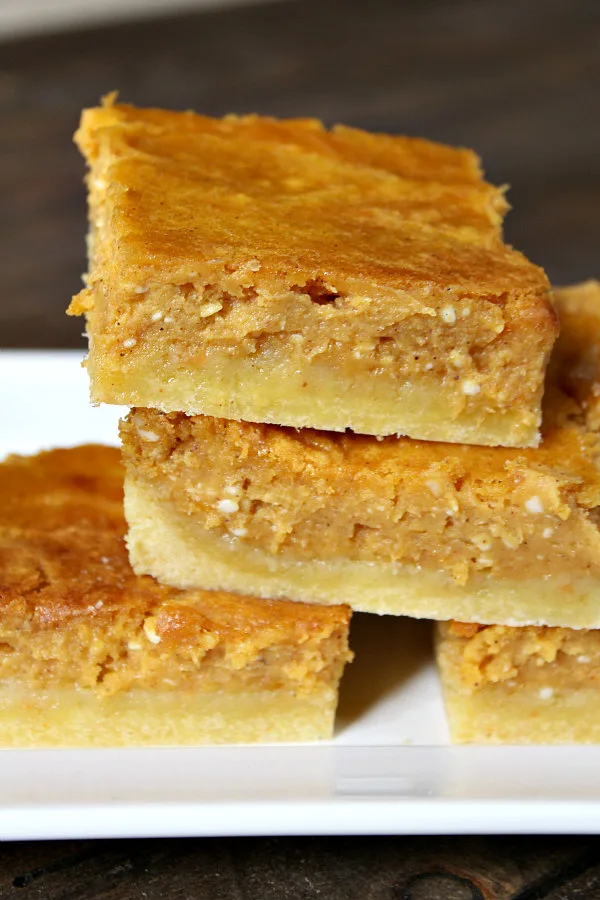 It's all about the details… If you look closely, you can spot some little specks of cinnamon and nutmeg.
The bars are extraordinarily flavorful! I was more than happy with how these turned out. Pumpkin Gooey Butter Bars are a must-make for any party or gathering in Fall. My family demolished half of the pan within an hour of making these… oops!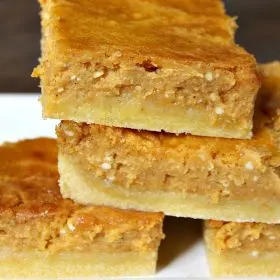 Pumpkin Gooey Butter Bars
Ingredients
CRUST:
1

box

yellow cake mix

1

large

egg

½

cup (1 stick)

butter,

melted
FILLING:
one

8-ounce package

cream cheese,

softened

one

15-ounce can

unsweetened pumpkin puree

3

large

eggs

1

teaspoon

vanilla extract

½

cup (1 stick)

butter,

melted

one

16-ounce box

powdered sugar

1

teaspoon

ground cinnamon

1

teaspoon

ground nutmeg
Instructions
Preheat your oven to 350 degrees F. Spray a 9x13 inch baking pan with nonstick spray.

Prepare the crust: In a large bowl, use an electric mixer to combine the cake mix, egg and butter. Pat the mixture into the bottom of your prepared pan.

Prepare the filling: In a large bowl, use an electric mixer to combine the cream cheese and pumpkin until smooth. Add the eggs, vanilla and butter- beat well. Mix in the powdered sugar, cinnamon and nutmeg until well-combined.

Spread the filling over the cake batter and bake 40 to 50 minutes. Don't over bake; you want the center to be a little gooey!
Here are a few more gooey butter recipes you might enjoy: