It's a great day to be a fudge lover! This week I made a similar 2-Ingredient Fudge to the one I made a while back, but decided to show off the versatility of the recipe and experiment with different flavors. As a result, here are two different flavors of the super easy Frosting Fudge.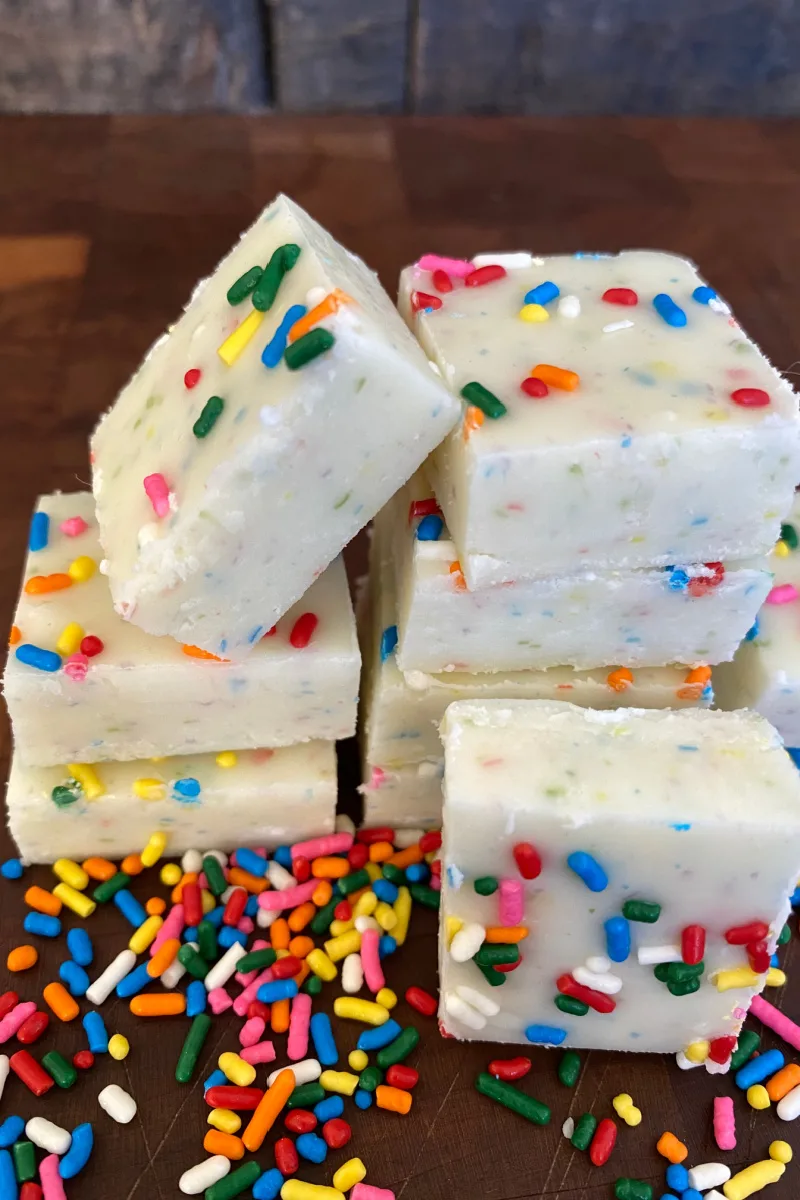 I know a lot of people are picky about the way they make their fudge, so I decided to make it simple for them! This fudge is made with only frosting and baking chips… That's it! There are so many different options for flavors, but I picked cinnamon and funfetti chips for my two types of fudge.
Regarding current events, the Tampa Bay Buccaneers won the Super Bowl! As you all know, I'm a Patriots fan… But even though Tom Brady might be on a new team, I'm happy that he got to win another championship. It was a great game and he definitely deserved MVP. Hopefully my Patriots can acquire some good players in the offseason and in the draft and get back to our former position at the top of the league.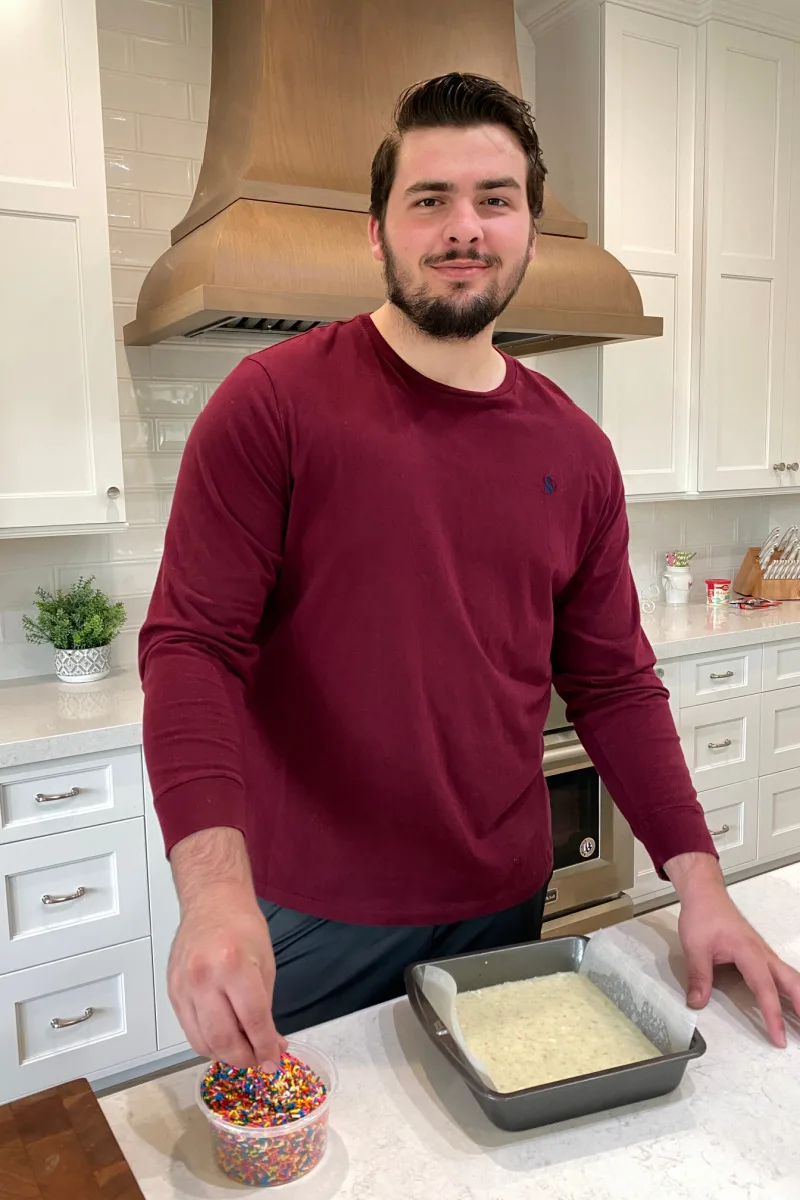 Disclaimer: I have since shaved my mountain-man beard, but it might still appear in a few more posts. I let it grow out over break and can't believe how different I looked now that I'm clean-shaven again. Going home for winter break was a much needed time for relaxation and recovery from a busy semester at school. It was great to see my family and friends again, even though we had to be safe with all of the COVID-19 precautions.
I love this 2-Ingredient Frosting Fudge recipe because it's an easy treat for kids to make and can also be a great gift for friends/family. If you ever need a simple dessert to whip up for an event, this fudge has you covered on all bases.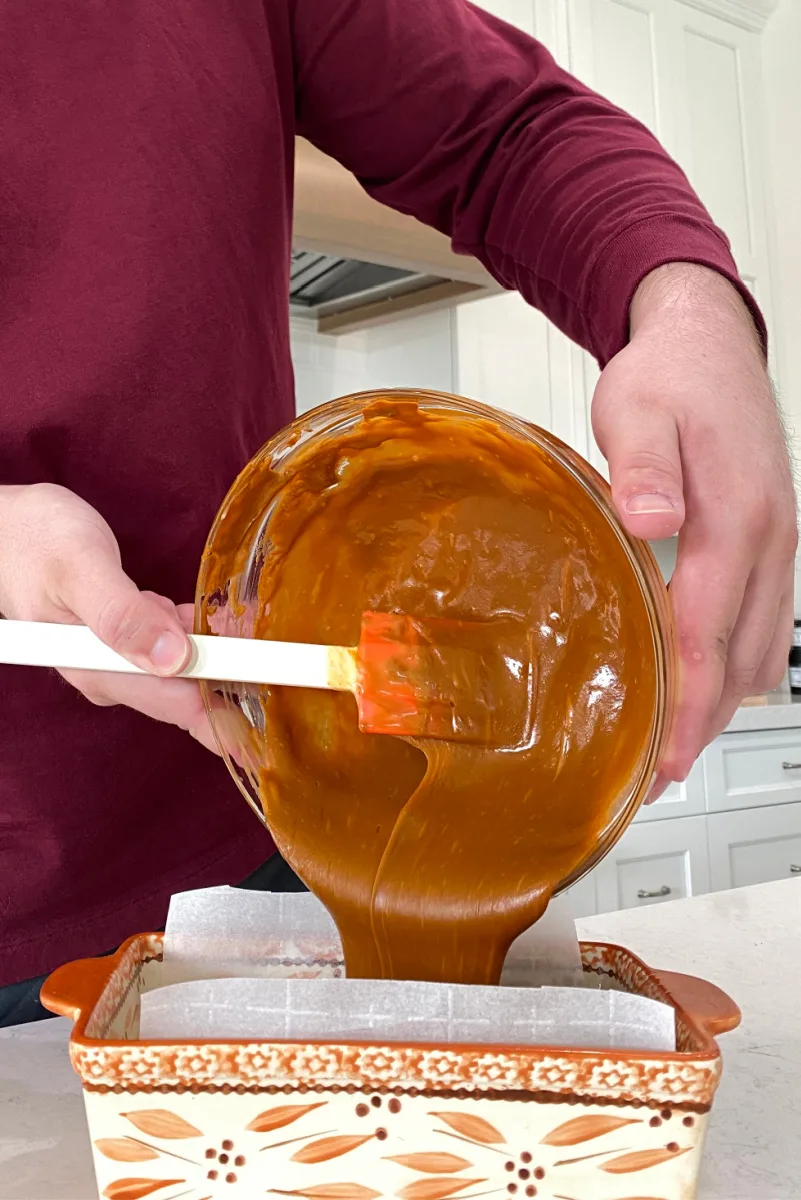 How to make Frosting Fudge:
Soften the frosting in the microwave (about 30 seconds).
Melt the baking chips in a bowl in the microwave, stirring in 30-second intervals.
Add the softened frosting to the melted baking chips and stir until smooth.
Pour into a pan and let the fudge sit at room temperature to harden, or throw it in the refrigerator to speed up the process.
Cut and enjoy your tasty frosting fudge!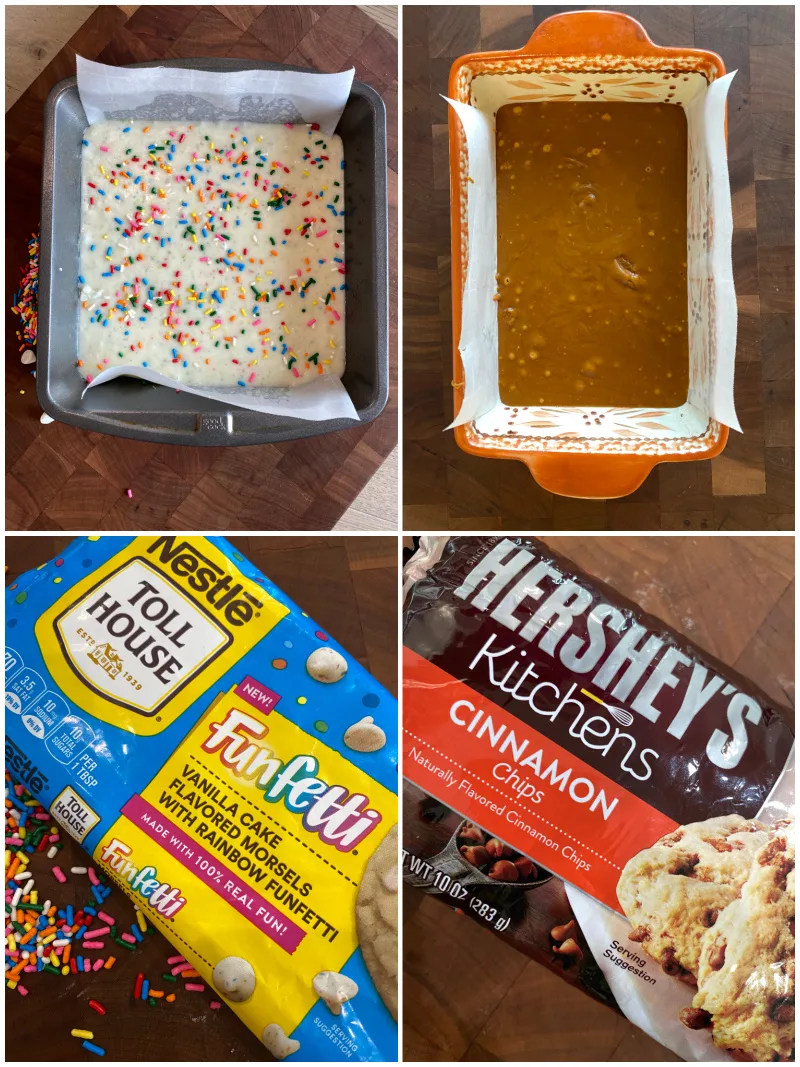 Sometimes it can be difficult to find particular flavors of baking chips at the store, so ordering them on online is usually a safe bet. While the flavors I used are somewhat unconventional, they tasted great! You can use any flavor of baking chips to fulfill your needs, so feel free to get creative!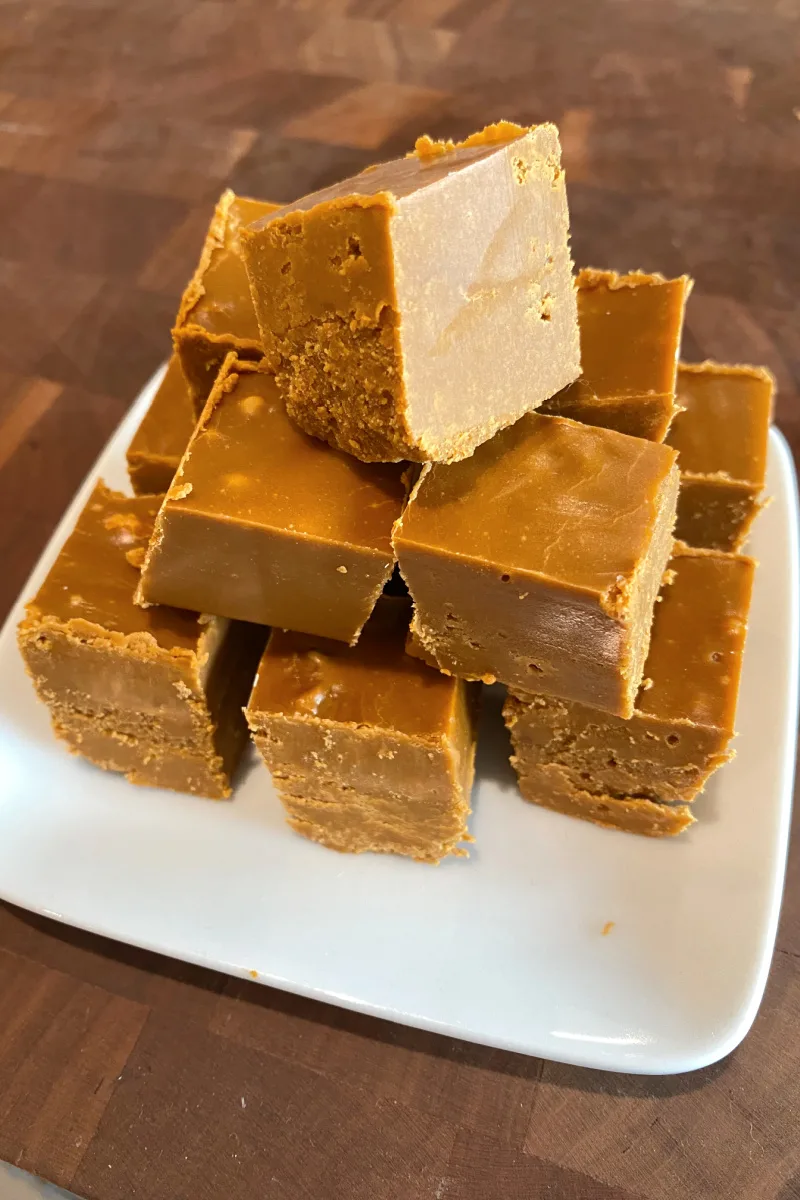 Here is the cinnamon fudge. As you can see, it looks great! It was delicious and took very little effort to make.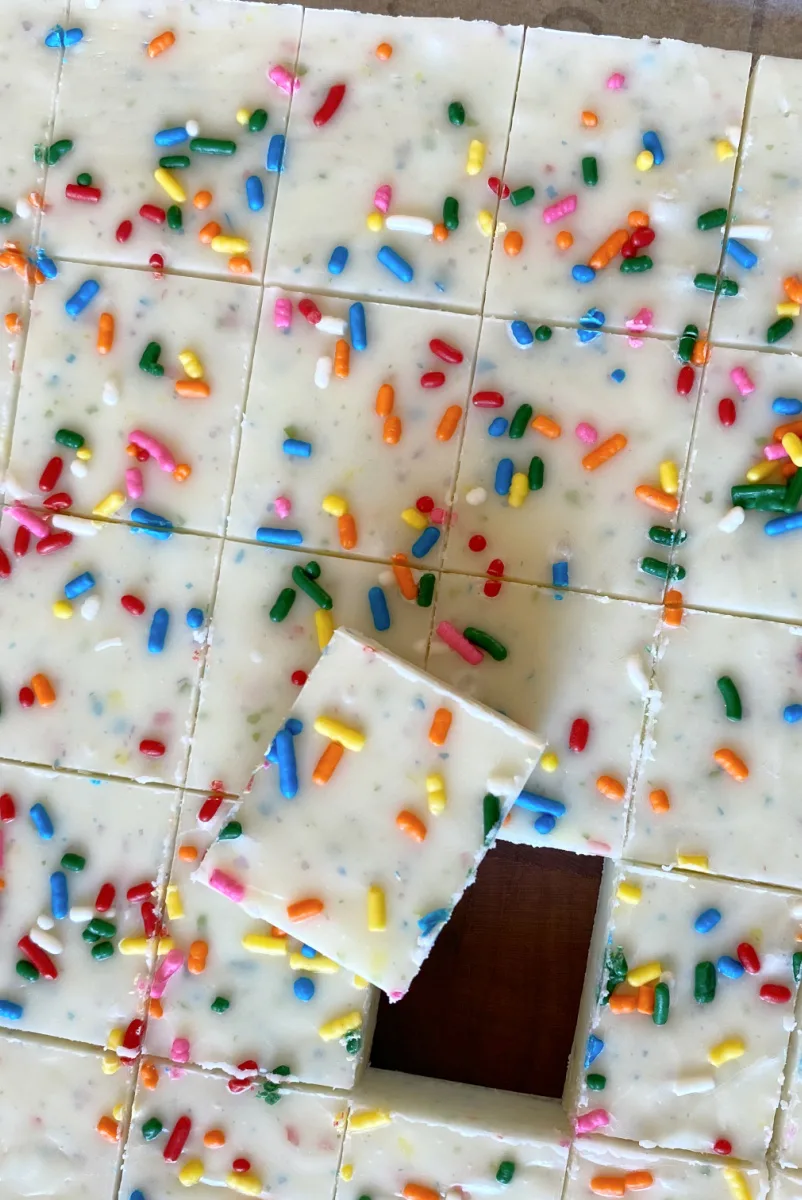 Birthday cake fudge! The Funfetti chips made this fudge look so cool. I added rainbow sprinkles for more color, and boy does it look great!
I highly recommend this frosting fudge recipe if you need a last-minute dessert that's super easy and inexpensive to make. There's so much versatility in the recipe so you can customize it to exactly what you want. So many flavor options!
Here are a few more fudge recipes you might like to try: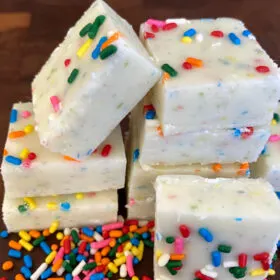 Frosting Fudge
The easiest fudge you'll ever make!
Ingredients
One

16-ounce can

cream cheese frosting

One

12-ounce bag

chocolate chips

(any flavor)
Instructions
Spray an 8-x8-inch pan or a loaf pan with nonstick spray. Line the pan with parchment paper and spray again lightly with nonstick spray.

Melt the frosting by heating it in the microwave for about 30 seconds.

Put the chocolate chips in a microwave-safe bowl (or melt them in a saucepan over low heat). Microwave one minute, stir, then microwave in 30-second intervals until the chocolate chips are completely melted and smooth.

Add the melted frosting to the bowl and stir until completely combined. Scrape the fudge mixture into the prepared pan. Let sit at room temperature until firm, or refrigerate to speed up the process.

Cut the fudge into pieces. Store in a covered container, and eat within about 3 days. This fudge freezes well too.
Nutrition
Serving:
1
square
Calories:
149
kcal
Carbohydrates:
22
g
Protein:
0.02
g
Fat:
7
g
Saturated Fat:
3
g
Polyunsaturated Fat:
1
g
Monounsaturated Fat:
1
g
Sodium:
36
mg
Potassium:
47
mg
Sugar:
20
g
Calcium:
11
mg
Iron:
0.03
mg