As I said in my recent interview, I am known for making anything with raspberries. Just to prove it, I made some Raspberry Muffins that happen to be OUT OF THIS WORLD!!! Now, let me show you what makes this recipe so great.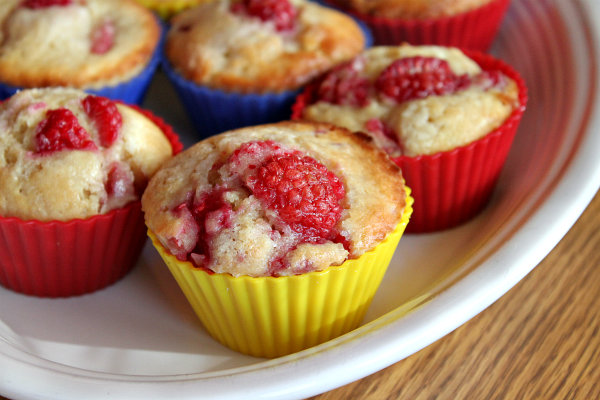 Okay. In this picture, can you tell what makes these muffins so tasty? (hint: something that is big, red, juicy, and amazing).
Answer: The RASPBERRIES!!! Of course.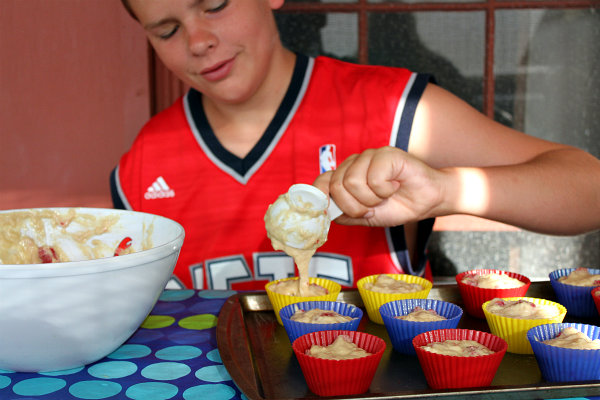 Before you pour the batter into the muffin cups (I used these cool silicon cupcake molds), you have to stir the raspberries in VERY carefully so that they don't get crushed.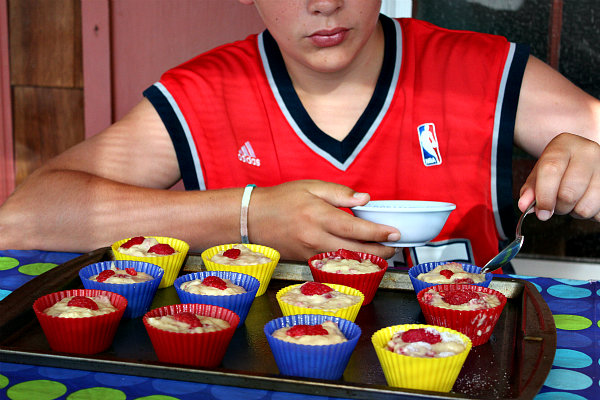 It's always good to put a couple raspberries on top of the batter so that it turns out pretty.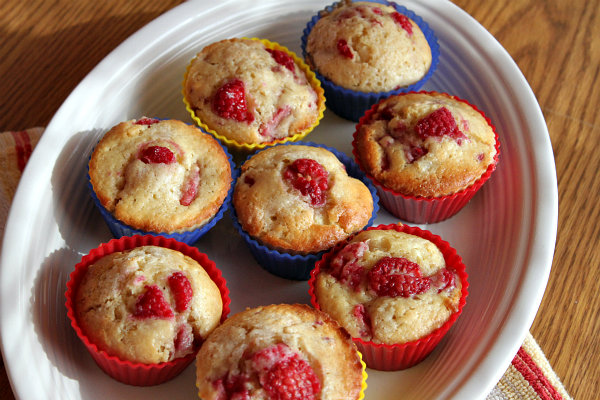 These muffins were some of the best ones I've ever had. It was partially because of the raspberries, and partially of the yummy batter. Raspberry muffins are amazing breakfast treats for anyone, especially my fellow raspberry lovers.
And even a kid can be OBSESSED with raspberries… Like Me!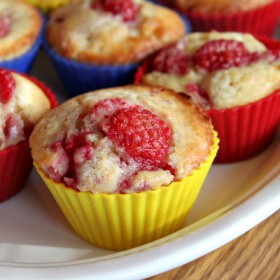 Raspberry Muffins
A summer breakfast treat!
Ingredients
1¾

cups

all-purpose flour

¼

cup

packed light brown sugar

2

teaspoons

baking powder

½

teaspoon

baking soda

½

teaspoon

salt

2

large

eggs

¼

cup

vegetable or canola oil

¾

cup

buttermilk

(lowfat is okay)

2

tablespoons

sour cream

1

teaspoon

vanilla extract

1¾

cups

halved fresh raspberries,

divided (about 1 pint)

2

tablespoons

granulated white sugar
Instructions
Preheat the oven to 375 degrees F. Spray a 12-cup muffin tin with nonstick spray.

In a medium bowl, whisk together the flour, sugar, baking powder, baking soda and salt.

In a separate bowl, whisk together the eggs, oil, buttermilk, sour cream and vanilla. Add to the dry ingredients, stirring just until moistened. Gently stir in 1½ cups raspberries.

Spoon the batter into the prepared muffin tin, filling each cup about ¾ full. Add the remaining ¼ cup halved raspberries to the tops of the batter. Sprinkle sugar on top of each. Bake 20 to 25 minutes, or until golden and a toothpick inserted into the center of a muffin comes out clean. Serve warm!