Hold your horses, folks! Today we've got a brand new frozen treat that's going to blow your socks off — Raspberry Yogurt Popsicles!
Let me take you back to a few weeks ago. Never in a million years had I considered turning Greek yogurt into popsicles. Literally never. However, my mom came to me with this great idea after seeing a similar recipe in a magazine, and the rest is history. These bad boys are healthy, tasty, and perfect for the end of summer.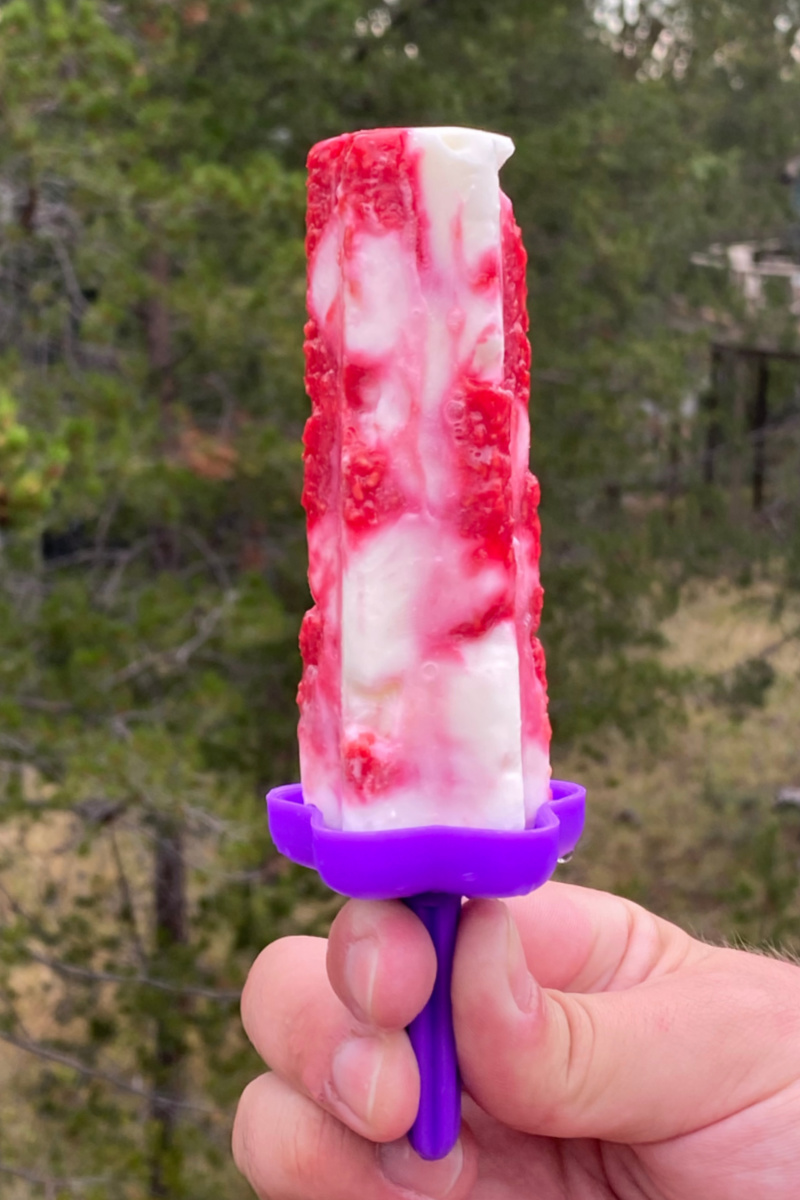 School is about to start up again and I couldn't be more excited for my senior year of college! I'm ready to enter the corporate world (I hope!) and kickstart my career following graduation in May. It's crazy to think about how much has changed since starting my blog more than 10 years ago. I'm still the same happy, enthusiastic child at heart!
Now let's get into how to make these popsicles!
Ingredients needed:
fresh raspberries
granulated white sugar
freshly squeezed lemon juice
vanilla Greek yogurt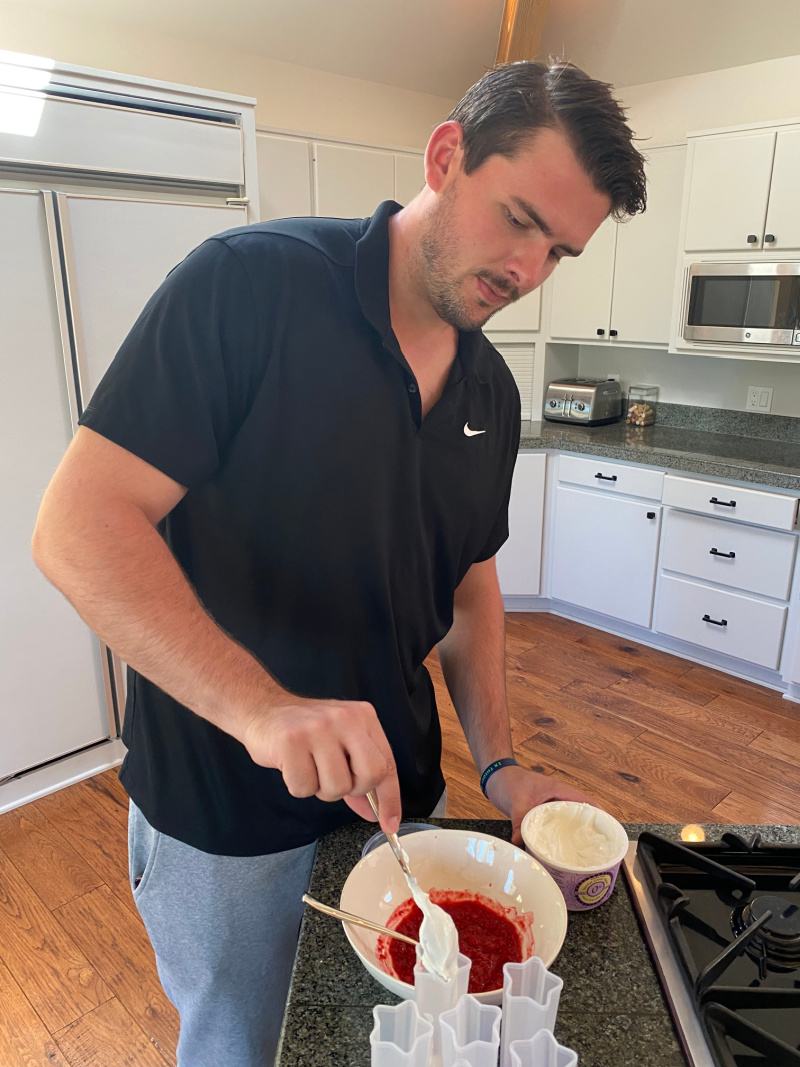 How to make Raspberry Yogurt Popsicles:
The complete, printable recipe is at the end of this post.
In order to create the raspberry popsicle filling, start by combining the berries, sugar, and lemon juice in a medium saucepan. bring the mixture to a boil over medium-heat, then reduce the heat and simmer (uncovered) until thickened. This should take about 10-12 minutes. Stir and mash the mixture while heating and then transfer to a bowl. Cover it up and chill for 2 hours (the refrigerator speeds things up).
Now let's assemble the popsicles — Begin by coating the interior of 4 popsicle molds with nonstick spray, then fill the molds carefully using alternating layers of raspberry puree and yogurt. I'll tell you right now that it's near impossible to do this perfectly. My popsicles turned out with a swirl pattern as opposed to layers, but they still look great! Once you've filled the molds completely, insert the popsicle sticks and freeze! I recommend doing this overnight so everything has enough time to freeze completely, and then you can have them ready for the following day.
Getting the popsicles out of the molds was a bit tricky at first, so I recommend running warm water over the exterior of the molds for a few seconds and the popsicles should slide right out.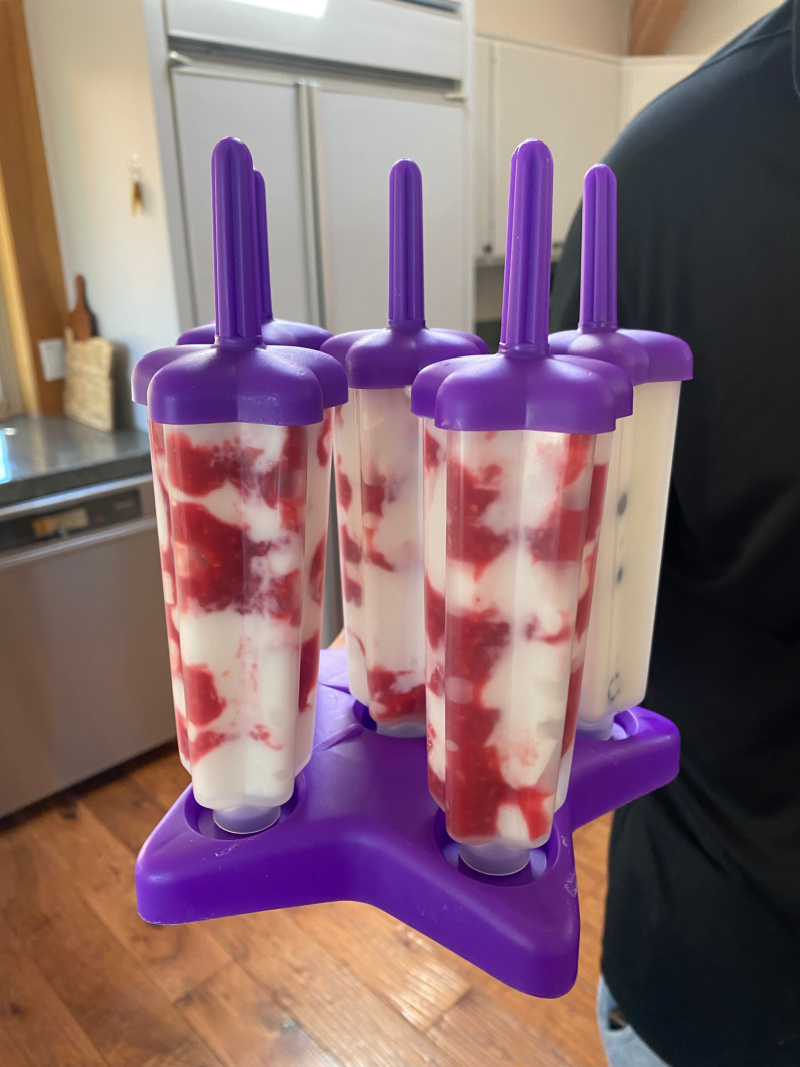 Look at that beautiful sight! I had extra Greek yogurt and no more raspberry puree, so I filled one extra popsicle mold with blueberries instead. Get creative!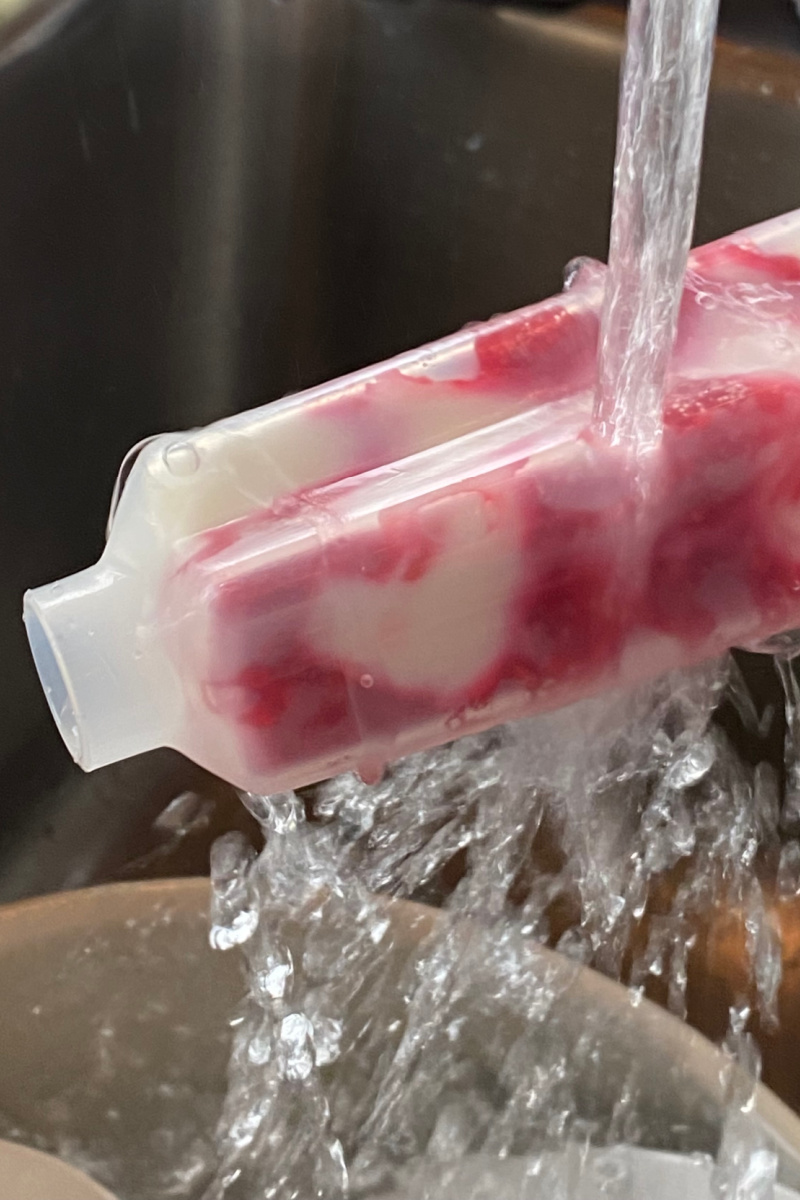 Here's the action shot of removing the popsicles from the molds — The water doesn't have to be hot, just warm enough to separate the popsicles from the interior of the molds.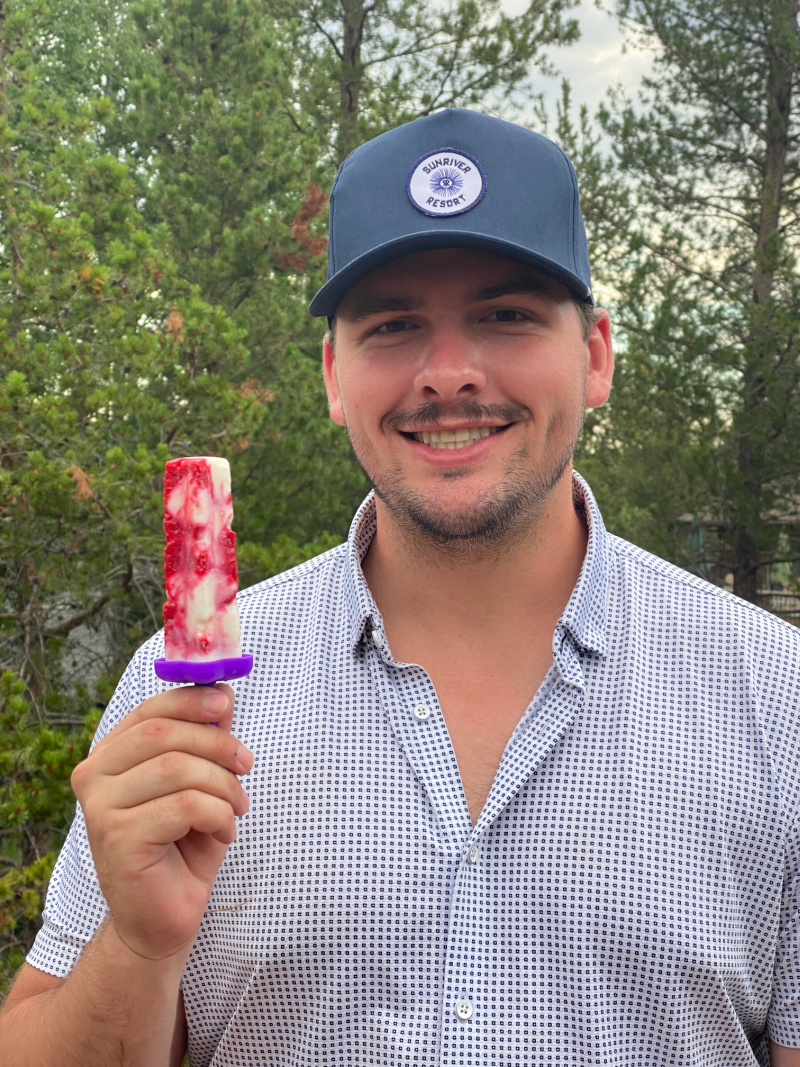 I made these Raspberry Yogurt Popsicles while visiting my parents in Oregon last week. It was nice to escape the Dallas heat and relax in the trees for a few days!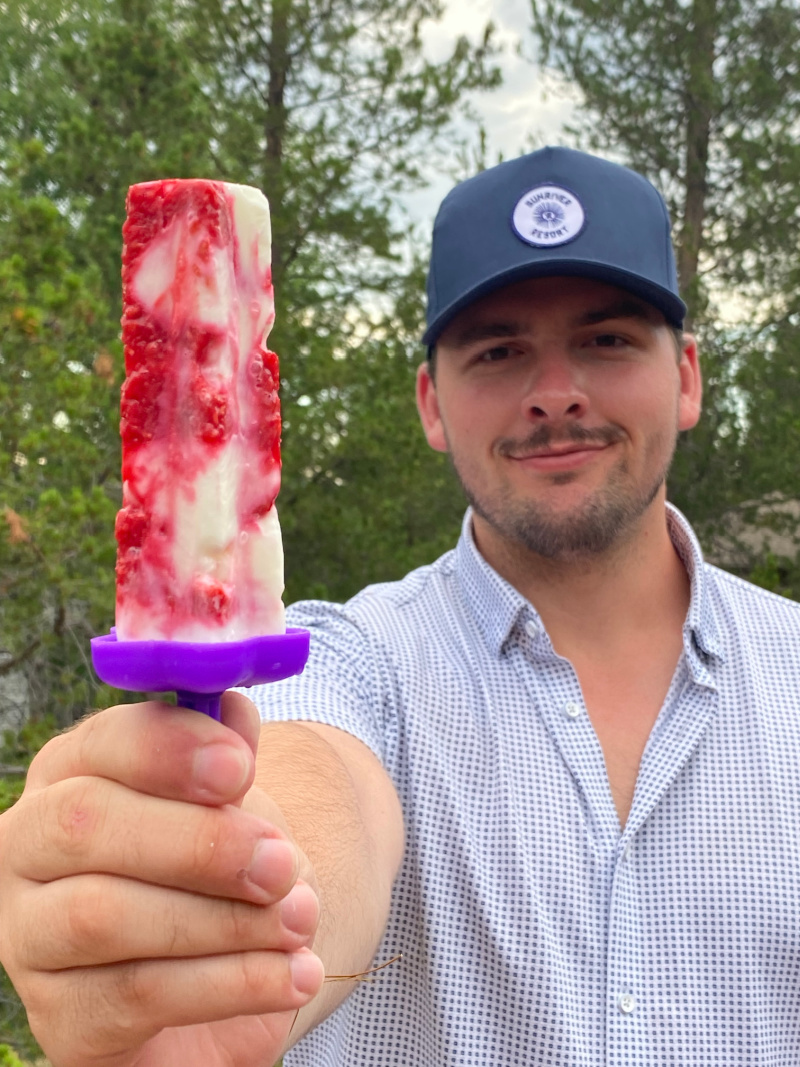 Kids love popsicles, and with this super easy, tasty recipe, you can trick them into eating a healthier alternative than the sugar-packed, artificially-flavored popsicles you find at the grocery store. The best part is that you might already have all of the ingredients scattered around your kitchen- fresh raspberries, Greek yogurt, white sugar, and lemon juice. It's that simple. Now what are you waiting for?!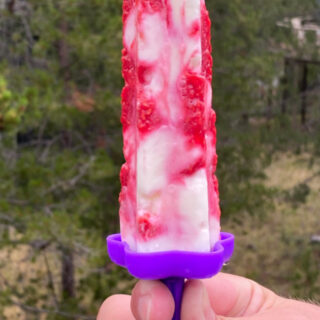 Raspberry Yogurt Popsicles
Super easy, healthy popsicle recipe!
Ingredients
1

cup

fresh raspberries

2

tablespoons

granulated white sugar

1

tablespoon

freshly squeezed lemon juice

2

cups

vanilla Greek yogurt
Instructions
In a medium saucepan, combine the berries, sugar and lemon juice, and heat over medium-heat. Bring to boiling; reduce heat. Simmer, uncovered, for 10 to 12 minutes or until thickened. Stir and mash, while heating. Transfer to a bowl. Cover and chill for 2 hours. Place in the refrigerator to speed things up.

Spray the interior of 4 rocket pop molds lightly with nonstick spray. Alternate layers of yogurt and raspberry puree in the molds until you've used up all of the ingredients. Add the sticks on top, and freeze until completely frozen (this is best to do overnight).

To serve, run warm water on the outside of the popsicle molds until the popsicles slide out easily.