Wednesday, January 30, 2013
My Mom's family is full of crazy 49er fans. My Dad's family has some diehard Pats fans (including me), but they lost.

This Super Bowl will come to be known as the Harbaugh Bowl, because the brothers will finally play for the Lombardi Trophy. Go Niners! My two favorite teams in the NFL are the 49ers and the Pats. I'm not jumping on the Niner's bandwagon, but I am uniting two sides of my family. For the upcoming Super Bowl, I made Peanut Butter Brownie Bites with Ghirardelli Chocolate Chips. Ghirardelli headquarters are in San Fran, so this recipe celebrates my team's location. Many people think that the Ravens will win no matter what, but don't underestimate 49er QB Colin Kaepernick! Now let's get started.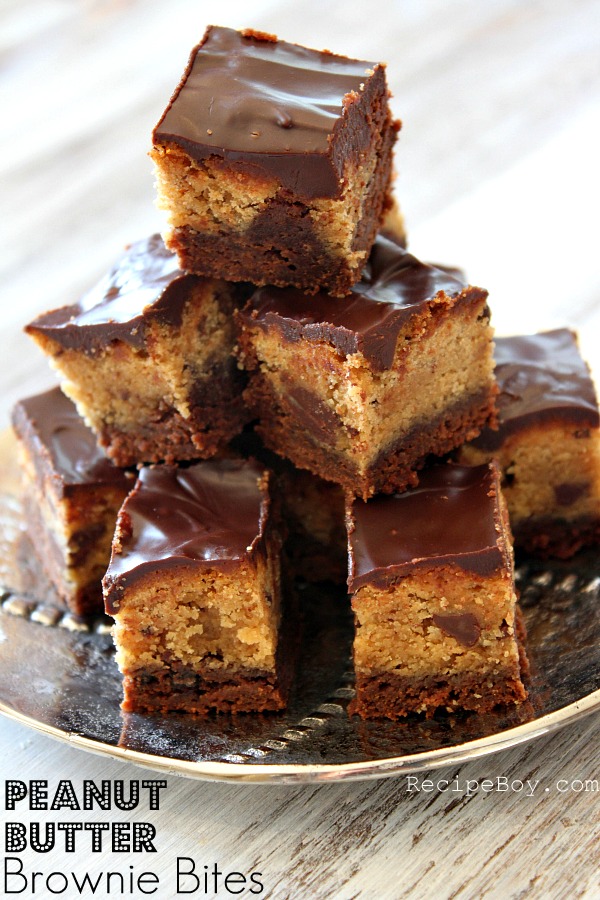 Yum Yum. Good enough for a 49er to eat during halftime.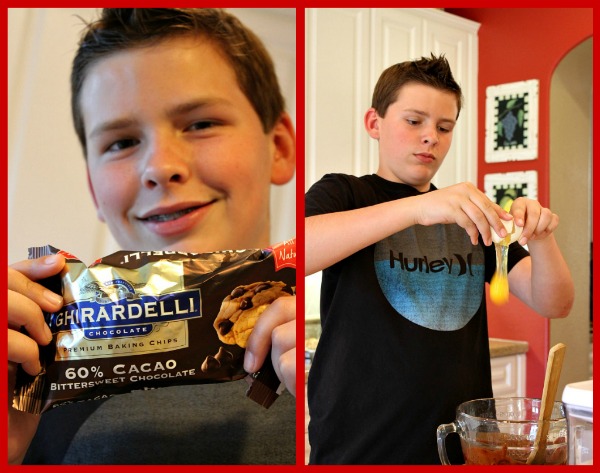 Whoa. That egg picture creeps me out. Is the egg alive or something?!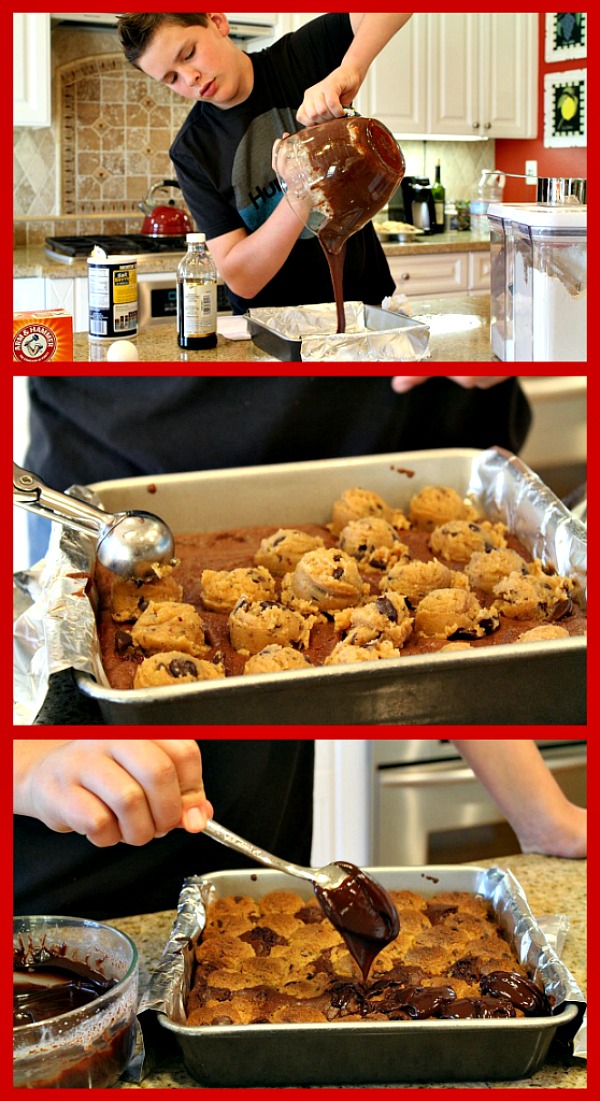 This recipe has three steps to it.  First, you have to bake the brownie layer for 10 minutes.  Then, you have to scoop the peanut butter layer on top of the partially cooked brownies and bake it some more.  Finally, you have to put the chocolate glaze on top!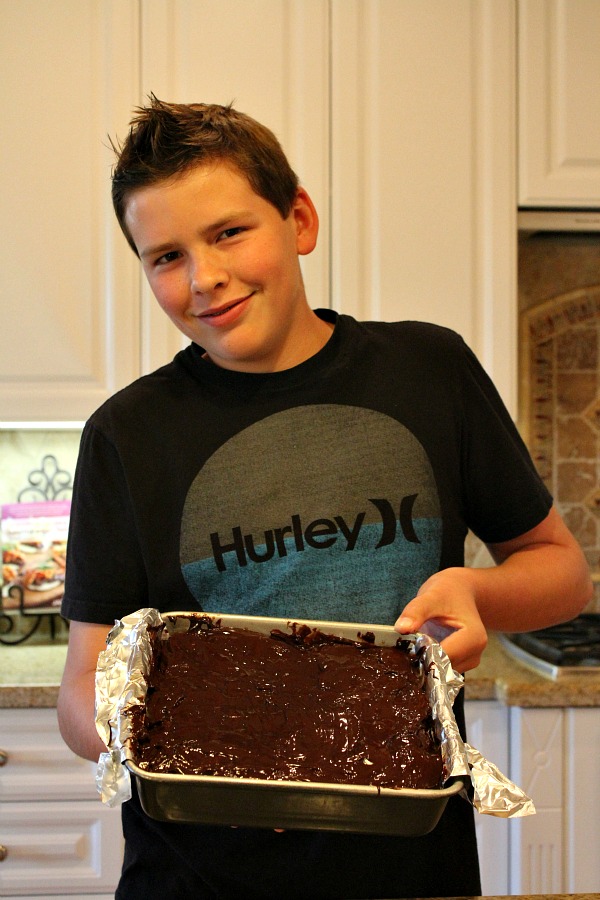 Me and my creation. (Sigh). YUM YUM YUM!!! (Sigh)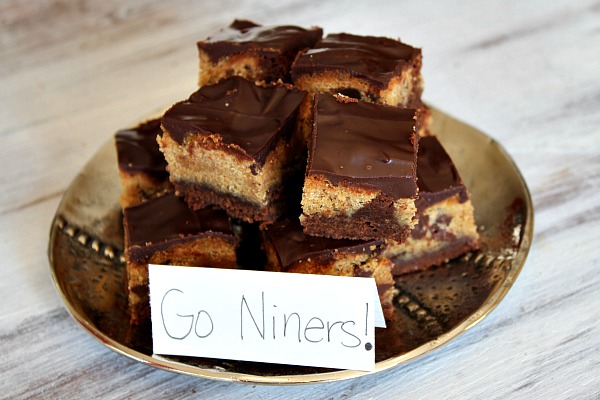 Now thats what I'm talking about! (FYI: These pictures are too good to be mine. I made the the brownies, but my mom took all of the photos in this post.) This recipe is a very yummy dessert for after lunch and dinner. In case you haven't noticed so far, I favor the 49ers in the Super Bowl. I love this recipe (and the 49ers) and I hope you will too!
And even a kid can make PB Brownie Bites that are good enough for a 49er to eat at halftime of the Super Bowl… Like Me!
Peanut Butter Brownie Bites

Yield: 36 brownie bites

Prep Time: 40 min

Cook Time: 30 min

Peanut butter mixed with brownies and topped with MORE chocolate glaze!

Ingredients:

BROWNIES:
3/4 cup Ghirardelli Bittersweet Chocolate Chips
1/2 cup (1 stick) unsalted butter
2 cups granulated white sugar, divided
2 large eggs
1 teaspoon vanilla extract
1 cup all-purpose flour
1/4 teaspoon baking soda
1/4 teaspoon salt
1 cup creamy peanut butter
1 large egg
1/3 cup Ghirardelli Bittersweet Chocolate Chips, chopped

GLAZE:
1/2 cup whipping cream
1/2 teaspoon vanilla extract
1 cup Ghirardelli Bittersweet Chocolate Chips

Directions:

1. Prepare the brownies: In a medium microwave-safe bowl, heat 3/4 cup chips and butter for 1 to 2 minutes until melted. Stir until smooth and combined. Let cool slightly.

2. Preheat the oven to 350 degrees F. Spray a 9x9-inch pan with nonstick spray, line with foil, and then spray again (let the foil hang over the edges of the pan).

3. Whisk 1 cup of the sugar into the melted chocolate mixture. Whisk in the eggs too. Then stir in the vanilla.

4. In a separate bowl, whisk together the dry ingredients: flour, baking soda and salt. Add the dry ingredients to the chocolate mixture, stirring just until combined. Spread the batter evenly in the prepared pan. Bake for just 10 minutes.

5. In a large bowl, combine the peanut butter, remaining 1 cup sugar and egg. Stir in the 1/3 cup chopped chips. Drop spoonfuls of the peanut butter mixture over the partially cooked brownies. Bake for 25 to 30 minutes, or until the top is light brown and the mixture appears to be set. Let it cool in the pan.

6. Prepare the glaze: In a medium, microwave-safe bowl, heat the whipping cream and vanilla until warm and bubbling (about 1 minute). Add the 1 cup chips and let sit for about 1 minute, then stir until the chips are melted and the mixture is smooth. Pour the glaze over the top of the brownies and spread until even. Let stand until set (or refrigerate until set). Use the foil to lift the brownies out of the pan and move to a cutting board. Cut into 36 chunks and serve (or place in a covered container until ready to serve).