Homemade Chicken Nuggets!? This is a dream come true for me!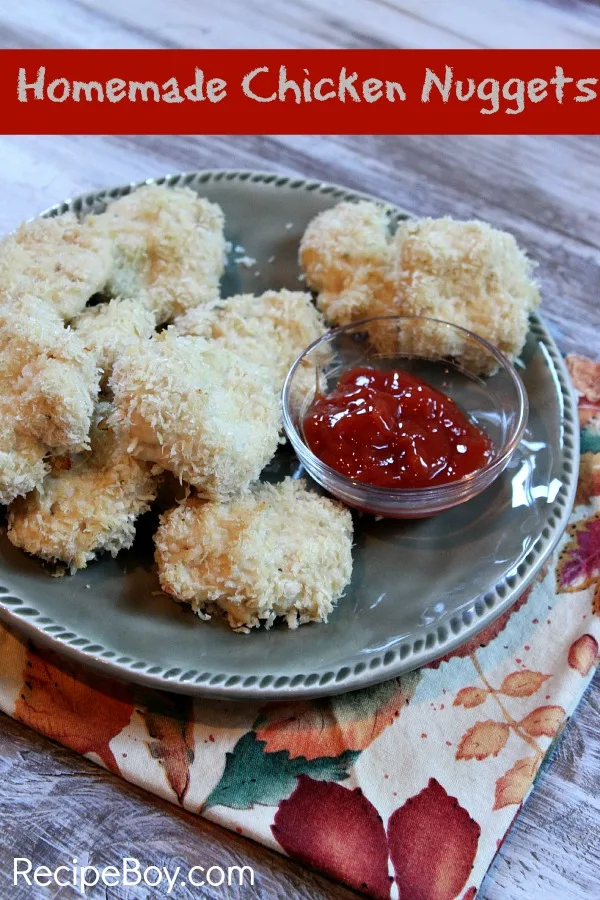 I love chicken nuggets, but I don't eat them that often because of all of the odd ingredients that they contain. When you look on the ingredient list of frozen chicken nuggets, you see many crazy ingredients and a whole bunch of oils and unhealthy crud. When you make chicken nuggets homemade, you know exactly what goes into them. There are no oils or unhealthy crud in HOMEMADE chicken nuggets!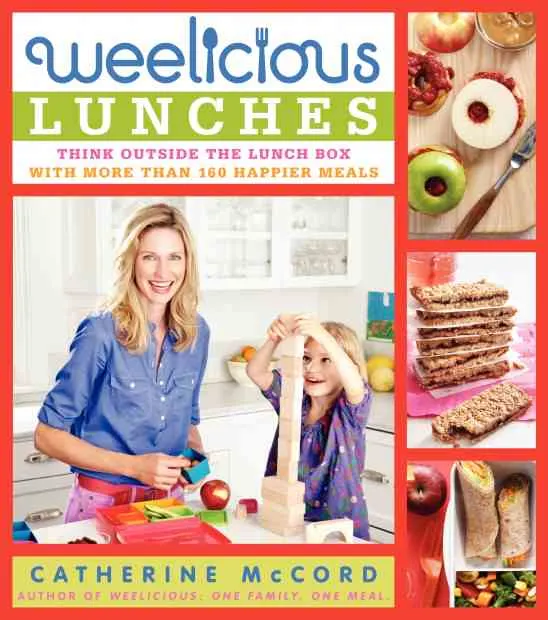 This recipe for homemade chicken nuggets is from the new Weelicious Lunches cookbook by Catherine McCord. Let me tell you a little bit about Catherine's cookbook. The cookbook is about healthy lunches for kids. The whole family will enjoy these recipes, but they are meant to give kids healthy recipes that taste great, so that they will eat it and not trade it away at lunch.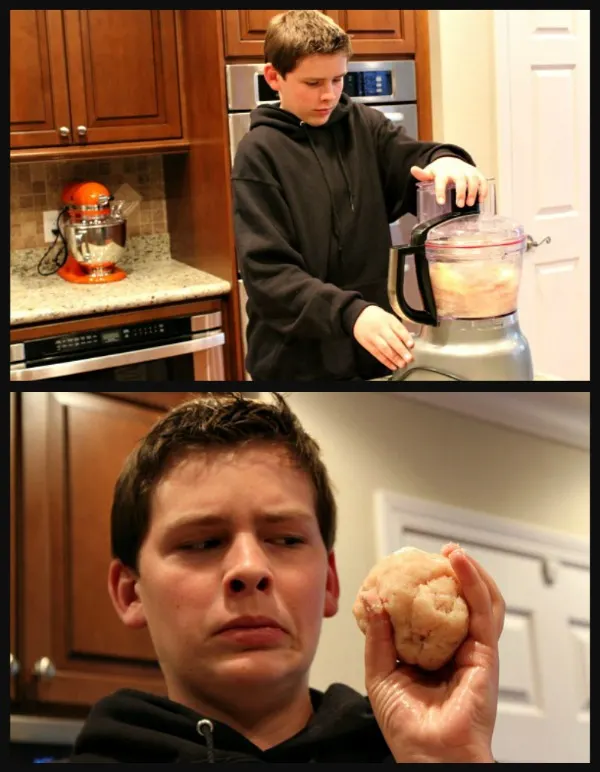 Ugh! Raw chicken mixed with a bunch of other ingredients to make the nuggets is sort of DISGUSTING!!! The only (semi) odd ingredient in my homemade chicken nuggets is mashed potatoes, which actually adds a nice flavor and texture to them.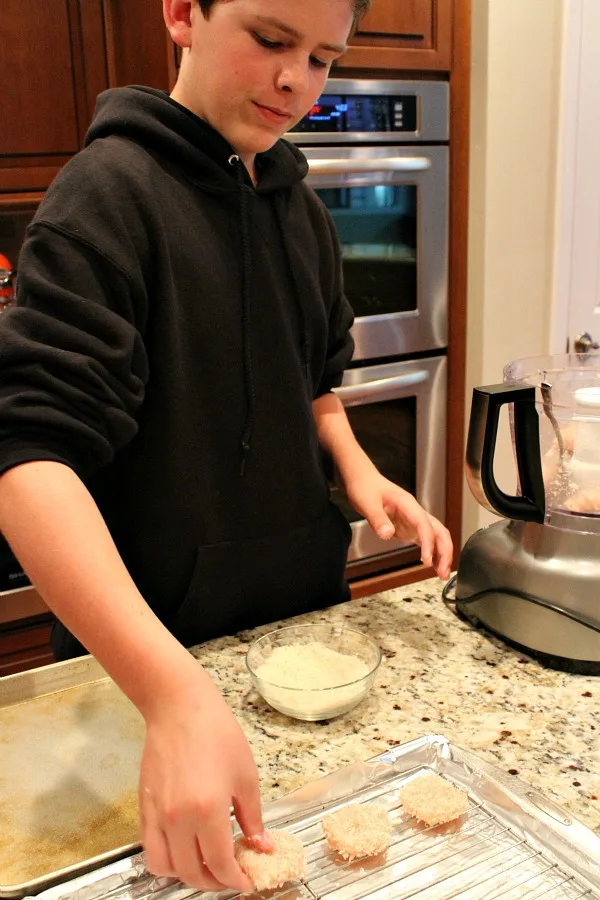 I hate working with chicken. I like eating cooked chicken, but I don't like touching it that much when it's raw. I had to suck-it-up to make these chicken nuggets.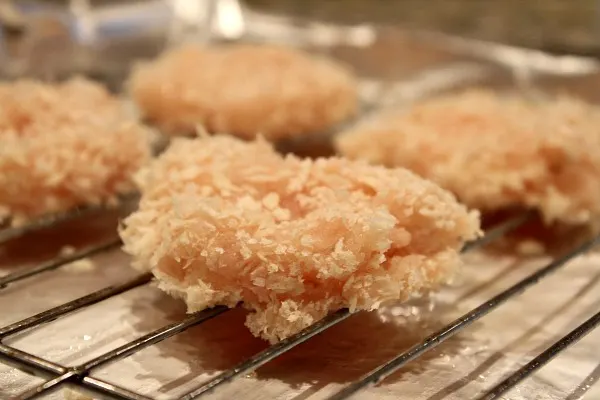 After you roll the raw chicken into nuggets, you roll the nuggets in panko and Parmesan. This makes them have a crispy crust!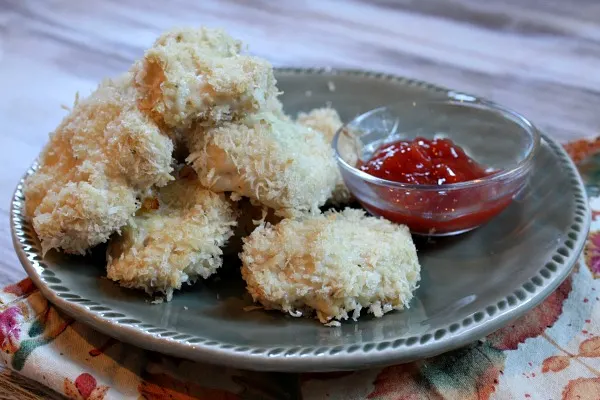 Ohhhhhhhhhhhhhh! Catherine from Weelicious has created some perfect chicken nuggets! These Homemade Chicken Nuggets tasted amazing. They went perfectly with some leftovers that we had from the night before. I would recommend making these for picky eaters. They taste even better than the frozen nuggets with all of the cruddy ingredients in them!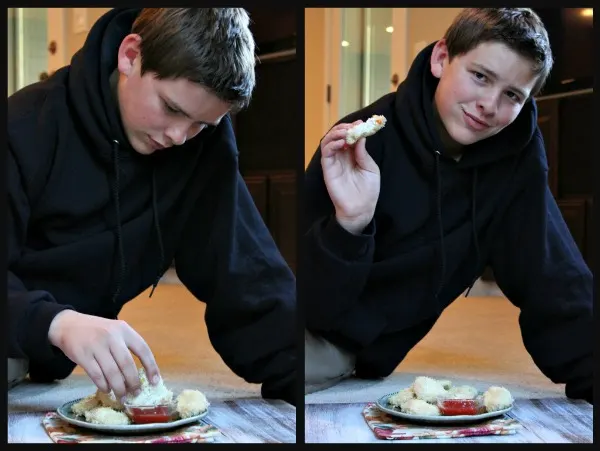 Well as you can see, I loved these chicken nuggets. I can't believe that chicken nuggets without the junk you see on the ingredient list of frozen nuggets can taste SOOOOO good! And even a kid can take away junk from chicken nuggets… Like Me!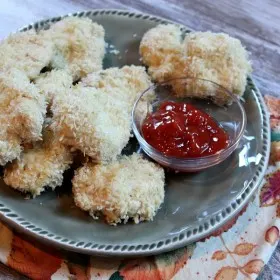 Homemade Chicken Nuggets
Sooooo much more delicious and better for you than any of those frozen nuggets!
Ingredients
1

pound

boneless, skinless chicken breast,

chopped

½

cup

mashed potatoes

½

teaspoon

salt

½

teaspoon

garlic powder

¼

teaspoon

onion powder

¼

teaspoon

dried parsley

¾

cup

panko bread crumbs

1

tablespoon

finely grated Parmesan cheese

cooking spray
Instructions
Preheat the oven to 375℉. Place a cooling rack on a baking sheet lined with foil. Spray the rack with nonstick spray.

Place the chicken, mashed potatoes, parsley, salt, garlic powder, onion powder and parsley in a food processor and pulse until smooth and combined.

In a shallow bowl or plate, combine the panko and Parmesan.

With moistened hands (or spray hands with nonstick spray), roll 1 tablespoon of the chicken mixture between your palms and flatten into a "nugget" shape. Gently press the nugget into the panko mixture to coat. Set the nugget on the prepared rack/pan. Repeat with the remaining chicken mixture. Lightly spray the nuggets with cooking spray.

Bake for 20 minutes, or until crispy outside and cooked throughout. Serve with ketchup, ranch dressing (or the Veg-Wee Dip shared in the Weelicious Lunches cookbook).
Nutrition
Serving:
1
serving
Calories:
207
kcal
Carbohydrates:
15
g
Protein:
27
g
Fat:
4
g
Saturated Fat:
1
g
Polyunsaturated Fat:
1
g
Monounsaturated Fat:
1
g
Trans Fat:
0.01
g
Cholesterol:
74
mg
Sodium:
535
mg
Potassium:
532
mg
Fiber:
1
g
Sugar:
1
g
Vitamin A:
46
IU
Vitamin C:
7
mg
Calcium:
40
mg
Iron:
1
mg