This Chocolate Chunk Gelato recipe has a totally delicious, rich vanilla base with plenty of chocolate mixed in.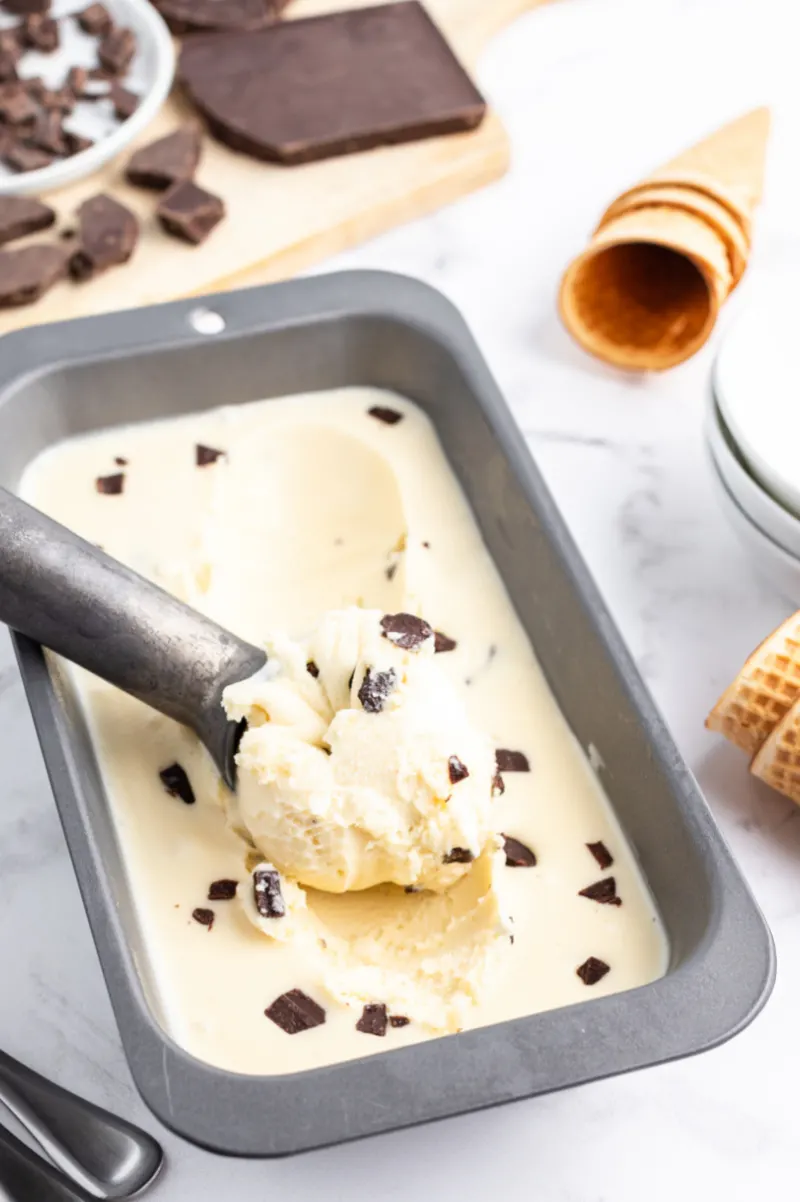 We visited Italy as a family the summer after our son Brooks (RecipeBoy) graduated from high school. And it was there that we all fell in love with gelato. We ordered our favorite flavors every day to fulfill our cravings for a "daily gelato." Sometimes the more simple flavors were best, like this Chocolate Chunk Gelato.
What's the difference between ice cream and gelato?
Gelato contains a higher proportion of milk and a lower amount of cream and eggs than ice cream. Some gelato recipes don't contain eggs at all (this one does). Ice cream has a fluffier texture, while gelato is more smooth and creamy.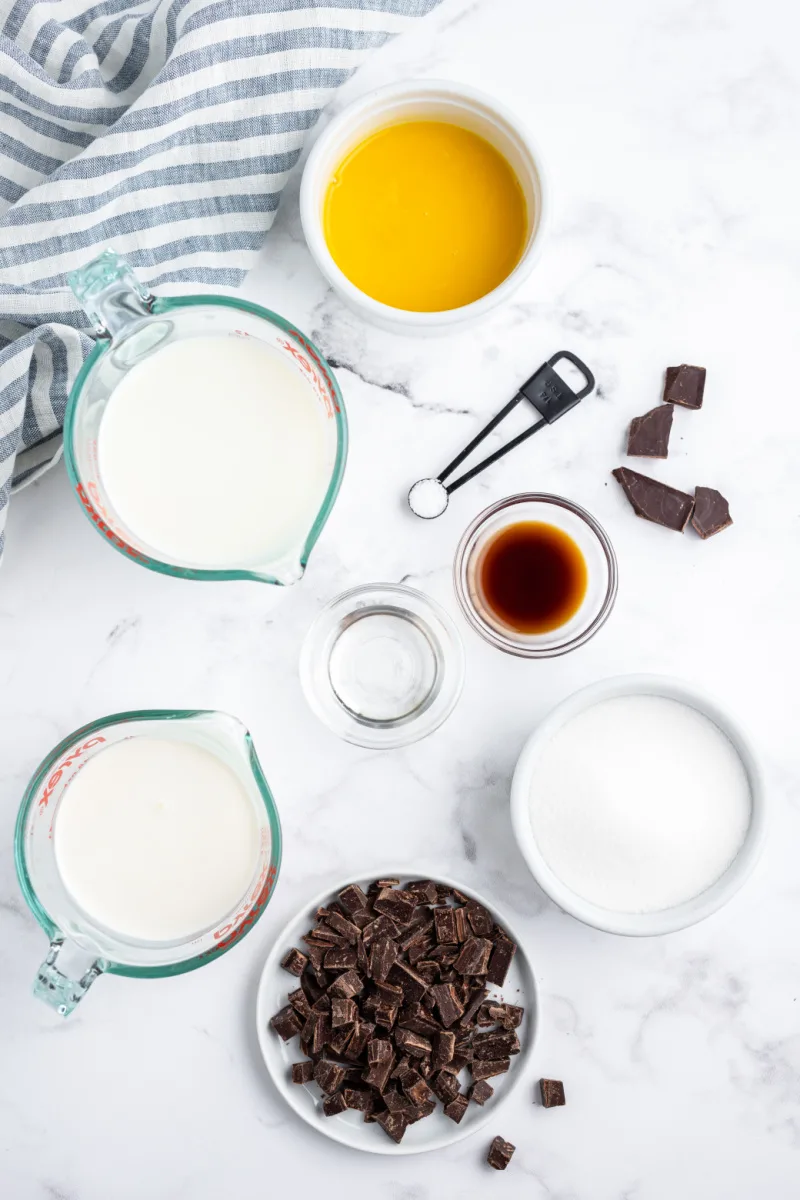 Ingredients needed:
whole milk
heavy whipping cream
granulated white sugar
light corn syrup
vanilla extract
salt
egg yolks
chopped dark chocolate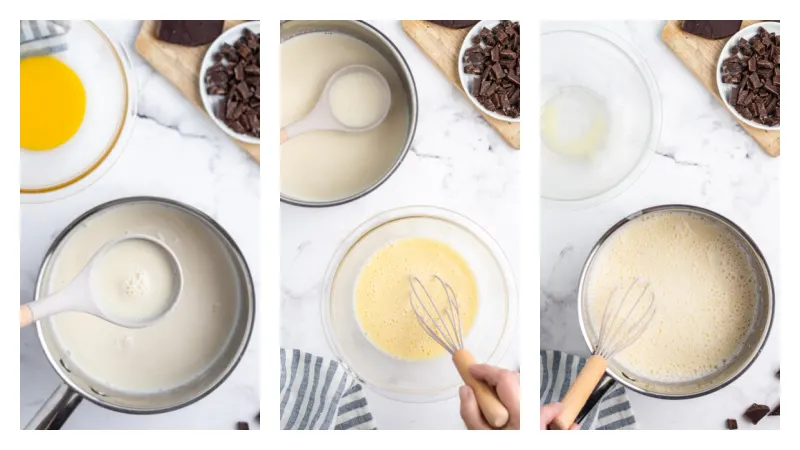 How to make Chocolate Chunk Gelato:
In a saucepan, heat the milk, cream, sugar, corn syrup, vanilla and salt. Heat to a bubbling state, and then remove the pan from the heat. Next you need to bring the egg yolks up to a warmer temperature. That's called "tempering" the eggs. Beat in a little of the hot milk at a time to warm up the eggs. This is a slow process because you don't want the eggs to turn into scrambled eggs. Keep doing this until you've added half of the hot milk mixture. Then return the pan to heat and mix in the tempered eggs. Heat until the chocolate chunk gelato custard becomes thickened (about 5 minutes).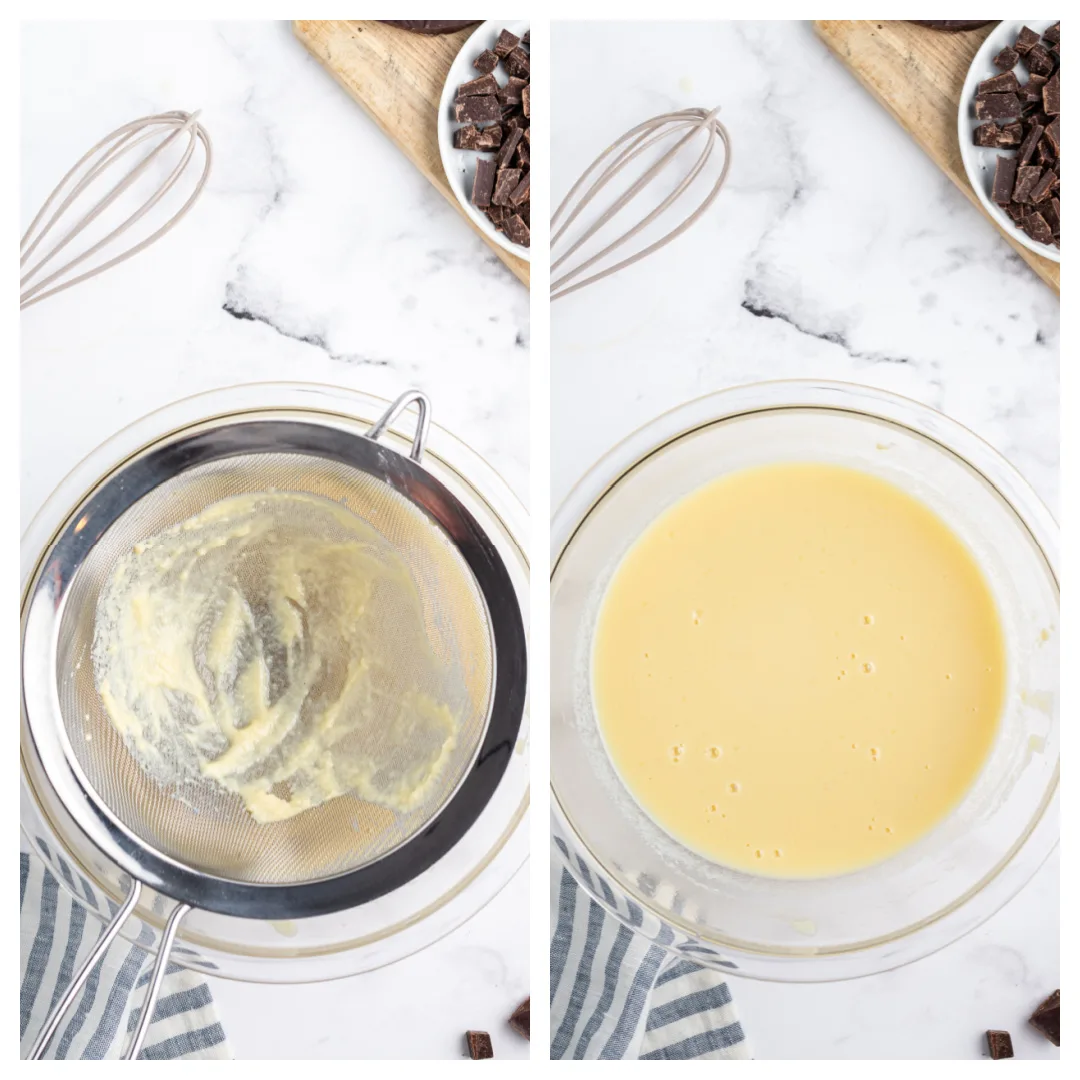 Pour the custard through a fine sieve to remove any potential solids. Then you'll end up with a nice, creamy base for making your Chocolate Chunk Gelato. The base needs to be chilled before processing, Refrigerate for at least one hour, but it's actually best to refrigerate for several hours (or overnight) until it's nice and cold.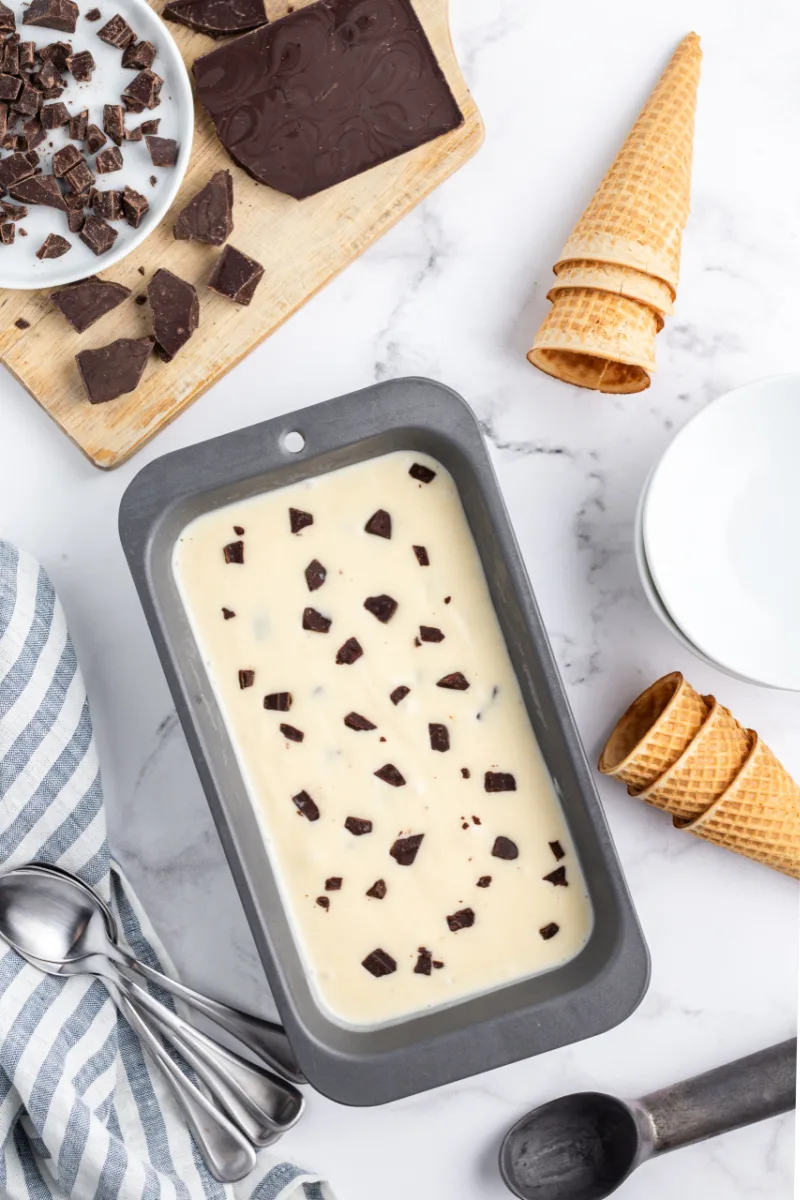 Process the chilled gelato base in an ice cream machine, following the manufacturer's instructions. It should take 15 to 20 minutes to turn into a thickened gelato. Add in 1/2 cup of chocolate chunks toward the end of processing. Then scrape the Chocolate Chunk Gelato into a pan or bowl. Sprinkle with more chocolate chunks, cover and freeze until firm (at least 4 hours).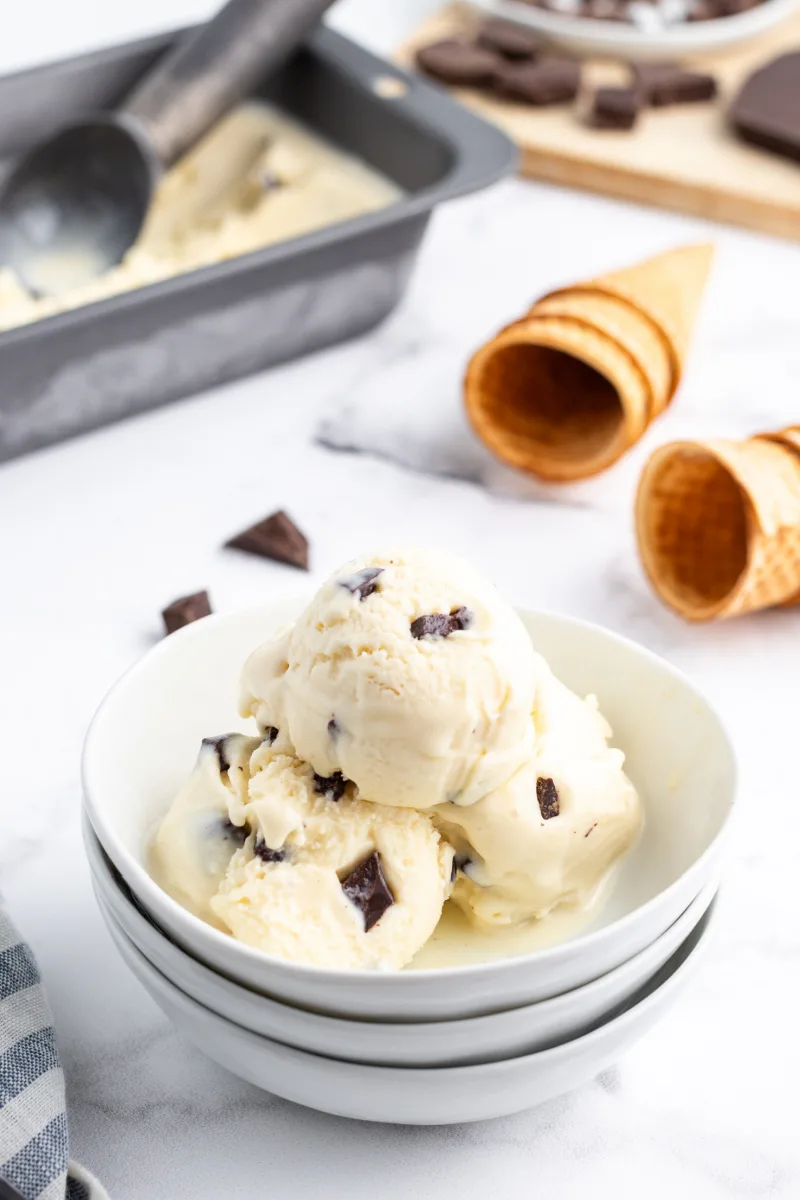 Scoop and serve! Gelato is totally delicious when eaten all on its own, but you can certainly add a drizzle of hot fudge, if you'd like. Enjoy!
We are big fans of ice cream as well here at RecipeBoy. Be sure to check out our recipes for Three Musketeers Ice Cream, Cake Batter Ice Cream and Marshmallow Fudge Swirl Ice Cream too.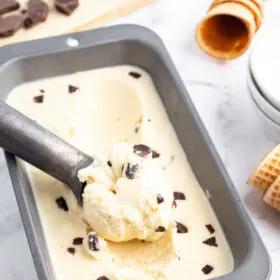 Chocolate Chunk Gelato
Smooth, creamy, rich vanilla gelato with chocolate!
Ingredients
2

cups

whole milk

1

cup

heavy whipping cream

⅔

cup

granulated white sugar

1

tablespoon

light corn syrup

1

tablespoon

vanilla extract

¼

teaspoon

salt

3

large

egg yolks,

beaten

¾

cup

chopped dark chocolate,

divided
Instructions
In a medium saucepan over medium heat, combine the milk, cream, sugar, corn syrup, vanilla and salt. Once the mixture starts to bubble, remove from heat.

In a medium bowl, add the beaten egg yolks. Use a ladle to slowly pour a small stream of the milk mixture into the bowl while whisking continuously (slowly… you don't want the eggs to cook and become scrambled eggs!) Continue until half of the milk mixture has been added.

Return the saucepan to medium heat. Carefully and slowly pour the yolk mixture into the remaining milk mixture in the saucepan, continuing to whisk. Whisk continuously about 5minutes while the custard thickens, then remove from heat.

Pour the mixture through a sieve to remove any egg solids. Refrigerate covered for 1 hour.

When chilled, pour into an ice cream machine. Follow manufacturer's instructions and run for about 15 minutes. Add ½ cup of the chopped chocolate, then run an additional 5 minutes.

Scoop the gelato into a large container or loaf pan. Sprinkle the remaining ¼ cup of chopped chocolate on top. Cover and freeze until solid- 4 hours or more.