Raspberry- Dark Chocolate Banana Bread
This week I made a ridiculously delicious  Raspberry- Dark Chocolate Banana Bread. You know it has to be good because my teacher, my family, and I all LOVED it. I can almost guarantee that your mouth is watering when you look at the picture below. Now watch and enjoy the delicious looking pictures.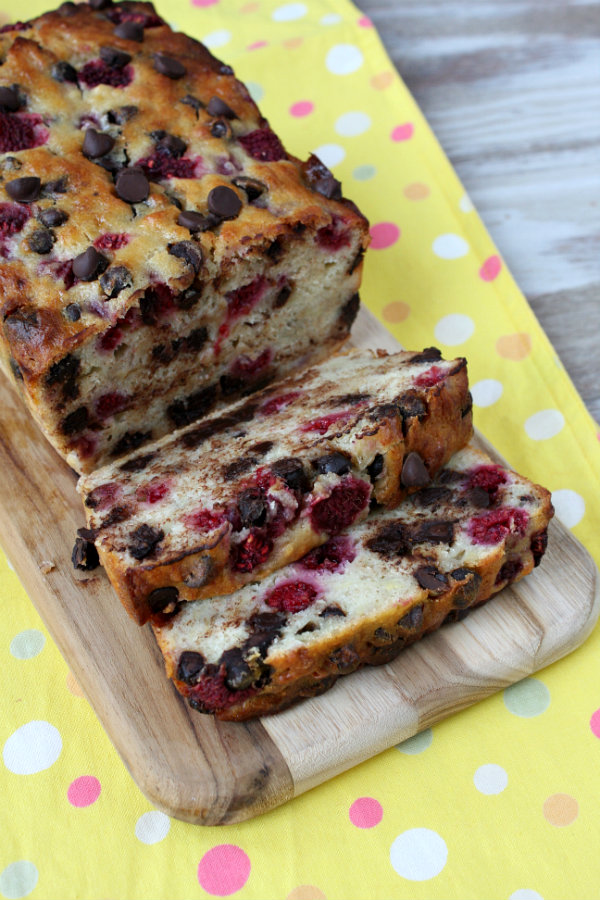 Chocolate and raspberries are the BEST combination EVER!!!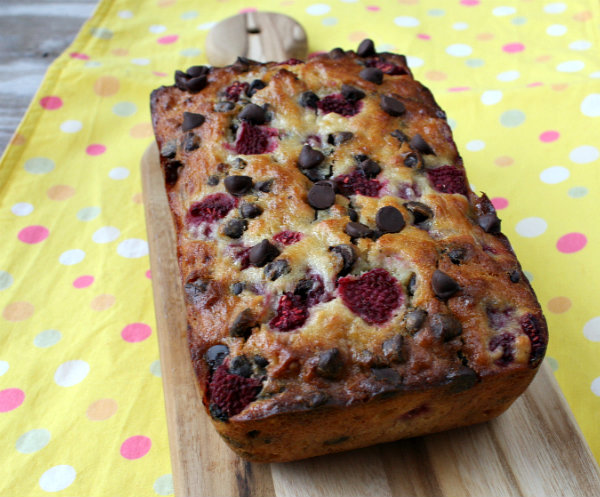 This loaf turned out amazingly yummy. It was a great banana bread and the distinct chocolate flavor with a sweet, fruity twist was awesome.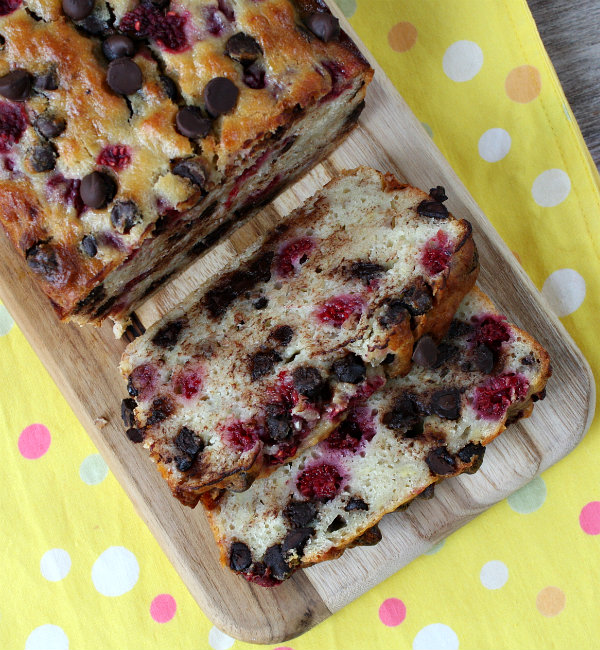 Now that you guys are hypnotized by the delicious beauty of the banana bread, let me tell you a bit more about it. The Raspberry- Dark Chocolate Banana Bread is more of an afternoon snack than a breakfast. It can be eaten at breakfast, but I wouldn't recommend it. A big time sugar rush…. just might not do good things to you first thing in the morning!  This banana bread should be moist in the middle after it cools. I hope you LOVE this banana bread and guard it with your life! 🙂
Raspberry- Dark Chocolate Banana Bread
I love raspberries more than any other fruit, so it was time to add them to banana bread!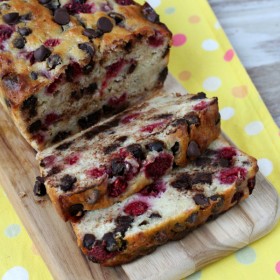 Ingredients:
2 cups all-purpose flour
3/4 teaspoon baking soda

1/2 teaspoon salt

1 cup granulated white sugar

4 tablespoons (1/2 stick) unsalted butter, at room temperature

2 large eggs

1 1/2 cups mashed ripe banana (about 3 bananas)

1/3 cup plain low fat yogurt

1 teaspoon vanilla extract
1 cup dark chocolate chunks or chips
1 cup halved raspberries, tossed in 1 tablespoon all-purpose flour
Directions:
1. Preheat oven to 350°F. Spray a 9x5-inch loaf pan with cooking spray.
2. In a medium bowl, whisk together the flour, baking soda and salt.
3. In a separate large bowl, beat the sugar and butter with an electric mixer at medium speed until well blended (about 1 minute). Add the eggs one at a time, beating well after each addition. Add the banana, yogurt, and vanilla; beat until blended. Stir in the flour mixture; just until moist. Don't over-mix. Stir in the chocolate chunks and then gently stir in the raspberries. If you want, you can sprinkle a few additional chocolate chunks and raspberries on the top to make it look pretty.
4. Spoon the batter into the prepared pan. Bake for 50 to 60 minutes or until a wooden pick inserted in center comes out clean. Cool 15 minutes in the pan on a wire rack. Remove from pan and cool completely on the wire rack.
Since there have been some mixed reviews, we're adding in some tips to help you make this recipe a success (added 9/25/12)
*This recipe turns out perfect for us, so here are the details: We bake at sea level in a greased pyrex pan and we bake on the middle rack in a gas oven.
*Don't use frozen raspberries or freshly washed raspberries (they will add too much moisture).
*If you bake in a dark metal pan or if you are baking at a different altitude or using an electric oven, you may possibly get different results.
*Oven temperatures can vary quite a bit, so if you have an oven thermometer that is helpful to see if yours is recording the right temperature.
*If the top is browning too quickly, cover the top with foil in the middle of baking to prevent it from browning further.
Hope those are all helpful tips- don't be afraid to try the recipe- it's so yummy!