Since my last Best Books for Boys post, I have read many more great books. Some recently came out, and some have been out for a while but I didn't know about them. No matter how new or old these books are though, they are all fantastic. Enjoy my Book Recommendations for 10 to 14 year old BOYS Summer 2012!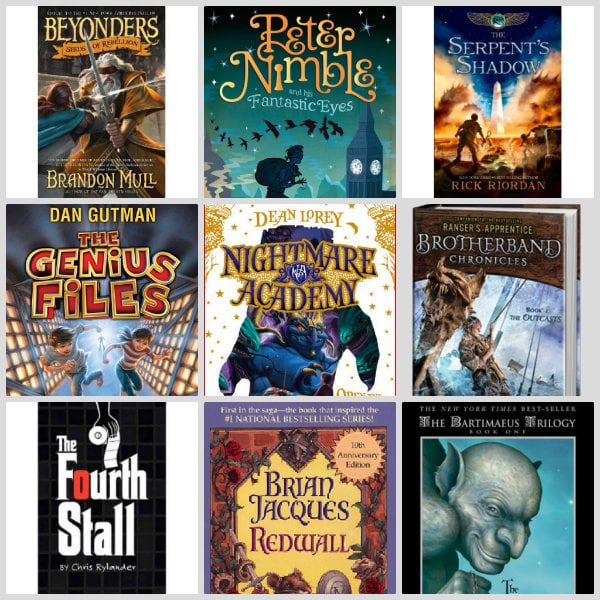 #1: The Beyonders Series by Brandon Mull- In this book, two "Beyonders" fall into a world run by an evil wizard named Maldor. Maldor is the only surviving wizard in Lyrian (the world), so he has more power than others. The Beyonders, Jason and Rachel, find allies and seek to overthrow Maldor. Will they succeed? I LOVE this series. I have read the first two books and can't wait to read the third when it comes out in Spring 2013.
#2: Peter Nimble and His Fantastic Eyes by Jonathan Auxier- A blind boy named Peter is a skilled thief. When he steals some round jewels from a mysterious haberdasher though, he doesn't give them to his boss. Instead, he puts them in his eye sockets and is transported to a hidden island. There he recieves a dangerous quest, to travel to the Vanishing Kingdom and rescue people in need. When Peter travels there with his sidekick and the magical eyes, he learns about his past… and his destiny. This book really appealed to me when I was looking at it on Amazon, so I bought it. When I read it, I enjoyed every second of Peter's adventure. I never thought that Peter was really a ?????? (spoiler alert)!
#3: The Serpent's Shadow (The Kane Chronicles) by Rick Riordan- In book 3 of the Kane Chronicles, Carter and Sadie have to defeat another evil character. This time, Apophis has been wreaking havoc across the globe. On a difficult journey to destroy Apophis' Shadow, Carter and Sadie encounter many dangers. Will they overcome them and defeat Apophis? This book just came out in May. Rick Riordan clearly put a lot of time and effort into this book. I don't think I've ever read a better book 3 of a series.
#4: The Genius Files by Dan Gutman- Coke and Pepsi McDonald are about to turn 13. But before THAT happens, they face many dangers (meaning guys in bowler hats trying to kill them and a kid like the twins that tries to turn them into french fries). They join a secret organization called The Genius Files for kid geniuses like themselves so that some of the dangers could be avoided, but that just made more people want to kill them. Will they live to be 13? Dan Gutman is an extraordinary kids book writer. He also wrote The Homework Machine, so when I learned about The Genius Files series I was really excited. As soon as I read the first page of Mission Unstoppable, I was hooked. This is one of those "I can't put it down" books. A tornado couldn't have ripped it from my hands.
#5: Nightmare Academy by Dean Lorey- Charlie Benjamin can't control his nightmares. Weird creatures jump out of them and destroy his room every night. When Charlie finally gets to the point where those creatures turn into monsters and can actually hurt him, a team from the Nightmare Academy comes to offer their help. When he excepts their offer, Charlie goes to the Nightmare Academy where he learns about his rare ability. Can he use it to save the Nightmare Academy from monsters of extraordinary power called the Named? I read all three of the Nightmare Academy books in two days. Does that explain how much I LOVED the series?
#6: Brotherband Chronicles by John Flanagan- Hal and his friends are outcasts. Skandians are supposed to be tall and strong. But they aren't. In order to get battle training, when the Skandian children turn a certain age they have to form Brotherbands. In these bands, they do forms of exercises and races to compete against each other. The winning Brotherband gets the glory of champions and one night to guard the Skandians' priceless treasure, the Andomal. Hal forms a Brotherband with some of the other outcasts, and expects to get crushed by the two other bands. Hal's tormentor is leader of the Sharks, and a strong, fit, and "perfect" Skandian boy is leader of the Wolves. As his other band members voted for him, Hal was finally elected leader of his Brotherband. Now the band of outcasts has to rise up to the challenge and defeat the other Brotherbands. I love the air of competition in this book. John Flanagan has brought the Skandians back from the Ranger's Apprentice series with new characters and a new plot. The Brotherband activity is really cool. Why can't we do that? It seems really fun.
#7: The Fourth Stall by Chris Rylander- In this action-packed book, a boy named Christian (nicknamed Mac) has a problem solving business in the fourth stall from the high window in his school's East Wing bathroom. Some of his methods go against school conduct (and even the law), but Mac always finds a way to solve his schoolmates' problems. One Monday though, a third grader comes into Mac's office asking for protection from a legendary high school criminal named Staples. From there, Mac gets caught in a giant web of trouble. Staples and his friends are after him all of a sudden! Mac has been so busy solving other peoples' problems that he might not be able to solve his own. Chris Rylander has really written a great series. The Fourth Stall is awesome and suspenseful. You can feel all of the emotions displayed by the characters.
#8: The Redwall Series by Brian Jacques- Matthias the mouse lives in the Redwall Abbey. When an evil rat named Cluny the Scourge comes and wants to capture the mouse's beloved abbey, he must conquer his failures and fears to save Redwall. Matthias must become a hero if he wants himself and the rest of the Redwallers to live. Brian Jacques has really outdone himself on this series. Usually I don't like books with animal characters, but Redwall has been one of the few exceptions to this opinion. It rocks.
#9: The Bartimaeus Trilogy by Jonathan Stroud- Nathaniel has been made a magician's apprentice. As his Master teaches him the arts, Nathaniel learns very quickly. So when a full of himself magician named Simon Lovelace torments him in front of other magicians, Nathaniel wants revenge. He knew how to summon demons, so he summoned a powerful djinni named Bartimaeus. The djinni was given strict orders to steal the Amulet of Samarkand from Lovelace and deliver it back to him the following dawn. With the Amulet gone, magical forces are raised. Does Nathaniel know the trouble he started? I am addicted to this series. I could not put any of the books down. They were glued to my hands, and my eyes were glued to their pages.

#10: The Candy Shop War by Brandon Mull- This book focuses on four kids that go to a candy shop often. They find out that some candy is magic, and they use their magic candy to do tasks for the owner of the shop. I am currently reading this book and I love it. Any book with magic in it is perfect for me. Thankfully, this one has magic!
#11: The Extraordinary Education of Nicholas Benedict by Trenton Lee Stewart- I have not read this book yet, but I have it on my Kindle currently. The other three books of The Mysterious Benedict Society have been superb, so I expect this one to be more than awesome.
#12: Theodore Boone- The Abduction by John Grisham- Again, I have not read this book yet. It is one of the books that I'm looking forward to reading on my Kindle, so I will get to it soon. The first book, Theodore Boone: Kid Lawyer, was VERY great and mysterious. In this sequel, Theodore will have to be well prepared for whatever mystery John Grisham throws at him.
I hope all of you guys have found a book or two that you would enjoy. Have fun reading!!!
And even a kid can write LONG summaries of books… Like Me!
Disclosure: There are Amazon affiliate links included within this post. If you purchase a book through one of those links, you're helping to send me to college. Thank you!! Every penny counts!