The time for stuffing something inside of an Oreo has come again. Only this time, it's for Jenny from Picky Palate's Baby Shower! I made Chocolate Dipped Peanut Butter Cup Stuffed Oreos. Watch the video showing you how to make this recipe, then scroll to the bottom of this post and print out the recipe so you can make these at home.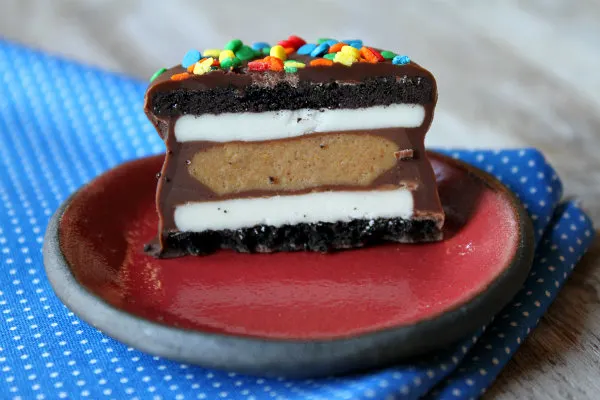 They taste superb because of the multiple layers of rich goodness.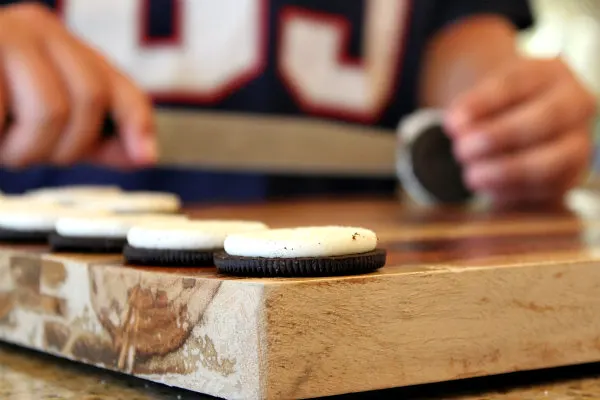 You'll begin by slicing the Oreos in half. As you slice an Oreo in half, keep the sides with the cream for these Chocolate Dipped Peanut Butter Cup Stuffed Oreos. The other sides can be kept in a zip baggie in the freezer and saved for future Oreo pie crusts and other goodies!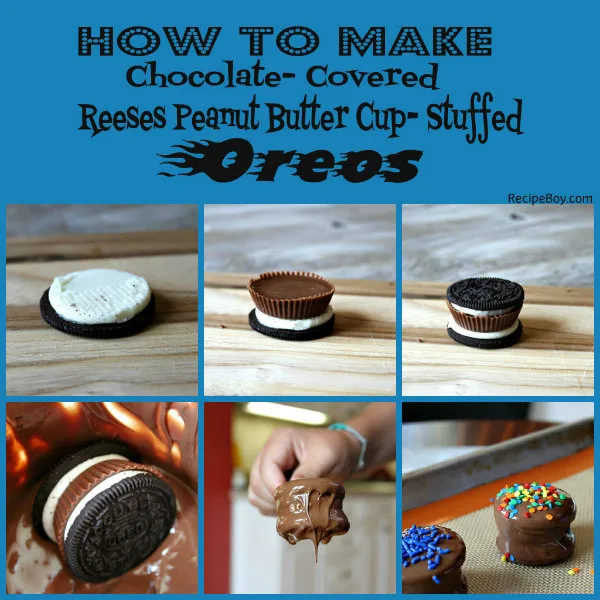 How to Make Chocolate Dipped Peanut Butter Cup Stuffed Oreos:
STEP 1: Put the Oreo half with the cream on a cutting board.
STEP 2: Place a Reese's Peanut Butter Cup on top.
STEP 3: Put another Oreo half with the cream on top and press down gently.
STEP 4: Dip the treat in melted chocolate. (Be sure to cover the whole thing in chocolate!)
STEP 5: Remove the UYC (Unidentified Yummy Creation) from the chocolate with a fork and set it on a baking sheet to let the chocolate harden.
STEP 6: Scatter some sprinkles on top of the Chocolate- Dipped Peanut Butter Cup Stuffed Oreos. You can choose whatever color or colors you want.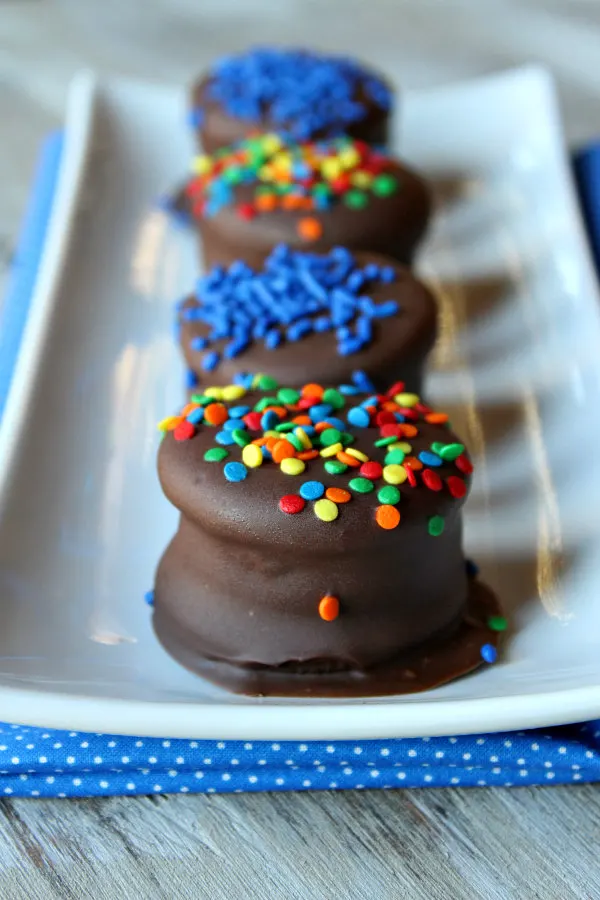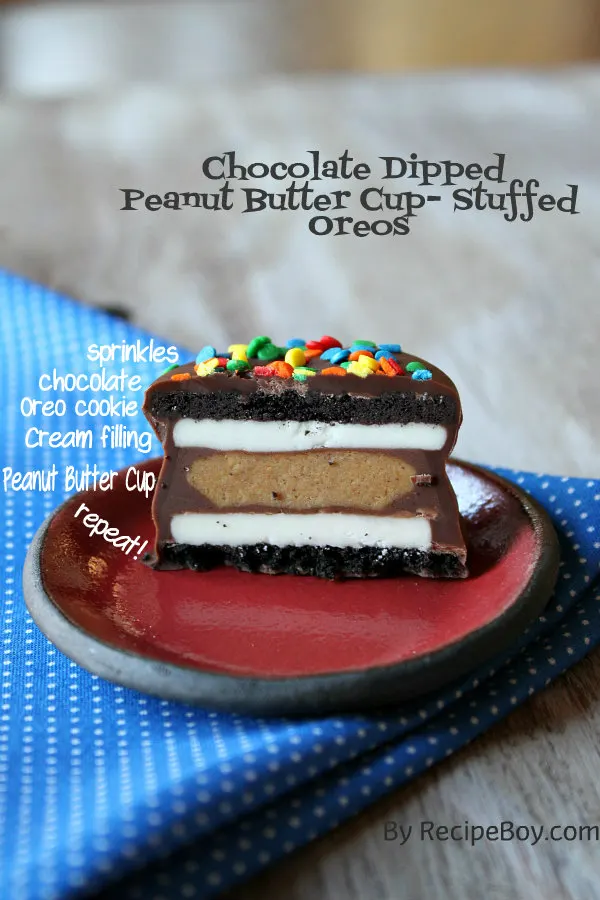 This picture is so cool. You can see all the different layers! These Chocolate- Dipped Peanut Butter Cup Stuffed Oreos are mind blowing. My taste buds frequently crave that chocolatey peanut butter taste. My mom got the idea for this recipe from a candy shop called Candy Coated and shared it with me.
Congratulations on your baby boy Jenny! I hope that he will follow in your footsteps and be a food blogger too when he gets a little older. I think that you should name him Peter. I like the name because it reminds me of Peter in The Brady Bunch (we watched The Brady Bunch in the car on our road trip this summer). Have you thought of any names yet?
And even a kid can participate in his 2nd virtual baby shower… Like Me!
Here are a few more Oreo-inspired recipes you might enjoy: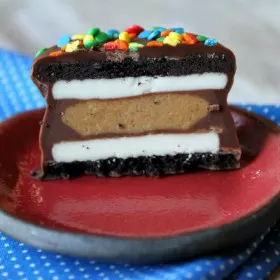 Chocolate Dipped Peanut Butter Cup Stuffed Oreos
Something for everyone in this sweet treat!
Ingredients
16

Double Stuffed Oreos

8

regular-sized

Reeses Peanut Butter Cups,

unwrapped

1½

cups

milk chocolate chips

1

teaspoon

butter
Instructions
Slice each Oreo in half, careful to keep the cream filling on one half. Keep the cream sides and put the chocolate wafer sides into a zip bag. You can keep those in the freezer for making a future chocolate cookie pie crust. You will end up with 16 Oreo halves with cream filling.

Set an Oreo half on your work surface (cream side up). Top it with a peanut butter cup. Then set another Oreo half on top (cream side down) of the peanut butter cup and gently press down. Repeat with the remaining ingredients until you have 8 cookie sandwiches.

Melt the chocolate chips with the butter- either in the microwave or in a pan over low heat- until smooth. Use a fork to dip a sandwich treat into the melted chocolate and cover it completely with chocolate. Gently shake off the dripping chocolate, and then set it onto waxed paper or a baking mat. Sprinkle colorful sprinkles on top. Repeat with all of the treats. Refrigerate the treats until the chocolate is set. We kept our treats stored in a covered container in the refrigerator for cool munching on a summer day!
Nutrition
Serving:
1
treat
Calories:
604
kcal
Carbohydrates:
76
g
Protein:
6
g
Fat:
33
g
Saturated Fat:
15
g
Polyunsaturated Fat:
4
g
Monounsaturated Fat:
9
g
Trans Fat:
0.04
g
Cholesterol:
4
mg
Sodium:
287
mg
Potassium:
355
mg
Fiber:
3
g
Sugar:
59
g
Vitamin A:
41
IU
Vitamin C:
0.1
mg
Calcium:
74
mg
Iron:
4
mg