Tortilla- Crusted Turkey Cutlets with Spicy Avocado Sauce
This post may contain affiliate links.


For my McCormick recipe video, my Mom and I changed up "fried chicken" and made a healthier turkey cutlet recipe instead. We used lean turkey, baked it instead frying it, and didn't add any salt or oil. My family likes fried chicken, but it is not very good for you. This turkey cutlet recipe allows us to enjoy a flavorful dish of "fried chicken," without feeling bad about what we ate. I love it:  Tortilla- Crusted Turkey Cutlets with Spicy Avocado Sauce and Corn- Pepper Relish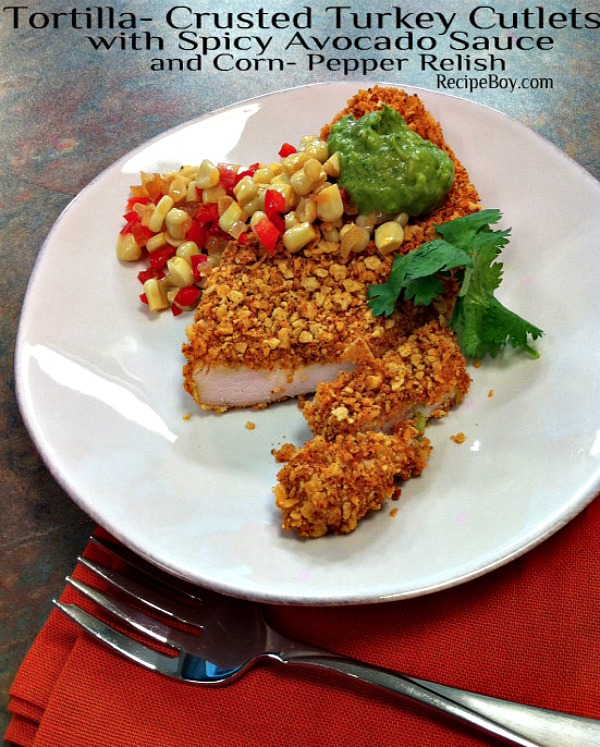 The cutlets are dipped in spiced-up baked tortilla chips.  The Corn- Pepper Relish and avocado sauce served with the cutlets is really, really good. They both add so many new flavors to the dish! And the spices… they were amazing!!! So flavorful and yummy…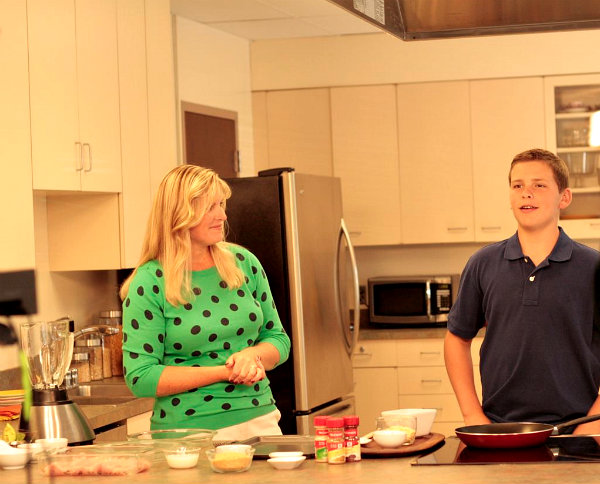 Here I am! Shooting the videos at McCormick Studios was so fun! Chef Mark Garcia was really nice and energetic, so that helped a lot. Doing all of the takes was fun because we messed up a lot and had some major bloopers. On one scene, I dropped the cup holding the onions into the pan on the stove. I burned my wrist while I grabbed it out the pan! OUCH! Well, I hope you like my video better than my bloopers.
So what did you think of my video??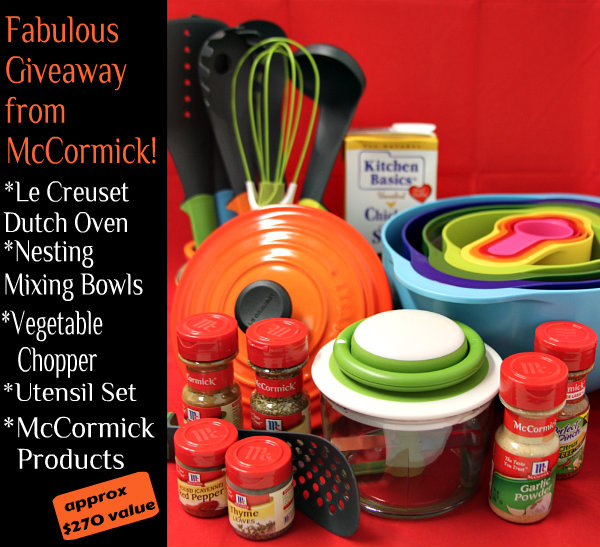 McCormick is offering this cool giveaway!   This giveaway is now closed!
Le Creuset Dutch Oven
Set of Nesting Mixing Bowls
Vegetable Chopper
Utensil Set
McCormick Products
To enter for a chance to win this giveaway, leave a comment below telling me what you like to make with McCormick Spices. GIVEAWAY NOW CLOSED

Bonus Entries (for three more chances to win!)
1.   Tweet the giveaway with a link.  Leave a separate comment letting me know you tweeted!
2.   Share the giveaway with a link on your facebook page.  Leave a separate comment letting me know you shared!
3.  Pin the recipe (or giveaway) on your Pinterest page.  Leave a separate comment letting me know you pinned!
The giveaway is open until Tuesday, November 6th at 8PM PST.  The giveaway is only open to USA residents. Be sure a valid email address is included with your comment(s). Winner will be chosen via random.org and announced on this post. I will email the winner and if the winner doesn't respond in 48 hours, a new winner will be chosen. The giveaway kit will be shipped by McCormick. Good luck! GIVEAWAY IS NOW CLOSED.  Winner is randomly selected #174: Diania- thanks so much for entering!
P.S. Sometimes the comments won't post right away.  I have to approve most comments, and I'm busy during the day… so don't worry if your comment doesn't show up right away- it will eventually!
Tortilla- Crusted Turkey Cutlets with Spicy Avocado Sauce
A yummy recipe that my Mom and I created for McCormick Spice Company!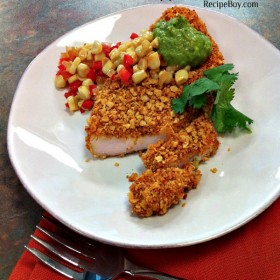 Ingredients:
TURKEY:
1/4 cup nonfat milk
2 cups baked tortilla chips, crushed into crumbs
1 teaspoon McCormick® chili powder
1/2 teaspoon McCormick® cumin
1/2 teaspoon McCormick® garlic powder
1.25 pounds turkey cutlets (about 4 cutlets)
RELISH:
3/4 cup chopped red bell peppers (1/2 large)
3/4 cup corn (1 small cob or frozen)
1/4 cup finely chopped sweet onion (1/2 small)
SAUCE:
1 medium avocado, peeled and pitted
1/4 cup chopped fresh cilantro
3 tablespoons nonfat milk
1 tablespoon freshly squeezed lime juice
1/2 tablespoon red wine vinegar
1/2 teaspoon McCormick® minced garlic
pinch of McCormick® ground cayenne pepper
Directions:
1. Preheat the oven to 425 degrees F. Spray 15 X 10 X 1-inch baking pan with no stick cooking spray.
2. In a low, wide bowl add milk. In a second low, wide bowl- mix the tortilla crumbs with the chili powder, cumin and garlic powder.
3. Dip the turkey cutlets first in the milk and then in the spiced tortilla crumbs. Place on the baking sheet. Bake 15 to 20 minutes, or until cutlets are cooked through.
4. While cutlets are baking, prepare the relish. Heat a medium, nonstick skillet over medium-heat. Add the peppers, corn and onions. Cook, stirring, 3 to 4 minutes, until the vegetables are softened. Remove from heat.
5. Prepare the sauce: Add all sauce ingredients to a blender or food processor and process until smooth.
6. Divide turkey cutlets between four plates. Add a dollop of avocado sauce and a generous spoonful of corn and pepper relish.
Tip:
*This recipe can also be made with chicken cutlets.