Christmas Shortbread Cookies are the most delicious and easy cookies to bake for the holidays!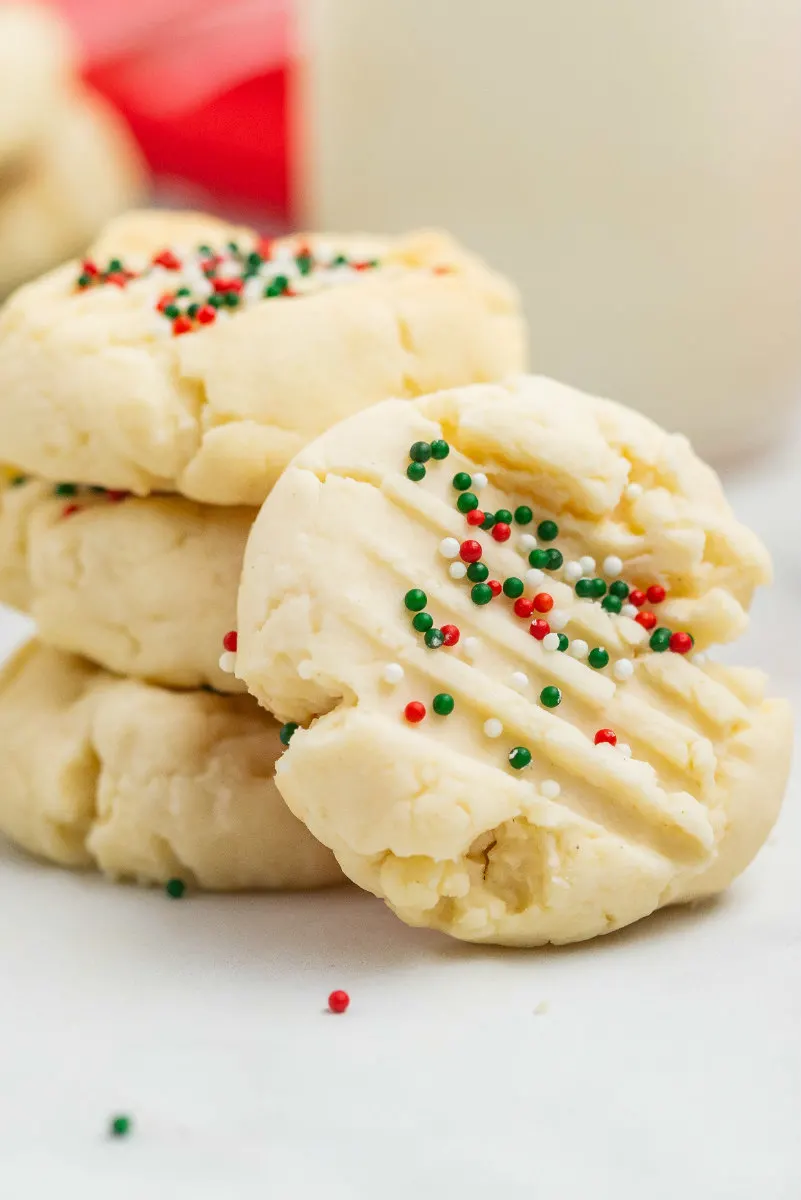 Have you ever had a good shortbread cookie? You know a good shortbread cookie when you try one because it literally melts in your mouth. These Christmas Shortbread Cookies will do that for you. They are super simple, and they're made with very few ingredients. You must try them!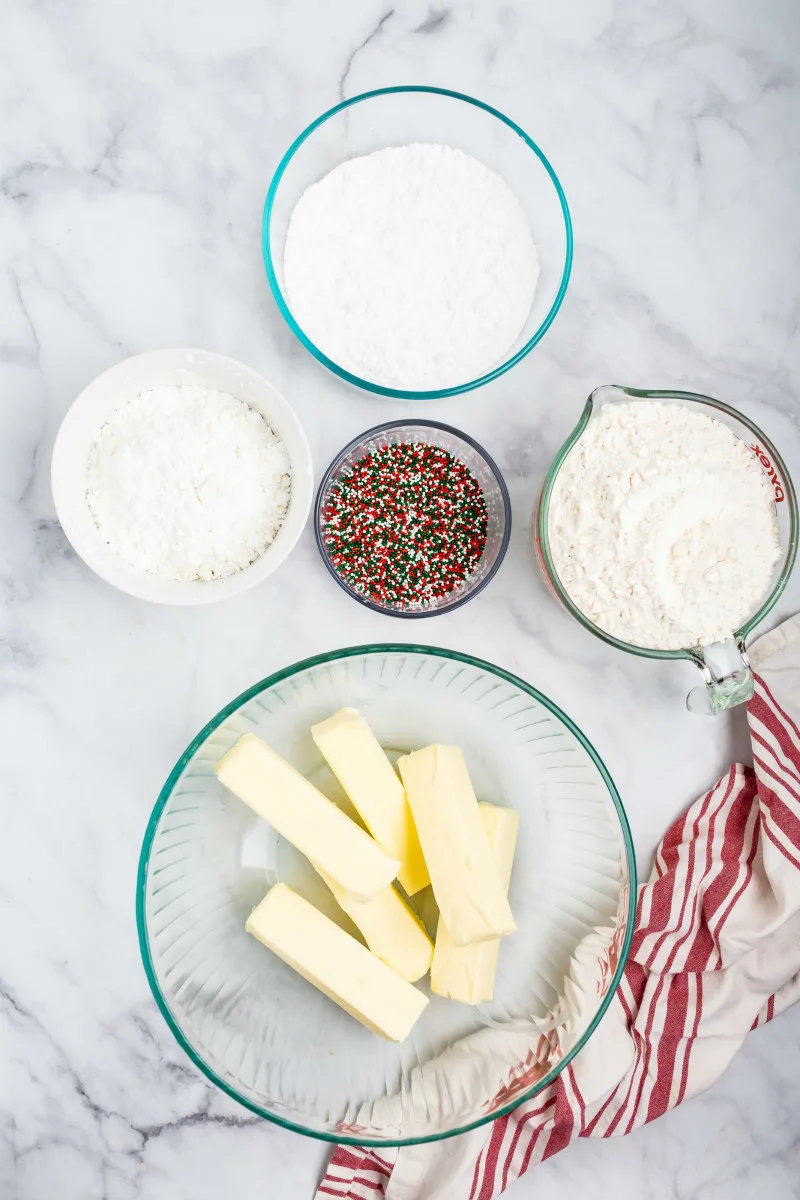 Ingredients needed:
butter
powdered sugar
all purpose flour
cornstarch
vanilla extract
nonpareils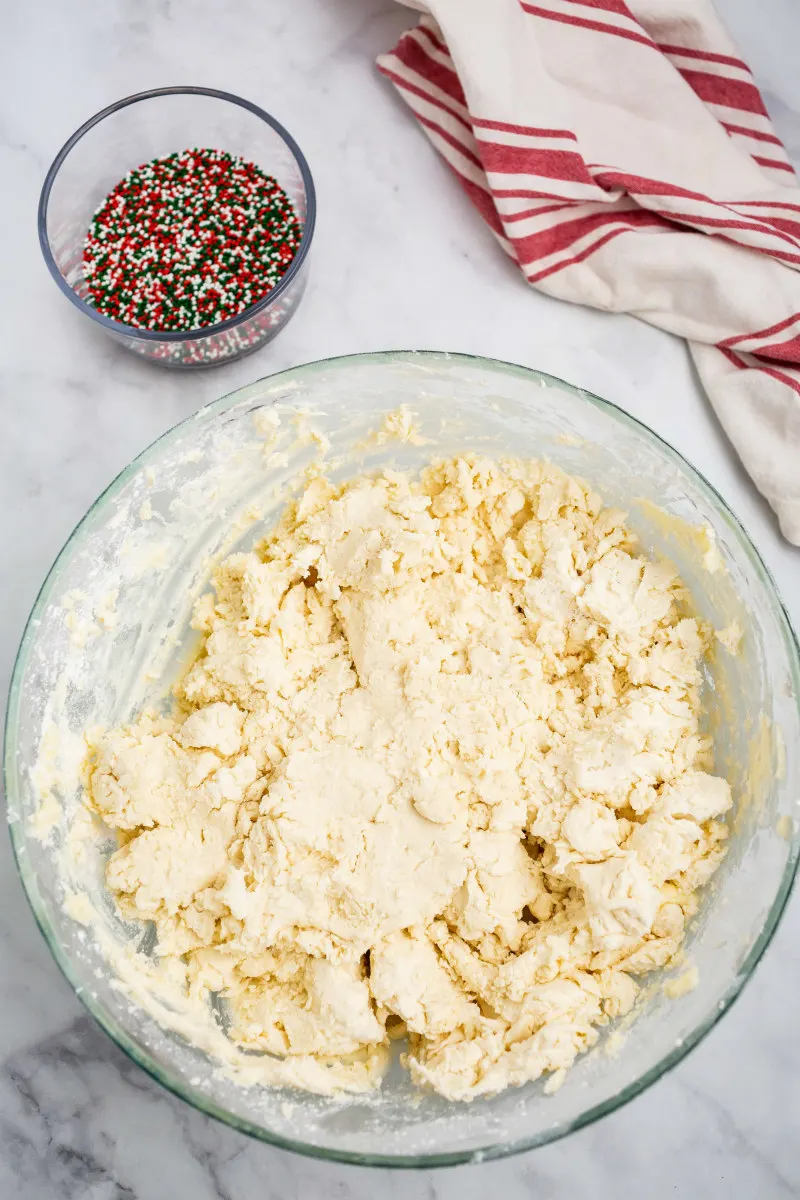 How to make Christmas Shortbread Cookies:
You will combine butter and powdered sugar and beat those together until light and fluffy. Then you'll add in flour, cornstarch and vanilla. That makes up the shortbread dough.
What does cornstarch do for cookies?
Cornstarch seems like an odd ingredient for cookies. But for these cookies, it helps the texture to be tender and crumbly– as a good shortbread cookie should be!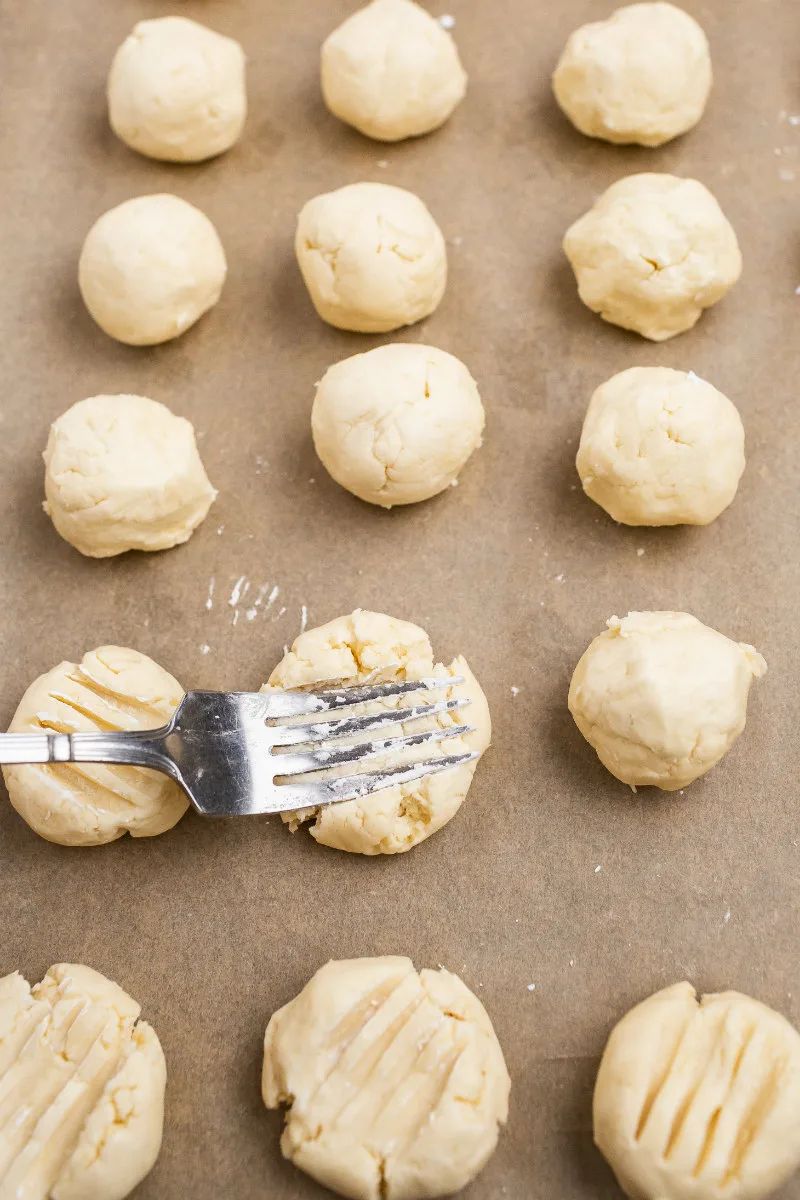 The dough is rolled into balls. It's a good idea to coat your hands with cornstarch when rolling the dough so it doesn't stick to your hands. Then you'll take a fork and press down on each cookie to make a one-way indentation.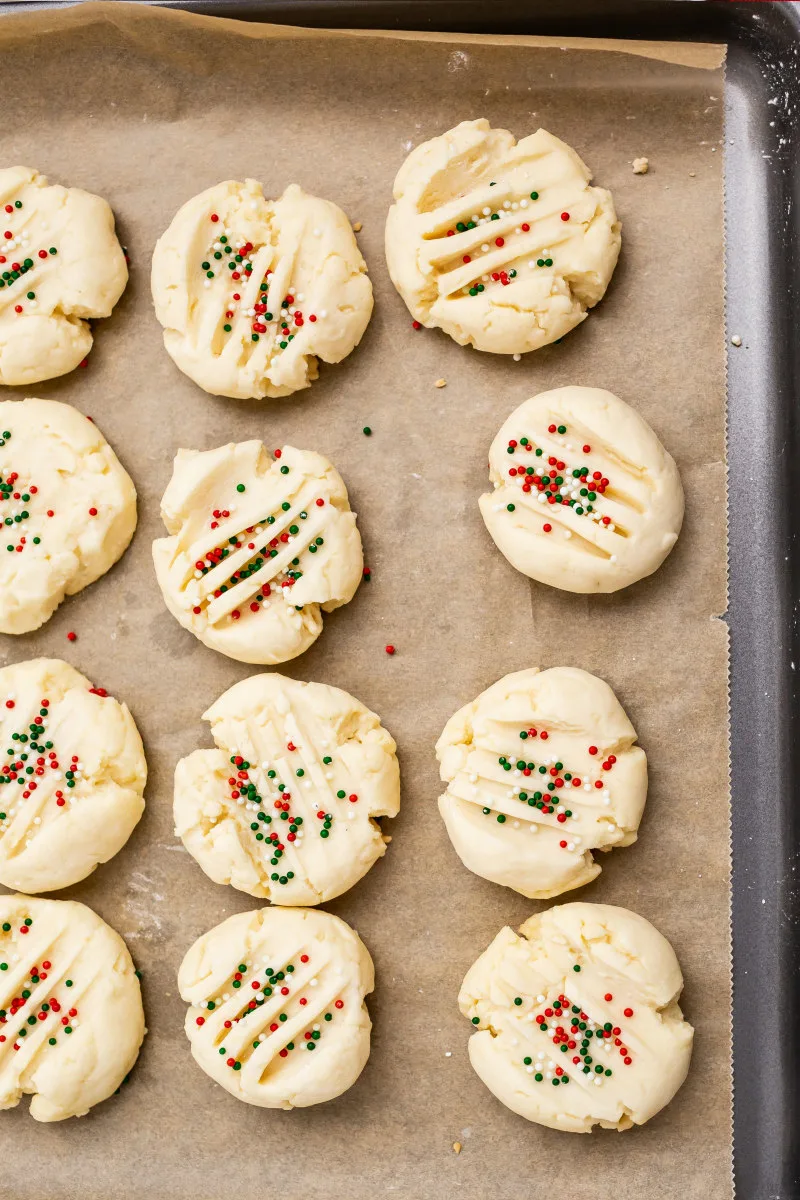 Nonpareils are sprinkled on top of each cookie. These can be found in the holiday section of stores like Michaels, Target or Walmart (or maybe even your local grocery store). You can also use holiday sprinkles. Alternately, you can roll each ball in red or green colored sugar and then press them with a fork after that.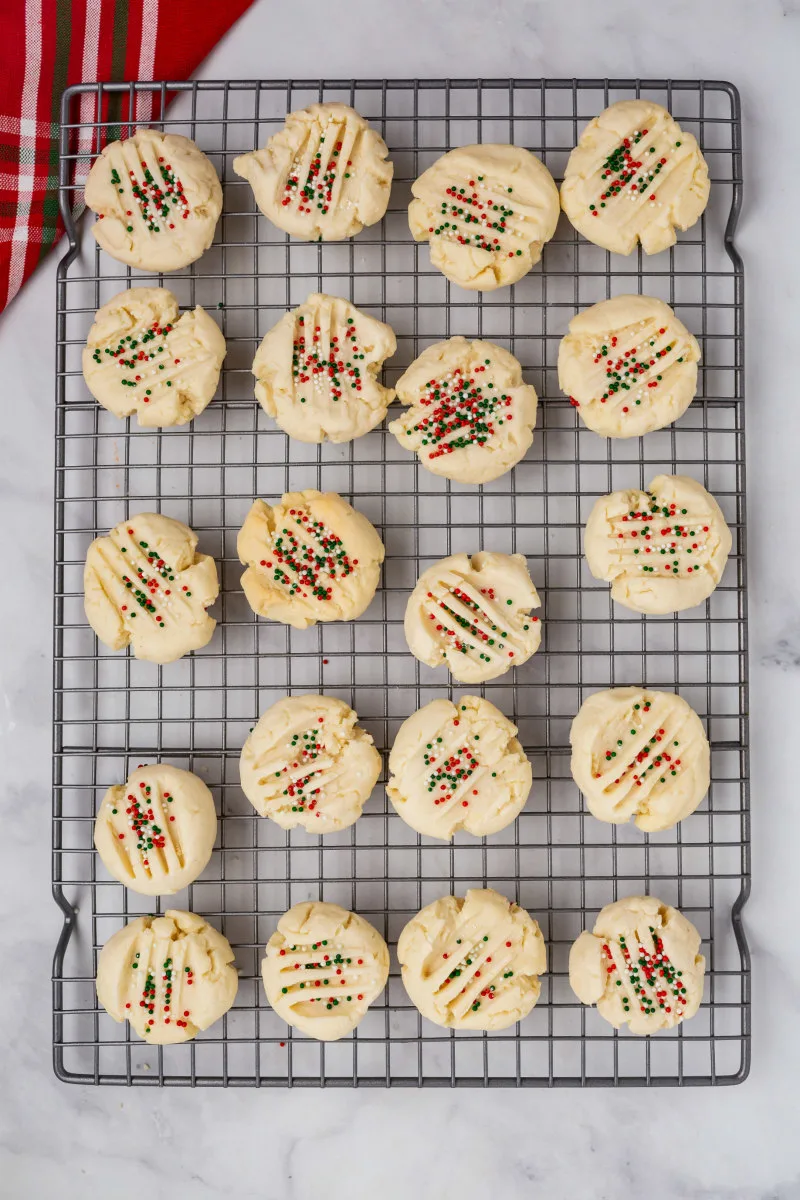 These Christmas Shortbread Cookies bake for about 20 minutes. You'll know they're done when you lift up one of the cookies on the baking sheet to see that the bottom is lightly browned. Be sure to let them cool on the baking sheet for a few minutes, and then they are ready to transfer to a baking rack where they can cool completely.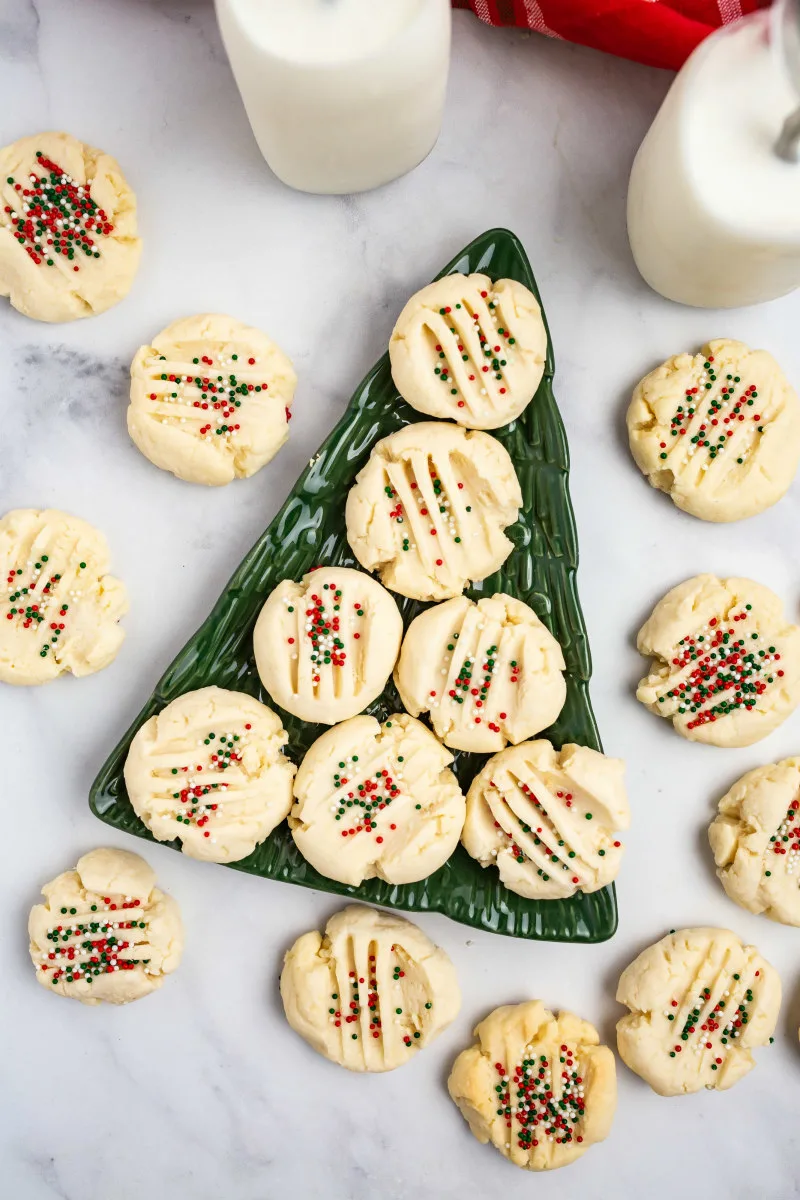 Store these (cooled) cookies in a covered container for up to one week at room temperature. They freeze well too. Just keep them in a well-sealed container or large freezer zip baggie for up to three months in the freezer.
A good cookie recipe for a cookie exchange!
This is a great recipe to use for bringing cookies to a cookie exchange. Read the Recipe Notes in the recipe below, and follow the instructions for baking 100 cookies. This is an easy-to-make Christmas cookie recipe, so it's a good one to use if you have to bake a lot of cookies.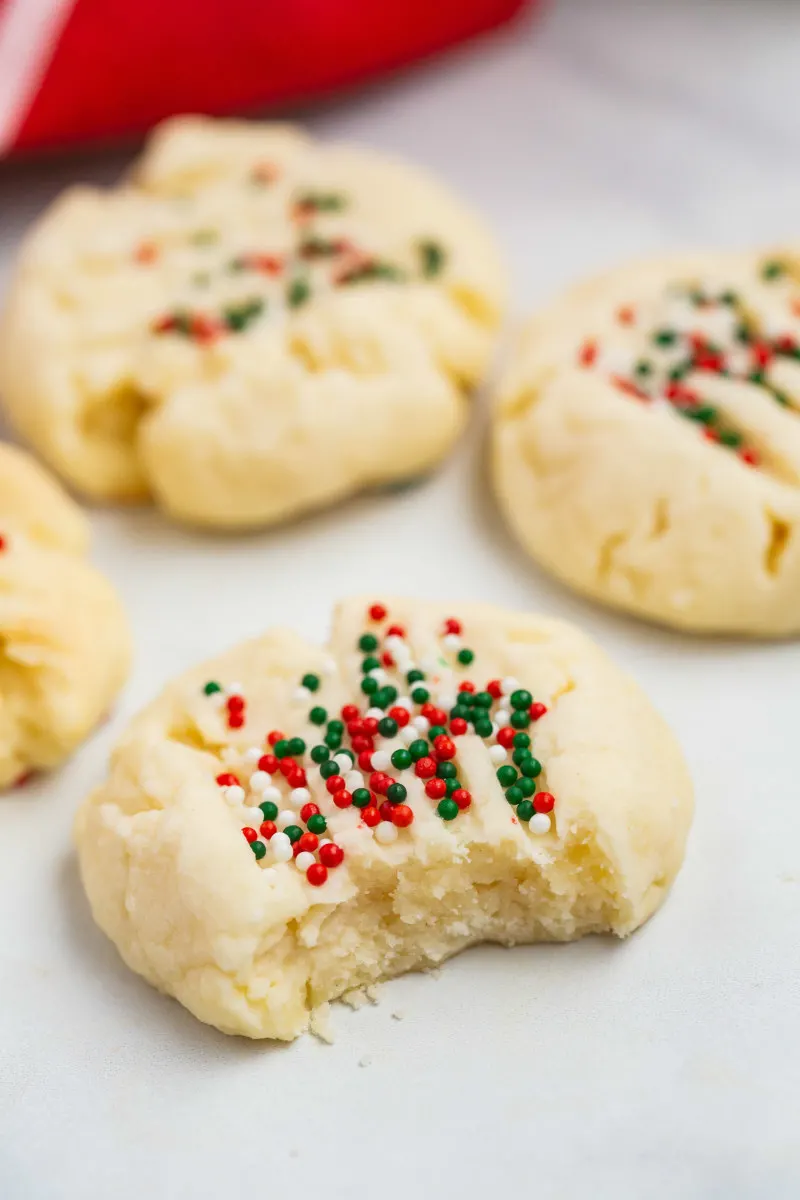 Of course these shortbread cookies can be made into cookies for other occasions as well- like weddings, baby showers or birthday parties. Just use different colored adornments on top for the occasion you're celebrating. Enjoy!
Here are a few more cookie recipes you might like to try: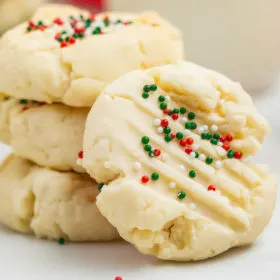 Christmas Shortbread Cookies
Melt in your mouth cookies!
Instructions
In a large bowl, use an electric mixer to combine the butter and powdered sugar until light and fluffy- for a FULL 5 minutes. Gradually add in the flour and cornstarch, beating until well blended- about 3 more minutes. Beat in the vanilla.

With hands lightly dusted with additional cornstarch, roll the dough into 1-inch balls. Place 1-inch apart on baking sheets that are lined with parchment paper or silpat mats. Press lightly with a powdered sugar fork. Sprinkle nonpareils on top of each cookie.

Bake at 300℉ until the bottoms of the cookies are lightly browned, 20 to 22 minutes. Cool for 5 minutes before removing the cookies from the pans to wire racks to cool completely.
Notes
If you want to bake a LOT of these for a party or a cookie exchange, use the following amounts to make 100 (small) cookies: 3 cups butter, 2 cups powdered sugar, 4

½ cups flour, 1 cup cornstarch and 2 teaspoons vanilla.
Nutrition
Serving:
1
cookie
Calories:
104
kcal
Carbohydrates:
12
g
Protein:
1
g
Fat:
6
g
Saturated Fat:
4
g
Polyunsaturated Fat:
0.3
g
Monounsaturated Fat:
1
g
Trans Fat:
0.2
g
Cholesterol:
15
mg
Sodium:
46
mg
Potassium:
13
mg
Fiber:
0.3
g
Sugar:
2
g
Vitamin A:
178
IU
Calcium:
3
mg
Iron:
1
mg